July 02, 2011 (Mont Sainte-Anne, QC) – The beautiful weather continues at Mont Sainte-Anne for the start of the Elite/U23 Women's XC race soon underway. A field of 55 Elite women are on the start line followed two minutes later by the U23 women – 5 laps of the 4.5km course. All eyes will be on current World Cup leader Julie Bresset (FRA, BH-Suntour-Peisey Vallandry) who will be challenged by Canada's hometown favourite Marie-Hélène Prémont (CAN, Maxxis-Rocky Mountain) and Catharine Pendrel (CAN, Luna Pro Team) who are the front runners of the nine Elite Canucks racing. Barbara Benko (HUN, Focus MIG Team) leads the U23 women's field with Mikaela Kofman (CAN, 3 Rox Racing) and Laura Bietola (CAN, Team Canada) leading the 8 Canadians on the U23 women's start line doing 4 laps.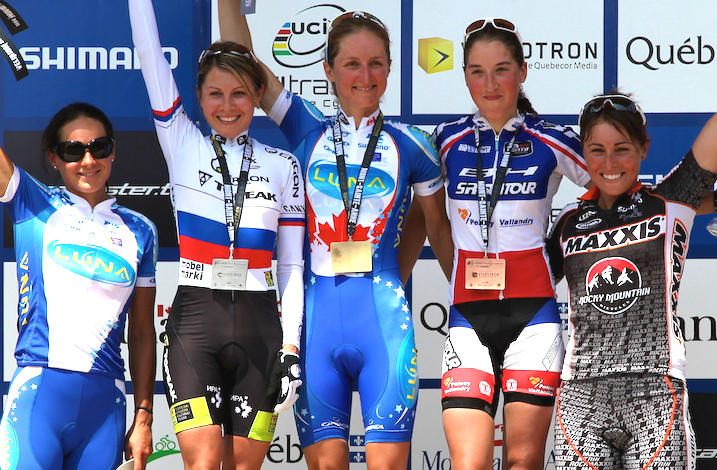 Lap 1
Katrin Leumann (Sui) Ghost Factory Racing Team takes the lead with Spitz in 2nd and Eva Lechner (Ita) Colnago Farbe Sudtirol in third. Prémont up there but Pendrel has not had a good start and sits around 15th.
Lechner moves to front thru the lap… Georgia Gould (Usa) Luna Pro Team is up there and Julie Bresset (Fra) Bh – Suntour – Peisey Valland is in 6th or 7th.
Nathalie Schneitter (Sui) Colnago Farbe Sudtirol is now leading with Leumann close behind.
Now Gould takes over the lead but crashes in the rock garden and Lechner takes over the lead. Prémont is up there as is Bresset.
Lechner is leading with Schneitter in second and Gould who recovered in 3rd with Katerina Nash (Cze) Luna Pro Team in 4th… Bresset is in 5th and Premont is in 6th.
U23 – Pauline Prevot Ferrand (Fra) Lapierre International is leading with Kathrin Stirnemann (Sui) Central Haibike Pro Team in second…
Lap 2
Gould comes thru in 20:15 to start the second lap… there's a lead group of 7 – Pendrel has joined this group with Nash there as well. Irina Kalentieva (Rus) Topeak Ergon Racing Team is in the lead group with Premont and Lechner as as well.
Elisabeth Osl (Aut) Ghost Factory Racing Team leads the chase group behind… Batty is 19th ahead of Maja Wloszczowska (Pol) Ccc Polkowice in 21st – Wloszczowska won the MTB Worlds title at MSA last year.
Pendrel takes over the lead and looks strong Bresset is in second… thru the Beatrice Rock Garden it's Pendrel out front as Gould crashes again.
Pendrel is opening up a gap on the climb as Bresset follows… thru the feedzone Pendrel continues to open up the gap as her teammate Nash is in 3rd, Premont is 4th and Kalentieva is in 5th, Osl is 6th and Spitz is in 7th.
Batty is trying to move up – there's a good mix of 26″ and 29er bikes on course here at MSA.
Thru the S-Switchback section it's Pendrel with 8-10s over Bresset as Kalentieva passes Nash to take over 3rd.
Lap 3
Pendrel comes thru in 38:59 with an 8s lead on Bresset as Kalentieva is 3rd at 48s… then it's Nash at 51s and Premont is 5th at 1:01. Batty has moved up to 15th.
Thru the rock garden Pendrel is in control – Bresset is closing but crashes… she recovers but then she loses control again and cuts thru the tape and crashes again.
Meanwhile Kalentieva is moving up well and may catch Bresset… Nash is in 4th and Premont holds on 5th with Osl gaining on her.
Pendrel has a big lead now coming thru the feed zone and knows she got a good hold on the lead – about 40s now or more. Kalentieva has caught Bresset and the two are together in second and third.
U23 -Barbara Benko (Hun) Focus Mig Team has taken over the lead – Canada's Kofman is up there…
Pendrel is riding well thru the S-section again… behind it's Bresset in second with Kalentieva on her wheel. Now Kalentieva attacks up the climb and takes over second place – she did the same to Nash on a previous lap.
Lap 4
Pendrel comes thru in 58:25 and has a 50s gap over Kalentieva in second with Bresset in 3rd at 1:01 followed by Nash in 4th with Premont in 5th – Osl is in 6th at 1:22 and Spitz in 7th.
Thru the Beatrice rock garden Pendrel looks smooth as Kalentieva is as bit tentative. Now it's Bresset's turn – and she makes it thru no problem.
Pendrel looks solid thru the feedzone – she may be extending her lead. Kalentieva is solidly in second… Batty continues to move up and we think she's in the top 10.
U23 – Pauline Prevot Ferrand (Fra) Lapierre International is leading now with Kathrin Stirnemann (Sui) Central Haibike Pro Team in second and Elisabeth Sveum (Nor) Team Merida Smart Safety in third – did Benko crash ?
Thru the S-section Pendrel continues to make gains…
Lap 5 Final
Pendrel is now on her last lap in 1:18:15… she's extended her lead a bit over Kalentieva to 56s as Bresset comes thru in 1:33.
Premont is in 4th and Nash is on her wheel in 5th… they're gaining on Bresset.
Thru the rock garden Pendrel is smooth again and continues to make her way to the finish… Kalentieva is also solid thru the tough section – Bresset makes it thru as well.
U23 Unofficial
1. Pauline Prevot Ferrand (Fra) Lapierre International
2. Kathrin Stirnemann (Sui) Central Haibike Pro Team
3. Elisabeth Sveum (Nor) Team Merida Smart Safety
Pendrel crashes on a flat section unexpectedly… but recovers fast and is back on her bike.
Bresset has some sort of mechanical and Premont takes over 3rd… Batty has moved up to 7th. Behind Nash is in 4th and Bresset in 5th with Osl in 6th – three Canadians in the top 10.
Pendrel is thru the S-section and is heading to the second feed zone and the finish line will soon be hers.
Pendrel adds to the Canada Day weekend celebrations…
Results
U23 Women
1. Pauline Prevot Ferrand (Fra) Lapierre International 1:23:44
2. Kathrin Stirnemann (Sui) Central Haibike Pro Team 1:07
3. Elisabeth Sveum (Nor) Team Merida Smart Safety 1:53
7. Mikaela Kofman (Can) 3 Rox Racing 8:37
9. Rebecca Beaumont (Can) 11:35
10. Andreanne Pichette (Can) Team Canada 13:53
13. Valerie Meunier (Can) 16:46
16. Cayley Brooks (Can) Team Canada -1 lap
17. Laura Bietola (Can) Team Canada -1 lap
18. Stephanie Lacoursiere (Can) Team Canada -1 lap
DNF Kristina Laforge (Can)
Elite Women
1. Catharine Pendrel (Can) Luna Pro Team 1:38:23
2. Irina Kalentieva (Rus) Topeak Ergon Racing Team 0:58
3. Julie Bresset (Fra) BH-Suntour-Peisey Vallandry 1:52
4. Katerina Nash (Cze) Luna Pro Team 2:01
5. Marie-Helene Premont (Can) Team Maxxis-Rocky Mountain 2:36
6. Elisabeth Osl (Aut) Ghost Factory Racing Team 2:45
7. Emily Batty (Can) Subaru-Trek 3:07
8. Nathalie Schneitter (Sui) Colnago Farbe Sudtirol 4:28
9. Tanja Zakelj (Slo) Orbea Geax 5:10
10. Gunn-Rita Dahle Flesjaa (Nor) Multivan Merida Biking Team 5:38
11. Lene Byberg (Nor) Specialized Racing 6:12
12. Heather Irmiger (USA) Subaru-Trek 6:29
13. Esther Süss (Sui) 6:31
14. Eva Lechner (Ita) Colnago Farbe Sudtirol 6:39
15. Blaza Klemencic (Slo) Felt Oetztal X-Bionic Team 7:18
16. Katrin Leumann (Sui) Ghost Factory Racing Team 7:31
17. Annika Langvad (Den) Team Easton Rockets 7:53
18. Maja Wloszczowska (Pol) CCC Polkowice 8:14
19. Lea Davison (USA) Specialized Racing 8:18
20. Georgia Gould (USA) Luna Pro Team 8:26
21. Sabrina Enaux (Fra) Felt Oetztal X-Bionic Team 8:31
22. Cécile Ravanel (Fra) GT Skoda Chamonix 9:42
23. Anja Gradl (Ger) Ghost Factory Racing Team 10:02
24. Alexandra Engen (Swe) Rothaus Poison-Bikes 10:16
25. Mary McConneloug (USA) Kenda/ Seven /NoTubes 11:10
26. Annie Last (Gbr) British National Team 11:46
27. Amanda Sin (Can) 3 Rox Racing 12:12
28. Anna Szafraniec (Pol) CCC Polkowice 12:18
29. Laura Turpijn (Ned) Team Merida Combee 13:01
30. Sandra Walter (Can) Xprezo-Borsao13:16
31. Magdalena Sadlecka (Pol) CCC Polkowice 14:39
32. Karen Hanlen (Nzl) 17:08
33. Katherine Compton (USA) Rabobank-Giant Off-Road Team 17:25
34. Hanna Klein (Ger) Rothaus Poison-Bikes 18:06
35. Catherine Vipond (Can) Norco Factory Team 18:42
36. Krista Park (USA) 18:43
37. Jean-Ann Berkenpas (Can) Xprezo-Borsao 19:56
38. Brandi Heisterman (Can) Team Whistler/Rocky Mountain 21:07
39. Katherine O'Shea (Aus) -1 lap
40. Chloe Forsman (USA) -1 lap
41. Mical Dyck (Can) Trek Canada -2 laps
42. Ann Berglund (Swe) -2 laps
43. Cindy Montambault (Can) CVM Val David -2 laps
44. Sofia Pezzatti (Sui) -2 laps
45. Caroline Villeneuve (Can) -2 laps
46. Rie Katayama (Jpn) -2 laps
47. Meghan Korol (USA) -3 laps
DNF Sabine Spitz (Ger) Central Haibike Pro Team
DNF Tereza Hurikova (Cze) Central Haibike Pro Team
DNF Nina Homovec (Slo) Orbea Geax
DNF Elisabeth Brandau (Ger) Central Haibike Pro Team
DNF Marielle Saner-Guinchard (Sui) Bikepark.ch Scott
DNF Rowena Fry (Aus)
DNF Adelheid Morath (Ger) Felt Oetztal X-Bionic Team
DNF Aleksandra Mooradian (Pol)
Standings after four Rounds
1. Julie Bresset (Fra) BH-Suntour-Peisey Vallandry 860 pts
2. Catharine Pendrel (Can) Luna Pro Team 720
3. Marie-Helene Premont (Can) Team Maxxis-Rocky Mountain 480
4. Lene Byberg (Nor) Specialized Racing 480
5. Eva Lechner (Ita) Colnago Farbe Sudtirol 464
6. Irina Kalentieva (Rus) Topeak Ergon Racing Team 450
7. Maja Wloszczowska (Pol) CCC Polkowice 440
8. Annika Langvad (Den) 422
9. Nathalie Schneitter (Sui) Colnago Farbe Sudtirol 420
10. Chengyuan Ren (Chn) Specialized Racing 390
11. Elisabeth Osl (Aut) Ghost Factory Racing Team 367
12. Sabine Spitz (Ger) Central Haibike Pro Team 365
13. Emily Batty (Can) Subaru-Trek 346
14. Esther Süss (Sui) 323
15. Gunn-Rita Dahle Flesjaa (Nor) Multivan Merida Biking Team 300
16. Tanja Zakelj (Slo) Orbea Geax 292
17. Katerina Nash (Cze) Luna Pro Team 289
18. Georgia Gould (USA) Luna Pro Team 282
19. Katrin Leumann (Sui) Ghost Factory Racing Team 275
20. Sabrina Enaux (Fra) Felt Oetztal X-Bionic Team 255
21. Blaza Klemencic (Slo) Felt Oetztal X-Bionic Team 232
22. Anna Szafraniec (Pol) CCC Polkowice 232
23. Annie Last (Gbr) 227
24. Mary Mcconneloug (USA) 214
25. Tereza Hurikova (Cze) Central Haibike Pro Team 213
26. Rosara Joseph (Nzl) Rabobank-Giant Off-Road Team 208
27. Alexandra Engen (Swe) 204
28. Hanna Klein (Ger) 200
29. Katherine Compton (USA) Rabobank-Giant Off-Road Team 195
30. Nina Homovec (Slo) Orbea Geax 174
31. Heather Irmiger (USA) Subaru-Trek 171
32. Lea Davison (USA) Specialized Racing 164
33. Cécile Ravanel (Fra) GT Skoda Chamonix 163
34. Anja Gradl (Ger) Ghost Factory Racing Team 156
35. Rie Katayama (Jpn) 145
36. Laura Turpijn (Ned) Team Merida Combee 143
37. Amanda Sin (Can) 3 Rocks Racing 142
38. Sarah Koba (Sui) Giant Swiss Sr-Suntour 140
39. Karen Hanlen (Nzl) 134
40. Laura Metzler (Fra) BH-Suntour-Peisey Vallandry 126
41. Elisabeth Brandau (Ger) Central Haibike Pro Team 108
42. Silke Schmidt (Ger) 104
43. Anne Terpstra (Ned) MPL Specialized MTB Team 92
44. Katherine O'shea (Aus) 83
45. Magdalena Sadlecka (Pol) CCC Polkowice 82
46. Anna Villar Argente (Esp) 79
47. Krista Park (USA) 72
48. Pavla Havlikova (Cze) 67
49. Mical Dyck (Can) Trek Canada 64
50. Adelheid Morath (Ger) Felt Oetztal X-Bionic Team 60
51. Janka Stevkova (Svk) 56
52. Coralie Redelsperger (Fra) 54
53. Aleksandra Dawidowicz (Pol) CCC Polkowice 50
54. Vera Andreeva (Rus) 48
55. Chloe Forsman (USA) 47
56. Sandra Walter (Can) Xprezo-Borsao 46
57. Nataliya Krompets (Ukr) ISD Cycling Team 40
58. Judith Pollinger (Ita) Infotre-Bi & Esse-Leecougan 39
59. Daniela Veronesi (Ita) 37
60. Catherine Vipond (Can) Norco 36
61. Githa Michiels (Bel) Trek-KMC Trade Team VZW 35
62. Jean Ann Berkenpas (Can) Xprezo-Borsao 32
63. Marielle Saner-Guinchard (Sui) Bikepark.ch Scott 32
64. Nicoletta De Jager (Ned) 31
65. Brandi Heisterman (Can) 30
66. Sandra Santanyes Murillo (Esp) 30
67. Ann Berglund (Swe) 26
68. Cindy Montambault (Can) 25
69. Sofia Pezzatti (Sui) 24
70. Oksana Rybakova (Rus) 24
71. Fabienne Niederberger (Sui) 24
72. Caroline Villeneuve (Can) 23
73. Maaris Meier (Est) 23
74. Meghan Korol (USA) 21
75. Inbar Ronen (Isr) 20
76. Rowena Fry (Aus) 19
77. Stephanie Wiedner (Aut) 18
78. Rocio Gamonal Ferrera (Esp) 17
79. Maddie Horton (Gbr) 15
80. Samantha Sanders (RSA) 15
81. Anneke Beerten (Ned) Milka Trek Mtb Racing Team 14
82. Gracie Elvin (Aus) 13
83. Jenni King (Aus) 12
84. Melanie Spath (Ger) 11
85. Maria Osl (Aut) Fischer-Bmc 10
86. Michalina Ziolkowska (Pol) 8
87. Kristien Nelen (Bel) V.Z.W. Goeman Scott Cycling Team 8