June 29, 2013 (Brixental, Austria) – The first of the 2013 UCI Mountain Bike World Championships took place on Saturday with the Marathon, in Brixental, Austria, and some familiar faces took the top step of the podium.  Gunn-Rita Dahle Flesjaa (Norway) won her fifth Marathon world title in the women's race, while Christoph Sauser (Switzerland) took his third in the men's competition.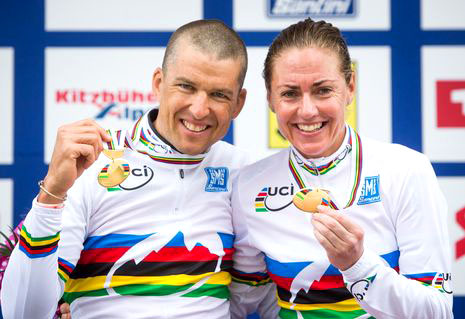 Held in the mountainous Tirol region near Kitzbuhel, during the KitzAlpBike Festival, the course took the riders on a series of loops radiating out from Kirchberg, with the men covering 95 kilometres and the women 85 kilometres.
Dahle Flesjaa had a battle with second place finisher Sally Bigham (Great Britain) for the first third of the race, actually trailing her rival at the second time split before pulling away in the second half.  Dahle Flesjaa had a two minute lead at the halfway mark and increased that to nearly four minutes by the finish.  Esther Suss (Switzerland) and Annika Langvad (Denmark) fought for the bronze medal early in the race before Suss pulled away in the second half to take the final podium spot.
"Some years ago, I set the goal to be the first lady to win a gold medal at the worlds being 40 years old. When I saw [that] I have number plate 40, I said, that's probably a good sign…" revealed Dahle Flesjaa.  "To realize that is unbelievable", she added. "The course is so extreme, I have never ridden a course like this and we didn't prepare for it. My tactic, with the help of the Norwegian girls, was to go fast into the first uphill, like in a cross country race. That tactic worked out perfectly, but the whole race was a cliff hanger. I can't tell you how many times I died out there, but I always hoped that the other girls do the same. I tried to prepare myself for these ups and downs and I knew that I have to eat as much as possible.  It was one of two goals this year.  Five world titles, that sounds scary to me. I still have great passion."
Men's race: Sauser overcomes the pressure
The men's race was a battle through its entire length between two former world champions – Sauser and Alban Lakata (Austria).  Ten riders rode within 30 seconds of each other for the first hour, before the group began to shrink under the pace set by Sauser and Lakata.  With nearly two hours under their wheels the race was down to two, and it remained that way until the end, with Sauser beating the home favourite by a mere 4.8 seconds after four and a half hours of racing.  Hector Paez (Colombia), the 2006 silver medalist in the world championship was third, at three minutes and 12 seconds.
Sauser, who retired from UCI World Cup cross-country competition at the end of last year, has dominated endurance racing this season. "I am very happy now, because the last 20 minutes downhill was an extremely pressure on me", he said. "One mistake and I could lose the gold medal. I wanted to be the first to go in this downhill and finally it worked. At the last climb, I felt, that I am the strongest of us three and I pushed hard. But it's not easy to drop Alban, when the climb is steady. There were only some seconds I got before the downhill.  I thought, 'now I can make some time', but always when I took it a bit easier, Alban came back close to me."
Results
Elite Women
Results
Elite Women
1. Gunn-Rita Dahle Flesjaa (Norway)  4:35:30
2. Sally Bigham (Great Britain)  3:48
3. Esther Süss (Switzerland)  7:19
4. Annika Langvad (Denmark)  11:26
5. Blaza Klemencic (Slovenia)  12:33
6. Tereza Hurikova (Czech Republic)  12:57
7. Ariane Kleinhans (Switzerland)  17:05
8. Michalina Ziolkowska (Poland)  19:00
9. Daniela Veronesi (Italy)  23:46
10. Elisabeth Osl (Austria)  24:47
11. Elena Gaddoni (Italy)  26:46
12. Borghild Lovset (Norway)  27:02
13. Milena Landtwing (Switzerland)  27:36
14. Sabine Sommer (Austria)  28:34
15. Catherine Hare Willianson (Great Britain)  31:16
16. Jane Nussli (Great Britain)  31:23
17. Pavlina Sulcova (Czech Republic)  37:12
18. Ekateryna Anoshina (Russian Federation)  37:39
19. Robyn De Groot (South Africa)  39:00
20. Katrin Leumann (Switzerland)  39:16
21. Fanny Bourdon (France)  39:24
22. Almut Grieb (Germany)  39:31
23. Mary Mcconneloug (United States Of America)  415
24. Alice Pirard (Belgium)  41:16
25. Ann Katrin Hellstern (Germany)  41:35
26. Samantha Sanders (South Africa)  45:01
27. Inne Gantois (Belgium)  45:16
28. Jennie Stenerhag (Sweden)  45:36
29. Mailin Franke (Germany)  48:04
30. Alexandra Clement (Switzerland)  51:11
31. Andrea Kirsic (Croatia)  52:55
32. Laura Lorenza Morfin Macouzet (Mexico)  55:56
33. Emmy Thelberg (Sweden)  57:06
34. Bettina Uhlig (Germany)  59:05
35. Kristin Aamodt (Norway)  1:021
36. Magdalena Sadlecka (Poland)  1:01:05
37. Celina Carpinteiro (Portugal)  1:03:42
38. Regina Genser (Germany)  1:05:18
39. Veronica Leal Balderas (Mexico)  1:08:06
40. Stefanie Germany Hadraschek-Joche (Germany)  1:08:20
41. Michele Wittlin (Switzerland)  1:08:24
42. Helle Denmark Qvortrup Bachmann (Denmark)  1:116
43. Christina Verhas (Austria)  1:18:12
44. Andrea Juhasova (Slovakia)  1:23:31
45. Annette Griner (Germany)  1:24:20
46. Eszter Dosa (Hungary)  1:24:37
47. Sandrine Ponsard (France)  1:311
48. Anita Orosz (Hungary)  1:41:25
49. Zuzana Juhasova (Slovakia)  1:43:58
50. Rachel Fenton (Great Britain)  1:45:59
51. Liliana Alejandra Uzcategui Vasquez (Venezuela)  1:46:00
52. Ana Teresa Wulff (Argentina)  1:55:14
53. Veronika Cseh (Hungary)  1:59:52
54. Magdalena Halajczak (Poland)  2:52:56
55. Irem Aslan (Turkey)  3:25:48
DNF  Sofia Pezzatti (Switzerland)
DNF  Kristina Weber (Germany)
DNF  Isabelle Klein (Luxembourg)
DNF  Alexandra Engen (Sweden)
DNF  Kim Saenen (Belgium)
DNF  Sophie Giovane (France)
Elite Men
1. Christoph Sauser (Switzerland)  4:313
2. Alban Lakata (Austria)  0:05
3. Hector Leonardo Paez Leon (Colombia)  3:12
4. Kristian Hynek (Czech Republic)  9:30
5. Urs Huber (Switzerland)  9:48
6. Jorge Oliveira Ferreira Tiago (Portugal)  10:25
7. Lukas Buchli (Switzerland)  11:07
8. Karl Platt (Germany)  11:37
9. Thomas Stoll (Switzerland)  14:58
10. Adrian Brzozka (Poland)  15:58
11. Periklis Ilias (Greece)  16:44
12. Sören Nissen (Denmark)  17:07
13. Mirko Celestino (Italy)  17:38
14. Jukka Vastaranta (Finland)  18:18
15. Michal Lami (Slovakia)  18:57
16. Tony Longo (Italy)  19:06
17. Robert Mennen (Germany)  22:01
18. Jérémy Huguenin (Switzerland)  22:26
19. Roel Paulissen (Belgium)  22:34
20. Frans Claes (Belgium)  24:14
21. Samuele Porro (Italy)  25:30
22. Bartlomiej Wawak (Poland)  25:38
23. Daniel Geismayr (Austria)  25:40
24. Marcus Kaufmann (Germany)  25:40
25. Kohei Yamamoto (Japan)  26:20
26. Jan Jobanek (Czech Republic)  26:42
27. Diego Arias (Colombia)  26:49
28. Matous Ulman (Czech Republic)  28:07
29. Steffen Thum (Germany)  29:43
30. Oscar Pujol Munoz (Spain)  30:05
31. Max Knox (South Africa)  30:09
32. Piotr Brzozka (Poland)  30:29
33. Hannes Genze (Germany)  30:35
34. Matthias Leisling (Germany)  30:49
35. Pavel Boudny (Czech Republic)  30:59
36. Hansueli Stauffer (Switzerland)  31:16
37. Jason English (Australia)  33:06
38. Yesid Chia Amaya Jaime (Colombia)  33:14
39. Erik Kleinhans (South Africa)  33:30
40. Alexey Medvedev (Russian Federation)  33:36
41. Thomas Dietsch (France)  33:44
42. Luca Ronchi (Italy)  34:30
43. Anton Sintsov (Russian Federation)  35:12
44. Michal Bubilek (Czech Republic)  35:13
45. Konny Looser (Switzerland)  37:19
46. Johnny Cattaneo (Italy)  37:21
47. Hermann Pernsteiner (Austria)  38:15
48. Andreas Kleiber (Germany)  39:17
49. Christian Schneidawind (Germany)  39:42
50. Philipp Gerber (Switzerland)  449
51. Ben Thomas (Great Britain)  41:04
52. Jairo Colombia Botero Salazar Jhon (Colombia)  41:22
53. Darren Lill (South Africa)  41:24
54. Jochen Kass (Germany)  41:26
55. Enrico Franzoi (Italy)  41:30
56. Sebastien Carabin (Belgium)  41:49
57. Georg Koch (Austria)  42:06
58. Marton Blazso (Hungary)  43:01
59. Paul Remy (France)  43:03
60. Lenart Noc (Slovenia)  43:03
61. Lourens Luus (South Africa)  43:15
62. Nico Bell (South Africa)  43:21
63. Allan Bachmann (Denmark)  43:48
64. Aleksander Dorozala (Poland)  46:28
65. Uwe Hardter (Germany)  46:36
66. Pierre-Geoffroy Plantet (France)  48:07
67. Xavier Dafflon (Switzerland)  48:35
68. Christophe Bassons (France)  49:28
69. Christian Helmig (Luxembourg)  49:55
70. Michael Broderick (United States Of America)  50:03
71. Remi Laffont (France)  50:08
72. Norbert Wyss (Switzerland)  50:57
73. Tom Ettlich (Germany)  52:30
74. Charles Keey (South Africa)  52:47
75. Mikael Salomonsson (Sweden)  53:31
76. Daniel Gathof (Germany)  54:17
77. David Schöggl (Austria)  54:21
78. Mariusz Marszalek (Poland)  56:06
79. Frantisek Lami (Slovakia)  57:21
80. Miguel Angel Gutierrez Garcia (Mexico)  57:45
81. Lars Granberg (Norway)  57:55
82. Michael Wiessner (Germany)  57:55
83. Patricio Andres Campbell Vilches (Chile)  59:26
84. Yannick Lincoln (Mauritius)  1:024
85. Patryk Piasecki (Poland)  1:01:23
86. Simon Gegenheimer (Germany)  1:02:42
87. Yuki Ikeda (Japan)  1:03:28
88. Miguel Angel Hidalgo (Argentina)  1:04:48
89. Alejandro Diaz De La Pena Lopez (Spain)  1:06:37
90. Valtteri Repo (Finland)  1:08:26
91. Adrian Jusinski (Poland)  1:09:21
92. Arnaud Rapillard (Switzerland)  1:09:32
93. Szilard Buruczki (Hungary)  1:141
94. Vincent Arnaud (France)  1:11:45
95. Christian Kreuchler (Germany)  1:12:52
96. Hamza Kansiz (Turkey)  1:13:22
97. Juan Busso (Argentina)  1:15:13
98. Tomasz Drozdz (Poland)  1:16:38
99. Oliver Vonhausen (Germany)  1:17:12
100. Morgan Pilley (Australia)  1:247
101. Pawel Baranek (Poland)  1:21:05
102. Pavao Roset (Croatia)  1:21:16
103. Timothy Carleton (Canada)  1:24:28
104. Juan Simon Ocana Ortiz (Mexico)  1:24:43
105. Zsolt Bur (Hungary)  1:28:29
106. Motoshi Kadota (Japan)  1:28:30
107. Michal Kowalczyk (Poland)  1:37:32
108. Vincent Pages (France)  1:46:17
109. Omer Faruk Kansiz (Turkey)  1:55:54
110. Justin Price (New Zealand)  2:22:35
111. Ismail Demirkan (Turkey)  2:31:11
112. Juan Antonio Diaz Cuervo (Mexico)  2:53:03
113. Alican Elkatmis (Turkey)  3:04:12
114. Fatih Kocak (Turkey)  3:09:36
115. Bora Tirki (Turkey)  3:12:13
DNF  Christoph Soukup (Austria)
DNF  Juan Pedro Trujillo Hernandez (Spain)
DNF  Wolfgang Mayer (Germany)
DNF  Bartosz Banach (Poland)
DNF  Thibault Sabatier (France)
DNF  Calle Friberg (Sweden)
DNF  Torsten Marx (Germany)
DNF  Borut Ramsak (Slovenia)
DNF  Juri Ragnoli (Italy)
DNF  Jaroslav Kulhavy (Czech Republic)
DNF  Jiri Novak (Czech Republic)
DNF  Jesus Del Nero Montes (Spain)
DNF  Daniel Federspiel (Austria)
DNF  Florian Willbold (Germany)
DNF  Dimitrios Antoniadis (Greece)
DNF  Tim Bohme (Germany)
DNF  Cristian Cominelli (Italy)
DNF  Pedro Romero Ocampo (Spain)
DNF  Frederic Gombert (France)
DNF  Goran Kuzmanovski (Former Yugoslav Republic of Macedonia)
DNF  Stefan Sahm (Germany)
DNS  Manuel Pliem (Austria)