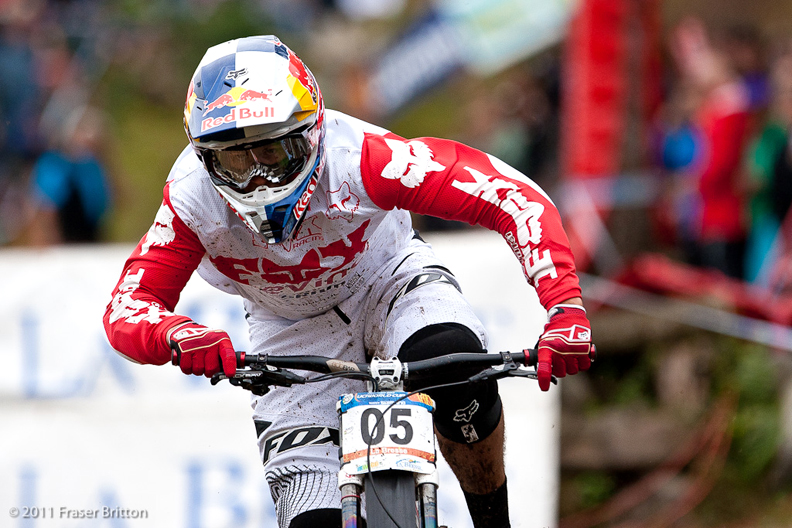 August 07, 2011 (La Bresse, France) – The rain that was predicted all weekend finally started to fall Saturday night in nearly biblical amounts. Greg Minnaar (RSA) Santa Cruz Syndicate powered through the slop to take home the win, and is still the only person this season to beat Aaron Gwin (USA) Trek World Racing. With his second place, Gwin sealed up the World Cup series overall with one round to go. For the women it was Tracy Moseley (Gbr) Trek World Racing once again taking the other women to school, winning by almost 5 seconds over Floriane Pugin (Scott 11) of France.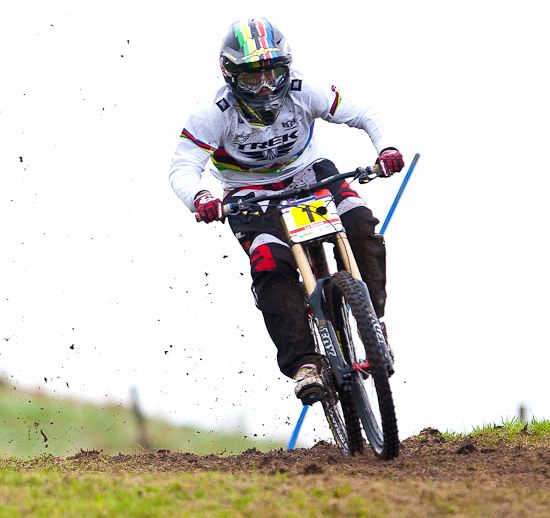 The short track in La Bresse turned much more physical after the rain, with the upper grass sections requiring a monumental effort to keep speed up through massive water filled ruts. Times slowed almost 8 seconds from qualifying when the track turned soft and slippery.
Big Minnaar is the only man to have beaten Gwin this season, doing it twice now. Minnaar was killing it all day and absolutely pinned through the second steep section where many were struggling.
He was ecstatic in the finish area. "After Mont Ste-Anne and Windham I didn't have a load of confidence. I knew I had to put something together here, and I knew what I had to change up. At the end of the day I had fun and it's a good bike race."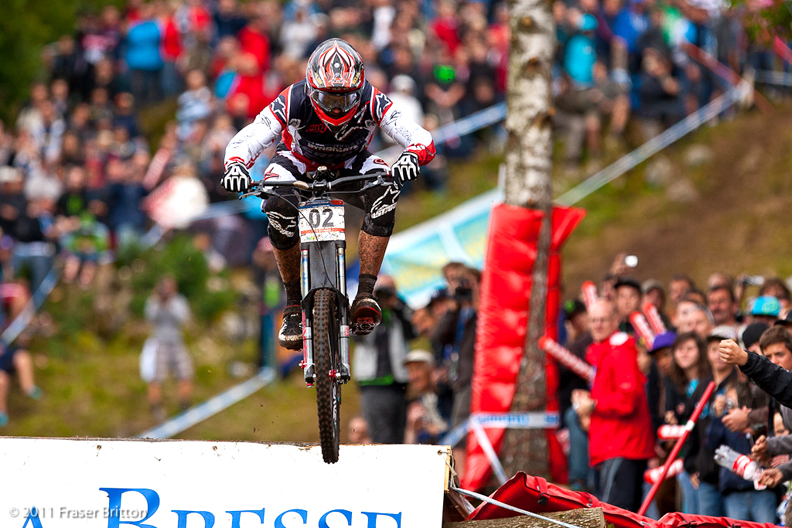 Moseley was surprised at her win. "That was the most awkward start I have ever had. I ended up covered in shit and was soaked after the first corner. It wasn't ever that wet this morning so I guess the water pooled there after people stopped practicing.
"Luckily I put a tear off on just before my start. I had so much crap in my face I wouldn't have been able to see. I pulled a tear off at the top before the boardwalk and had no speed. I'm lucky I made the first gap jump. There was nothing amazing about my run, but I guess it was enough in pretty tough conditions today."
Top Canadian on the day was Steve Smith in 7th place, another incredibly consistent finish for the Devinci Global Racing rider from Vancouver Island.
The riders now have a week off before the World Cup DH finals in Val di Sole, Italy where the track is a rider favourite.
Results (brief)
Elite Women
1. Tracy Moseley (Gbr) Trek World Racing    2:32.829
2. Floriane Pugin (Fra) Scott 11     4.991
3. Sabrina Jonnier (Fra) Team Maxxis – Rocky Mountain    5.001
4. Rachel Atherton (Gbr) Commencal    13.556
5. Emmeline Ragot (Fra) Team GR    14.662
Elite Men
1. Greg Minnaar (RSA) Santa Cruz Syndicate    2:09.611
2. Gee Atherton (Gbr) Commencal    0.459
3. Aaron Gwin (USA) Trek World Racing     2.429
4. Fabien Barel (Fra) Mondraker Factory Team      3.473
5. Cameron Cole (Nzl) Lapierre International    3.979
7. Steve Smith (Can) Devinci Global Racing      4.390
Standings after 6 Rounds
Elite Women
1. Tracy Moseley (Gbr) Trek World Racing    1,330
2. Floriane Pugin (Fra) Scott 11     1,180
3. Rachel Atherton (Gbr) Commencal    945
13. Micayla Gatto (Can) Team Young Guns 235
Elite Men
1. Aaron Gwin (USA) Trek World Racing     1,308
2. Greg Minnaar (RSA) Santa Cruz Syndicate    998
3. Gee Atherton (Gbr) Commencal    847
4. Steve Smith (Can) Devinci Global Racing      732