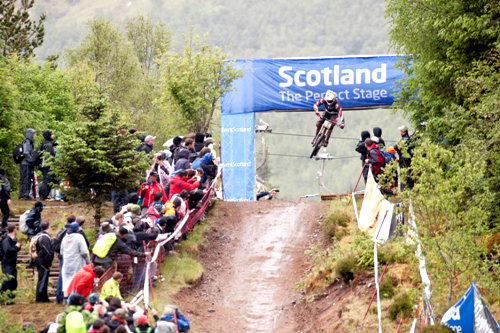 June 08, 2013 (Fort William, Scotland) – The Downhill series of the UCI Mountain Bike World Cup presented by Shimano opens this weekend in Fort William, Scotland. Long considered a center of the Gravity World, 'Fort Bill' has held a World Cup every year since 2002, with the exception of 2007, when the World Championships were held.  With one of the longest runs on the circuit, at nearly five minutes for the men, Fort William requires endurance and fitness to do well.  Fort William usually attracts an extremely large, loud and very enthusiastic crowd to add to the atmosphere.
While the top riders have been racing in smaller events for the early part of the season, Fort William will offer the first opportunity to bring all the stars together.  The World Cup weekend will climax with the Downhill events on the Sunday, on the slopes of Aonach Mor (pronounced Anach More). The downhill qualification will take place on the Saturday afternoon, where all the competitors race to qualify for the Finals (top 80 men and top 20 women).
New for 2013 will be a separate Men's Junior (Under 23) World Cup race with its own qualification and Final. The Women's Junior category will continue to take place within single qualification and Final sessions.
Host Great Britain has a long tradition of doing well here, with 2010 World Champion Tracy Moseley having won at Fort William five times.  Moseley has retired from World Cup competition, but plans to race at Fort William.  France's Sabrina Jonnier, a three time winner has also retired, but her compatriot, Emmeline Ragot (Lapierre Gravity Republic) is the defending champion, while the world champion, Morgane Charre (MS Mondraker) will have her first opportunity in 2013 to show off the rainbow stripes.  However, one of the strongest favourites is likely to be Great Britain's current star and the defending World Cup Champion, Rachel Atherton (GT Factory Racing), who has won almost every honour in downhill racing, with the exception of her home race.
On the men's side, current World Champion Greg Minnaar (Santa Cruz Syndicate) has the most wins at Fort William with four, followed by Sam Hill (Chainreactioncycles.com/Nukeproof) at two (one the world title).  Brits have been on the top of the podium twice – the legendary Steve Peat (Santa Cruz Syndicate) and Gee Atherton (GT Factory Racing) – and both can be expected to up their game here.  Another local rider to watch will be the 2011 World Champion, Danny Hart (Giant Factory Off-Road Team), back from an injury-plagued 2012 season.  Of course, the rider who can never be discounted is the two-time defending World Cup champion, Aaron Gwin (Specialized Racing DH), who will be looking for a first World Cup win on his new team.
Canada's racing this weekend include Women – reigning Canadian DH champ Casey Brown (Dirt Norco Race Team), Micayla Gatto, Vaea Verbeeck and reigning Junior DH Worlds champ Holly Feniak (Hutchinson UR); Men – Steve Smith, Matt Beer (reigning Canadian men's champ) and junior Mike Wallace all w/Devinci Global Racing, Remi Gauvin, Kyle Sangers, Kirk McDowall, and Forrest Riesco. -ed
All of the action will be available to race fans worldwide, live at redbull.com/bike.  The Final will be shown on Sunday, June 9th, between 13:35 and 15:45 (all times GMT).