July 30, 2011 (Copenhagen, DEN) – Tory Nyhaug of Coquitlam, British Columbia, took ninth place in the Supercross at the 2011 International Cycling Union (UCI) BMX World Championships held in Copenhagen, Denmark on Saturday.
Nyhaug, racing in the Elite category for the first time of his career at Worlds, found himself in the semi-finals after two rounds of qualifying, and went on to finished fifth in his respective semi-final race to take the ninth rank overall.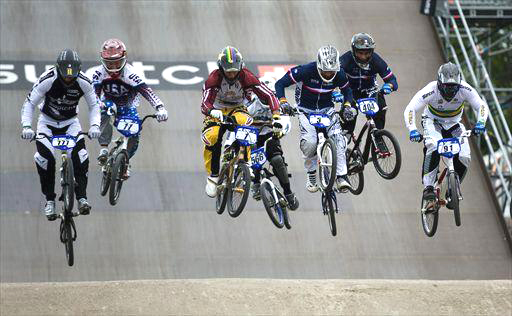 "There is a really good atmosphere here at the World Championships. Anything can happen on the day. It is one day from 365 during the year. I was having a good day today, but came up a little short," said Nyhaug, seventh in the World rankings, after the race. "In the semis, I got an outside lane, went back and forth on the second straight. I hit the guy and came around the third turn losing speed. I'm disappointed, but I didn't have a good race, but I don't leave behind any regrets."
Joris Daudet of France won the coveted World title and rainbow jersey, first to cross the finish line in the medal round. Daudet, bronze medalist in 2010, was the favourite on the starting line as he is currently sitting in first of the world rankings.
Daudet crossed the line ahead of 2008 Olympic champion and 2010 world champion Maris Strombergs of Latvia who finished second, followed by Marc Willers of New Zealand, a event winner on the 2011 World Cup circuit.

In the women's Elite race, Mariana Pajon of Colombia, the 2009 World Junior Champion, won the world title, followed by Sarah Walker of New Zealand in second and Magalie Pottier of France third.
In the Junior category, Canadian Connor McCormack finished in 30th place in the Supercross. The young BMX rider from Kelowna, BC, finished eighth yesterday in the trial trials.
In the women's Junior category, Melinda McLeod of Australia won her second World title in this 2011 edition of BMX Worlds today, winning gold in the supercross after taking the time trials title Friday.
The best BMX riders of Canada will gather in Quebec City, QC next weekend for the 2011 Canadian BMX Championships.
Junior Men's Quarterfinals HERE.
Elite Men's Semifinals HERE.
Results
Elite Men
1.    Joris Daudet     (Fra )    33.444
2.    Maris Strombergs     (Lat )    33.927
3.    Marc Willers     (Nzl )    33.954
4.    Sam Willoughby     (Aus )    34.444
5.    Brian Kirkham     (Aus )    34.509
6.    Carlos Oquendo Zabala    (Col )    34.796
7.    Connor Fields     (Usa )    37.599
8.   Moana Moo Caille    (Fra )    53.645
9.  Tory Nyhaug (Can)

Elite Women
1.    Mariana Pajon     (Col )    37.621
2.    Sarah Walker     (Nzl )    38.095
3.    Magalie Pottier     (Fra )    38.396
4.    Lieke Klaus     (Ned )    39.34
5.    Arielle Martin     (Usa )    39.367
6.    Vilma Rimsaite     (Ltu )    39.898
7.    Amanda Geving     (Usa )    41.483
8.    Jana Horáková     (Cze )    01:15.8
Junior Men
1.    Alfredo Campo     (Ecu )    34.883
2.    Trent Woodcock     (Nzl )    34.989
3.    Antonin Dupire     (Fra )    35.395
4.    Darryn Goodwin     (Aus )    35.67
5.     Lain Van Ogle    (Usa )    36.072
6.    Bodi Turner     (Aus )    36.503
7.     Igor Martins Ferreira    (Bra )    38.09
DNF    Lucas Alfredo Bustos     (Arg )
30.  Connor McCormack (Can)
Junior Women
1.    Melinda Mcleod     (Aus )    38.828
2.    Abbie Taylor     (Gbr )    39.479
3.    Brooke Crain     (Usa )    39.481
4.    Danielle George     (Usa )    40.12
5.    Nadja Pries     (Ger )    40.605
6.    Priscila Carnaval Stevux     (Bra )    40.686
7.     Enora Le Roux    (Fra )    41.919
DNF     Laura Smulders     (Ned )