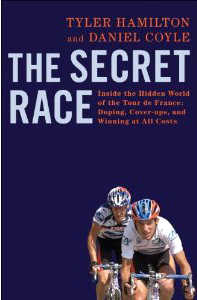 August 17, 2012 – Tyler Hamilton, a former teammate of Lance Armstrong, will release a tell-all book about doping inside the peloton on September 18 reports the New York Daily News. By no coincidence, the release date will also be Armstrong's 41st birthday.
The Secret Race: Inside the Hidden World of the Tour de France: Doping, Cover-ups, and Winning at All Costs by Hamilton and  Daniel Coyle is published by Bantam. According to the publisher's description of the book on Amazon, "The Secret Race is a definitive look at the world of professional cycling-and the doping issue surrounding this sport and its most iconic rider, Lance Armstrong by former Olympic gold medalist Tyler Hamilton and New York Times best-selling author Daniel Coyle."
"Over the course of two years, Coyle conducted more than two hundred hours of interviews with Hamilton and spoke candidly with numerous teammates, rivals, and friends. The result is an explosive book that takes us, for the first time, deep inside a shadowy, fascinating, and surreal world of unscrupulous doctors, anything-goes team directors, and athletes so relentlessly driven to succeed that they would do anything-and take any risk, physical, mental, or moral-to gain the edge they need to win." The book, listed for $28, takes a dark view on the question of whether Armstrong ever doped.
Armstrong is facing the prospect of an arbitration hearing by the U.S. Anti-Doping Agency (USADA) later this year on charges that he doped during his cycling career. Armstrong continues to deny he ever doped.
Hamilton, an American, rode with Armstrong's U.S. Postal team from 1999-2001 for three of the seven years that Armstrong snagged the TdF's yellow jersey. Hamilton went on to compete at the 2004 Athens Olympics where he won gold in the time trial. The New York Daily News also revealed July 16 correspondence from International Olympic Committee President Jacques Rogge to Hamilton. In this correspondence Rogge acknowledges that Hamilton is surrendering his gold medal. Rogge also appreciates that Hamilton expresses regret for using performance-enhancing drugs.
This news about Hamilton follows within days of the admission by another former Armstrong teammate on U.S. Postal, Jonathan Vaughters, that he doped during his cycling career.
New York Daily News
www.nydailynews.com/blogs/iteam/2012/08/tyler-hamiltons-armstrong-tell-all-the-secret-race-to-be-released-on-lances-birthday
Bantam's book description on Amazon
www.amazon.com/Secret-Race-Inside-Cover-ups-Winning/dp/0345530411/ref=sr_1_8?s=books&ie=UTF8&qid=1344889152&sr=1-8