August 24, 2012 – The epic Lance Armstrong story has reached a crescendo in his recent battle vs USADA now reverberating around the globe as Armstrong is not just a cyclist, but more a persona, touching many of life's arenas along with the hearts and minds of countless fans and detractors alike. No matter what you think of him, clean or not, statesman or clown, benefactor or rogue, Armstrong forces you to have an opinion. Here are two we received today to add to the mix of many conversations about the man from Texas…
What does the USADA Lance Armstrong Case Tell Us
On Thursday August 23, 2012 the cycling world tilted. Only time will tell how much and in which direction but the announcement that Lance Armstrong would not fight the USADA allegations or go to arbitration has caught the world by surprise. In his statement, released on the heels of the USADA announcement, he expressed concern that he had no chance at getting a fair hearing. If the explosion of opinions that are being expressed since this news came out is a measure of this, it could be that he's right. His decision not to put up a fight has been seen as an admission of guilt by some, and a clever move by others.
It's been hard to sort out what the facts are in all the chatter. Hopefully this will help add a little clarity to the conversation. Other than the USADA announcement and statement of sanctions plus Armstrong's own response we only have noteworthy people sharing their opinions. All of the other major governing bodies are waiting to learn more from the USADA.
Will Armstrong lose all of his victories? It's too early to tell. Many media outlets have said he has been stripped of them already however that's not accurate.
By not going to arbitration Armstrong has taken himself out of that discussion and is leaving it to USADA, WADA and the UCI to resolve the matter. It looks like a real hornets nest the moment you look inside, with the governing bodies at odds and the possible ramifications of any outcome being very significant to the sport.
The USADA is saying it wants a lifetime ban. No-one seems to be talking much about that. It also wants to strip him of all seven of his Tour de France titles and other titles from 1998 onward. All of the mainstream media is saying that USADA has already taken them away. However it would appear that there are points of procedure outlined in the WADA Code (WADC) that are in conflict with USADA's position. Furthermore, it appears that the UCI isn't aligned with that thinking.
First: WADA article 17 and UCI Regulation 368 set out a clear statute of limitations of 8 years, which would allow sanctions to go back only to 2004 and possibly affect Armstrong's last two Tour de France victories. The attempt to go back six further years would appear to be unprecedented. This would also apply to his Olympic medal as the IOC has been using WADC since 2004. Armstrong won the bronze medal in the ITT at the Sydney Games in 2000.
Next up: a "reasoned decision" is set out as a requirement in both UCI regulation 273 and WADA article 8 (8.3 in Armstrong's case). USADA chief executive Travis Tygart has talked about releasing facts "in due course"; however, USADA has refused to release any to the UCI since it got involved in the case. There are other people caught up in their own related cases so it's not clear how long that "due course" would be.
In its public statement, the UCI has said they will await delivery of the decision to all of the appropriate parties, which also includes Armstrong. The IOC and Tour de France owner ASO have given similar, brief statements and appear to be waiting to learn more before commenting. Meanwhile the rest of the world is racing ahead to a myriad of conclusions.
What's not clear is what will happen if Armstrong is stripped of his Tour de France victories. USADA has stated that the rules are clear and it expects the UCI to apply the sanctions as stated. While Floyd Landis and Alberto Contador had their victories nullified, that hasn't been the case for all of the cyclists who have been found to have used drugs.
Jan Ullrich, who was caught up in Operation Puerto, is still listed as the winner of 1997's Tour. Bjarne Riis still has the 1996 title after admitting to doping along with other other ex-Telekom riders in May 2007. Riis' name was removed, with no winner declared, his name went back into the history books a year later. It's hard to imagine seven years of the Tour, cycling's biggest race, without a winner named.
If they do get removed, would it be Ullrich who gets three more wins with Alex Zulle, Ivan Basso, Andreas Klöden and Joseba Beloki claiming the rest? You've probably read about all of those names – except Klöden – in one doping scandal or another over the years. Although I understand that the German National Anti-Doping Association is currently investigating even Klöden
The results by year for 2nd and 3rd:
1999: Alex Zulle, Fernando Escartin
2000 and 2001: Jan Ullrich, Joseba Beloki
2002: Beloki, Raimondas Rumsas (whose wife was caught at the end of the Tour at the Italian border with drugs)
2003: Ullrich, Alexandre Vinokourov
2004: Andreas Klöden, Ivan Basso
2005: Basso, Ullrich
Then there are the other victories in Armstrong's list of palmares… as mentioned bronze in the 2000 Olympic Individual Time Trial and numerous Dauphiné victories, just to name a couple.
Opinions are polarized when the topic of Lance Armstrong comes up. That's nothing new: people have been enamoured or highly suspicious of his success throughout his career. This latest chapter in the saga has taken things up a level and Twitter shows spikes with Lance Armstrong, Tour de France, and USADA all in the top-10 topics and trends.
Since the UCI statement yesterday there have been very few additional facts coming out. Some of the interviews I've read include people like Betsy Andreu (wife of former Armstrong teammate Frankie) who feels it's "impossible for cycling to move forward unless the past is dealt with."
By contrast Steve Bauer (owner of Cycle Sport Management, Team SpiderTech p/b C10) prefers to reflect on the progress being made in the sport, in his company statement: "The UCI has done excellent work in bringing forward leading edge anti-doping programs."
Mult-decorated Bernard Hinault went on record with, "I couldn't give a damn," saying it's Armstrong's problem, not his. Another former Tour winner, Pedro Delgado, added… "It's bad news for cycling and we know that the victims are always cyclists."
David Walsh, author of L.A. Confidential, was "pleased" and felt for him it was "a good day". Oscar Pereiro, who became the winner of the 2006 Tour after Landis was stripped of the title, wondered about the possible deals that had been made to get the testimony the USADA is relying on and mused that "…they won't be punished and that they won't have their winnings withdrawn. Is that right?"
Lots of disappointment is being expressed. And sadness.
by Peter Kraiker
———-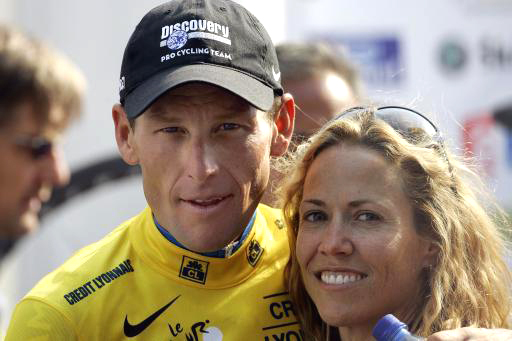 Lance Post Mortem
A short post  following the news that the USADA will strip Lance of all titles and be talking to St Peter as they go after his soul.
For someone who has been a harsh critic of Lance over the years, I find myself oddly entrenched in his corner.
I share none of the bitter vitriol of his accusers and feel strangely encamped with those who would hang onto the perception of their fallen hero. Lance's refusal to combat is at once noble and composed and shows a clear understanding of his fan base. Lance fully understands that people still listen to Janis Joplin and Kurt Cobain, still like the Doors and will sit through hours of commercials to watch Charlie Sheen's latest self deprecating sitcom.  At the end of the day, he was an entertainer. Professional sports is after all, not about records and achievement. It is purely entertainment and Lance is perhaps the most entertaining sports protagonist of the past 20 years.
I still don't understand the harsh and relentless pursuit of an icon. Why the anger and the passion to bring a man down when he has gone off into the shadows? It's a shame that this public flogging was carried out with so much passion while the entire NFL goes about their business and boxing still pretends that it's a sport. I don't see him or Barry Bonds or Roger Clemens as "cheats". I once saw Clemens throw 11 strike outs in a game at the Skydome and I rose to my feet after each and every one as we beat the dreaded Red Sox. I was thoroughly entertained and it bore no ill effects on my life anymore than if Jim Morrison had written Light my Fire on LSD. At the end of the day, I tap my toe to Lucy in the Sky with Diamonds or Strawberry Fields and don't want public money being spent trying to tear down the Beatles.
I find the rancor of the sports purists ridiculous. This is not "cheating".  It's dangerous and unfortunate, but people should save their moral tirades for politicians and pastors who abuse their power, not someone who inspired millions. Every athlete attempts to gain an advantage over his adversaries. From the soccer players who tug on jersey's to the hockey players who overcurve the blades of their sticks. Some sports entertainers even bite their opponents ears. When they get caught, they face the penalties inherent within the game. There shouldn't be such a public witch hunt and calls for people to return prize money and strip titles and even at that, I still don't get the bitter rhetoric and the cries of "cheat" and "doper". Were we not entertained?
There is also this assumption that doping is confined to the Tour de France and the Olympic 100m. The truth is, performance enhancing substances are rampant in every professional and amateur league of every sport. Sprinting and cycling are some of the only one's brave enough to tackle it. Steroids are in high school baseball, the NHL has no random drug testing policy and ladies botox the expression out of their faces so they can stay on TV longer. Why are we suprised and enraged at any of this?
When Whitney Houston dropped dead in the footsteps of Michael Jackson, there was none of this same high-browed condescension, but rather massive outpourings of lament and compassion. When these entertainers fell prey to chemical addictions, there was a cohesive public expression of support and regret and an understanding of the tragedy. I still don't fully understand those who would call for Armstrong to be publicly humiliated and stripped clean of all of his accolades and public favour. What's up with cycling? Why do people want to hate on us so bad?
For me, the real villain in all of this is still Floyd Landis. He was that sucky schoolboy that ratted out everyone else once he got called to the principal's office. He did what he did and then he sucked millions of dollars out of his fans proclaiming his innocence and selling a crappy book. Shame on you Floyd. At the end of the day, Lance inspired millions with his story of hope and his panache and raised 100's of millions in support for cancer research.  You were that freckly kid that no one told their secrets to or invited a second time to their birthday.
Many have commented that this past summer's Tour de France lacked drama or passion. Some have even deemed the race this year "boring". There was none of that when Lance was around. Even in the years after his comeback when he wasn't winning, there was a true and genuine excitement palpable and pervasive in the crowds that lined the roads. A more exciting sports entertainer is hard to find and people believed in the ideal and the dream. If the man was corrupt, so be it. The dream and the ideal are still beautiful and real.
by John Connors