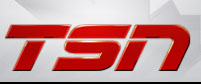 June 28, 2013 – TSN2 delivers 139 hours of coverage from the Tour de France, as Canadian Ryder Hesjedal looks to make his mark in the 100th running of the world's most famous cycling event. Coverage begins tomorrow (Saturday, June 29) at 9 a.m. ET on TSN2 and continues until July 21. In addition to daytime coverage, TSN2 will feature Tour de France RECAP SHOWS in prime time (see complete broadcast schedule below).
The Tour de France is also available on TSN Mobile TV and in French on RDS and RDS2.
TSN2 will feature NBC Sports Group's broadcast coverage of the TOUR DE FRANCE, with acclaimed voices of cycling, Phil Liggett and Paul Sherwen, calling all the race action, plus correspondent Steve Porino reporting from aboard a motorcycle on the race course.
The demanding three-week event features 198 of the world's best cyclists representing 22 teams in pursuit of the coveted yellow jersey. This year's Tour de France visits Corsica for the first time and also passes through 10 UNESCO World Heritage sites on the road to the finish line at the Arc de Triomphe in Paris.
Victoria, B.C. native Ryder Hesjedal heads Team Garmin-Sharp in his seventh Tour de France, following an impressive 2012 season, in which he became the first Canadian to win the Giro d'Italia. Now, Hesjedal is looking to become the first Canadian to win the Tour de France, competing against rising star Chris Froome, perennial favourite Alberto Contador, and 2013 Giro d'Italia winner Vincenzo Nibali.
Fans can follow the Tour de France on TSN Digital platforms – including TSN.ca and the  TSN app for iPhone and iPad – with a preview of riders to watch in 2013, daily standings, a day-to-day tracker of every Canadian rider in all four classifications, and a detailed history of Canadians at the race, as well as up-to-date news and highlights.
TSN2's broadcast schedule for the 2013 Tour de France is as follows:
Saturday, June 29
– Stage 1 – 9 a.m. ET
– Daily Recap Stage 1- 9 p.m. ET
Sunday, June 30
– Stage 2 – 7:30 a.m. ET
– Daily Recap: Stage 2- 6:30 p.m. ET
Monday, July 1
– Stage 3 – 6:30 a.m. ET
– Daily Recap: Stage 3 – 11:30 p.m. ET (TSN)
Tuesday, July 2
–    Stage 4 – 9 a.m. ET
–    Daily Recap: Stage 4 – 11:30 p.m. ET (TSN)
Wednesday, July 3
– Stage 5 – 8 a.m. ET
– Daily Recap: Stage 5 – 10:30 p.m. ET
Thursday, July 4
– Stage 6 – 8 a.m. ET
– Daily Recap: Stage 6 – 10:30 p.m. ET
Friday, July 5
–    Stage 7 – 8 a.m. ET
Saturday, July 6
–    Daily Recap: Stage 7 – 1 a.m. ET
–    Stage 8 – 9 a.m. ET
–    Daily Recap: Stage 8 – 10 p.m. ET
Sunday, July 7
–    Stage 9 – 10 a.m. ET
–    Daily Recap: Stage 9 – 10 p.m. ET
Monday, July 8
–    TOUR DE FRANCE PRIME TIME – 8 p.m. ET
Tuesday, July 9
–    Stage 10 – 8 a.m. ET
–    Daily Recap: Stage 10 – 8 p.m. ET (TSN)
–    Daily Recap: Stage 10 – 12 midnight ET
Wednesday, July 10
–    Stage 11 – 8 a.m. ET
–    Daily Recap: Stage 11 – 8 p.m. ET (TSN)
–    Daily Recap: Stage 11 – 12 midnight ET
Thursday, July 11
– Stage 12 – 8 a.m. ET
– TOUR DE FRANCE PRIME TIME – 8 p.m. ET
Friday, July 12
– Stage 13 – 8 a.m. ET
– TOUR DE FRANCE PRIME TIME – 8 p.m. ET
Saturday, July 13
–    Stage 14 – 8 a.m. ET
–    Daily Recap: Stage 14 – 9 p.m. ET
Sunday, July 14
– Stage 15 – 8 a.m. ET
– TOUR DE FRANCE PRIME TIME – 8 p.m. ET
Monday, July 15
–    (ENCORE) TOUR DE FRANCE PRIME TIME – 1 a.m. ET
–    TOUR DE FRANCE PRIME TIME – 8 p.m. ET
–    (ENCRORE) TOUR DE FRANCE PRIME TIME – 12 midnight ET
Tuesday, July 16
–  Stage 16 – 8 a.m. ET
– Daily Recap: Stage 16 – 8 p.m. ET (TSN)
– Daily Recap: Stage 16 – 12 midnight ET
Wednesday, July 17
– Stage 17 – 8 a.m. ET
– Daily Recap: Stage 17 – 9 p.m. ET
Thursday, July 18
– Daily Recap: Stage 17 – 12:30 a.m. ET
– Stage 18 – 6 a.m. ET
– Daily Recap: Stage 18 – 8 p.m. ET (TSN)
– Daily Recap: Stage 18 – 12 midnight ET
Friday, July 19
– Stage 19 – 6 a.m. ET
– TOUR DE FRANCE PRIME TIME – 8 p.m. ET
Saturday, July 20
– Stage 20 – 7:30 a.m. ET
– TOUR DE FRANCE PRIME TIME – 8 p.m. ET
Sunday, July 21
– Stage 21 – 12 noon ET
– Daily Recap: Stage 21 – 11 p.m. ET