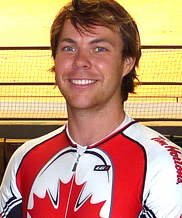 June 20, 2012 –
Pedal
has recently learned that veteran Canadian sprinter, Travis Smith, plans on taking legal action to appeal his Olympic non-selection as Canada's only representative in the Men's Keirin at London 2012. Smith declined to comment as the matter is ongoing. It should be noted that such appeals are not unusual – a similar process was initiated by Anne Samplonious in 2008 regarding the women's road team selections for the Beijing Games but was later dropped.
Smith is expected to base his appeal around the fact that he was the largest contributor in terms of points towards Canada qualifying a Keirin spot for London 2012. As well he will likely highlight his track record at international competitions that includes multiple Keirin finals in Track World Cups as well as two Commonwealth Games medals.
The selection process was based on the recently held Olympic trials in Los Angeles, CA, where Ontario rider, Joe Veloce, outperformed Smith and as a result was awarded the spot. Veloce is also the current Canadian Keirin Champion.
Commonwealth Games Keirin champ, Josiah Ng of Malaysia, has vocally supported Smith, putting out a call to help fundraise to offset Smith's legal costs.
Pedal will continue to monitor this situation as it develops.
Read more on the London 2012 Olympic Track Team Selection announcement HERE and our report on the announcement HERE.