August 11, 2011 (Little Elbow, AB) – Stage 4 of the 2011 TransRockies also marked Stage 1 of the TR4 solo four-day event. The 47.3km stage from North Fork Recreation Area to Little Elbow Campground in Alberta's beautiful Kananaskis Country. Riders faced 1300m of climbing and were treated to 1050m of descending.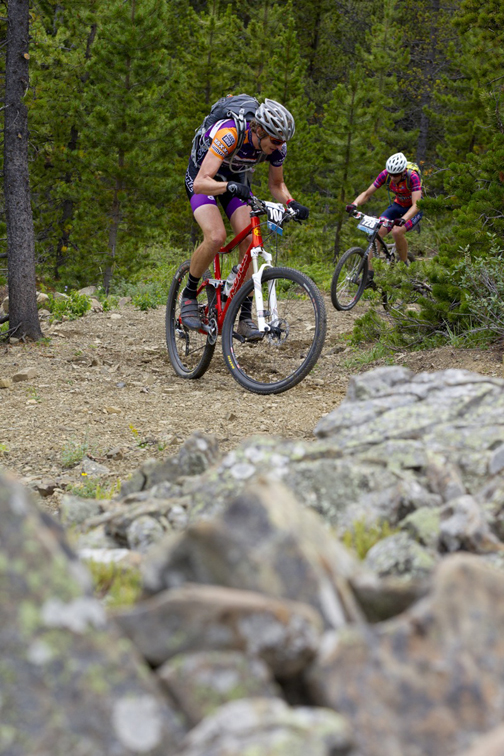 TR7
There's an old saying that goes "be careful what you ask for, you just might get it". After three dusty days in Fernie, riders finally got a break from the dry conditions, but it probably wasn't the one they wanted. While the fastest riders got through the 47km stage in less than two and a half hours beating the onrushing black clouds, the rest of the field found themselves high and exposed in pounding hail, thunder and rain. Or, as they call it in the Rockies, "Summer".
The day started off well enough with riders gathered under humid sunny skies at North Fork Recreation Area. The route ahead promised to be one of the  shortest rides of the week, a fast 47km over Volcano Ridge and through Black Rock Canyon to the finish line at Little Elbow Campground situated in one of the most spectacular valleys of the Front Range. The views of rugged Powderface Ridge which welcomed the support crew and early finishers quickly covered as dark clouds rolled in and the skies opened dropping hail and pouring rain on the 200 plus riders who were still on course when the weather arrived.
This is biking not baseball, though, and the game goes on regardless of the weather. Stage 4 brought a new winner to the front of the Open Men's Division as Team Honey Stinger finally reached the top step of the podium after two years of trying. The top four teams raced closely most of the day but Team Fernie continued their run of bad luck with a flat tire and hunger knock to drop out of the group and eventually finish 4th on the day. Overall leaders Team Zaboo of Switzerland held to their jerseys with a third place finish on the day. It was down to the teams from Bicycle Café/Gericks and Honey Stinger to fight for top honours and a very happy Nate Bird and Dax Massey took the win.
It's become a familiar story but not even a change of Province could slow down the leading Fernie Fix Open Women's team who grabbed their fourth straight stage win and solidified an overall lead which is starting to look insurmountable. One team which has been putting on a dominant performance is the Open 100+ Combined age team of Stan Magee from Canmore and Jon Gould from Tamarack, Idaho. This cross-border partnership has been stomping since Stage 1 riding with the fastest teams in the race and looks set to grow their lead all the way to the finish. In the Open Mixed Division, Ryan Schellenberg and Trish Gracyzk seem to have completely recovered from their near-disastrous Stage 2 crash and powered to another stage win. Two-time Olympic biathlon medallist Anna Carin Zidek seems to have adapted well to her first mountain bike race and holds down second place overall with her husband Tom Zidek who's competing in his 5th TransRockies.
TR4
The TR4 is a newly created solo event which includes the last four stages of the full TR7 route and its creation for the 10th Anniversary Event allows solo riders to officially complete the full seven days for the first time. While a large number of riders arrived fresh at the start line at North Fork, they were joined by a large group of solo riders taking on all seven days. Despite the three extra days of riding in their legs, Team Kona's Barry Wicks and Kris Sneddon took the top two places on Stage 1 of the TR4 and were followed by another TR3 racer David Gonda who rounded out the podium. The 40+ Men's division saw new arrival Simon Pulfrey beat Jeff Neilson who grabbed his 4th straight solo race second place. Kira McLellan signed up for the full 7-day solo effort and she was rewarded with her first stage victory on the ride to Little Elbow Campground.
One of TR4 riders who put in a great showing on the first day was retired World Cup Slalom skier Thomas Grandi who placed 9th in the Open Men's division showing that it takes a good set of lungs to compete at the international level in Alpine skiing.
No TransRockies would be complete without some challenge from the weather and 2011 has now joined the list of epic TransRockies. The storm dumped a deep coating of hail onto the route for Stage 5 but rain which fell all afternoon had washed most of it away by dinnertime. Stage 5 promises to be a slippery ride through some of epic riding in K-Country.
Results
TR4 Results
TR7 Results
TR7 GC
Stage 5 Preview
Little Elbow-Little Elbow
66km/2000m climbing/2000m descending
Stage 5 of the TransRockies brings back the big loop format which has been popular since it was introduced in 2008, This Little Elbow based-loop features an incredible loop of mountain bike trails including classic area rides like Prairie Creek, Sulphur Springs and Moose Packers Trail with newly developed purpose-built mountain biking trails like Pnuema and Ridgemont. We've put together the ultimate combination of trails in the Moose Mountain area.