March 11, 2014 – It is with great enthusiasm that the Transports Lacombe/Devinci Team supported by ZOOM MEDIA unveils its team for the 2014 season. The team holds a national license and will take part in various National and International cycling races this season.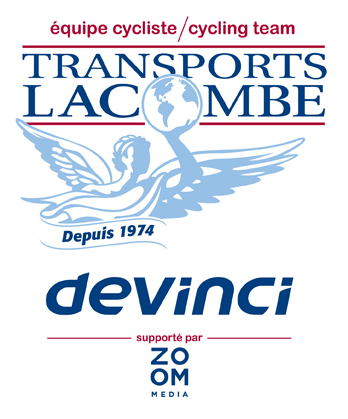 A total of 11 athletes will represent the organization during the season. Back with the team this year are Antoine Matteau, François Chabot, Jean Emile Frederic Cossette, Samuel Gagnon, Yohan Patry. New members include Lambert Gatineau, Marc Antoine Concerns , Christian Deshaies, Alexis Cartier and Stephen Keeping.
Pascal Hervé, ex -professional rider will return as co-sports director to assist Stéphane Tremblay. "Pascal's experience is very important for the development of the riders, they are very happy to learn and take profit from his experience. The 2013 season was a very difficult year for the team. We have learned from our mistakes and gained a lot of experience. In 2014 we will rebuild the foundation of the team and give confidence to young riders who aspire always ascend to the highest level of the sport," commented Tremblay.
Several new races appeared in the North American calendar and the team will try to participate in as many of these events. The team riders must demonstrate their level of excellence to attract the attention of the organizers and obtain coveted invitations.
To begin the season, the team will take part in the prestigious Battenkill spring classic 5-6 April 2014 in the state of New York. In Quebec the first pedal strokes will be in Contrecoeur for the third year in a row!
Two athletes on the team will have the chance to participate in the prestigious Tour of Morocco from April 4-13 – Stephen Keeping and Emile Jean are the lucky riders! In addition, five riders were selected to the Quebec U23 Team for a project in California early in the season to participate in two prestigious races – the Chico and San Dimas stage races for two weeks starting on March 20th. The five team riders selected are: Samuel Gagnon, Emile Jean, Yohan Patry, Frédéric Cossette and Marc-Antoine Soucis are very happy to be selected for this exciting project.
We are please to thank our sponsors who support the riders and help the team.
Transports Lacombe, ZOOM Media, Devinci , Ekoï , Trek Financial coaching, Richards Packaging, LOOK, schwalbe , SENSO BIKE, X : ACT nutrition, Thule , Mitsubishi Trois-Rivières, Natura, Fruit ² , Asics , enseignes professionnelles, Biknd, Rolf Prima .