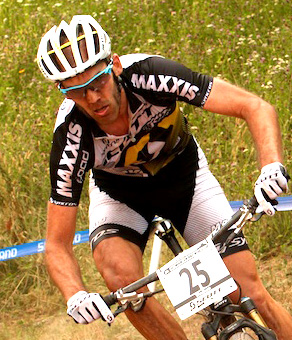 September 23, 2012 (Clamensane, France) – The Mavic Trans-Provence All-Mountain race is a unique MTB week-long adventure where the full spectrum of each rider's technical mountain-biking ability, fitness and craft is tested to the limit on some of the wildest bikeable terrain in Europe.
Departing from Rochebrune until the final arrival in Monte-Carlo about 300km later, racers will compete over 7 days as the event features 26 gravity-assisted, multiple downward-pointing timed stages over the week making it the world's first race of its kind – a multi-day, point-to-point race, which is won on singletrack, and not on doubletrack or wide forest roads.
Although racers are riding from point to point, the only time that counts is during the gravity-assisted timed sections. To win, participants must be at their best both descending and with their endurance between the time segments. Accoring the the race web site…"The winner is the rider who finishes in Monaco having accumulated the lowest total time from the 26 predominantly singletrack, predominantly descending timed "Special Stages" featured along the route. The 3 or 4 Special Stages per day are linked together by predominantly ascending un-timed "Liaison Stages"."
For the fourth edition of the event, there are 15 professional level riders from Europe, North America and Oceania, including Canada's own Geoff Kabush (Scott – 3RoxRacing) and 55 amateurs who will fight during the week for redefine the boundaries of what a bike can do.
Sunday was Day 1from Rochebrune to Clamensane and included three timed sections where Kabush finished 10th overall aboard his brand new 27.5″ (650b) version Scott Genius.
Results (brief)
1. Jérôme Clementz (PRO) Cannondale/Mavic    0:21:19
2. Nicolas Lau (PRO)    0:21:33
3. Nicolas Vouilloz (PRO) Lapierre    0:21:39
4. Ralph Näf (PRO) Merida    0:21:51
5. Mark Weir (PRO) WTB/Shimano/Cannondale    0:21:58
6. Adam Craig (PRO) Radobank/Giant    0:22:24
7. Florian Golay (PRO) Felt/Crossroad    0:22:36
8. Ben Cruz (PRO) WTB/Shimano/Cannondale    0:22:39
9. Joe Barnes (PRO) MTBCut/Orange    0:22:53
10. Geoff Kabush (PRO) Scott-3Rox    0:23:35
Full results HERE.
For more information on the Trans-Provence click HERE.