October 31, 2014 (Cincinnati, Ohio) – In the Women's event during a cold drizzling rain at Harbin Park in Cincinnati, a chain mishap at the start sent Katie Compton (Trek Cyclocross Collective) to the back of the field and running for the pits.  Katerina Nash (Luna Pro Team) took full advantage and stretched her lead to 25 seconds for the win over teammate Maghalie Rochette.
With mud splattered up her back, regional favorite Kaitlin Antonneau (Twenty15 Pro Cycling) rounded out the 3rd spot, only 7 seconds in front of the Luna Pro Team duo of Catherine Pendrel and Georgia Gould.  Quite a day for the Luna women.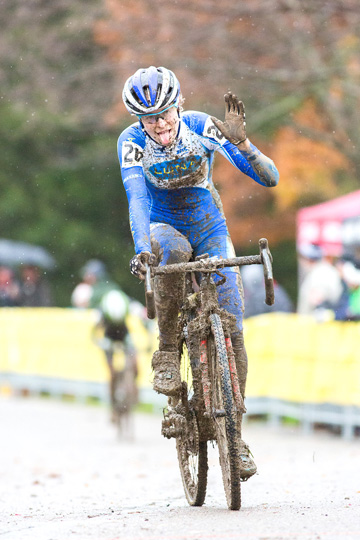 Compton would come from behind to finish in 6th ahead of Rachel Lloyd (California Giant/Specialized), Caroline Mani (Raleigh/Clement), Courtenay McFadden (GE Capital/American Classic) and Crystal Anthony (Optum p/b Kelly Benefit Strategies).
The cold front moved into the area as the men took to the start.  With the temperature plummeting to 41 degrees, Danny Summerhill (K-Edge/Felt) found solid lines in the disintegrating muddy corners and took the win in front of Jamie Driscoll (Raleigh/Clement) and Justin Lindine (Redline Factory/NBX).  Rounding out the top ten were Ben Berden (Raleigh/Clement), Cody Kaiser (Lange Twin/Specialized), Kerry Werner (Optum p/b Kelly Benefit Strategies), Todd Wells (Specialized Factory Racing), Geoff Kabush (Scott/3Rox Racing), Allen Krughoff (Noosa Professional Cyclocross Team),and Benjamin Sonntag (Team CLIF BAR).
Now in its 11th year, the Toyota Cincy3 Cyclocross Festival (Oct 31 – Nov 2) promises to deliver some of the most intense competition on the ProCX calendar this year; 3 days, 3 different venues, $35,000 in prize money, loads of UCI points, and equal payouts. The Toyota Cincy3 CX Festival continues with C1 night racing at Kings Saturday, and concludes with the first-ever Pan American Continental Championships Sunday (C2 for elite men). The weekend also features amateur racing in the popular OVCX series all 3 days.
The men's elite races will feature U.S. Champion Jeremy Powers, former U.S. Champion Tim Johnson (winner of 2 out of 3 races in Cincy last year), Canadian National Champion Geoff Kabush, Olympian and former U.S. Champion Todd Wells, and for Sunday – the return to racing of former U.S. Champion Ryan Trebon.
As World's team qualifier races, the UCI Junior 17-18 events in Cincy are set to be the most competitive of the season.  Cincinnatian Spencer Petrov, racing on his local training courses, along with fellow top-ten world-ranked Gage Hecht (Colorado), will be the favorites after swapping wins in the KMC Providence weekend earlier this month.  Known as the home of Lionhearts Racing, Cincinnati recently has become a Midwest magnet for high-level junior racing.  With Red Zone Racing 90 min down the road in Louisville, and Midwest Devo 90 min east in Indy, the host Lionhearts team do weekly battles with top-ranked U.S. juniors in the local OVCX series.  For this weekend, juniors from 17 states will be racing Cincy3.
The inclusion of the Pan American Championships on Sunday throws in some interesting weekend dynamics.  European riders like Nash (CZE), Ben Berden (BEL), and Gabby Durrin (GBR) will contest the events at Harbin and Kings, but will have to sit out the Pan Am events at Devou since they are not part of the 43 nation Pan-American Confederation.  U23 men and women will race Harbin and Kings with the older elites, but will have their own races in smaller fields on the final day at Devou.  With the Pan Am race being held on the hardest course on the final day, riders will have tough decisions to make all weekend.
In its 11th anniversary season, the ZIPP OVCX Series, including the MudFund Derby City Cup and Cincy3 UCI weekends, will continue its focus on maximizing the growth of regional cyclocross through great courses, competitive fields, and good times.  Find the complete schedule and registration links online at OVCX.com.  Like OVCX on Facebook and follow OhioValleyCX on Twitter.  For more information visit CincinnatiCyclocross.com.
Results
Elite Women
1. Katerina Nash (Cze) Luna Pro 43:58
2. Maghalie Rochette (Can) Luna Pro Team
3. Kaitlin Antonneau (USA) Cannondale p/b Cyclocrossworld
4. Catharine Pendrel (Can) Luna Pro
5. Georgia Gould (USA) Luna Pro
Full results here.
Elite Men
1. Daniel Summerhill (USA) K-Edge / Felt Cyclocross Team 1:00:10
2. Jamey Driscoll (USA) Raleigh / Clement 0:18
3. Justin Lindine (USA) Redline Factory / NBX 0:26
4. Ben Berden (Bel) Raleigh / Clement 1:08
5. Cody Kaiser (USA) LangeTwins/Specialized 1:13
8. Geoff Kabush (Can) Scott-3Rox Racing 1:56
Full results here.