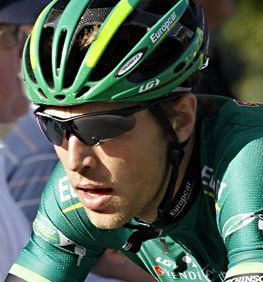 May 11, 2013 (St-Maurice l'Exil, France) – Canada's David Veilleux (Europcar) finished second in Saturday's 158.7km Stage 2 of the Rhône-Alpes Isère Tour at 18 seconds behind winner Frédéric Talpin (Fra) VC Caladois. Talpin crossed the finish line with a time of 3:58:32 for an average speed of 39.919 km/hr. No other Canadians featured in the 88 riders who finished this stage.
Veuilleux now sits in 9th place on the GC as the Rhône-Alpes Isère Tour continues through Sunday with a hilly 181.1km stage today (Sat.) from St-Maurice l'Exil to Toussieu, and the final 158.6-km stage on Sunday from Toussieu to Charvieu-Chavagneux.
Results Stage 2 here.