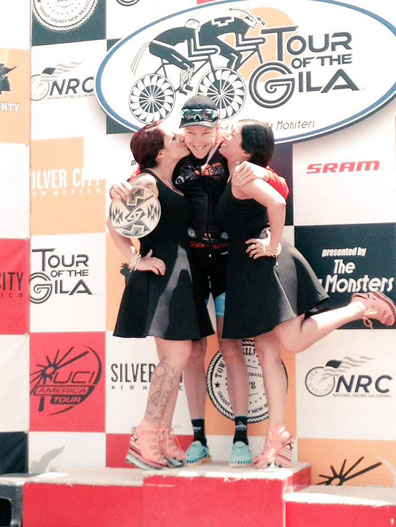 May 03, 2015 (Pinos Altos, New Mexico) – Canada's Rob Britton (SmartStop) claimed the final GC title while Mike Woods (Optum p/b Kelly BenefitStrategies) took the final Stage 5 Gila Monster RR, 161.9km, win for a fabulous red Maple Leaf finale to the 29th annual Tour of the Gila. Woods finished 4th overall while Adam De Vos (Can) H&R Block Pro Cycling was 7th putting three Canucks in the final top 10.
"The team rode perfectly all week and my only job today was to not mess it up," said Britton. "The goal was always to win the Gila and better our third place from last year."
In the women's 110.9 km final Jasmin Glaesser (Can) Optum p/b Kelly Benefit Strategies took 4th on the stage only 3s off the podium to finish 4th overall as Mara Abbott (USA) Amy D Foundation won the final stage and the GC victory. Leah Kirchmann (Optum p/b Kelly Benefit Strategies) placed 6th on the final stage to land 8th overall.
Results
Pro Men
1. Michael Woods (Can) Optum p/b Kelly Benefit Strategies 4:09:58
2. Daniel Alexander Jaramillo Diez (Col) Jamis-Hagens Berman
3. Robinson Eduardo Chalapud Gomez (Col) Orgullo Antioqueno
4. Christopher Horner (USA) Airgas-Safeway Cycling Team
5. Adam De Vos (Can) H&R Block Pro Cycling  
6. Emerson Oronte (USA) AltoVelo/SeaSucker
7. Rob Britton (Can) Team Smartstop  
8. Janez Brajkovic (Slo) UnitedHealthcare Professional Cycling Team 0:05
9. Frayre Moctezuma Eder (Mex) IRT Racing 0:06
10. Jonathan Hornbeck (USA) Hincapie Racing Team
11. Gavin Mannion (USA) Jelly Belly p/b Maxxis
12. Lachlan Norris (Aus) Drapac Professional Cycling
13. Luis Enrique Lemus Davila (Mex) Airgas-Safeway Cycling Team 0:09
14. Tao Geoghegan Hart (Gbr) Axeon Cycling Team 0:13
15. Matt Rodrigues (USA) Airgas-Safeway Cycling Team 0:23
16. Isaac Bolivar Hernandez (Col) UnitedHealthcare Professional Cycling Team 0:27
17. Chris Butler (USA) Team Smartstop 1:28
18. Robin Carpenter (USA) Hincapie Racing Team 2:31
19. Phillip Gaimon (USA) Optum p/b Kelly Benefit Strategies 2:37
20. Timothy Rugg (USA) Lupus Racing Team 2:43
21. Kyle Murphy (USA) Lupus Racing Team
22. Evan Huffman (USA) Team Smartstop
23. Tom Zirbel (USA) Optum p/b Kelly Benefit Strategies 2:45
24. Cristhian Montoya Giraldo (Col) Orgullo Antioqueno 3:01
25. James Oram (Nzl) Axeon Cycling Team 3:03
26. Rafael Montiel (Col) Orgullo Antioqueno 3:19
27. Camilo Zambrano (Col) Intermouintain Livewell p/b Bountiful Bicycle 6:17
28. Flavio De Luna (Mex) Team Smartstop 6:18
29. Chad Beyer (USA) Superissimo
30. Will Routley (Can) Optum p/b Kelly Benefit Strategies  
31. Gregory Daniel (USA) Axeon Cycling Team
32. Morgan Schmitt (USA) Canyon Bicycles Shimano
33. Sepp Kuss (USA) Intermouintain Livewell p/b Bountiful Bicycle
34. Dylan Girdlestone (Rsa) Drapac Professional Cycling
35. Bjorn Selander (USA) Optum p/b Kelly Benefit Strategies 6:23
36. Lachlan David Morton (Aus) Jelly Belly p/b Maxxis 6:31
37. William Clarke (Aus) Drapac Professional Cycling
38. Alexandr Braico (Mda) Jelly Belly p/b Maxxis 6:36
39. Sergio Hernandez (USA) Incycle Cannondale 8:22
40. Juan David Montoya Abreu (Col) Orgullo Antioqueno 8:30
41. Oscar Eduardo Sanchez Guarin (Col) Orgullo Antioqueno 8:32
42. Michael Le Rossingnol (Can) Silber Pro Cycling 0:10:49
43. Alexander Ray (Nzl) Silber Pro Cycling 0:11:04
44. Stefano Barberi (USA) California Giant/Specialized 0:12:18
45. Torey Philipp (USA) California Giant/Specialized
46. Cole House (USA) Isageniz/Seasucker/Guttenplan Coaching
47. Coulton Haltrich (USA) IRT Racing
48. Matteo Dal-Cin (Can) Silber Pro Cycling  
49. Connor McCutcheon (USA) Airgas-Safeway Cycling Team
50. Pablo Cesar Cruz (Hon) Isageniz/Seasucker/Guttenplan Coaching
51. Gregory Obando Brenes (Crc) Jamis-Hagens Berman 0:12:24
52. Travis McCabe (USA) Team Smartstop 0:12:36
53. Ruben Guerreiro (Por) Axeon Cycling Team 0:13:37
54. Chris Putt (USA) Axeon Cycling Team
55. Marco Canola (Ita) UnitedHealthcare Professional Cycling Team 0:13:41
56. Jonathan Clarke (Aus) UnitedHealthcare Professional Cycling Team
57. Adrian Hegyvary (USA) UnitedHealthcare Professional Cycling Team 0:20:30
58. Andrs Miguel Diaz Corrales (Col) Incycle Cannondale
59. Jared Gilyard (USA) Canyon Bicycles Shimano
60. Walton Brush (USA) IRT Racing
61. Dennis Ramirez (USA) Superissimo
62. Samuel Hunter Snipe Grove (USA) Incycle Cannondale
63. Daniel Summerhill (USA) UnitedHealthcare Professional Cycling Team
64. Dillon Caldwell (USA) Canyon Bicycles Shimano
65. Guillaume Boivin (Can) Optum p/b Kelly Benefit Strategies  
66. Stuart Wight (Can) H&R Block Pro Cycling  
67. Pierrick Naud (Can) Optum p/b Kelly Benefit Strategies  
68. Ian Holt (USA) AltoVelo/SeaSucker
69. Oliver Flautt (USA) Lupus Racing Team
70. Logan Owen (USA) Axeon Cycling Team
71. Nicola Dal Santo (Ita) AmoreAMVVita-USA Racing p/b Hincapie Sportswear
72. Joseph Lewis (Aus) Hincapie Racing Team
73. Garrett McLeod (Can) H&R Block Pro Cycling  
74. Jure Kocjan (Slo) Team Smartstop
75. Jacob Albrecht (USA) California Giant/Specialized
76. Walter Gaston Trillini (Arg) Jamis-Hagens Berman
77. Jordan Kerby (Aus) Drapac Professional Cycling
78. Steve Fisher (USA) Jelly Belly p/b Maxxis
79. Kevin Gottlieb (USA) Airgas-Safeway Cycling Team
80. Geoffrey Curran (USA) Axeon Cycling Team
81. Taylor Shelden (USA) AltoVelo/SeaSucker
82. Jacob Rathe (USA) Jelly Belly p/b Maxxis
83. Travis Meyer (Aus) Drapac Professional Cycling
84. Sam Warford (USA) Superissimo 0:24:25
85. Eric Young (USA) Optum p/b Kelly Benefit Strategies
86. Shawn Gravois (USA) Lupus Racing Team
87. Steven Perezluha (USA) Isageniz/Seasucker/Guttenplan Coaching 0:24:43
88. Rene Corella (Mex) IRT Racing 0:25:14
89. Juan Sebastian Tamayo Martinez (Col) Orgullo Antioqueno 0:25:55
90. Oscar Clark (USA) Hincapie Racing Team 0:28:50
91. Joe Schmalz (USA) Hincapie Racing Team
92. Johnathan Freter (USA) Jelly Belly p/b Maxxis
93. Justin Mauch (USA) Airgas-Safeway Cycling Team 0:29:13
94. Max Korus (USA) Superissimo 0:31:16
95. James Gene Piccoli (Can) H&R Block Pro Cycling  
96. Fred Rodriguez (USA) Jelly Belly p/b Maxxis 0:33:00
97. Wouter Wippert (Ned) Drapac Professional Cycling
98. Agam Bryfogle (USA) Superissimo 0:37:47
99. Marcos Lazzarotto (USA) Isageniz/Seasucker/Guttenplan Coaching 0:37:50
100. Gilbert Ducoumau (Ven) Intermouintain Livewell p/b Bountiful Bicycle 0:38:03
101. Tim Aiken (USA) Airgas-Safeway Cycling Team 0:38:51
102. MacKenzie Brennan (USA) Hincapie Racing Team 0:45:16
103. Efren Ortega (Pur) Incycle Cannondale 0:47:38
104. Clint Mortley (USA) Intermouintain Livewell p/b Bountiful Bicycle 0:47:41
105. Quinn Keogh (USA) Superissimo 0:58:18
DNF Lucas Sebastian Haedo (Arg) Jamis-Hagens Berman
DNF Carson Miller (USA) Jamis-Hagens Berman
DNF Ben Jacques-Maynes (USA) Jamis-Hagens Berman
DNF Luis Romero Amaran (Cub) Jamis-Hagens Berman
DNF Kiel Reijnen (USA) UnitedHealthcare Professional Cycling Team
DNF Martin Kohler (Sui) Drapac Professional Cycling
DNF Benjamin Perry (Can) Silber Pro Cycling  
DNF Alexander Cataford (Can) Silber Pro Cycling  
DNF Travis Samuel (Can) H&R Block Pro Cycling  
DNF Mauricio Ortega Ramirez (Col) Orgullo Antioqueno
DNF Winston David (USA) Lupus Racing Team
DNF Kristofer Dahl (Can) Team Smartstop  
DNF Julian Rodas (Col) Incycle Cannondale
DNF Ansel Dickey (USA) California Giant/Specialized
DNF Alfredo Balloni (Ita) AmoreAMVVita-USA Racing p/b Hincapie Sportswear
Pro Women
1. Mara Abbott (USA) Amy D Foundation 2:58:06
2. Katie Hall (USA) UnitedHealthcare Professional Cycling Team 0:37
3. Breanne Nalder (USA) DNA Cycling p/b K4 3:00
4. Jasmin Glaesser (Can) Optum p/b Kelly Benefit Strategies 3:03
5. Linda Melanie Villumsen (Nzl) UnitedHealthcare Professional Cycling Team 3:05
6. Leah Kirchmann (Can) Optum p/b Kelly Benefit Strategies 3:07
7. Brianna Walle (USA) Optum p/b Kelly Benefit Strategies
8. Flavia Oliveria (Bra) Visit Dallas Cycling p/b Noise4Good
9. Lex Albrecht (Can) Optum p/b Kelly Benefit Strategies  
10. Miranda Griffiths (Aus) BMW p/b Happy Tooth Dental 3:17
11. Allie Dragoo (USA) Twenty 16 p/b Sho-Air 3:21
12. Lauren Stephens (USA) Team Tibco-SVB
13. Abigail Mickey (USA) UnitedHealthcare Professional Cycling Team 3:30
14. Alison Jackson (Can) Twenty 16 p/b Sho-Air 3:36
15. Athena Countouriotis (USA) Visit Dallas Cycling p/b Noise4Good 3:55
16. Rocio Parrado Guarnizo (Col) Itau Shimano Ladies Power Team
17. Anna Sanders (USA) Visit Dallas Cycling p/b Noise4Good 4:03
18. Kaitlin Antonneau (USA) Twenty 16 p/b Sho-Air 4:08
19. Jessenia Alejan Meneses Gonzalez (Col) Itau Shimano Ladies Power Team 4:17
20. Joanne Hogan (Aus) Team Tibco-SVB 5:36
21. Scotti Wilborne (USA) UnitedHealthcare Professional Cycling Team
22. Annie Toth (USA) Amy D Foundation 5:57
23. Marcela Elizabe Prieto Castaneda (Mex) Uaem Grassi Pro Cycling Team Mexico 9:13
24. Lauren De Crescenzo (USA) DNA Cycling p/b K4
25. Teresa Casas (Mex) Uaem Grassi Pro Cycling Team Mexico 0:10:16
26. Ana Maria Hernandez Delgado (Mex) Uaem Grassi Pro Cycling Team Mexico 0:10:18
27. Hannah Barnes (Gbr) UnitedHealthcare Professional Cycling Team
28. Erica Zaveta (USA) BMW p/b Happy Tooth Dental
29. Anne Perry (USA) DNA Cycling p/b K4
30. Jannalyn Luttrell (USA) DNA Cycling p/b K4
31. Annie Ewart (Can) Optum p/b Kelly Benefit Strategies  
32. Liza Rachetto (USA) BMW p/b Happy Tooth Dental
33. Amber Gaffney (USA) Twenty 16 p/b Sho-Air
34. Kathrin Hammes (Ger) Team Tibco-SVB
35. Olivia Dillon (Irl) Visit Dallas Cycling p/b Noise4Good 0:12:44
36. Kathryn Donovan (USA) Amy D Foundation
37. Dulce Pliego Moreno (Mex) Uaem Grassi Pro Cycling Team Mexico
38. Patricia Schwager (Sui) Team Tibco-SVB
39. Heather Fischer (USA) DNA Cycling p/b K4
40. Jessica Cerra (USA) Twenty 16 p/b Sho-Air
41. Kathryn Bertine (Skn) BMW p/b Happy Tooth Dental
42. Andreina Patric Rivera Del Risco (Col) Itau Shimano Ladies Power Team
43. Ariane Horbach (Ger) Optum p/b Kelly Benefit Strategies
44. Aranza Valentin Villalon Sanchez (Chi) Itau Shimano Ladies Power Team 0:17:09
45. Madeline Boutet (USA) Twenty 16 p/b Sho-Air 0:17:34
46. Julie Emmerman (USA) Amy D Foundation 0:17:50
47. Lauren Tamayo (USA) UnitedHealthcare Professional Cycling Team
48. Amanda Miller (USA) Amy D Foundation 0:17:54
DNF Jessica Uebelhart (Sui) BMW p/b Happy Tooth Dental
DNF Shoshauna Routley (Can) BMW p/b Happy Tooth Dental
DNF Mia Manganello (USA) Visit Dallas Cycling p/b Noise4Good
Final GC
Pro Men
1. Rob Britton (Can) Team Smartstop 12:56:25
2. Daniel Alexander Jaramillo Diez (Col) Jamis-Hagens Berman 0:24
3. Gavin Mannion (USA) Jelly Belly p/b Maxxis 0:56
4. Michael Woods (Can) Optum p/b Kelly Benefit Strategies 1:05
5. Janez Brajkovic (Slo) UnitedHealthcare Professional Cycling Team 1:14
6. Robinson Eduardo Chalapud Gomez (Col) Orgullo Antioqueno 1:20
7. Adam De Vos (Can) H&R Block Pro Cycling  
8. Tao Geoghegan Hart (Gbr) Axeon Cycling Team 1:31
9. Christopher Horner (USA) Airgas-Safeway Cycling Team 1:39
10. Emerson Oronte (USA) AltoVelo/SeaSucker
11. Lachlan Norris (Aus) Drapac Professional Cycling 1:58
12. Rafael Montiel (Col) Orgullo Antioqueno 2:55
13. Phillip Gaimon (USA) Optum p/b Kelly Benefit Strategies 3:11
14. Jonathan Hornbeck (USA) Hincapie Racing Team 3:20
15. Frayre Moctezuma Eder (Mex) IRT Racing 3:36
16. Matt Rodrigues (USA) Airgas-Safeway Cycling Team 3:53
17. James Oram (Nzl) Axeon Cycling Team 4:01
18. Kyle Murphy (USA) Lupus Racing Team 4:23
19. Chris Butler (USA) Team Smartstop 4:32
20. Cristhian Montoya Giraldo (Col) Orgullo Antioqueno 4:35
21. Robin Carpenter (USA) Hincapie Racing Team 4:43
22. Isaac Bolivar Hernandez (Col) UnitedHealthcare Professional Cycling Team 4:48
23. Timothy Rugg (USA) Lupus Racing Team 5:03
24. Lachlan David Morton (Aus) Jelly Belly p/b Maxxis 7:15
25. Tom Zirbel (USA) Optum p/b Kelly Benefit Strategies 8:00
26. Luis Enrique Lemus Davila (Mex) Airgas-Safeway Cycling Team 8:06
27. Dylan Girdlestone (Rsa) Drapac Professional Cycling 8:38
28. Morgan Schmitt (USA) Canyon Bicycles Shimano 8:42
29. Flavio De Luna (Mex) Team Smartstop 9:26
30. Gregory Daniel (USA) Axeon Cycling Team
31. Alexandr Braico (Mda) Jelly Belly p/b Maxxis 0:10:20
32. Bjorn Selander (USA) Optum p/b Kelly Benefit Strategies 0:10:32
33. Chad Beyer (USA) Superissimo 0:10:47
34. Evan Huffman (USA) Team Smartstop 0:12:01
35. Oscar Eduardo Sanchez Guarin (Col) Orgullo Antioqueno 0:12:06
36. Sepp Kuss (USA) Intermouintain Livewell p/b Bountiful Bicycle 0:12:56
37. Camilo Zambrano (Col) Intermouintain Livewell p/b Bountiful Bicycle 0:13:31
38. Alexander Ray (Nzl) Silber Pro Cycling 0:14:02
39. Sergio Hernandez (USA) Incycle Cannondale 0:14:24
40. Juan David Montoya Abreu (Col) Orgullo Antioqueno 0:15:07
41. Gregory Obando Brenes (Crc) Jamis-Hagens Berman 0:15:12
42. Connor McCutcheon (USA) Airgas-Safeway Cycling Team 0:15:30
43. Will Routley (Can) Optum p/b Kelly Benefit Strategies 0:15:38
44. Matteo Dal-Cin (Can) Silber Pro Cycling 0:16:53
45. Michael Le Rossingnol (Can) Silber Pro Cycling 0:17:04
46. Stefano Barberi (USA) California Giant/Specialized 0:17:10
47. Marco Canola (Ita) UnitedHealthcare Professional Cycling Team 0:17:35
48. Coulton Haltrich (USA) IRT Racing 0:18:50
49. Chris Putt (USA) Axeon Cycling Team 0:18:52
50. Ruben Guerreiro (Por) Axeon Cycling Team 0:19:34
51. Jonathan Clarke (Aus) UnitedHealthcare Professional Cycling Team 0:20:36
52. William Clarke (Aus) Drapac Professional Cycling 0:21:06
53. Guillaume Boivin (Can) Optum p/b Kelly Benefit Strategies 0:22:05
54. Taylor Shelden (USA) AltoVelo/SeaSucker 0:23:04
55. Travis McCabe (USA) Team Smartstop 0:23:57
56. Andrs Miguel Diaz Corrales (Col) Incycle Cannondale 0:25:33
57. Joseph Lewis (Aus) Hincapie Racing Team 0:26:04
58. Jordan Kerby (Aus) Drapac Professional Cycling 0:26:23
59. Travis Meyer (Aus) Drapac Professional Cycling 0:29:13
60. Geoffrey Curran (USA) Axeon Cycling Team 0:29:30
61. Jared Gilyard (USA) Canyon Bicycles Shimano 0:29:33
62. Jacob Albrecht (USA) California Giant/Specialized 0:29:37
63. Logan Owen (USA) Axeon Cycling Team 0:29:52
64. Pierrick Naud (Can) Optum p/b Kelly Benefit Strategies 0:31:31
65. Samuel Hunter Snipe Grove (USA) Incycle Cannondale 0:31:35
66. Sam Warford (USA) Superissimo 0:31:48
67. Kevin Gottlieb (USA) Airgas-Safeway Cycling Team 0:32:23
68. Juan Sebastian Tamayo Martinez (Col) Orgullo Antioqueno 0:32:24
69. Ian Holt (USA) AltoVelo/SeaSucker 0:33:00
70. Daniel Summerhill (USA) UnitedHealthcare Professional Cycling Team 0:33:17
71. Steve Fisher (USA) Jelly Belly p/b Maxxis 0:33:25
72. Joe Schmalz (USA) Hincapie Racing Team 0:33:47
73. Pablo Cesar Cruz (Hon) Isageniz/Seasucker/Guttenplan Coaching 0:36:00
74. Torey Philipp (USA) California Giant/Specialized 0:37:10
75. Jure Kocjan (Slo) Team Smartstop 0:37:26
76. Dennis Ramirez (USA) Superissimo 0:37:37
77. Jacob Rathe (USA) Jelly Belly p/b Maxxis 0:37:55
78. Shawn Gravois (USA) Lupus Racing Team 0:38:05
79. Nicola Dal Santo (Ita) AmoreAMVVita-USA Racing p/b Hincapie Sportswear 0:38:12
80. James Gene Piccoli (Can) H&R Block Pro Cycling 0:38:31
81. Garrett McLeod (Can) H&R Block Pro Cycling 0:38:33
82. Oscar Clark (USA) Hincapie Racing Team 0:39:20
83. Eric Young (USA) Optum p/b Kelly Benefit Strategies 0:39:32
84. Adrian Hegyvary (USA) UnitedHealthcare Professional Cycling Team 0:44
85. Stuart Wight (Can) H&R Block Pro Cycling 0:40:47
86. Dillon Caldwell (USA) Canyon Bicycles Shimano 0:41:15
87. Cole House (USA) Isageniz/Seasucker/Guttenplan Coaching 0:44:56
88. Walter Gaston Trillini (Arg) Jamis-Hagens Berman 0:48:48
89. Justin Mauch (USA) Airgas-Safeway Cycling Team 0:48:53
90. Oliver Flautt (USA) Lupus Racing Team 0:58
91. Wouter Wippert (Ned) Drapac Professional Cycling 0:51:28
92. Steven Perezluha (USA) Isageniz/Seasucker/Guttenplan Coaching 0:53:07
93. Max Korus (USA) Superissimo 0:54:22
94. Fred Rodriguez (USA) Jelly Belly p/b Maxxis 0:54:29
95. MacKenzie Brennan (USA) Hincapie Racing Team 0:57:11
96. Rene Corella (Mex) IRT Racing 0:57:40
97. Walton Brush (USA) IRT Racing 1:04:48
98. Agam Bryfogle (USA) Superissimo 1:06:02
99. Johnathan Freter (USA) Jelly Belly p/b Maxxis 1:07:25
100. Tim Aiken (USA) Airgas-Safeway Cycling Team 1:07:29
101. Clint Mortley (USA) Intermouintain Livewell p/b Bountiful Bicycle 1:18:47
102. Marcos Lazzarotto (USA) Isageniz/Seasucker/Guttenplan Coaching 1:27:38
103. Quinn Keogh (USA) Superissimo 1:38
104. Efren Ortega (Pur) Incycle Cannondale 1:32:29
105. Gilbert Ducoumau (Ven) Intermouintain Livewell p/b Bountiful Bicycle 1:34:34
Pro Women
1. Mara Abbott (USA) Amy D Foundation 11:34:47
2. Katie Hall (USA) UnitedHealthcare Professional Cycling Team 2:12
3. Lauren Stephens (USA) Team Tibco-SVB 3:36
4. Jasmin Glaesser (Can) Optum p/b Kelly Benefit Strategies 4:03
5. Linda Melanie Villumsen (Nzl) UnitedHealthcare Professional Cycling Team 4:55
6. Brianna Walle (USA) Optum p/b Kelly Benefit Strategies 5:22
7. Allie Dragoo (USA) Twenty 16 p/b Sho-Air 5:27
8. Leah Kirchmann (Can) Optum p/b Kelly Benefit Strategies 6:30
9. Miranda Griffiths (Aus) BMW p/b Happy Tooth Dental 6:49
10. Flavia Oliveria (Bra) Visit Dallas Cycling p/b Noise4Good 7:00
11. Abigail Mickey (USA) UnitedHealthcare Professional Cycling Team 7:23
12. Breanne Nalder (USA) DNA Cycling p/b K4 7:55
13. Alison Jackson (Can) Twenty 16 p/b Sho-Air 8:04
14. Kaitlin Antonneau (USA) Twenty 16 p/b Sho-Air 8:15
15. Rocio Parrado Guarnizo (Col) Itau Shimano Ladies Power Team 9:28
16. Anna Sanders (USA) Visit Dallas Cycling p/b Noise4Good 9:41
17. Athena Countouriotis (USA) Visit Dallas Cycling p/b Noise4Good 9:50
18. Scotti Wilborne (USA) UnitedHealthcare Professional Cycling Team 0:11:20
19. Lex Albrecht (Can) Optum p/b Kelly Benefit Strategies 0:12:13
20. Joanne Hogan (Aus) Team Tibco-SVB 0:13:42
21. Hannah Barnes (Gbr) UnitedHealthcare Professional Cycling Team 0:15:40
22. Lauren De Crescenzo (USA) DNA Cycling p/b K4 0:16:39
23. Anne Perry (USA) DNA Cycling p/b K4 0:16:59
24. Annie Toth (USA) Amy D Foundation 0:17:03
25. Annie Ewart (Can) Optum p/b Kelly Benefit Strategies 0:20:33
26. Erica Zaveta (USA) BMW p/b Happy Tooth Dental 0:21:29
27. Kathrin Hammes (Ger) Team Tibco-SVB 0:21:37
28. Olivia Dillon (Irl) Visit Dallas Cycling p/b Noise4Good 0:22:49
29. Liza Rachetto (USA) BMW p/b Happy Tooth Dental 0:22:54
30. Amber Gaffney (USA) Twenty 16 p/b Sho-Air 0:24:29
31. Jessica Cerra (USA) Twenty 16 p/b Sho-Air 0:25:49
32. Marcela Elizabe Prieto Castaneda (Mex) Uaem Grassi Pro Cycling Team Mexico 0:28:05
33. Heather Fischer (USA) DNA Cycling p/b K4 0:29:34
34. Patricia Schwager (Sui) Team Tibco-SVB 0:29:36
35. Kathryn Bertine (Skn) BMW p/b Happy Tooth Dental 0:29:55
36. Kathryn Donovan (USA) Amy D Foundation 0:31:02
37. Jannalyn Luttrell (USA) DNA Cycling p/b K4 0:31:44
38. Dulce Pliego Moreno (Mex) Uaem Grassi Pro Cycling Team Mexico 0:32:29
39. Teresa Casas (Mex) Uaem Grassi Pro Cycling Team Mexico 0:32:58
40. Julie Emmerman (USA) Amy D Foundation 0:33:38
41. Jessenia Alejan Meneses Gonzalez (Col) Itau Shimano Ladies Power Team 0:36:43
42. Madeline Boutet (USA) Twenty 16 p/b Sho-Air 0:38:51
43. Ariane Horbach (Ger) Optum p/b Kelly Benefit Strategies 0:40:44
44. Ana Maria Hernandez Delgado (Mex) Uaem Grassi Pro Cycling Team Mexico 0:41:37
45. Amanda Miller (USA) Amy D Foundation 0:43:06
46. Aranza Valentin Villalon Sanchez (Chi) Itau Shimano Ladies Power Team 0:46:29
47. Andreina Patric Rivera Del Risco (Col) Itau Shimano Ladies Power Team 0:50:40
48. Lauren Tamayo (USA) UnitedHealthcare Professional Cycling Team 0:52:21
Sprint Classification
1. Alison Jackson (Can) Twenty 16 p/b Sho-Air 36  pts
2. Olivia Dillon (Irl) Visit Dallas Cycling p/b Noise4Good 26
3. Hannah Barnes (Gbr) UnitedHealthcare Professional Cycling Team 23
4. Lauren Stephens (USA) Team Tibco-SVB 21
5. Annie Ewart (Can) Optum p/b Kelly Benefit Strategies 18
6. Jasmin Glaesser (Can) Optum p/b Kelly Benefit Strategies 18
7. Leah Kirchmann (Can) Optum p/b Kelly Benefit Strategies 12
8. Brianna Walle (USA) Optum p/b Kelly Benefit Strategies 9
9. Lauren De Crescenzo (USA) DNA Cycling p/b K4 8
10. Liza Rachetto (USA) BMW p/b Happy Tooth Dental 7
11. Flavia Oliveria (Bra) Visit Dallas Cycling p/b Noise4Good 6
12. Amanda Miller (USA) Amy D Foundation 5
13. Allie Dragoo (USA) Twenty 16 p/b Sho-Air 5
14. Erica Zaveta (USA) BMW p/b Happy Tooth Dental 5
15. Linda Melanie Villumsen (Nzl) UnitedHealthcare Professional Cycling Team 4
16. Breanne Nalder (USA) DNA Cycling p/b K4 3
17. Heather Fischer (USA) DNA Cycling p/b K4 3
18. Teresa Casas (Mex) Uaem Grassi Pro Cycling Team Mexico 2
19. Rocio Parrado Guarnizo (Col) Itau Shimano Ladies Power Team 1
Young Rider Jersey
1. Jasmin Glaesser (Can) Optum p/b Kelly Benefit Strategies 11:38:50
2. Leah Kirchmann (Can) Optum p/b Kelly Benefit Strategies 2:27
3. Abigail Mickey (USA) UnitedHealthcare Professional Cycling Team 3:20