May 01, 2014 (Silver City, NM) – In today's Stage 2 75-mile Inner Loop Road Race, Carmen Small (DNA Cycling p/b K4) took the win over Team TIBCO to the Top's Jo Kiesanowski in a close two-up sprint with Lauren Stephens also TIBCO in 3rd ahead of the main group. Canada's Jasmin Glaesser (Team TIBCO to the Top) placed 7th while Lex Albrecht (TWENTY16 Pro Cycling) was 10th.
Several attacks marked the day's racing, but no breaks were successful. At 104 kilometers into the race, a 10 kilometer climb to a Queen of the Mountains marker made for some hard racing.
At 4 kilometers to go, the reduced group was all together and the attacks began but nothing stayed away and at 1 kilometer to go, Team TIBCO took to the front.  Small attacked with 500 meters to go and got a gap, securing the stage win. Stephens then jumped to bridge to Kiesanowski who took 2nd while Stephens claimed 3rd.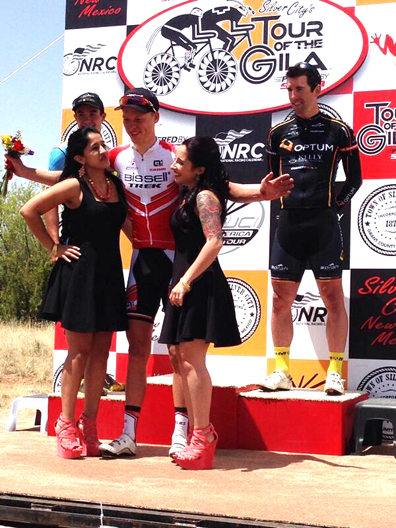 Nicolai Brochner earned a big win for the Bissell Development Team besting Eric Young (Optum p/b Kelly Benefit Strategies) in second and Travis McCabe (Team SmartStop) in third on the 121.6km/76-mile on Stage 2.
Canada's Rob Britton (Team SmartStop) placed 13th and sits 5th overall while teammate Zach Bell placed 23rd. The Tour of the Gila continues on May 2 with the Dan Potts Memorial Tyrone Time Trial, a 25.84km/16.15-mile individual time trial (ITT) on Stage 3.
Results  (brief)
Women
1. Carmen Small (DNA Cycling p/b K4)    3:35:44
2. Joanne Kiesanowski (Team TIBCO to the Top)
3. Lauren Stephens (Team TIBCO to the Top)    0:01
4. Kaitie Antonneau (TWENTY16 Pro Cycling)    0:03
5. Katie Hall (UnitedHealthcare Pro Cycling)
6. Rushlee Buchanan (UnitedHealthcare Pro Cycling)
7. Jasmin Glaesser (Team TIBCO to the Top)
8. Jessica Cerra (FCS|Zngine p/b Mr. Restore)
9. Mara Abbott (UnitedHealthcare Pro Cycling)
10. Lex Albrecht (TWENTY16 Pro Cycling)
24. Laura Brown (Colavita-Fine Cooking)    0:03
Men
1. Nicolai Brochner (Bissell Development Team)    3:04:27
2. Eric Young (Optum p/b Kelly Benefit Strategies)
3. Travis McCabe (Team SmartStop)
4. Ryan Eastman (Bissell Development Team)    0:02
5. Kiel Reijnen (UnitedHealthcare Pro Cycling)
6. Tyler Magner (Hincapie Sportswear Development Team)
7. Kirk Carlsen (Jelly Belly Cycling p/b Maxxis)
8. Dan Jaramillo Diez (Jamis Hagens Berman p/b Sutter Home)    0:05
9. Grego Obando Brenes (Jamis Hagens Berman p/b Sutter Home)
10. Joseph Lewis (Hincapie Sportswear Development Team)
13. Rob Britton (Team SmartStop)
23. Zach Bell (Team SmartStop)
29. Garrett McLeod (Team H&R Block)
31. Will Routley (Optum p/b Kelly Benefit Strategies)
GC after Stage 2
Women
1. Mara Abbott (UnitedHealthcare Pro Cycling)    6:48:40
2. Flavia Oliveira (FCS|Zngine p/b Mr. Restore)    0:55
3. Abagail Mickey (TWENTY16 Pro Cycling)    1:31
4. E Scotti Wilborne (Team TIBCO to the Top)    1:48
5. Sharon Laws (UnitedHealthcare Pro Cycling)    2:19
6. Katie Hall (UnitedHealthcare Pro Cycling)    2:24
7. Breanne Nalder (DNA Cycling p/b K4)
8. Annie Toth (Groove Subaru Excel Sports)    2:27
9. Carmen Small (DNA Cycling p/b K4)    2:28
10. Jessica Cutler (FCS|Zngine p/b Mr. Restore)    2:39
12. Jasmin Glaesser (Team TIBCO to the Top)    2:55
16. Lex Albrecht (TWENTY16 Pro Cycling)    3:09
17. Laura Brown (Colavita-Fine Cooking)    3:19
Men
1. Dan Jaramillo Diez (Jamis Hagens Berman p/b Sutter Home)    6:37:17
2. Matt Cooke (Jamis Hagens Berman p/b Sutter Home)   0:02
3. Grego Obando Brenes (Jamis Hagens Berman p/b Sutter Home)    0:12
4. Carter Jones (Optum p/b Kelly Benefit Strategies)    0:12
5. Rob Britton (Team SmartStop)    0:12
6. Kirk Carlsen (Jelly Belly Cycling p/b Maxxis)    0:14
7. Flavio de Luna (Team SmartStop)    0:25
8. Maxim Jenkins (Marc Pro-Strava)    0:31
9. Clement Chevrier (Bissell Development Team)    0:37
10. James Oram (Bissell Development Team)    0:37
13. Will Routley (Optum p/b Kelly Benefit Strategies)    0:54
34. Zach Bell (Team SmartStop)    4:47