August 07, 2011 (Tannersville, NY) – Here's the scoop. Sue (Palmer-Komar) is in yellow! She was solo over the hardest climb in North America and got caught just before the QOM (which is 1km after the climb…hmmm kinda confusing). But when Kristen Gohr (Farm Team Elite Women's Cycling) joined Sue, it was full blast until the finish.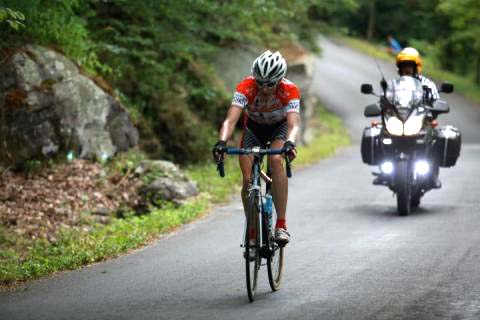 Sue comfortably took back the 7-second deficit and let Kristen take the stage knowing she just took the Mountain Jersey and Yellow Jersey. Suzie (Brown) is on the mend and covered a few attacks early in the race and finished 16th today.
Tomorrow's final stage actually has more climbing and promises to be just as hard as today's stage. I know the prize list is low for this race, but I really feel it is one of the best stage races in North America. It's sad that more women don't support this race as it's really epic.
Ok, we head into the final stage where a lot of action is guaranteed to unravel. I bought a small bottle of Korbel champagne even though I am superstitious with champagne. Ah shit, Sue and Suzie have done a fantastic race so far, we will still celebrate.
The 4th Annual Tour of the Catskills has quickly grown to become one of the USA's most anticipated stage races held from August 5-7 in the Catskill Mountains of New York State.
Cheers,
Christopher P Komar
Director of P-K Express / HNZ Strategic.com
Results
Stage 1 – Aug. 5 – Hunter Time Trial 19.2km
Women Pro/1/2/3 – 19.2km
1. Christine Schryver (Full Moon Vista) 27:20.8
2. Susan Palmer-Komar (P-K Express) 00:07
3. Marti Shea (Destination Cycling) 00:19
4. Andrea Myers (Bethel Cycle) 00:38
5. Cynthia Nelson (RE:FORM/Cyclepower) 00:50
6. Audrey Scott (Team Bikeway.com) 00:59
7. Michelle Gauthier (RE:FORM/Cyclepower) 01:16
8. Stephanie Skoreyko (Kallisto/Wheels of Bloor) 01:17
9. Jennifer Stephenson (RE:FORM/Cyclepower) 01:19
10. Fabienne Gerard (CRCA/Fuoriclasse Racing-Discover Chiropractic) 01:29
11. Kristen Gohr (Farm Team Elite Women's Cycling) 01:30
12. Raquel Miller (CRCA/Houlihan-Lokey Sanchez) 01:32
13. Cheryl Rondeau (Kallisto/Wheels of Bloor) 01:55
14. Vanessa Mccaffery (Corning/NoTubes Race Team) 01:56
15. Amy Kneale (Farm Team Elite Women's Cycling) 02:16
16. Erica Adelberg (CRCA/Radical Media) 02:21
17. Jenny Ives (Farm Team Elite Women's Cycling) 02:26
18. Allison Lampi (RE:FORM/Cyclepower) 02:27
19. Casey Kelly (Pearl Street Cycling/Buffalo Velo) 02:30
20. Rebecca Hicks (CRCA/Comedy Central-Sid's Bikes) 02:34
21. Martha Buckley (Wheelworks Racing) 02:35
22. Kerrin Strevell (Capital Bicycle Racing Club) 02:38
23. Emily Elbers (Farm Team Elite Women's Cycling) 02:46
24. Suzie Brown (P-K Express) 02:49
25. Ellen Moses (CRCA/Comedy Central-Sid's Bikes) 02:50
26. Yvette Labombard (Full Moon Vista) 02:57
27. Marjolein Schat (Corning/No Tubes Race Team) 03:32
28. Laura Lee Vo (CRCA/Fuoriclasse Racing-Discover Chiropractic Brooklyn) 03:34
29. Carol Deavy (Les Rouleurs de L'Outaouais) 03:51
30. Nancy Ford (Team Danbury Audi/Pedal and Pump) 04:24
31. Suzanne Lucash (CRCA/Houlihan-Lokey Sanchez) 04:29
32. Sarah Krzysiak (Farm Team Elite Women's Cycling) 04:49
33. Yuri Matsumoto (Wheelworks Racing) 04:55
34. Alexandria Wilson (RE:FORM/Cyclepower) 05:04
35. Mary Hynes Johanson (NEBC p/b Cycle Loft ) 06:19
Men Pro/1/2 – 19.2km
1. Brett Tivers (Garneau-Club Chaussures-Norton Rose) 24:05.9
2. Ricky Gargiulo (Colavita Racing) 00:30
3. Alister Ratcliff (BikeReg.com / Cannondale) 00:33
4. Max Korus (BikeReg.com / Cannondale) 01:03
5. Miguel Agreda (Garneau-Club Chaussures-Norton Rose) 01:05
6. Zack Noonan (FCS Cycling Team) 01:08
7. Josh Dillon (BikeReg.com / Cannondale) 01:17
8. David Freifelder (Westwood Velo) 01:20
9. Brendan Housler (Mt. Borah Custom Apparel / Minerva Design) 01:20
10. Andrew Mccullough (Kallisto/Wheels of Bloor) 01:21
11. Roger Aspholm (Westwood Velo) 01:22
12. Doug Van Den Ham (Nine2FivePro.com Cycling Team) 01:23
13. Bobby Stumpf (TEAM GPOA) 01:24
14. Don Sproull (ChrisCookies.com/Swan Cycles/FLCC) 01:25
15. Andrew Seitz (TEAM GPOA) 01:34
16. David Mccahill (Farm Team Elite) 01:36
17. Léni Trudel (Garneau-Club Chaussures-Norton Rose) 01:38
18. Michael Margarite (Stan's NoTubes / AXA Equitable / CRCA) 01:40
19. Eddie Grystar (Freddie Fu Cycling Team) 01:44
20. Michael Lanham (Globalbike) 01:46
21. Ben Wolfe (HurleyMetalFab.com p/b CCNS) 01:47
22. John Minturn (Stan's NoTubes / AXA Equitable / CRCA) 01:52
23. Jeffrey Ingraham (CRCA/Jonathan Adler Racing) 01:54
24. Chris Gruber (Kallisto/Wheels of Bloor) 01:55
25. Aidan Charles (HurleyMetalFab.com p/b CCNS) 01:56
26. Shaun Mc Carthy (Garneau-Club Chaussures-Norton Rose) 01:56
27. Ron Larose Iii (HurleyMetalFab.com p/b CCNS) 02:06
28. Robin Carpenter (BikeReg.com / Cannondale) 02:09
29. Kevin Massicotte (Nativo / Devinci) 02:11
30. Robert Abramo (Breakawaybikes.com-IFRACTAL) 02:11
31. Ben Foltz (Round Here Racing) 02:12
32. Evan Mundy (Garneau-Club Chaussures-Norton Rose) 02:16
33. Antoine Matteau (Equipe Gaspesien/Passion Vélo) 02:17
34. Mathieu Charruau (Nativo / Devinci) 02:18
35. Craig Nichols (MVP Health Care Cycling) 02:20
36. Jared Bunde (GS Mengoni USA) 02:20
37. Jackson Weber (Embrocation Cycling Journal) 02:21
38. Andy Lytwynec (MVP Health Care Cycling) 02:22
39. Brian Breach (GS Mengoni USA) 02:24
40. Nathan Underwood 02:26
41. Manuel Caliz (Shirks Racing Presented by Trek) 02:28
42. Donny Green (Cambridge Bicycle / Igleheart Frames) 02:28
43. John Hunter (Mt. Borah Custom Apparel / Minerva Design) 02:34
44. Lance Johnson (Handlebars Cycle Company) 02:35
45. Derek Hardinge (Nine2FivePro.com Cycling Team) 02:39
46. Andrew Bernstein (Champion System Racing) 02:42
47. Justin Lindine (BikeReg.com / Cannondale) 02:42
48. Yannick Bédard (Equipe Gaspesien/Passion Vélo) 02:42
49. Nicholas Mashburn (EMBROCATION CYCLING) 02:43
50. Anton Varabei (CycleSolutions/AngryJohnny's CC) 02:43
51. Brandon Spencer (Kallisto/Wheels of Bloor) 02:45
52. Allan Rego (Farm Team Elite) 02:46
53. Bayden Pritchard (Kallisto/Wheels of Bloor) 02:52
54. James Lucas Bent (Fresh Air Experience/ Ottawa Bicycle Club) 0:02:53
55. Zoltan Tisza (Champion System Racing) 0:02:56
56. James Stevens (CRCA/BH GARNEAU) 0:03:02
57. Kevin Rooney (CRCA/Jonathan Adler Racing) 0:03:03
58. Dan Barney (Mt. Borah Custom Apparel / Minerva Design) 0:03:03
59. Jason Smitherman (Round Here Racing) 0:03:05
60. John Loehner (Stan's NoTubes / AXA Equitable / CRCA) 0:03:07
61. Nick Iacovelli (Colavita Racing) 0:03:13
62. Derek Harnden (Fresh Air Experience/ Ottawa Bicycle Club) 0:03:14
63. Kiernan Orange (Ride with Rendall) 0:03:15
64. James Schurman (Team Chemstar) 0:03:15
65. Nathan Davis (Colavita Racing Inc) 0:03:16
66. David Hoyle (HurleyMetalFab.com p/b CCNS) 0:03:18
67. Chris Lessing (Round Here Racing) 0:03:19
68. Christian Favata (Favata's Tablerock Tours and Bikes) 0:03:20
69. Trevor Maclean (HurleyMetalFab.com p/b CCNS) 0:03:21
70. Andrew Lees (Nine2FivePro.com Cycling Team) 0:03:25
71. Waclaw Godycki (Mt. Borah Custom Apparel / Minerva Design) 0:03:32
72. Derrek Ivey (Kallisto/Wheels Of Bloor) 0:03:33
73. William Buick (GS Boulder Cycling) 0:03:35
74. Roberto Torres-Aguiar (Champion System Racing) 0:03:39
75. Brian Wolff (GBSC/Carl Hart Bicycles) 0:03:42
76. Daniel Chabanov (GS Mengoni USA) 0:03:43
77. Charlie Gorman (Nine2FivePro.com Cycling Team) 0:03:44
78. Benjamin Woodbury (GS Mengoni USA) 0:03:48
79. Marcus Mcmillan (Round Here Racing) 0:03:49
80. David Costa (Farm Team Elite) 0:03:56
81. Cuylar Conly (Fresh Air Experience/Ottawa Bicycle Club) 0:04:02
82. Christopher Mcgarity (Equipe Gaspesien/Passion Vélo) 0:04:03
83. Bryan Collins (Verge Test Pilot) 0:04:06
84. Evan Murphy Fgx Racing (Ridgewood) 0:04:17
85. Colin Sandberg (TEAM GPOA) 0:04:19
86. Jean Francois Racine (Garneau-Club Chaussures-Norton Rose) 0:04:21
87. Sergio Atocha (Champion System Racing) 0:04:57
88. Matthew O'Hagan (Team H&R BLOCK) 0:05:00
89. Wes Kline (FCS Cycling Team) 0:05:25
90. Evan Burkhart (BikeReg.com / Cannondale) 0:05:42
91. Gerald Chen (Nine2FivePro.com Cycling Team) 0:05:46
92. Max Csikos (Soigneur Race Services Race Team) 0:06:26
93. Fidel Mangal 0:08:08
94. William Blackburn (Equipe Gaspesien/Passion Vélo) 0:09:07
95. Christopher Johnson (Stan's NoTubes / AXA Equitable / CRCA) 0:19:20
Stage 2 – Aug. 6 – Tannersville Road Race 104km/153.6km
Women Pro/1/2/3 – 104km
1. Kristen Gohr (Farm Team Elite Women's Cycling) 3:24:40
2. Susan Palmer-Komar (P-K Express)
3. Christine Schryver (Full Moon Vista) 01:57
4. Stephanie Skoreyko (Kallisto/Wheels of Bloor) 01:57
5. Martha Buckley (Wheelworks Racing) 01:57
6. Cheryl Rondeau (Kallisto/Wheels of Bloor) 02:19
7. Andrea Myers (Bethel Cycle) 02:19
8. Fabienne GERARD (CRCA/Fuoriclasse Racing-Discover Chiropractic) 02:43
9. Cynthia Nelson (RE:FORM/Cyclepower) 02:44
10. Audrey Scott (Team Bikeway.com) 02:44
11. Yuri Matsumoto (Wheelworks Racing) 02:44
12. Michelle Gauthier (RE:FORM/Cyclepower) 04:32
13. Suzanne Lucash (CRCA/Houlihan-Lokey Sanchez) 04:49
14. Amy Kneale (Farm Team Elite Women's Cycling) 05:07
15. Yvette LaBombard (Full Moon Vista) 05:24
16. Suzie Brown (P-K Express) 05:37
17. Jenny Ives (Farm Team Elite Women's Cycling) 05:38
18. Nancy Ford (Team Danbury Audi/Pedal and Pump) 05:38
19. Raquel Miller (CRCA/Houlihan-Lokey Sanchez) 06:02
20. Jennifer Stephenson (RE:FORM/Cyclepower) 06:04
21. Allison Lampi (RE:FORM/Cyclepower) 06:06
22. Kerrin Strevell (Capital Bicycle Racing Club) 07:55
23. Carol Deavy (Les Rouleurs de L'Outaouais) 07:55
24. Casey Kelly (Pearl Street Cycling/Buffalo Velo) 08:54
25. Rebecca Hicks (CRCA/Comedy Central-Sid's Bikes) 09:44
26. Vanessa McCaffery (Corning/NoTubes Race Team) 14:02
27. Erica Adelberg (CRCA/Radical Media) 14:25
28. Marjolein Schat (Corning/No Tubes Race Team) 15:24
29. Emily Elbers (Farm Team Elite Women's Cycling) 19:04
30. Mary Hynes Johanson (NEBC p/b Cycle Loft) 23:18
31. Alexandria Wilson (RE:FORM/Cyclepower) 28:49
32. Sarah Krzysiak (Farm Team Elite Women's Cycling) 31:17
Men Pro/1/2 – 153.6km
1. Alister Ratcliff (BikeReg.com / Cannondale) 4:08:25
2. Josh Dillon (BikeReg.com / Cannondale)
3. Max Korus (BikeReg.com / Cannondale) 00:56
4. Chris Gruber (Kallisto/Wheels of Bloor) 01:42
5. roger aspholm (Westwood Velo) 01:43
6. David McCahill (Farm Team Elite) 02:09
7. John Minturn (Stan's NoTubes / AXA Equitable / CRCA) 02:28
8. Derek Hardinge (Nine2FivePro.com Cycling Team) 02:28
9. Michael Margarite (Stan's NoTubes / AXA Equitable / CRCA) 02:28
10. Daniel Chabanov (GS Mengoni USA) 02:28
11. Doug van den Ham (Nine2FivePro.com Cycling Team) 02:28
12. Don Sproull (ChrisCookies.com/Swan Cycles/FLCC) 02:28
13. Andrew McCullough (Kallisto/Wheels of Bloor) 02:28
14. kevin massicotte (Nativo / Devinci) 02:28
15. Brett Tivers (Garneau-Club Chaussures-Norton Rose) 02:28
16. Brendan Housler (Mt. Borah Custom Apparel / Minerva Design) 02:28
17. Michael Lanham (Globalbike) 02:28
18. James Stevens (CRCA/BH GARNEAU) 02:28
19. James Schurman (Team Chemstar) 02:28
20. Eddie Grystar (Freddie Fu Cycling Team) 02:28
21. Aidan Charles (HurleyMetalFab.com p/b CCNS) 02:28
22. Miguel Agreda (Garneau-Club Chaussures-Norton Rose) 02:40
23. Lance Johnson (Handlebars Cycle Company) 02:58
24. brandon spencer (Kallisto/Wheels of Bloor) 04:11
25. zoltan tisza (Champion System Racing) 04:11
26. Zack Noonan (FCS Cycling Team) 04:11
27. Trevor MacLean (HurleyMetalFab.com p/b CCNS) 04:11
28. Bobby Stumpf (TEAM GPOA) 04:11
29. christian favata (Favata's Tablerock Tours and Bikes) 05:00
30. Yannick Bédard (Equipe Gaspesien/Passion Vélo) 05:00
31. Antoine Matteau (Equipe Gaspesien/Passion Vélo) 05:00
32. Mathieu Charruau (Nativo / Devinci) 05:00
33. Jackson Weber (Embrocation Cycling Journal) 05:00
34. Derrek Ivey (Kallisto/Wheels Of Bloor) 05:00
35. Dan Barney (Mt. Borah Custom Apparel / Minerva Design) 05:44
36. Andrew Seitz (TEAM GPOA) 05:45
37. Nicholas Mashburn (EMBROCATION CYCLING) 05:45
38. Colin Sandberg (TEAM GPOA) 05:47
39. John Hunter (Mt. Borah Custom Apparel / Minerva Design) 05:50
40. brian breach (GS Mengoni USA) 05:50
41. Roberto Torres-Aguiar (Champion System Racing) 06:00
42. Wes Kline (FCS Cycling Team) 06:01
43. Ricky Gargiulo (Colavita Racing) 06:01
44. Anton Varabei (CycleSolutions/AngryJohnny's CC) 06:04
45. David Hoyle (HurleyMetalFab.com p/b CCNS) 06:05
46. Jean Francois Racine (Garneau-Club Chaussures-Norton Rose) 06:05
47. Ron LaRose III (HurleyMetalFab.com p/b CCNS) 06:07
48. Andy Lytwynec (MVP Health Care Cycling) 07:38
49. Robin Carpenter (BikeReg.com / Cannondale) 07:38
50. Cuylar Conly (Fresh Air Experience/Ottawa Bicycle Club) 07:38
51. Justin Lindine (BikeReg.com / Cannondale) 07:38
52. Evan Murphy (FGX Racing) 07:38
53. John Loehner (Stan's NoTubes / AXA Equitable / CRCA) 09:00
54. benjamin woodbury (GS Mengoni USA) 09:00
55. Jared Bunde (GS Mengoni USA) 09:53
56. David Freifelder (Westwood Velo) 10:01
57. Donny Green (Cambridge Bicycle / Igleheart Frames) 10:08
58. Ben Wolfe (HurleyMetalFab.com p/b CCNS) 10:50
59. Andrew Lees (Nine2FivePro.com Cycling Team) 11:18
60. Craig Nichols (MVP Health Care Cycling) 12:06
61. Ben Foltz (Round Here Racing) 13:15
62. Nathan Underwood () 13:32
63. Léni Trudel (Garneau-Club Chaussures-Norton Rose) 13:42
64. Derek Harnden (Fresh Air Experience/ Ottawa Bicycle Club) 13:42
65. Shaun Mc Carthy (Garneau-Club Chaussures-Norton Rose) 13:42
66. sergio atocha (Champion System Racing) 13:42
67. Allan Rego (Farm Team Elite) 17:05
68. Marcus McMillan (Round Here Racing) 17:05
69. Evan Burkhart (BikeReg.com / Cannondale) 17:05
70. William Buick (GS Boulder Cycling) 17:54
71. Jeffrey Ingraham (CRCA/Jonathan Adler Racing) 18:48
72. Evan Mundy (Garneau-Club Chaussures-Norton Rose) 27:55
73. Christopher Johnson (Stan's NoTubes / AXA Equitable / CRCA) 36:57
74. Kiernan Orange (Ride with Rendall) 36:57
75. Nick Iacovelli (Colavita Racing) 36:59
76. Chris Lessing (Round Here Racing) 36:59
77. Gerald Chen (Nine2FivePro.com Cycling Team) 40:05
78. Christopher McGarity (Equipe Gaspesien/Passion Vélo) 40:06
79. Kevin Rooney (CRCA/Jonathan Adler Racing) 46:17
80. Andrew Bernstein (Champion System Racing) 50:44
81. Matthew O'Hagan (Team H&R BLOCK) 51:56
82. Bayden Pritchard (Kallisto/Wheels of Bloor) 51:56
83. Brian Wolff (GBSC/Carl Hart Bicycles) 53:50
GC after Stage 2
Women Pro/1/2/3
1. Susan Palmer-Komar (P-K Express) 52:07
2. Kristen Gohr (Farm Team Elite Women's Cycling) 01:23
3. Christine Schryver (Full Moon Vista) 01:50
4. Andrea Myers (Bethel Cycle) 02:50
5. Stephanie Skoreyko (Kallisto/Wheels of Bloor) 03:07
6. Cynthia Nelson (RE:FORM/Cyclepower) 03:27
7. Audrey Scott (Team Bikeway.com) 03:36
8. Fabienne GERARD (CRCA/Fuoriclasse Racing-Discover Chiropractic) 04:05
9. Cheryl Rondeau (Kallisto/Wheels of Bloor) 04:07
10. Martha Buckley (Wheelworks Racing) 04:25
11. Michelle Gauthier (RE:FORM/Cyclepower) 05:41
12. Jennifer Stephenson (RE:FORM/Cyclepower) 07:16
13. Amy Kneale (Farm Team Elite Women's Cycling) 07:16
14. Raquel Miller (CRCA/Houlihan-Lokey Sanchez) 07:27
15. Yuri Matsumoto (Wheelworks Racing) 07:32
16. Jenny Ives (Farm Team Elite Women's Cycling) 07:57
17. Yvette LaBombard (Full Moon Vista) 08:14
18. Suzie Brown (P-K Express) 08:19
19. Allison Lampi (RE:FORM/Cyclepower) 08:26
20. Suzanne Lucash (CRCA/Houlihan-Lokey Sanchez) 09:11
21. Nancy Ford (Team Danbury Audi/Pedal and Pump) 09:55
22. Kerrin Strevell (Capital Bicycle Racing Club) 10:26
23. Casey Kelly (Pearl Street Cycling/Buffalo Velo) 11:17
24. Carol Deavy (Les Rouleurs de L'Outaouais) 11:39
25. Rebecca Hicks (CRCA/Comedy Central-Sid's Bikes) 12:11
26. Vanessa McCaffery (Corning/NoTubes Race Team) 15:51
27. Erica Adelberg (CRCA/Radical Media) 16:39
28. Marjolein Schat (Corning/No Tubes Race Team) 18:49
29. Emily Elbers (Farm Team Elite Women's Cycling) 21:43
30. Mary Hynes Johanson (NEBC p/b Cycle Loft ) 29:30
31. Alexandria Wilson (RE:FORM/Cyclepower) 33:46
32. Sarah Krzysiak (Farm Team Elite Women's Cycling) 35:59
Men Pro/1/2
1. Alister Ratcliff (BikeReg.com / Cannondale) 4:33:03
2. Josh Dillon (BikeReg.com / Cannondale) 00:44
3. Max Korus (BikeReg.com / Cannondale) 01:26
4. Brett Tivers (Garneau-Club Chaussures-Norton Rose) 01:55
5. Roger Aspholm (Westwood Velo) 02:32
6. Chris Gruber (Kallisto/Wheels of Bloor) 03:04
7. Miguel Agreda (Garneau-Club Chaussures-Norton Rose) 03:12
8. David McCahill (Farm Team Elite) 03:12
9. Brendan Housler (Mt. Borah Custom Apparel / Minerva Design) 03:15
10. Andrew McCullough (Kallisto/Wheels of Bloor) 03:16
11. Doug van den Ham (Nine2FivePro.com Cycling Team) 03:18
12. Don Sproull (ChrisCookies.com/Swan Cycles/FLCC) 03:20
13. Michael Margarite (Stan's NoTubes / AXA Equitable / CRCA) 03:35
14. Eddie Grystar (Freddie Fu Cycling Team) 03:39
15. Michael Lanham (Globalbike) 03:41
16. John Minturn (Stan's NoTubes / AXA Equitable / CRCA) 03:47
17. Aidan Charles (HurleyMetalFab.com p/b CCNS) 03:51
18. kevin massicotte (Nativo / Devinci) 04:06
19. Derek Hardinge (Nine2FivePro.com Cycling Team) 04:34
20. Zack Noonan (FCS Cycling Team) 04:46
21. James Stevens (CRCA/BH GARNEAU) 04:57
22. Lance Johnson (Handlebars Cycle Company) 05:00
23. Bobby Stumpf (TEAM GPOA) 05:02
24. James Schurman (Team Chemstar) 05:10
25. Daniel Chabanov (GS Mengoni USA) 05:38
26. Ricky Gargiulo (Colavita Racing) 05:58
27. brandon spencer (Kallisto/Wheels of Bloor) 06:23
28. zoltan tisza (Champion System Racing) 06:34
29. Antoine Matteau (Equipe Gaspesien/Passion Vélo) 06:44
30. Andrew Seitz (TEAM GPOA) 06:46
31. Jackson Weber (Embrocation Cycling Journal) 06:48
32. Trevor MacLean (HurleyMetalFab.com p/b CCNS) 06:59
33. Yannick Bédard (Equipe Gaspesien/Passion Vélo) 07:09
34. Mathieu Charruau (Nativo / Devinci) 07:15
35. Ron LaRose III (HurleyMetalFab.com p/b CCNS) 07:40
36. brian breach (GS Mengoni USA) 07:41
37. christian favata (Favata's Tablerock Tours and Bikes) 07:47
38. John Hunter (Mt. Borah Custom Apparel / Minerva Design) 07:51
39. Nicholas Mashburn (EMBROCATION CYCLING) 07:55
40. Derrek Ivey (Kallisto/Wheels Of Bloor) 08:00
41. Anton Varabei (CycleSolutions/AngryJohnny's CC) 08:14
42. Dan Barney (Mt. Borah Custom Apparel / Minerva Design) 08:14
43. David Hoyle (HurleyMetalFab.com p/b CCNS) 08:50
44. Roberto Torres-Aguiar (Champion System Racing) 09:06
45. Robin Carpenter (BikeReg.com / Cannondale) 09:15
46. Andy Lytwynec (MVP Health Care Cycling) 09:28
47. Colin Sandberg (TEAM GPOA) 09:33
48. Justin Lindine (BikeReg.com / Cannondale) 09:48
49. Jean Francois Racine (Garneau-Club Chaussures-Norton Rose) 09:53
50. David Freifelder (Westwood Velo) 10:48
51. Wes Kline (FCS Cycling Team) 10:53
52. Cuylar Conly (Fresh Air Experience/Ottawa Bicycle Club) 11:08
53. Evan Murphy (FGX Racing) 11:23
54. John Loehner (Stan's NoTubes / AXA Equitable / CRCA) 11:34
55. Jared Bunde (GS Mengoni USA) 11:40
56. Donny Green (Cambridge Bicycle / Igleheart Frames) 12:03
57. Ben Wolfe (HurleyMetalFab.com p/b CCNS) 12:04
58. benjamin woodbury (GS Mengoni USA) 12:15
59. Craig Nichols (MVP Health Care Cycling) 13:53
60. Andrew Lees (Nine2FivePro.com Cycling Team) 14:10
61. Léni Trudel (Garneau-Club Chaussures-Norton Rose) 14:47
62. Ben Foltz (Round Here Racing) 14:54
63. Shaun Mc Carthy (Garneau-Club Chaussures-Norton Rose) 15:05
64. Nathan Underwood 15:25
65. Derek Harnden (Fresh Air Experience/ Ottawa Bicycle Club) 16:23
66. sergio atocha (Champion System Racing) 18:06
67. Allan Rego (Farm Team Elite) 19:18
68. Jeffrey Ingraham (CRCA/Jonathan Adler Racing) 20:09
69. Marcus McMillan (Round Here Racing) 20:21
70. William Buick (GS Boulder Cycling) 20:56
71. Evan Burkhart (BikeReg.com / Cannondale) 22:14
72. Evan Mundy (Garneau-Club Chaussures-Norton Rose) 30:08
73. Kiernan Orange (Ride with Rendall) 39:39
74. Nick Iacovelli (Colavita Racing) 39:39
75. Chris Lessing (Round Here Racing) 39:45
76. Christopher McGarity (Equipe Gaspesien/Passion Vélo) 43:36
77. Gerald Chen (Nine2FivePro.com Cycling Team) 45:18
78. Kevin Rooney (CRCA/Jonathan Adler Racing) 48:47
79. Andrew Bernstein (Champion System Racing) 52:53
80. Bayden Pritchard (Kallisto/Wheels of Bloor) 54:15
81. Christopher Johnson (Stan's NoTubes / AXA Equitable / CRCA) 55:44
82. Matthew O'Hagan (Team H&R BLOCK) 56:23
83. Brian Wolff (GBSC/Carl Hart Bicycles) 56:59