April 07, 2014 (Cambridge, NY) – Battenkill is the hardest race I've ever done. Period. Everything about Battenkill was hard. To start Chirs Bozek, Barbie Hope and I were late leaving Toronto and didn't get to our hotel until 1am. After five hours sleep we made our way to the race course.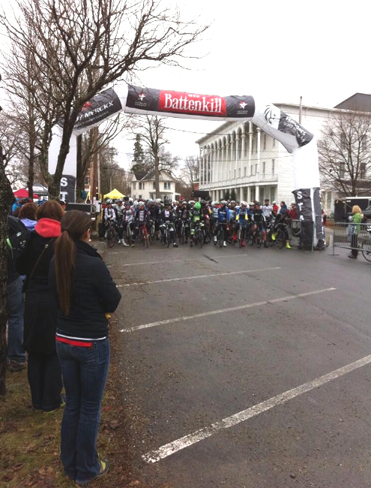 Battenkill was my first Cat 2 race and it was a welcome sight to see a few other Canadians including Anthony Steblowski and Luke Vanlauwe on the start line.  Anthony and I were able to have quick discussion and he gave me some great advice: don't attack until the end. Of course, this was advice I didn't follow.
Once out on the roads, the fight for position was constant and I found myself continuously yo-yoing from the front to the back. Rain the night before had changed the dirt roads to the constancy of peanut butter which had the peloton strung out immediately. The course was constantly rolling and, on one steep muddy hill, the pace from struggling riders became so slow that much of the peloton was forced to dismount, with many riders running their bikes up the hill. My cyclocross re-mounting skills saved me on that one.
At about 30km into the race a breakaway of three, which included two of my teammates, got away. I don't know what it is about breakaways – I can't resist. I jumped, even though I knew I shouldn't. I bridged to the break and we were away for close to 60km.
Everyone in the break was Canadian and we were able to work extremely well together. At one point, the support vehicle pulled up and informed us that we had a 5-minute lead on the peloton. We looked around at each other and laughed with joy. We were going to win this race! I could already picture Barbie [Hope] standing at the line seeing me finish in the lead. But, as my old boss used to say when I worked in politics… "pride comes before the fall".
Things were going well until about 80km into the race. I had made a crucial mistake before the start as I didn't set my bike computer to display the elapsed distance. And, I was too worried about showing any weakness to my fellow escapees by asking how far we had to go. Punching up the constant climbs and the effort of pushing through spongy dirt roads was starting to weigh on me.
I kept telling myself that the finish should be around any corner. And then, all of sudden, I could hear cheering. We were close I knew it! We turned the corner and hit feedzone one. We were only at the first of two feedzones! At that point I knew I was already pretty much cooked and I could tell the others were getting there too.
On the next series of climbs our breakaway lost a rider. The support vehicle informed us that our gap was down to one minute and thirty seconds. We lost another rider. Then the leader lost me.
I was caught by the peloton and once again pride would be my downfall. Rather than finding the most sheltered spot in the group, I wanted to show I wasn't down and out; I tried to stick it out with the first ten riders. This worked until the first hill…then I was dropped like a stone. The true cost of the breakaway came to bear. I never saw the lead group again and was on my own with 20km of muddy roads and steep climbs still to come.
I had failed to recognize that Battenkill is a war of attrition. I had put all my cards on the table and lost.
In my head, when I launched for the break, I had visions of riding away from the field to victory like Bruce Bird so often does.  It was at that point that someone called my name. And who was it? It was Bruce, who had broken away from his own race, which had started later than ours. Without a sign of pain in his face he said "hi", smiled and soloed on to victory.
As luck would have it, I ended up riding with another dropped rider from Toronto, Scott Fitzgerald who described my breakaway attempt as a "kamikaze move". We suffered on together until eventually Scott dropped me as well.
I've never been so desperate for a race to be over. I ate everything I had and tried to push on to the finish. I came across the line physically destroyed. I immediately went to sleep in the back of the car and then drove back to Toronto with Chris and Barbie (both of whom had strong races in their categories) so that I could race the Tour of Bronte the next day.
I'll be back at Battenkill for sure. But next time I'm going to be smarter.
Results
April 6, 2014
Men Pro 1
1. Scott Zwizanski (Optum) 4:24:00
2. Tim Mitchell (CCB Racing) 3:56
3. Eneas Freyre (TTEndurance) 3:56
4. Paul Lynch (BMC Development) 3:56
5. Marcos Mazzola Lazzarotto (Kelly Benefit Strategies Elite) 3:56
6. Jean-Michel Lachance (Silber Pro Cycling) 3:56
7. Ben Frederick (Kelly Benefit Strategies Elite) 3:56
8. Adam Myerson (Team SmartStop-Mountain Khakis) 3:56
9. Andrew Seitz (Kelly Benefit Strategies Elite) 4:03
10. Ariel Mendez Penate (Champion System-Stan's NoTubes) 5:36
11. Cameron Cogburn (Team SmartStop – Mtn Khakis) 7:04
12. Mike Garrigan (Van Dessel) 7:04
13. Benjamin Fogle (Kelly Benefit Strategies Elite) 7:19
14. Jacob Tremblay (Kelly Benefit Strategies Elite) 7:19
15. Mike Stone (Stan's NoTubes p/b Proferrin) 7:34
16. Micah Engle (Faulkner Nissan Racing) 7:34
17. Evan Murphy (CRCA/Foundation) 7:49
18. Jon D'Alba (Kelly Benefit Strategies Elite) 7:51
19. William Cooper (QCW Cycling – Breakawaybikes.com-Vie 13 p/b) 9:15
20. Gaelen Merritt (Wheels of Bloor/Graywood Developments) 9:15
21. Chase Goldstein (Stan's NoTubes p/b Proferrin) 10:42
22. Curtis White (CCB Racing) 10:46
23. Christian Favata (TRT BICYCLES) 10:49
24. Brett Kielick (Kelly Benefit Strategies Elite) 10:49
25. Alex Cox (CCB Racing) 10:49
26. Anthony Clark (J.A.M. Fund / NCC) 10:49
27. Samuel Blanchette (Norco Bicycles / PremierTech) 10:49
28. Tyler Wren (Jamis/Hagens Berman Pro Cycling presented b) 10:49
29. Anthony Sreblowski (Wheels of bloor) 10:55
30. Neil Bezdek (CRCA/Foundation) 10:55
31. Leandre Bouchard (Cyclone d'Alma/ Devinci) 11:00
32. Bruce Bird (Wheels of Bloor/Graywood Developments) 12:16
33. Sean Mccarthy (JAM Fund / NCC) 13:15
34. Dennis Cottreau (Ride With Rendall p/b Biemme) 14:19
35. David Drouin (NccH) 15:01
36. Andrew House (Coachchris.ca) 15:39
37. Jacob Mueller (Stan's NoTubes p/b Proferrin) 16:27
38. Derrick St-John (Silber Pro Cycling) 16:27
39. Craig Nichols (Team Alliance Environmental) 18:00
40. Aaron Fillion (Ride WIth Rendall p/b Biemme) 18:24
41. Sébastien Rousseau (Norco Bicycles / PremierTech) 19:29
42. Casey Roth (Ride WIth Rendall p/b Biemme) 20:43
43. Daniel Chabanov (CRCA/Foundation) 22:44
44. Matthew Bruner (Happy Tooth Racing) 25:22
45. Etienne Samson (Norco Bicycles / PremierTech) 25:22
46. Nick Keough (CRCA/Foundation) 27:11
47. Nick Rogers (QCW Cycling – Breakawaybikes.com-Vie 13 p/b) 30:05
48. Dany Belley (Vélo Station) 38:56
49. Lewis Fellas (ENGVT) 38:56
50. Simon Castonguay (Felt MTB Racing Team) 38:56
51. Benjamin Martel (Vélo Station) 39:07
52. Robert Ralph (Silber Pro Cycling) 39:07
53. Joseph Carpisassi (Cycletherapy) 43:15
54. Jeremy Shirock (QCW Cycling – Breakawaybikes.com-Vie 13 p/b) 44:15
55. Guillaume Fiset (Norco Bicycles / PremierTech) 44:15
56. Ryan Rapolas (QCW Cycling – Breakawaybikes.com-Vie 13 p/b) 53:00
57. Neal Shepherd (Kelly Benefit Strategies) 53:00
58. Maxime Le Pluart (Norco Bicycles / PremierTech) 56:00
59. Adam Andersen (Norco Bicycles / PremierTech) 56:00
60. Louis-Charles Lacroix (Norco Bicycles / PremierTech) 56:00
DNF William Blackburn (Silber Pro Cycling)
DNF Benjamin Chartrand (Silber Pro Cycling)
DNF Logan Cornel (Norco Bicycles / PremierTech)
DNF Fred Cossette (Transport Lacombe-Devinci)
DNF Joël Desgreniers (Norco Bicycles / PremierTech)
DNF Jean-François Dionne (Norco Bicycles / PremierTech)
DNF Eillott Doyle (Silber Pro Cycling)
DNF Nick Frey (Boo Bicycles – TrainingPeaks)
DNF Matthew Furlow (QCW Cycling – Breakawaybikes.com-Vie 13 p/b)
DNF Alexandre Gaumont Casias (Cycle Technique)
DNF Emmanuel Goguen (RACE CF | racecf.org @racecf)
DNF Patrick Goguen (C.F. Racing | racecf.org)
DNF William Goodfellow (Silber Pro Cycling)
DNF John Harris (CT Cycling Advancement Program Pro-Am Team)
DNF Jesse Keough (CRCA/Foundation)
DNF John Loehner (Stan's NoTubes p/b Proferrin)
DNF Phil Marceau (Cycle Techinque)
DNF Nicolas Masbourian (Silber Pro Cycling)
DNF David Onsow (Silber Pro Cycling)
DNF Yohan Patry (Transport Lacombe-Devinci)
DNF Hendrik Pineda (T-Palm Pôle continental wallon)
DNF Bruno Pinto (Stan's NoTubes p/b Proferrin)
DNF Justin Purificati (Ride WIth Rendall p/b Biemme)
DNF Willem Shepherd (Cycle Technique)
DNF Geron Williams ()
DNF Daniel Zmolik (Stan's NoTubes p/b Proferrin)
Women Pro 1/2
1. Kathleen Giles (ABRT) 3:32:57
2. Cecilia Davis-Hayes (CRCA: Stan's NoTubes p/b enduranceWERX) 0:00
3. Stephanie Wetzel (Colavita Midatlantic) 0:02
4. Brittlee Bowman (CRCA: Stan's NoTubes p/b enduranceWERX) 2:46
5. Kerrin Strevell (Farm Team Elite Women's Cycling Team) 2:46
6. Lauren Dagostino (NJ/NY COLAVITA WOMEN'S TEAM) 2:48
7. Jennifer Stephenson (Holiday Inn Express / P-K Express) 2:48
8. Nancy Labbe-Giguere (Quadcycles) 2:49
9. Rosanne Van Dorn (Farm Team Elite Women's Cycling Team) 2:49
10. Gabriella Nordin (Pedal Power RT) 2:49
11. Emily Spence (CRCA/BH Comedy Central) 2:49
12. Natasha Elliott (Cycle-Smart Elite Team) 2:50
13. Catherine Dessureault (SAS-MAZDA-MACOGEP) 2:50
14. Catherine Fleury (Cyclone d'Alma) 3:37
15. Ana Sirianni (Riverside Racing) 5:26
16. Aimee Layton (CRCA/CityMDcycling) 7:16
17. Clara Kelly (NEBC p/b Cycle Loft) 7:35
18. Lisa Vandivort (CRCA/CityMD Racing) 9:12
19. Anna Zivarts (Rockstar Games/Signature Cycles) 9:13
20. Ashley Barson (Coachchris.ca) 9:18
21. Adriane Provost (SAS-MAZDA-MACOGEP specialized) 9:24
22. Erica Adelberg (CRCA/Radical Media) 9:37
23. Meredith Uhl (Farm Team Elite Women's Cycling Team) 11:46
24. Katrina Niez (Team ERRACE p/b DSO Manufacturing) 12:27
25. Julia Lonchar (Team Alliance Environmental) 14:00
26. Christina Birch (Farm Team Elite Women's Cycling) 15:41
27. Laura Lee Pedersen (CRCA/Radical Media) 22:19
DNF Helen Hatch (CRCA: Stan's NoTubes p/b enduranceWERX)
DNF Rose Long (CRCA/City MD Womens Cycling Team)
DNF Jacqueline Mcclure (Farm Team Elite Women's Cycling)
April 5, 2014
Men Cat 84 Miles 21.50 MPH
1. Bill Ash (QCW Cycling p.b. breakawaybikes.com) 3:54:28
2. Nicholas Applegate (Cycleton) 2:20
3. Chris Strumolo (CRCA / e2Value) 2:20
4. Landen Wark-Acebo (ENGVT – UnTapped) 2:20
5. Cory Small (UVM Cycling) 2:21
6. Nick Iacovelli (highgear) 2:21
7. Martin Rupes (NCCH p/b DEC Express) 2:21
8. Jesse Walker (CRCA/e2Value) 2:21
9. Alan Royek (Faulkner Nissan Racing) 2:21
10. Jayson Jacobs (CRCA/Rapha Racing) 2:22
11. Evan East (Hincapie Sportswear Development Team) 2:23
12. Charlie Gorman (Nine2FivePro.com Cycling Team) 2:38
13. Robert Chorost 2:40
14. Calvin Hoops (Faulkner Nissan Racing) 2:41
15. Dave Warner (GREEN LINE VELO driven by Zipcar) 2:42
16. David Dawson (The Performance Lab p/b Caffeinated Cyclist) 2:42
17. Sammy Moseley (CRCA/Foundation) 2:42
18. Andrew Bernstein (Faulkner Nissan Racing) 2:43
19. Claude Binchet (Acquisio – ACQ) 2:44
20. Anthony Sreblowski (Wheels of Bloor) 2:44
21. Fred Thomas (Downeast Racing) 2:46
22. Bryan Mcgill (Grinta Cycling Team) 2:46
23. Johan Gibcus (Grinta Cycling Team p/b Erba Cycles) 3:36
24. Daniel Crespo (Primal-Denver Audi) 4:24
25. Luke Vanlauwe (National Cycling Centre Hamilton p/b Dec Express) 4:40
26. Colton Valentine (QCW Cycling p.b. Breakawaybikes.com) 5:06
27. Nathan Goates (Faulkner Nissan Racing) 5:56
28. Matt Moon (Downeast Racing) 5:56
29. Olivier Lavigueur (Guru) 6:34
30. Alex Carmona (Grinta Cycling Team) 6:35
31. Keith Hatton (Tri-State Velo / Amoroso's Racing Team) 6:35
32. David Costa (Farm Team) 6:38
33. Matthew Randolph (Shirk's Racing presented by Trek Bikes) 7:37
34. Marten Beels (Lamprey Systems) 8:12
35. Lucas Fortini (Sherpa Elite Cycling) 8:23
36. Raphael Gariepy (ABC Cycles & Sports / Honda Centreville) 8:23
37. Shane Scoggin (Kelly Benefit Strategies/LSV) 8:25
38. Graham Macbeth (CRCA / e2Value) 8:26
39. James Jung (CRCA / BH Comedy Central) 8:27
40. Guillaume Pinglot (ACQUISIO) 10:26
41. Charles Veilleux (CC Rossi Lac St-Louis) 10:27
42. Owen Eastmond (CC Rossi Lac st-louis) 10:28
43. William Morris (Grinta Cycling Team p/b Erba Cycles) 10:28
44. Nicolas Azara (ABC Cycles/Honda CentreVille) 10:30
45. Scott Fitzgerald (Euro-Sports) 12:40
46. Kyle Foley (Amity Bikes) 12:40
47. David Richardson (Team Towpath) 14:22
48. Grahame Rivers (RealDeal) 15:12
49. Allen Carr (CRCA / e2value) 16:12
50. Lance Ohlsson (1K2GO Coffee – Burris Logistics) 18:30
51. Michael Egan (PA Masters) 20:25
52. Olivier Lalonde (ACQUISIO) 20:26
53. Erik Post (CRCA/BH Comedy Central) 22:49
54. Jacinto Pereira 22:52
55. Alexi Richer (Acquisio) 22:52
56. Brian Wolff (GBSC/Carl Hart Bicycles) 28:53:00
57. Jean-Roch Marion 32:35:00
58. Bruno Labelle (cc rossi lac st-louis) 37:10:00
59. Philippe Allard (Guru Racing Team) 15:56
60. Brian James Quessy (Guru Racing Team) 19:10
DNF Ross Baldwin (High Gear/Trek/WW) 0:00
DNF Mathieu Boudier-Revéret (ACQUISIO) 0:00
DNF Jack Burke (team CHCH/NCCH) 0:00
DNF William Cooper (QCW Cycling p.b. Breakawaybikes.com) 0:00
DNF Adamo Forian (GURU Racing Team) 0:00
DNF Philippe Lalonde (Guru Racing Team) 0:00
DNF Fabien Lemaire (ACQUISIO) 0:00
DNF David Perreault (Guru) 0:00
DNF Edouard Tougas (ACQUISIO) 0:00
DNF Mathieu Denis (Guru) 0:00
Men Cat 65 Miles 21.00 MPH (119 Starters)
1. Eliot Pitney (Downeast Racing) 3:05:41
2. Enmanuel Eduar Nunez Marzan (RACE CF | racecf.org @racecf) 0:20
3. Alec Hoover (Favata's TRT p/b Stan's NoTubes) 0:21
4. Maxwell Godbey (Bayhill Capital/Corner Cycle) 0:26
5. James Horn (CRCA / W&D Racing / NYC Velo) 0:31
6. Jesse O'Donnell (CRCA/e2value) 1:57
7. Andy Officer (Unattached) 2:00
8. Case Butler (RACE CF | racecf.org@racecf.org) 2:38
9. Jesse Stauffer (Kelly Benefit Strategies/LSV) 2:42
10. Adam Naguib (Kissena Cycling Club) 3:15
11. Andrew Shapiro (RA Factory Racing) 3:21
12. Bruce Beauharnois (Farm Team Elite) 3:21
13. P J Mcquade (Minuteman Road Club) 3:21
14. Kevin Goguen (RACE CF | racecf.org @racecf) 3:21
15. Dirk Biemans (Intergrow) 3:21
16. Jason Cimini (Equipe Vitesse) 3:21
17. Aaron Griffith (SCCA/Starbucks Cycling) 3:21
18. Jean Francois Dussault-Turcotte (EC Mathieu Performance-SAVINI) 3:22
19. Lorenzo Serra (Pawling Cycle & Sport) 3:22
20. Simon Koster (CRCA/JLVelo) 3:22
21. Mario Beauregard (EC Mathieu Performance-Savini) 3:22
22. Eric Diamond (Integrated Sports Medicine p/b Brown's Subaru) 3:22
23. Zack Vogel (North American Velo (NAV)) 3:23
24. David Short (Freddie Fu Cycling Team) 3:23
25. Joe Pigga (Lamprey Systems) 3:23
26. Daniel Lammon (CRCA/WYLD STALLYNS) 3:24
27. Corey Williams (BOLD Racing / enduranceWERX) 4:17
28. Paul Byron (Farm Team Elite) 4:45
29. Alex Sanborn (CRCA/Foundation) 4:46
30. Daniel Nuzzo-Mueller (Community Bike Supply Racing) 4:46
31. Christopher Bozek (REALDEAL/GEARS p/b WASPCAM) 5:37
32. Aaron Johnson (Oswego Cycling Project) 5:59
33. Larry Uhrlass (CRCA/Brands) 6:00
34. Alex Binkley (CRCA/JLVelo) 6:07
35. Ethan Pond (CRCA/CyclelifeUSA/GF Capital) 6:12
36. Joaquin C De Baca (Kissena Cycling Club) 6:12
37. Harrison Leavens (32NCSI p/b VTV) 7:14
38. James Orton (team NCCH p/b DEC express) 7:14
39. Richard Batten (Minuteman Road Club) 7:14
40. Ryan Mcgarrity (CRCA/Sixcycle-RK&O) 8:36
41. Jake Allegrini (Nantucket Velo) 8:37
42. Alexander Grabau (Boston Racing Independent) 9:11
43. Eric Carlson (TEAM EDGE) 9:18
44. Matthew Erchull (4th Dimension Fitness/4D Racing) 9:47
45. Todd Burns (Nantucket Velo) 10:09
46. Tim Weigelt (CS VELO) 10:09
47. Robert Dibattista (Minuteman Road Club) 10:10
48. Paskal Lamour 10:13
49. Jeff Hetrick (Lamprey Systems) 10:13
50. Lawrence Heller (Central New York Cycling) 10:21
51. Phillip Jackson (cycletherapy – zimmer) 10:51
52. Tommy Goguen (RACE CF | racecf.org @racecf) 10:58
53. Frederick Harle (Pointway Performance – Syracuse Bicycle) 11:13
54. Daniel Patterson (CRCA/VELORIGIN Performance) 11:23
55. Alec Rudd 11:35
56. Ted Culotta (Expowheelmen) 11:40
57. Jonathan Bocina (liberty Cycle) 11:40
58. Taylor Schwartz (Tufts University) 12:09
59. Jeremy Cratty (Minuteman Road Club) 12:17
60. John Raguin (Minuteman Road Club) 12:32
61. Andrew Goodale (RACE CF | racecf.org @racecf) 12:53
62. Steve Connor (Velocite Cycling Team USA) 13:45
63. Armand Wilhelm (CRCA/WYLD STALLYNS) 13:52
64. Ben Smith (DNK Cycling) 14:07
65. Gregory Ahnert (Lamprey Systems) 14:10
66. Christopher Deluco (Black Tie Sports / Spine) 14:21
67. Jim Newton 14:39
68. Whitney Hanson (1K2GO-Onion River Sports) 16:54
69. Michael Kelly (Team Edge) 16:56
70. Aaron Essner (Sonic Boom Racing) 17:06
71. Charles Altchek (CRCA/Foundation) 17:09
72. David Miller (Integrated Sports Medicine p/b Brown's Subaru) 17:14
73. Mike Barbone (Equipe Vitesse) 18:22
74. Matt Doremus (Grinta cycling team) 19:16
75. Jacob Lapenna (Boo Bicycles) 19:16
76. Svenn Mikalsen (CRCA/Velorigin Performance) 19:18
77. Brian Milligan (CRCA / FGX Racing) 19:58
78. Doug Kennedy (Minuteman Road Club) 20:42
79. Noah Gellner (CRCA / W&D Racing / NYC Velo) 21:34
80. Aaron Hamill (Waterloo Cycling Club) 22:15
81. Jonathan Glick (Shirk's Racing presented by Trek Bikes) 23:33
82. Jonathan Tenney (Bouledogue tout noir) 23:43
83. Sebastien Emond (savini mathieu performence) 23:44
84. Michael Anderson (CRCA / FGX Racing) 25:00:00
85. Ryan Littlefield (BIKEMAN.COM) 26:27:00
86. Konrad Ratzmann (Kissena Cycling Club) 26:29:00
87. John Peterson (www.bikebarnracing.com) 26:54:00
88. Ronan Tennier (EC Mathieu Performance – Savini) 27:28:00
89. Justin Bird (Prochain) 27:56:00
90. Nicolas Mathieu (EC Mathieu Performance – Savini) 29:51:00
91. Frank Ortiz (QCW Cycling p.b. Breakawaybikes.com) 31:24:00
92. Andrew Kruger (Team IFG by Cyclelogik/Endurosport) 31:28:00
93. Daniel Mccabe (Grinta Cycling Team p/b Erba Cycles) 32:19:00
94. Werner Freymann (Easy Riders Cycling p/b Cutters) 33:54:00
95. Egor Astakhov (BOLD Racing / enduranceWERX) 34:01:00
96. Gregory Sherrick (Sunnybrook Trek/Limerick Chiropractic) 34:38:00
97. Torrance Kopfer (Blue Hills Cycling Club) 38:10:00
98. Etsu Taniguchi (CRCA / FGX Racing) 39:14:00
99. Jonathan Marymor (CRCA/CyclelifeUSA/GF Capital) 40:31:00
100. Julien Gagnon (EC – Mathieu Performance – Savini) 41:50:00
101. Joseph Lynch (Downeast Racing) 42:26:00
102. Kevin White (Chica Sexy) 43:00:00
103. Pierre-Luc Dufour (Acquisio) 47:35:00
104. Vincent Courcy (ACQUISIO) 48:47:00
105. Joseph Power (synergy) 49:46:00
106. Birk Mcgilvrey (La Prima Espresso Co) 53:10:00
107. Nathan Clair (Dynamic Physical Therapy p/b Pathfinder) 53:10:00
108. Misha Chiporukha (CRCA / FGX Racing) 57:34:00
109. James Flaherty (Pro Pedals) 58:56:00
110. Christopher Young (BOLD Racing / enduranceWERX) 2:12
111. Philippe Malenfant (EC Mathieu Performance-Savini) 2:23
112. Drew Kogon (CRCA / FGX Racing) 4:46
113. Ira Blumberg (CRCA / FGX Racing) 4:46
DNF Richard Brooks (Nantucket Velo) 0:00
DNF Jay Robbins (Boston Racing Independent) 0:00
DNF Josh Rovner (SixCycle/King Kog) 0:00
DNF Jonathan Ruiz (Lamprey Systems) 0:00
DNF Eric Cousineau (Acquisio) 0:00
DNF Eric Cousineau (Acquisio) 0:00
Women Ca 65 Miles 17.14 MPH (41 Starters)
1. Cassandra Maximenko (CRCA: Stan's NoTubes p/b enduranceWERX) 3:47:36
2. Katherine Santos (ProChain Junior Women Cycling) 2:33
3. Barb Blakley (CRCA/CityMD Women's Racing) 2:33
4. Janelle Cole (WMCR/Andrie Jr. Devo Team) 2:33
5. Bryna Blanchard (North American Velo) 2:38
6. Evelyn Korbich (Young Medalists) 3:12
7. Sara Yancovitz (CRCA/Stan's NoTubes p/b enduranceWERX) 5:32
8. Joanne Grogan (1K2GO Coffee – Burris Logistics) 5:33
9. Melissa Hiller (QCW Cycling p.b. Breakawaybikes.com) 5:33
10. Karen Nash (CCB Racing Team) 6:02
11. Andrea Archer (CRCA/Houlihan Lokey) 6:23
12. Alexandra Morley (RealDeal/Gears p/b Fieldgate) 7:37
13. Julia Sante (Farm Team Elite Womens Cycling Team) 7:59
14. Kathryn Cumming (Team Yacht Club) 8:06
15. Meghan Schloat (CRCA/CityMD Racing) 8:21
16. Kayla Washburn (Mason Racing) 8:22
17. Rachel Dobrozsi (ProChain Junior Girls) 11:36
18. Madeleine Mcconnell (NCCH p/b DEC express) 12:57
19. Melissa Seib (BIKEMAN.COM) 13:20
20. Kennedy Adams (ProChain Junior Girls) 14:42
21. Erica Tricarico (CRCA: Stan's NoTubes p/b enduranceWERX) 14:57
22. Barbie Hope (Team Spoke O'Motion) 15:08
23. Ruby West (Team NCCH p/b Dec Express) 15:28
24. Mackenzie Green (ProChain Junior Girls) 19:15
25. Nancy Bailey (Pittsford Painting Cycling) 19:18
26. Marcy Diem (Thru-It-All Body Shop) 22:25
27. Cynthia Lo (CRCA: Stan's NoTubes p/b enduranceWERX) 30:05:00
28. Kaitlyn Steeves (NCCH) 31:50:00
29. Jennifer Poirier (CRCA – Houlihan Lokey) 33:28:00
30. Megan Amling (ProChain Junior Girls) 38:09:00
31. Raur Meilleur Harvey (Bikurious Racing Collective) 40:12:00
32. Sophia Lee (QCW Cycling p.b. Breakawaybikes.com) 43:58:00
33. Catharine Hollenbach (Thru-It-All Body Shop) 57:20:00
34. Stephanie Makoujy (Portland Velo Club) 5:34
35. Ede Cameron (Bikurious Racing Collective) 6:33
36. Tracy Lea (T.E.A.M. FUJI) 6:35
37. Kristina Santos (Team Danica) 22:04
DNF Lucia Deng (CRCA/Rockstar Games/Signature Cycles) 0:00
DNF Hillary Lowry (NCCH p/b DEC Express) 0:00
DNF Kristie Nichols (QCW Cycling p.b. Breakawaybikes.com) 0:00
DNF Paige Williams (Farm Team Elite Women's Cycling) 0:00
Women Ca 65 Miles 17.15 MPH (33 Starters)
1. Julie Tracy (pedalpowertraining.com) 3:47:28
2. Erika Tarte (Kissena Cycling Club) 0:07
3. Natasja Brooijmans 1:47
4. Susan Moore (Action Bikes & Outdoor) 1:48
5. Isabelle Cote (CRCA/KruisCX p/b Repucom) 4:04
6. Elizabeth Pratt (Team Velo 5) 8:10
7. Jennifer Maxwell 13:14
8. Fanny Bourdais 15:13
9. Hannah Todd (Pink Rhino Racing) 17:10
10. Christine Kachinsky (MapsoTri) 18:05
11. Kelley Fitzgerald (Fit Werx) 22:33
12. Amy Gothorpe 23:28
13. Janine Gorman (Nine2FivePro.com) 24:57:00
14. Kimberly Ratcliffe 26:30:00
15. Lauren Buechner (QCW Cycling p.b. Breakawaybikes.com) 27:43:00
16. Michelle Bociek 27:44:00
17. Karen Schwartz 27:45:00
18. Patricia Brownell (Blue Hills Cycling Club pb Landry's Bicycles) 29:34:00
19. Iliana Rabun-Wood (CRCA/Kruis CX p/b Repucom) 45:17:00
20. Carrie Slavinski (JSMS/ BPC Racing) 47:15:00
21. Cecilia Murgo (Ten Speed Spokes) 48:45:00
22. Jessica Bashaw 50:58:00
23. Kayt Mathers (Kissena Cycling Club) 53:53:00
24. Erica Jacobs (NYCC) 53:53:00
25. Tracy Holton (Grace Bicycles Velo Club) 56:44:00
26. Nancy Gomes (Landry's Bicycles) 56:44:00
27. Cristina Cortes (Riptide Women Cycling) 59:30:00
28. Aliicia Furrer (Cape Cod Racing / C4) 1:31
DNF Jennifer Docherty (MapsoTri) 0:00
DNF Oksana Miller (CRCA: Stan's NoTubes p/b enduranceWERX) 0:00
DNF Tonya Miller (Major Taylor Development Team) 0:00
DNF Jessica Schpero 0:00
Women Ca 65 Miles 15.88 MPH (17 Starters)
1. Maria Rosenfeld (CRCA/Dave Jordan Racing) 4:05:32
2. Helene Schmid (Veloved) 1:19
3. Sue Fleming (Bethel Cycle) 1:21
4. Lisa Mazzola (New York Cycle Club (NYCC)) 7:04
5. Mara Fronhofer (Grey Ghost Bicycles) 9:40
6. Pascale Butcher 10:04
7. Clare Zecher (RVR – Rare Vos Racing/ EHS TRI) 19:51
8. Insuk Diovisalvo (Somerville Bicycle Shop) 21:06
9. Sherry Shapiro (Team EPS/CSS p/b Shebell & Shebell) 21:23
10. Linda Pierce (Bethel Cycles) 24:24:00
11. Michelle Lenahan (Nickel City Cycles) 41:26:00
12. Denise Altomare (EBS Racing) 42:36:00
13. Elizabeth Ehrenfeld (Portland Velo Club) 42:41:00
DNF Zuhal Ertamay (MBCR) 0:00
DNF Anne Martin (Devil's Gear) 0:00
DNF Deborah Miller (MBCR) 0:00
DNF Molly Wood (Thru It All Body Shop) 0:00
Men 4A 4 65 Miles 19.62 MPH (101 Starters)
1. Greg Kaplan 3:18:44
2. Dudley Hoskin (VELORIGIN Performance) 0:00
3. Chris Busick (Minuteman Road Club) 1:00
4. Kevin Justice (BikeBarnRacing.com) 1:27
5. Chris Trabulsie (BikeBarnRacing.com) 4:19
6. Ernesto Paredes (CRCA/RBNY Racing – Sommerville Sports) 4:19
7. Scott Taylor (Landry's Bicycles) 4:21
8. Rejean Rochette (PowerWatts Nord) 4:25
9. Michael Kuehn (CRCA / FGX Racing) 4:29
10. Brian Archer (NCVC/UnitedHealthcare) 5:50
11. Tom O'Neill (Down Cycles) 6:16
12. Christian Baker (bikebarnracing.com) 6:48
13. Oliver Carbonell (CRCA/Dave Jordan Racing) 10:58
14. Leonard Friedman (CRCA/Lucarelli & Castaldi) 11:00
15. Nicholas Stefanidakis (Blue Hills Cycling Club) 11:18
16. Matthew Whiteley (Bikeworks Beaupre Electric) 11:39
17. Jonathan Doller (Blue Hills Cycling Club) 11:58
18. David Lambert (QCW Cycling p.b. Breakawaybikes.com) 11:58
19. Philip Golden (Landry's Bicycles) 12:01
20. Michael Mccormick (Blue Mountain Velo) 12:19
21. Christopher Walsh (Team Town Cycle) 12:19
22. Paul Malan (Arc-En-Ciel Racing Team) 12:19
23. Steven Van Der Zwan (CRCA / FGX Racing) 12:19
24. Kevin Brant (Blue Hills Cycling Club) 14:37
25. Rob Havemeyer (GBSC) 16:03
26. Danny Saccoccio (Bikeworks Beaupre Electric) 16:03
27. Paul O'Donnell (CRCA/Dave Jordan Racing) 18:21
28. William Turner (Minuteman Road Club) 18:29
29. Manuel Mainardi (Arc Racing pb Intelligentsia Coffee) 18:30
30. Brandy Boyle (Liberty Cycle) 18:46
31. Craig Thaler (Iron Bridge / Tarmac Cycling) 19:35
32. Paul Lestage (Iron Bridge / Tarmac Cycling) 19:59
33. Robert Hoenick (Bikeworks Beaupre Electric) 20:43
34. Patrice Kretz (PowerWatts Nord) 20:43
35. Juan Pelaez (CRCA/Overstock.com) 21:26
36. Bryan Blake (Team 2 Cycling) 22:06
37. Vince Caceres (The Cyclery) 22:13
38. Francois Rochon (Opus/OGC) 23:59
39. John Hewie (The Cyclery) 23:59
40. Timothy Voake (CRCA / FGX Racing) 24:26:00
41. David Detlefsen (EBS Racing) 24:27:00
42. John Fice (Blue Hills Cycling Club) 24:33:00
43. Sean Wright (The Cyclery) 26:56:00
44. Dan Florin (Down Cycles) 27:18:00
45. Mark Wendolowski (Northampton Cycling Club) 27:28:00
46. Frank Nelson (bikebarnracing.com) 27:47:00
47. Jim Downs (Northampton Cycling Club) 28:21:00
48. Nicholas Sandland (Cape Cod Racing / C4) 28:29:00
49. Brett Halpern (CRCA/Dave Jordan Racing) 28:32:00
50. Joseph Pedata (CRCA/Dave Jordan Racing) 28:33:00
51. Ken Chadwick (Minuteman Road Club) 28:35:00
52. Matthew Graham (QCW Cycling p.b. Breakawaybikes.com) 30:09:00
53. Chris Caza (Team 2 Cycling) 30:30:00
54. Ron Kriner (Lamprey Systems) 30:32:00
55. Tim Boring (Team ProPower Coaching) 30:42:00
56. Jeffrey Bays (Lamprey Systems) 31:44:00
57. Andre Sincennes (The Cyclery) 32:26:00
58. Edward Oliver (Major Taylor Development Team) 33:07:00
59. Victor Cillis (Cape Cod Racing / C4) 33:21:00
60. Marc Koblentz (NCVC/UnitedHealthcare) 33:50:00
61. Mark Kleinveld (CC ROSSI LAC ST-LOUIS) 35:50:00
62. (CC ROSSI LAC ST-LOUIS) 35:52:00
63. Frank Ingraham (Lamprey Systems) 37:34:00
64. Liam Somers (Base36/SMCC/Gorham Bike) 38:24:00
65. Hubert Richard (Néron Cycle) 38:42:00
66. William Flannery (Blue Mountain Velo) 39:10:00
67. James Price (EBS Racing) 39:20:00
68. Jonathan Delcolle (Bikeworks Beaupre Electric) 41:51:00
69. Victor Milligan (Blue Hills Cycling Club) 42:10:00
70. Brian Sullivan (CRCA/e2value) 43:24:00
71. Mark Brownell (Blue Hills Cycling Club) 43:56:00
72. Gregory Wright (Cape Cod Racing / C4) 45:48:00
73. John Kasbohm (Northampton Cycling Club) 48:01:00
74. Cory Schaeffer (Lambs gap cycling team) 52:17:00
75. Richard Whittemore (EBS racing) 52:38:00
76. Neil Desir (CC ROSSI LAC ST-LOUIS) 55:37:00
77. Glenn Muscosky (CRCA/hatchmap cycling) 56:44:00
78. Greg Defiore (CRCA/Dave Jordan Racing) 59:30:00
79. Chris Jordan (Base36/SMCC/Gorham Bike) 0:15
80. Daniel Lanoue (CC ROSSI LAC ST-LOUIS) 5:37
81. Gerald Johnston (Guys Racing) 6:27
82. Jim Lex (Guy's Racing) 9:17
83. Bastien Boutin (CC Rossi Lac St-Louis) 9:48
84. Theo Petron (EBS Racing) 10:56
85. Brian Berry (EBS Racing) 17:28
86. Fred Stucky (EBS racing) 17:29
87. Bryan Gormley (The Cyclery) 18:02
88. Juan Barraza 18:14
89. Patrick Merosier (Major Taylor Development Team) 20:11
90. Marcel Brugger (Ride WIth Rendall p/b Biemme) 23:45
91. James Yoo (CRCA/hatchmap cycling) 33:45:00
DNF Barry Eyre (Arc-En-Ciel Racing Team) 0:00
DNF Patrick Gilmour (Brooklyn Velo Force) 0:00
DNF Larry Gray (Cape Cod Racing / C4) 0:00
DNF Kevin Kennedy (VELORIGIN Performance) 0:00
DNF Bogert Kisch (Team ProPower Coaching) 0:00
DNF Keith Kline (Blue Mountain Velo) 0:00
DNF Benoit Labossiere (CC Rossi Lac st-louis) 0:00
DNF Anthony Mazzella (CRCA/RBNY Racing – Sommerville Sports) 0:00
DNF Edward Myles (Blue Hills Cycling Club) 0:00
DNF Charles Rowland (EBS Racing) 0:00
Men 4B 4 65 Miles 20.49 MPH (74 Starters)
1. Mark Pattinson (TTEndurance) 3:10:19
2. James Stafford (The Bicycle Depot New Paltz) 0:46
3. Brean Shea (Pink Rhino Racing) 0:52
4. David Thompson (Cycle-Smart) 4:28
5. David Slavinski (JSMS/ BPC Racing) 6:06
6. Jacek Boral 6:16
7. John Schwartz (Favata's TRT Bicycles) 7:29
8. Ed Wolf (Sherpa) 9:11
9. Chris Colt (Team Bicycle Doctor) 9:13
10. Keith Goldman (CRCA/Bicycle Planet Racing) 12:57
11. Steven Edwards (OA/CycleMania) 14:23
12. Ryan Clayton 15:13
13. Pierre Bitz (Martin Swiss) 15:13
14. Rade Popovic (Pop Works) 15:13
15. Aaron Mccormack (Cycle Lodge) 15:14
16. Percy Zahl (EECT/Green Arm Bandits) 15:14
17. Rick Dalton (Park Ave Bike Shop) 15:43
18. John Jackson (SKYLANDS CYCLING) 16:29
19. William Matlack (QuadCycles) 16:30
20. Scott Robinson (High Road Cycles) 16:30
21. Chris Shepardson (Bike Loft East) 20:46
22. Russell Bogin (CRCA/Eumaeus Asset Mgt-Fuoriclasse Racing) 21:43
23. Brian Kelley (Pawling cycle and sport) 21:45
24. Mark Caron (VELORIGIN Performance Cycling Team) 22:30
25. Tom Keane (545 Velo) 22:31
26. Hans Morefield (Team Danbury Audi) 23:21
27. Chris Malone (Haymarket) 23:22
28. Steven Quinn (TEAM EDGE) 24:42:00
29. Gary Quinlin 24:51:00
30. James Willsey (1k2go Coffee – Burris Logistics) 24:58:00
31. David Marsh (Dorschel/Reed Eye) 25:43:00
32. Nathan Morgan (Louisville Velo Club) 26:00:00
33. Jay Tyler (Team Genesis Cycling) 26:01:00
34. Mark Inaba (Kissena Cycling Club) 26:01:00
35. Alex Cooper (Tenafly Road Dawgz) 26:03:00
36. Alexis Kraft (Rockstar Games / Signature Cycles) 26:04:00
37. Kenneth Barfell (Equipe Vitesse) 26:23:00
38. Joseph Butler (BIKEMAN.COM) 26:36:00
39. Sean Sheridan (Pawling Cycle & Sport) 27:38:00
40. Daniel Moon (Berkshire Cycling Association) 28:58:00
41. Jeff Ker (Independent) 32:41:00
42. Michael Bohn (Dorschel/Reed Eye – GVCC) 32:59:00
43. Rex Eberly (Cox WE Stedmans Cycling Team) 33:00:00
44. John Baker (Black Key Bulls) 36:16:00
45. Noel Boyland 36:52:00
46. Tom Fagan (ATA Cycle) 36:57:00
47. Gregory Gasowski (WaveMax) 37:57:00
48. Dominic Stobart (TWIN SIX METAL) 38:27:00
49. Alex Baron (Velorigin) 39:07:00
50. Dean Robert (TT Endurance) 39:24:00
51. Marc Kingsley (Inn at Cooperstown/Paceline Sports) 41:31:00
52. Barney Brannen (Mason Racing) 42:31:00
53. Sebaj Adele 42:42:00
54. Michael Cain (Team XXL / CRCA) 42:42:00
55. Terry Batchelder (Ascension Cycling) 43:44:00
56. Stephen Mcalpine (CBRC) 44:28:00
57. Joe Dellorusso 45:39:00
58. Nicholas Pachuda (Equpe Vitesse Cycling Club) 45:44:00
59. Michael Zak 50:17:00
60. Daniel O'Hare 51:35:00
61. Jeffrey Lesser (US Military Endurance Sports Cycling Team) 52:42:00
62. Nicholas Malter (FDNY) 53:28:00
63. Ed Doyle (RealFood Consulting) 0:29
64. Michael Lane 1:24
65. Tim Metzger (Slouch Racing) 9:37
66. Joe Accardi (Erace Cancer p/b La Bicicletta) 17:52
67. Andrew Lawson (Cheshire Cycle Racing) 18:33
68. Scott Sherman (Grace Bicycles Velo Club) 22:50
69. Christian Whitney (Cannibal Velo Club) 32:26:00
70. Matthew Davies (TEAM BIKEWAY MTB) 36:25:00
DNF Matthew Bockbrader (Team Spin/Litzler Automation) 0:00
DNF Nelson Hoffman (Onion River Racing) 0:00
DNF David Lambert (GVCC) 0:00
DNF Michael Markowicz (Cycling Concepts Racing Team) 0:00
Men 4C – 65 Miles 16.15 MPH (58 Starters)
1. Christopher Baker (Team Towpath/GVCC) 4:01:30
2. Alyosha Smolarski (CRCA / W&D Racing / NYC Velo)
3. Kevin Wood 0:00
4. Bryan (Philly) Williams (CRCA/WYLD STALLYNS) 0:02
5. Patrick Luckow (Community Bicycle Racing) 0:16
6. Jeff Rowe (HBC RACING)
7. Vincent Lore (Bethel Cycle) 0:30
8. Brendan Rigby (Kissena Cycling Club) 7:03
9. Luis Rivera (North Shore LIJ) 7:04
10. Chris Pino (The 5th Floor NYC) 7:04
11. Ryan Fisher (The 5th Floor NYC) 7:05
12. Angelo Calilap (The 5th Floor NYC) 8:20
13. David Hall (The 5th Floor NYC) 10:51
14. Ed Medina (Community Bicycle Racing) 17:32
15. Thierry Bonnaire (Kissena Cycling Club) 24:03:00
16. Omar Villafane (Bare Arms Cycling)
17. Todd Royal (CRCA / W&D Racing/NYC Velo)
18. Ryan Quinn (CRCA / W&D Racing / NYC Velo)
19. Tom Catherines (HBC RACING)
20. John Moore (Community Bicycle Racing)
21. Mathew Street (CRCA/Foundation)
22. Piotr Rup (MBCR)
23. Brian Cristiano (BOLD Racing / enduranceWERX)
24. Phil Garofolo (The 5th Floor NYC)
25. Scott Speer (CRCA/Lucarelli & Castaldi)
26. Robert Hengel (Campus Wheelworks)
27. Jason Roggenbauer (Bethel Cycle)
28. Jon Chmielowiec (Campus Wheelworks)
29. Eddie Venegas (MBRC)
30. Joe Olgin (Campus Wheelworks)
31. Owen Caprell (CRCA / W&D Racing / NYC Velo)
32. James Lyman (MBCR)
33. Grant Aidner (CRCA/Lucarelli & Castaldi)
34. Louisgie Shoy (MBCR)
35. Esteban Rodriguez (CRCA/SIDS BIKES NYC)
36. Josue Flores Rivera (Community Bicycle Racing)
37. Tommy Pagonis (CRCA/Lucarelli & Castaldi)
38. Hernan Lucero (MBCR)
39. Keith Huntington (HBC RACING)
40. James Hyatt (The 5th Floor NYC)
41. Troy Rutherford (Team Towpath/GVCC)
42. Nik Koblov (The 5th Floor NYC)
43. Kevin Kline (CRCA/Foundation)
44. Carlos Walton (MBCR)
45. Jacob Baty (CRCA / W&D Racing / NYC Velo)
46. Thomas Discepola (CRCA / W&D Racing / NYC Velo)
47. Matthew Hill (CRCA/SIDS BIKES NYC)
48. Tim Brundage (Team Towpath / GVCC) 22:42
49. Ken Vadnais (BOLD Racing / enduranceWERX)
50. Joseph Tutt (CRCA/SIDS BIKES NYC)
51. Evan Armbrister (BOLD Racing / enduranceWERX)
DNF Tod Gentry (Community Bicycle Racing)
DNF Brendan Longe (Community Bicycle Racing)
DNF Mark David Mcpherson (BOLD Racing / enduranceWERX)
DNF Erik Ogren (CRCA/WYLD STALLYNS)
DNF Niall Smart (Kissena Cycling Club)
DNF Jeffrey White (Kissena Cycling Club)
DNF David Yang (Kissena Cycling Club)
Men 4D – 65 Miles 19.98 MPH (74 Starters)
1. William Crabtree 3:15:13
2. Mark Miller (Elm City Velo) 0:01
3. Christopher Peck (CRCA/e2Value) 0:06
4. Thomas Conti (CRCA\TBWA\LMT Cycling) 0:46
5. Andrew Meunier (Pawling Cycle & Sport) 4:04
6. Fred David (CRCA / e2Value) 4:06
7. Joshua Bonvissuto 4:08
8. Caleb Smith (Pro Mountain Outfitters) 4:21
9. Lance Dunn (MTBNJ.com – Halter's) 5:30
10. Keith Rousseau (1K2GO COFFEE – BURRIS LOGISTICS) 5:30
11. Christopher Tuthill (Bicycle Depot) 5:33
12. Derrick Swanson (CS Velo) 6:20
13. Mike Janeiro (Pro Mountain Outfitters) 6:43
14. Brian Flynn (DOWN CYCLES) 6:45
15. Jonathan O'Connor (NEBC p/b Cycle Loft) 6:45
16. Ryan Conley (Nycross.com) 6:45
17. Ryan Mcloughlin (ProChain Junior Boys) 6:46
18. Will Carroll (Century Road Club Assoc/ e2Value) 7:51
19. Gerald Audet (Unattached) 8:01
20. Thom Barry (Northampton Cycling Club) 8:01
21. Stephen Lebovitz (Weston Posse Velo) 8:16
22. David Fitzgerald (Ten Speed Spokes) 9:13
23. Caleb Batchelder (Ascension Cycling) 12:38
24. Scott Medeiros (Ten Speed Spokes) 13:55
25. Robert Constantino (CRCA) 13:56
26. Chris Coffey (1K2GO) 14:28
27. Chris Santalucia (MTBNJ.com – Halter's) 15:00
28. Matthew Upton (CRCA\TBWA\LMT Cycling) 15:04
29. Brian Honsinger (CS Velo) 15:59
30. Aaron Wolf (NEBC p/b Cycle Loft) 16:12
31. Chris Brawley (MTBNJ.com – Halter's) 16:17
32. Larry Chapman (Bicycle Depot) 17:04
33. Marshall Deeney (Twin Line Velo / GVCC / Dick Ide Family of Dealers) 17:05
34. Stephen Jette (M3 Racing) 17:54
35. Andrew Piper (M3 Racing) 17:57
36. Robert Kelley (Pawling Cycle & Sport) 18:38
37. Jonathan Steinman 19:08
38. Dmitry Usvetov 19:13
39. Chris Baker (MIT Cycling p/b FXDD) 20:20
40. Alex Cernichiari (CRCA) 20:36
41. Bryan Grygus (SCC/HRRT) 20:37
42. Dylan Thomarie (SCC/HRRT) 21:46
43. Jeffrey Soderman (JJ) 21:47
44. Oleg Bekkerman 21:49
45. John Kim (CRCA/Eumaeus Asset Mgmt – Fuoriclasse) 22:42
46. Benoit Tonneau (SCC/HRRT) 23:12
47. Henry Chan (Pawling Cycle & Sport) 23:21
48. Thierry Gervais-Desrochers (Maglia Rosa) 24:21:00
49. Andrew Rizzi (SCC/HRRT) 24:45:00
50. Marcos Picchio (CS Velo) 26:22:00
51. Nicholas Tham (MIT Cycling p/b FXDD) 26:52:00
52. James Schibuk (CRCA/JL Velo) 27:21:00
53. Peter Graeber (Ten Speed Spokes) 28:41:00
54. Sudeep Rangi (University of Pennsylvania) 31:41:00
55. Zachary Ross (Prochain) 33:10:00
56. Carl Jacob 33:13:00
57. Michael Moran (Weston Posse Velo) 33:35:00
58. Michael Deats (Twin Line Velo / GVCC / Dick Ide Family of Dealers) 34:42:00
59. Christopher Cugini (NEBC p/b Cycle Loft) 34:58:00
60. Richard Henning (CS Velo) 35:44:00
61. Julien Azimzadeh 37:19:00
62. Michael Baker (Cape Cod Racing / C4) 38:39:00
63. Patrick Zbyszewski (SPINTECK p/b Blue Bell Private Wealth Management) 42:15:00
64. Nicholas Gray (CRCA / Eumaeus Asset Management – Fuoriclasse) 43:11:00
65. Jon Mcneill (Weston Posse Velo) 43:48:00
66. Adam Mullen (CS Velo) 46:48:00
67. Keith Putnam (Cape Cod Racing / C4) 47:46:00
68. Zachary Young (ProChain) 55:21:00
69. Alex Christian (ProChain) 55:36:00
70. Richard Bravo (CRCA/Rapha Racing NYC) 3:13
71. Jonathan Anderson (JJ) 11:35
72. Max Savage (Prochain) 15:05
73. Seth Looper 19:41
DNF Lukasz Strycharz (CRCA\TBWA\LMT Cycling) 0:00
Men 4E – 65 Miles 20.24 MPH (49 Starters)
1. Jack Kisseberth (Tufts University) 3:12:39
2. Connor Ryan (SEAVS/Haymarket) 0:00
3. Jovica Ivetic (Unattached) 0:20
4. Paul Fronhofer (Grey Ghost Bicycles) 8:33
5. Scott Hock (NYCROSS.com p/b VO MAX) 10:25
6. Justin Neuman (Neumania) 10:47
7. Michael Staropoli (Sherpa) 12:22
8. Jim Nicholson (Team 2 Cycling) 13:15
9. John Kane (RUUD Racing/TVC) 13:40
10. Jonathan Favata (TRT Bicycles p/b Stans No Tubes) 13:41
11. Andrew Meunier (Providence Velo) 13:42
12. James Read (Jimenez Velo Sport) 14:53
13. David Torres (CRCA/RBNY Racing – Sommerville Sports) 18:13
14. Oliver Davis (CRCA/Sixcycle-RK&O) 18:13
15. Peter Conroy (RMRC pb Thump Coffee) 18:55
16. Philip Sousa (Squadra Coppi Cycling Team) 19:18
17. Gary Hoehne (Team Deathrow Velo) 21:27
18. Thomas Snow 23:50
19. Andrew Reimann (Team Yacht Club) 24:45:00
20. Mike Heiss (GREEN LINE VELO driven by Zipcar) 26:15:00
21. Jonathan Wickner (University of Arizona) 27:48:00
22. Daniel Matheson (Robin Hood Endurance) 27:54:00
23. Ryan Mcgovern (CRCA/hatchmap Cycling) 29:26:00
24. Geoff Lawrence (Dorschel/Reed Eye) 29:27:00
25. Adam Duarte (Black Tie Sports / Spine) 29:30:00
26. Silas Clark (Team HB Hilltop) 29:30:00
27. Nate Foster (Corning/NoTubes Race Team) 29:37:00
28. Matthew Mory (QCW Cycling p.b. Breakawaybikes.com) 30:18:00
29. Joseph Marinelli (Threshold Cycling) 30:50:00
30. Mike Mcconnell (Colavita Racing Inc) 30:53:00
31. James Terrani (CRCA/Kruis CX pb Repucom) 41:51:00
32. Ricardo Collado (Team ProPower Coaching) 46:46:00
33. Christopher Lake (Team Spark) 48:07:00
34. Jason Fowler (Team Martys) 48:24:00
35. Mike Zusman (Team Breakaway Courier) 48:30:00
36. Chatura Atapattu (CRCA/Rockstar) 49:03:00
37. Syd Lea (T.E.A.M. Fuji) 51:24:00
38. Nicholas Willette (EXPO Wheelmen) 51:25:00
39. Jason Andrew (NBX/Narragansett Beer/Apex) 53:00:00
40. Wouter Hoogenboom (CRCA/Dave Jordan Racing) 57:47:00
41. Timothy Day (The Bell's Bike Shop Cycling Team) 15:45
42. Shayne Gaffney (Spider One Racing) 27:52:00
43. Kenneth Hammond 30:22:00
44. Joseph Dinella (Team Somerville Bicycle Shop) 38:56:00
45. Rami El Rayess (Slouch Racing) 51:38:00
DNF Bryan Drago (Team Carl Hart) 0:00
DNF Dan Mccombs (DG Cycle Sports) 0:00
DNF Justin Onusko (HPC) 0:00
DNF Donnie Seib (BIKEMAN.COM) 0:00
Men 5A – 65 Miles 19.13 MPH (57 Starters)
1. Jason Temple (Wooden Wheels Racing) 3:23:52
2. Timothy Livolsi Jr (Team HB Hilltop) 0:00
3. Jacob Morse (mapmyride) 0:02
4. Tom Stevens (Bicycle Depot) 1:38
5. Donovan Clarke (King Kog/Roulant Clothing) 2:01
6. Jeffrey Apruzzese (Kissena Cycling Club) 6:59
7. Michael Quinn (Danny's Cycles) 7:16
8. Alexander Frigon (Wooden Wheels Racing) 8:23
9. Anthony Chan (MBCR) 8:29
10. William Johnson (King Kog/Roulant Clothing) 9:13
11. Chris Wehrly (Arc Racing pb Intelligentsia Coffee) 9:35
12. Aaron Keene (Northampton Cycling Club) 9:44
13. Matthew Jiang (CRCA/Lucarelli & Castaldi) 9:45
14. Wilson Stevens (Campus Wheelworks) 13:57
15. Pedro Espinosa (Bike Brothers) 14:36
16. Shawn Jackson (Team Bikeway.com) 15:03
17. Colden Kimber 15:49
18. Antoine Coquard (Croix de Fer) 16:38
19. Michael Hangac (Bike Brothers) 16:39
20. Zachary Elkind (Bicycle Depot) 18:04
21. Peter Fobare (SCC/HRRT) 18:07
22. Jeff Burress (Wooden Wheels Racing) 18:07
23. John D'Agostino (CRCA/Lucarelli & Castaldi) 19:39
24. Julio Castillo (CRCA/Lucarelli & Castaldi) 19:39
25. Liam Allen (Team Bikeway.com) 20:38
26. Eric Kirouac 22:04
27. Cameron Lewis (Inside Edge) 25:37:00
28. Mark Steffen (King Kog/Roulant Clothing) 25:47:00
29. Bj Olson (CRCA/Lucarelli&Castaldi) 27:01:00
30. Niles Gagnon (Inside Edge) 30:26:00
31. Graydon Kolk (Kissena Cycling Club) 30:34:00
32. Chris Yeager (Team HB Hilltop) 30:35:00
33. Scott Harrington (Blue Hills Cycling Club) 30:36:00
34. Christian Lemay 33:06:00
35. Denis Desgagnes (CC Croix de Fer) 35:05:00
36. Matthew Leahey (Northampton Cycling Club) 36:35:00
37. Rostislav Knopov (Kissena Cycling Club) 40:10:00
38. Michael Lombardi (CRCA/Lucarelli & Castaldi) 41:11:00
39. John Welling (CRCA/Lucarelli & Castaldi) 41:28:00
40. Federico Pozzi (Wooden Wheels Racing) 41:51:00
41. Andrew Romanazzi (Inside Edge) 42:07:00
42. Adam Schwendt (Rose Bike/Bangor High School) 42:18:00
43. Patrick Taylor (King Kog/Roulant Clothing) 42:35:00
44. Gregory Costigan (NEBC p/b Cycle Loft) 43:50:00
45. Eric Deuser (CRCA/Lucarelli & Castaldi) 43:50:00
46. Bryan Magdalensky (Northampton Cycling Club) 49:44:00
47. Jeffrey Kraska (Campus Wheelworks) 49:48:00
48. Luke Debrita (Inside Edge) 50:44:00
49. Matthew Costuros (Campus Wheelworks) 55:00:00
50. Jan Sajkowski (Croix de Fer) 0:21
51. Kurt Mason (SCC/HRRT) 9:20
52. Charles Warren (Croix de Fer) 19:04
53. Gustavo Gamarra Jr. (MBCR) 19:38
54. Justin Pearce 40:40:00
DNF Jonathan Lazzara (SCC/HRRT) 0:00
DNF Tal Lipshitz 0:00
DNF Sam Veggeberg (Bikeway Source/Bell Lap Racing) 0:00
Men 5B – 65 Miles 19.75 MPH (56 Starters)
1. Jonas Gustafsson 3:17:31
2. Baris Aytan (Team BS) 2:54
3. Lazaro Delgado 4:18
4. Jonathan Sellers 5:26
5. James Keyzer (Thoroughbred Triathlon Coaching) 6:12
6. Kevin Morin 6:48
7. Zachary Flynn (Bethel Cycle) 6:48
8. Tim Russell (Thoroughbred Triathlon Coaching) 6:51
9. David Dzikiewicz 8:27
10. Adam Walski (Cedar Bike & Paddle) 9:25
11. Nate Molinari (Empire Brewing – Syracuse Bicycle) 11:43
12. Craig Hanson (Velocite Racing Team) 13:03
13. Scott Smith (Family Bike/Jam Fund) 13:43
14. Pablo Kohan 14:36
15. Mike Smedes 14:57
16. Christian Malanowski (Velocite Racing Team) 15:00
17. Hunter Simpson (team somerset) 16:08
18. Tyson Witte 17:18
19. Sean Mctearnen (Team BS) 17:38
20. Keith Garrison (KING KOG / ROSKO) 19:41
21. Josh Molinari (Team 2 Cycle) 20:50
22. Jake Hoover (Table Rock Tours) 21:25
23. Matthew Fagen 21:51
24. Tony Kelly (Bikebarnracing.com) 22:38
25. Tommy Cardwell (Team Houlton Farms Dairy) 24:16:00
26. Malcolm Rollo 26:39:00
27. James Neu (CIS FIRST TEAM | CENTURY) 27:09:00
28. Michael Sellers 30:45:00
29. Tom Wooten 31:32:00
30. Brett Jones (Sherpa) 32:31:00
31. Jason Bailey (BIKEMAN.COM) 35:37:00
32. Gerard Wise 37:44:00
33. Ricky Cornetta 38:50:00
34. William Stockton (Tufts Cycling Team) 41:32:00
35. Adam Ogden (Giant bicycle/tom hannock) 42:15:00
36. Jeremy Saksik 44:51:00
37. Chris Erikson 45:43:00
38. Charley Berry (Big Steve) 50:24:00
39. Jonas Bashaw 51:23:00
40. Brian Hupe (Team Houlton Farms Dairy) 52:58:00
41. Sean Metz (Brands Cycle & Fitness) 56:54:00
42. Pascal Tropper (Adirondack Triathlon Club) 58:07:00
43. Rob Paisley (Viking Racing) 0:21
44. Joseph Sipos 1:00
45. Johnathan Min 13:03
46. Timothy Daley (Bikeway Source) 13:07
47. Richard Levo 14:12
48. Bradley Baker (Team Houlton Farms Dairy) 17:58
49. Andrew Feuerstein 28:40:00
50. David Curtin 30:16:00
51. Jared Ray (BTC) 48:52:00
52. Ryan Mccaskill 26:41:00
DNF Jason Cross (Viking Racing) 0:00
DNF Mark Guntick (Team TBB/Deep Blue) 0:00
DNF Seth Mceachron (Battenkill Valley Creamery) 0:00
DNF James Sawtelle 0:00
Men 5C – 65 Miles 19.44 MPH (43 Starters)
1. Chris Nocera (Velorigin) 3:20:37
2. Zachary Veugen (Laughing dog Cyclery) 3:52
3. Zev Myerowitz (The Sustainable Athlete) 4:41
4. Denny Saunders (Team T1C London Honda – Village Cycle) 5:13
5. Simon Agnew 6:31
6. Paul Cote (Ten Speed Spokes) 6:32
7. Mark Walters (Mac5Bikes) 10:05
8. Thomas Coleman (Northhampton Cycling Club) 10:29
9. Seth Holmes (The 5th Floor NYC) 11:25
10. Patrick Collins (Team Bicycle Alley) 14:49
11. Ted Clark (Skirack) 15:07
12. Brandon Robertson (DG Cycle Sports) 15:07
13. Derick Gilmour (WMBA / RBC / OCBC) 17:33
14. Michael Westberry (Minuteman Road Club) 19:37
15. Alexis Pinard (Club Veloce) 20:57
16. Brendan Mims (SouthShoreTriCoach) 20:57
17. Ross Stern (Penn Cycling) 21:45
18. Peter Stranges 23:52
19. Matthew Lee (Gripped Racing p/b Racedots) 29:27:00
20. Jack Drizhal (Drizhal) 30:32:00
21. Kyle Williams (NCVC/UnitedHealthcare) 31:49:00
22. Gavin Oag (Montclair Bikery) 33:39:00
23. Justin Cerenzia (Ten Speed Spokes (TSS)) 33:49:00
24. Luke Taylor (CRCA/Rockstar Games) 36:28:00
25. Tongwoo Tony Kim (Westwood Velo) 38:10:00
26. Chad Zeman 39:06:00
27. Roberto Rodriguez (Talleres Roberto Rodriguez – Guatemala) 39:44:00
28. Alexander Ciesla (Shore Cycling Sports) 42:14:00
29. Luis Rodriguez (Talleres Roberto Rodríguez – Guatemala) 44:50:00
30. Christopher Bookman (Once Again Nut Butter/LIvingston Cycling Club) 46:16:00
31. Mike Cozza (QCW Cycling p.b. Breakawaybikes.com) 50:26:00
32. Gregory Marchand (Landry's Bicycles) 51:37:00
33. Mousa Khouri (Greenwich Triathlon Club) 54:16:00
34. David Muccioli (Rockstar Games/Signature Cycles) 59:26:00
35. Zachary Krom (Connecticut Cycling Center) 0:15
36. Julius Erwin Quito (CRCA/Dave Jordan Racing) 8:01
37. Vicente Brocchetto (Formula Tri Club) 19:38
38. Matthew Arbour 19:47
DNF Wyatt Boughter (Wannabe Cancer Free) 0:00
DNF Edward Dunphy Jr (Physical Equilibrium) 0:00
DNF Ed Liebowitz (CRCA/Asphalt Green Development Team) 0:00
DNF Brice Nagle (Pedal Power) 0:00
DNF Justin Trezza (CS Velo) 0:00
Men 5D – 65 Miles 19.10 MPH (53 Starters)
1. Ramunas Katkus (Monclair bike shop) 3:24:13
2. Andrew Bonsall (CRCA/Lucarelli & Castaldi) 5:02
3. Bryan Magnus (MapsoTri) 5:02
4. Paul Lasher (Metropolitan Music) 5:54
5. Andrew Tait (Doylestown Bike Works) 5:57
6. Conor Mckenzie (Metropolitan Music) 5:59
7. Peter Werner (Blue Hills Cycling Club) 7:04
8. Tim Cary (Northampton Cycling Club) 9:38
9. Kevin Lanahan (Catskill Mountain Multisport) 10:11
10. Ryan Hobbs (X-MEN) 14:43
11. Nicholas Nardelli (Metropolitan Music) 14:52
12. Erik Shani (CRCA/Lucarelli & Castaldi) 16:33
13. Sam Halls (Newmarket Eagles Cycling Club) 18:39
14. Nate Burns (Doylestown Bike Works) 18:53
15. Mark Hopper (Newmarket Eagles Cycling Club) 19:55
16. Ricardo Zubieta (MapsoTri) 21:17
17. Eric Poch (MacGregors) 21:56
18. Marc Pritchard (Newmarket Eagles Cycling Club) 21:57
19. Conrad Merrill (MacGregors) 22:09
20. Marc Goldleaf (Team Danica) 24:03:00
21. Mark Eisenhandler (Team Danica) 24:04:00
22. Keith Alber (Catskill Mountain Multi-sport) 25:11:00
23. Jim King (CRCA/Lucarelli & Castaldi) 27:14:00
24. Joel Ramirez (Northampton Cycling Club) 27:58:00
25. Andy Wong (CRCA/Lucarelli & Castaldi) 34:43:00
26. Christopher Raynor (Newmarket Eagles Cycling Club) 34:52:00
27. Aime Bourdon (Northampton Cycling Club) 36:02:00
28. Sean Hillock (Delusions of Adequacy) 36:03:00
29. Heath Umbach (MacGregors) 36:11:00
30. Jose M. Tapia (MBCR) 36:27:00
31. Kenneth Timm (Delusions of Adequacy) 37:39:00
32. Ryan Rath (Adirondack Tri Club) 38:06:00
33. Daniel Lundenberg (Newmarket Eagles Cycling Club) 38:50:00
34. Jonathan Nardelli (Metropolitan Music) 40:56:00
35. Michael Freedman (Doylestown Bike Works p/b Fred Beans) 42:44:00
36. Todd Eicher (Adirondack Triathlon Club) 43:17:00
37. Randy Rath (Adirondack Triathlon Club) 43:17:00
38. Dave Lehman (MacGregors) 44:55:00
39. Pat Mclaughlin (Doylestown Bike Works) 47:52:00
40. Adam Juzek (Metropolitan Music) 54:23:00
41. Chad Guevremont (Blue Hills Cycling Club) 55:16:00
42. Sam Lakas (Joe's garage) 56:27:00
43. Mark Bodak (Joes Garage) 0:04
44. James Krupienski (EXPO Wheelmen) 3:06
45. Bill Coupe (Newmarket Eagles Cycling Club) 7:12
46. Jarrod Thompson (Joes Garage) 7:21
47. Troy Kenyon (MacGregors) 23:34
48. Peter Linnard (MacGregors) 24:29:00
49. Warren Thompson (Joes Garage) 26:47:00
50. Kevin Marx (Team Danica) 37:15:00
51. Peter Schmidt (Delusions of Adequacy) 59:43:00
52. Peter Harris (Team Danica) 52:41:00
DNF Robert Dedora (Cycle Haven) 0:00
Men 5E – 65 Miles 19.05 MPH (49 Starters)
1. Ben Hoffhine 3:24:41
2. Arthur Picard (SCC/HRRT) 1:10
3. Daniel Michalchuk (Team HB Hilltop) 1:40
4. David Spurr (Team HB Hilltop) 1:41
5. Jeb Fowler (Linen) 3:47
6. Ray Hyland (NYCMTB-SIDS) 6:02
7. Jesse Corum V (Twin Line Velo / GVCC / Dick Ide Family of Dealers) 6:56
8. Nicholas Seleni (Team Placid Planet) 9:37
9. Stephen Day (formula tri) 9:45
10. Josh Fenollosa (Equipe Henry) 10:53
11. Tj Oconnor (CBRC) 11:02
12. Rajesh Nair 13:41
13. Thorsten Dennerline (Bennington College) 14:09
14. John Gleeson 17:25
15. Xavier Letteron (Linen) 18:10
16. Leigh Knowlton (Grace Bicycles Velo Club) 18:10
17. Rick Krupa (CRCA / Rockstar Games-Signature Cycles) 18:26
18. Gustavo Leal (Formula Tri Club) 23:14
19. David Gilbert (Formula Tri) 23:14
20. Michael Tan (PSC) 24:31:00
21. Armand Daccache (Bethel Cycle) 27:28:00
22. Michael Serve (Twin Line Velo / GVCC / Dick Ide Family of Dealers) 29:55:00
23. Shaun Daylor (Landry's Bicycles) 30:20:00
24. Daniel Ingerdal (NYCMTB-SID'S) 30:59:00
25. Douglas Tsao (Robin Hood Endurance) 31:59:00
26. Mathieu Vo-Quang (NDG Cycling Club) 32:18:00
27. David Dreher 32:27:00
28. Edouard Vo-Quang (NDG Cycling Club) 35:49:00
29. Humberto Gamarra (CRCA / Rockstar Games/Signature Cycles) 39:21:00
30. Tom Wandzilak 41:41:00
31. Brian Funk (SCC/HRRT) 42:53:00
32. Don Welsh (Slouch Racing) 43:40:00
33. Robert Blais 46:00:00
34. Marcus Holthoff 50:52:00
35. Derek Anspach (Cycle Override) 51:45:00
36. Brandon Reish (Cycle Override) 51:45:00
37. Chris Konicki (Keswick Cycle) 52:16:00
38. Brian Dell 52:46:00
39. Christopher Rome 59:56:00
40. David Smith (Team Placid Planet) 1:29
41. Costantino Pinto (Keswick Cycle) 7:02
42. Colin Keohan (Equipe Henry) 8:50
43. Varoujan Hagopian (Grace Bicycles Velo Club) 10:17
44. Shyri Marazita (Campus Wheelworks) 44:30:00
45. Thomas Grolemund (Campus Wheelworks) 44:31:00
46. David Rudnick (Landry's Bicycles) 48:21:00
DNF Andy Demotses (Slouch Racing) 0:00
DNF Seth Graeber 0:00
DNF Marko Zatylny (NDG Cycling Club) 0:00
Men 5F – 65 Miles 19.81 MPH (47 Starters)
1. Michael Dostal (BCA/Tosk Chiropractic) 3:16:53
2. Daniel Bailey (Brands Cycle & Fitness) 1:49
3. Tyler Merritt 1:50
4. Michael Gallagher (breakawaybikes.com) 3:22
5. Anthony Brown 7:38
6. Brian Lavoie (Acidotic) 10:49
7. Shawn Horn 13:40
8. Robert Savignol (Blueshift Multisport) 15:02
9. Myles Webster 15:03
10. Cameron Barrett (CS Velo) 15:34
11. William Hanson (Aspire Multisport Racing) 15:37
12. Cezary Nadecki (Down Cycles) 17:07
13. Andrew Farrell (BIKEMAN.COM) 21:29
14. Jim Joyce 21:30
15. Jose Hernandez (EBR) 21:58
16. Daniel Tompkins (Century Road Club of America) 22:02
17. Christopher Dudko (CMS Racing) 24:37:00
18. Paschal Lennon (CRCA/VELORIGIN Performance) 25:39:00
19. Nathan Kraxberger (CRCA/SIDS BIKES NYC) 27:11:00
20. Robert Shostack (Bike Loft East) 30:13:00
21. Scott Miloro 32:49:00
22. Alex Sherwood (bicycle depot) 32:49:00
23. Hugh Ruthven (Cape Cod Racing / C4) 35:38:00
24. George Stopyak (Capital District Triathlon Club (CDTC)) 35:52:00
25. Seth Hatch 36:53:00
26. Michael Rooney 37:28:00
27. Brett Baumann (Burnside Forge) 37:29:00
28. Kevan Hauver (Tri New England) 39:49:00
29. Marek Schnee (Down Cycles) 43:28:00
30. Micah Schmidt 44:47:00
31. Nick Laboda 45:09:00
32. Chris Twardowski 53:18:00
33. Ian Saladyga 54:08:00
34. Ben Clifford 56:18:00
35. Michael Reilly 59:44:00
36. Lenny Andersen 59:50:00
37. Luke Elrath (Bell's Cycling Team) 0:32
38. Richard Morse 0:35
39. Luis Freitas (Tri-NewEngland) 1:04
40. David Piperno 6:20
41. Daniel Lee 25:20:00
42. James Willson 25:41:00
43. Chris Spurrier 34:31:00
44. Uber Uribe 40:40:00
45. Darren Nacht (crca/AG) 41:00:00
DNF Scott Abrahams 0:00
DNF Joe Amaral (Caffinated Cyclist Racing P/B Pitman Dental Associ) 0:00
Men 5G – 65 Miles 19.06 MPH (44 Starters)
1. Michael Theesfeld (Skratch Labs) 3:24:38
2. Dan Harper (Team Overlook) 1:25
3. Andrew Imrie (Morning Glory) 4:40
4. Jeffrey Meyer (Pink Rhino Racing) 4:52
5. Eric Magnuson (Fit Werx) 5:43
6. Kevin Inwood (Morning Glory Cycling Club) 6:13
7. Brian Berry (Search and State) 6:47
8. Rob Montgomery (GMBC/1K2GO-Burris Logistics) 7:47
9. John Morrissey (Minuteman Road Club) 9:37
10. Laurent Painchaud (Sports Analytix LLC) 10:44
11. Ronald Restivo (HBC RACING) 13:03
12. Tim Heckman (Kissena Cycling Club) 13:29
13. Andy Williams (Pelham Track and Tri) 16:28
14. Todd Jewett 16:30
15. Kent Wosepka (Fit Werx) 16:57
16. Philip Lavoie (Rogue Racing) 18:46
17. Adam Schwartz (TTEndurance) 18:51
18. Jason Quagliata (Team Towpath/GVCC) 19:16
19. Ivan Schwendt (Rose Bike) 21:07
20. Adam Bushnoe (Greenwich Triathlon Club) 21:44
21. Josh Koubek 21:44
22. Frank Petrulli (TEAM SPARK) 22:54
23. Jim Keegan (Keystone Velo) 31:39:00
24. Jason Wright (Port Cycling) 31:59:00
25. Mariano Gaviola (Pro Pedals) 32:44:00
26. Geoff Butler (Toasted Head Racing) 33:36:00
27. Gustavo Ordonez (MTB NYC Style) 40:51:00
28. Neil Seas (Pure Energy Cycling) 40:51:00
29. Jules Benson (QCW Cycling p.b. Breakawaybikes.com) 41:32:00
30. Derick Shoff (Evolution Pro Bike) 50:56:00
31. Kevin Violet (Smaltibikes/Seasports Cycling) 52:30:00
32. Dave Crowell (NH Cycling Club) 52:30:00
33. Jon Shireman (New York Cycle Club (NYCC)) 54:52:00
34. Robert Fritz 58:45:00
35. Gary Cunningham 59:11:00
36. Gary Werner (Team Brewery Ommegang) 1:17
37. Arthur Pierce Williams (Pro Pedal) 10:32
38. Ilya Grozovsky (Pacific SBR) 25:06:00
39. Thomas Lepore (triangle cyclists) 28:38:00
40. Patrick Leaman (Horizon Racing) 31:50:00
41. Matt Nofziger 35:42:00
42. Sal Crochiola (Jamis Bicycles) 39:27:00
DNF Daniel Cheung 0:00
DNF John Vail (Velo 5) 0:00
Men 5H – 65 Miles 18.50 MPH (63 Starters)
1. John Bye (MapsoTri) 3:30:52
2. Scott Somers (Team 2 Cycling) 0:00
3. Jeff Litchfield (Blue Steel Cyclery) 0:23
4. Neil Isola (MBCR) 3:24
5. David Murray (Slouch Racing) 3:25
6. Jorge Ramirez (MBCR) 3:25
7. Mike Engstrom (Blue Steel Cyclery) 3:26
8. Tim Coyle (CRCA/Breakaway Courier-NSX) 4:05
9. Rick Bush (Team 2 Cycling) 4:29
10. Mark Burns (Nantucket Velo) 9:13
11. Mike Allen (Nantucket Velo) 10:04
12. James Congdon (Nantucket Velo) 10:59
13. Clint Dowd (Blue Steel Cyclery) 12:41
14. Greg Mills (Team 2 Cycling) 13:30
15. Don Schatz (MapsoTri) 13:45
16. Michael Bradford (Blue Steel Cyclery) 13:46
17. Jim Basil (SCC/HRRT) 14:42
18. Bob Frank (SCC/HRRT) 15:07
19. Gary Sclar (Minuteman Road Club) 15:34
20. Colm Smart (Blue Steel Cyclery) 16:04
21. Gregory Odland (Down Cycles) 16:14
22. Edward Hernandez (Team HB Hilltop) 16:52
23. John Pinto (MapsoTri) 17:46
24. Greg Hancox 17:47
25. Kevin Teves (Minuteman Road Club) 19:14
26. Jeffrey Blackwell (Nantucket Velo) 21:26
27. Mark Hecox (Blue Steel Cyclery) 22:39
28. Steve Kimball (Minuteman Road Club) 23:32
29. Jeremiah Fitzgibbon (Blue Steel Cyclery) 23:57
30. Simon Western (Down Cycles) 23:57
31. Jason Massa (Blue Steel Cyclery) 25:29:00
32. Rob Coyle (Team HB Hilltop) 26:02:00
33. Richard Bastone (DOWN CYCLES) 27:32:00
34. James Graham (Blue Steel Cyclery) 28:37:00
35. Giles Gregory (Nantucket Velo) 29:15:00
36. Teddy Volkomer (Team 2 Cycling) 31:08:00
37. Edward Roberts 33:09:00
38. Owen Moore (MapsoTri) 33:29:00
39. Patrick Topham (Nantucket velo) 33:31:00
40. Jay Potter (Cape Cod Racing / C4) 34:29:00
41. Stephen Furrer (Cape Cod Racing / C4) 38:20:00
42. Robert Hildebrandt (Cape Cod Racing / C4) 38:20:00
43. Donald Annino (cannibals) 38:54:00
44. Jerry Visconti (Melo Velo Racing) 39:07:00
45. Douglas Thompson (Team Danica) 41:32:00
46. Christopher Connelly (MBCR) 41:42:00
47. Douglas Mcmasters (MBCR) 43:50:00
48. Ian Rusk (Minuteman Road Club) 44:30:00
49. Mark Condon (Qualey Granite/Rose Bike) 44:30:00
50. Michael Labat (Essex Chain Gang) 45:38:00
51. Peter Sejersen (Nantucket Velo) 45:47:00
52. Paul Leibowitz (Down Cycles) 46:56:00
53. Steven Catania (Team Danica) 48:03:00
54. Joseph Nankof (Down Cycles) 59:01:00
55. Ashish Misra (DOWN CYCLES) 59:01:00
56. David Flomenhaft (MBCR) 6:28
57. Edward Rosenberg (SCC/HRRT) 8:17
58. Glenn Lapolt (Team Danica) 10:49
59. Richard Carroll (Team Danica) 13:44
60. Jim Demis (Team Danica) 36:44:00
61. Christopher Marx (Team Danica) 36:44:00
DNF Jeff Ballard (Team 2 Cycling) 0:00
DNF Bruce Murray 0:00
Men 5I – 65 Miles 18.36 MPH (47 Starters)
1. Tim Wern 3:32:22
2. James Kritz (Speed River Cycling) 0:02
3. Jonathan O'Keeffe (Northampton Cycling Club) 2:05
4. Peter Sharp (CBRC) 3:08
5. Joe Allen (Bicycle Depot) 8:15
6. David Lewis (Parsons) 8:17
7. David Leven (Parsons) 8:50
8. Gregory Butler (Washington-Lee Bike Club) 11:55
9. Patrick Van Peborgh 12:14
10. Kevin Mccullough (CRCA/Lucarelli & Castaldi) 12:26
11. George Charalambides (CRCA/Lucarelli&Castaldi) 14:01
12. Charles Hayward (Team Albany) 15:15
13. Alfred Etzel (Grace Velo Club) 15:24
14. Robert Gomez (Iron Bridge / Tarmac Cycling) 15:40
15. Chad Phillips (1K2GO) 16:15
16. Robert Nespolo (Speed River Cycling club) 17:05
17. Jeffrey Rivet 17:51
18. Glenn Doucet (Grace Velo Club) 18:01
19. Timothy Mathews (NEBC p/b Cycle Loft) 20:57
20. Morgan Evans (CCCC) 24:53:00
21. Raul A Castano 26:24:00
22. Frank Sleegers (Northampton Cycling Club) 28:06:00
23. Matt Atterbury (NEBC p/b Cycle Loft) 28:36:00
24. Mark Underwood (Iron Bridge / Tarmac Cycling) 32:08:00
25. Doron Lipshitz 34:26:00
26. David Rosato (Farmington Valley Cycling) 36:02:00
27. Darrell Tucker (Major Taylor Development Team) 37:15:00
28. Robert Miller 37:37:00
29. Jimmy Schmalenberger 42:05:00
30. Rich Matthes (Papa Wheelies) 43:21:00
31. Chris Garatti 51:07:00
32. Robert Glazier 53:02:00
33. Jason Brodowski (Washington Lee Bike Club) 53:35:00
34. Freddy Monegro (formula tri club) 54:07:00
35. Richard Gladstone (3D Racing Team) 56:36:00
36. Scott Klemm 0:32
37. Philip Lam (CRCA/hatchmap cycling) 2:50
38. Mark Walker (Major Taylor Development Team) 3:13
39. Paul Singer (Farmington Valley Cycling) 4:59
40. Tim Reiss (Team Albany) 7:26
41. Stephen Lasalle (Team Albany) 7:26
42. James Klena 19:31
43. Michael Triber 38:23:00
44. Stephen Mettler 52:00:00
DNF Jeffrey Abulencia (BIKE LOFT EAST) 0:00
DNF Bryan Brodowski 0:00
DNF Ken Mann (Bike Loft East) 0:00
Men 5J – 65 Miles 18.01 MPH (43 Starters)
1. Chris Mckenna (CRCofA) 3:36:31
2. Donald Griffin (Big Ring Ding a Lings) 4:14
3. Chris Owen 4:15
4. John Mcfarland (Bethel Cycle) 4:25
5. David Hayes (Cox/W.E. Stedman Cycling) 5:51
6. David St. Germain (Cambridge Valley Cycling Club) 5:54
7. Vasilios Antoniadis (CRCA/VELORIGIN Performance) 6:55
8. Peter Van Eenenaam 11:30
9. Peter Kalichman 12:55
10. Ambrose Stafford (Century Road Club of America) 13:49
11. Gregory Cherr (Campus Wheelworks) 15:08
12. Robert Underwood (Adirondack Triathlon Club) 15:19
13. Michael Persico (CT CYCLE CENTER) 15:57
14. Joao Nero 17:46
15. Kim Littell (Cambridge Valley Cycling) 20:11
16. Patrick Dubay 20:44
17. Jeff Crye 22:42
18. Ed Vescovi (CtCycleCenter.com) 23:54
19. Chip Waite 26:24:00
20. William Lesoravage 26:24:00
21. Tom Rogers (Elm City Velo) 28:09:00
22. Peter Kiernan 28:47:00
23. William Thompson 30:00:00
24. Bobby Lee (Blue Mountain Velo) 30:51:00
25. Brad Elliott (ELLIOTT CHIROPRACTIC) 33:03:00
26. Stephen Romero 40:45:00
27. Thomas Van De Sande 40:51:00
28. Raymond Wright (ABRT) 41:41:00
29. Elliot Abraham 41:51:00
30. Charles Hoffman 42:57:00
31. Steven Fish (Blue Hills Cycling Club) 44:28:00
32. Attila Matyas 46:42:00
33. Todd Lalumiere 47:21:00
34. John Michne 49:29:00
35. Stephen Bozzo 53:05:00
36. Curt Stager 54:15:00
37. William Mergner 1:10
38. David Mcgowan 3:54
39. Matthew Juros (ECV) 9:20
40. Hocksoon Goh 48:38:00
DNF Joe Hall (ADK Tri Club) 0:00
DNF Tobi Lanciano 0:00
DNF Nicholas Marshall 0:00
Men 5K – 65 Miles 18.65 MPH (40 Starters)
1. Lee Merkel (Pure Energy Cycling) 3:29:06
2. Scott Powell (Ole Boys) 3:50
3. David Boyce (Jaw Bone) 6:21
4. David Silloway (THE BIKE ZONE) 6:23
5. John Simpson 8:46
6. Scott Sears (Kitty hoynes cycling) 12:21
7. Greg Linakis (HBC RACING) 17:11
8. Owen Dougherty (OtisWood,LLC) 17:13
9. Brian Hite 21:33
10. Jonathan Davis (Triangle Cyclists) 22:58
11. Peter Carney (Portland Velo Club) 26:43:00
12. Jack Morse (joe's bike garage) 28:39:00
13. Jason Colety (Velo 5) 30:38:00
14. Thaddeus Newnam (Iron Town Cycling) 31:31:00
15. Bill Brazier (W.E. Stedmans Bike Co) 33:47:00
16. Joel Bard (Quad Cycles) 36:40:00
17. James Gironta (kissena/Cicli Devotion) 36:53:00
18. James Rothwell (GBSC/Carl Hart) 39:01:00
19. Kevin Kretzschmar (Tomhannock Bicycle/FPI Mechanical) 39:23:00
20. Charles Vigorita 39:48:00
21. Terrence Rychlik (Ridgefield Bike Club) 41:11:00
22. Gerald Plamondon (Espoirs Laval) 44:21:00
23. Johan Adriaans (International Contractors Corp.) 47:58:00
24. Mike Arpin 48:36:00
25. Mikel Travisano (New York Cycle Club (NYCC)) 48:48:00
26. Thomas Cranley 50:45:00
27. Jim Lyons (Kelly Benefit Strategies/LSV) 51:10:00
28. Bruce Saran (Team Phat Boyz) 51:28:00
29. Michael Olsen (HBC) 54:13:00
30. Richard Desgagnes (Velo Club Metropolitain) 59:13:00
31. Jim Annunziato (Pawling Cycle & Sport) 2:19
32. Matthew Rogers 18:34
33. Kevin Crowley 26:28:00
34. Robert Light (US Military Cycling Team) 49:37:00
35. Joseph Petrucci 52:48:00
DNF Raffaele Dinella (Team Somerville Bicycle Shop) 0:00
DNF Eric Gustafson (Team Wear on Earth) 0:00
DNF Paul Heffler (Ottawa bicycle club) 0:00
DNF Damon Strub (nycc) 0:00
DNF John Taggert 0:00
Men 5L – 65 Miles 17.99 MPH (31 Starters)
1. John Arnold (Quad Cycles) 3:36:44
2. Andrew Chambers (Nerac Earth) 0:00
3. Paul Moulton 6:02
4. Kenneth Milne 10:40
5. Peter Sisti 18:53
6. Jonathan Stilllman (SCC/HRRT) 19:40
7. Bill Rowe (SCC/HRRT) 21:59
8. Bill Provost 29:20:00
9. George Ricciardi (Velo 5) 29:47:00
10. Barton Muhlfeld (Velo 5) 29:47:00
11. Stewart Jones (Essex Chain Gang) 39:03:00
12. James Litynski (SCC/HRRT) 41:51:00
13. Paul Vinnelrod (Essex Chain Gang) 41:58:00
14. Brian Halpin (Essex Chain Gang) 45:22:00
15. Charles Banks 45:23:00
16. Michael Wiatrak (Jimenez Racing) 48:23:00
17. William Rennie (MBCR) 54:09:00
18. Andrew Dunberg (Jimenez Racing) 54:32:00
19. Kirk Sohr (Essex Chain Gang) 3:19
20. Philippe Dordai (Essex Chain Gang) 16:26
21. Bill Stieglitz 28:25:00
22. Paul Sciabica 33:06:00
23. Fred Gruhle 35:18:00
24. Henry Lane 37:10:00
25. Jeffrey Moyer 46:00:00
26. Christopher Byrne 2:15
DNF Kevin Culbertson 0:00
DNF John Davidson (Adk Tri Club) 0:00
DNF Gustavo Gamarra Sr. (MBCR) 0:00
DNF Michael George (Quad Cycles) 0:00
DNF Holger Sternberg 0:00
Men 5M – 65 Miles 18.47 MPH (28 Starters)
1. Kurt Heine 3:31:10
2. Alden Cadwell 1:31
3. David Davis (Peak Racing/Gear Works Cyclery) 5:33
4. David Brown (Pete's Bike / Century Road Club of America) 8:45
5. David Trager (MapsoTri) 12:36
6. John Dalton (Power Advisory LLC) 19:51
7. Kevin Williams 20:16
8. Dee Keesler 20:17
9. Ron Molinari (Team 2 Cycling) 33:00:00
10. Michael Johnson (ECV) 33:57:00
11. Henry Lehman (Pete's Bike / Century Road Club of America) 35:32:00
12. Peter Quinn (dark rim boys) 39:21:00
13. Charles O'Bryan (Team Phat Boyz) 47:02:00
14. Harold Stotland (Toguri Training) 48:32:00
15. David Hart (Pete's Bike / Century Road Club of America) 55:14:00
16. Phil Neisser (Team Wear on Earth) 56:13:00
17. Thomas Starr (Simplicity Cycles) 56:58:00
18. Robert Riesenberger (Doylestown Bike Works p/b Fred Beans) 58:11:00
19. Philippe David (CRCA) 0:52
20. Joseph Iberti (Kissena) 1:46
21. Charles O'Connell (Cedar Street Racing) 2:47
22. Tom Simmons (NEBC p/b Cycle Loft) 4:11
23. Scott Price (ResearchRoadRiders) 4:15
24. Harry Woods (New York Cycle Club (NYCC)) 17:48
25. James Bilotta (Polar Vortex) 23:38
DNF Robert Fortin 0:00
DNF Tom Gockel (Hilltop Bicycles) 0:00
DNF Richard Walsh (Fellowship of the Chain Ring) 0:00
Men 40+ 65 Miles 21.40 MPH (67 Starters)
1. Bruce Bird (Wheels of Bloor/Graywood Developments) 3:02:14
2. Scott Giles (BIKE DOCTOR p/b North Tek) 1:19
3. Paul Richard (CCB Racing) 1:24
4. Bryan Reid (Dallas Bike Works) 4:02
5. Michael Magur (Verge Sport) 4:27
6. Jacob Hacker 4:27
7. Stephen Badger (BETHEL CYCLE SPORT) 4:27
8. Chris Crowell (Stage 1 / fusionTHINK) 4:28
9. Stephen Robinson (BATTLEY DUCATI-SPOKES ETC p/b DISTRICT TACO) 4:28
10. Matt Mitchell (545 Velo) 4:28
11. Robert Lyons (FinKraft Cycling Team) 4:29
12. David Peters 4:30
13. David Gazsi (TeamIFG by Cyclelogik/Endurosport) 4:32
14. Bart Lipinski (Corner Cycle) 5:15
15. Carl Reglar (Verge Sport) 5:17
16. Joseph Wentzell (breakawaybikes.com) 5:40
17. Rick Laliberte (Synergy) 5:41
18. Phill Hodgkinson (Wheels of Bloor/Graywood Developments) 6:19
19. Cary Moretti (TeamIFG by Cyclelogik/Endurosport) 6:51
20. Andrew Boxer (First Stop / Vermont Castings) 7:32
21. Todd Bowden (Aetna-Expo Wheelmen) 7:58
22. Mike Heagney (Intelligentsia Coffee) 8:42
23. William Wisse (DRV/RCS/DRISCOLL) 8:42
24. Joe Kubisek (Cheshire Cycle Racing) 10:26
25. Bryan Teter (Fit Werx) 10:27
26. David Hildebrand (Aetna-Expo Wheelmen) 13:13
27. Fred Reidenbach (HYDROMAX CYCLING T.E.A.M.) 14:32
28. Simon Essl (ELBOWZ Racing p/b Boneshaker) 14:52
29. Todd Scheske (Legaci Cycling Productions) 14:56
30. Joe Johnston (Black Bear Cycling) 14:58
31. Jeremy Brazeal (BETHEL CYCLE SPORT) 14:59
32. Miles Billings (545 Velo) 14:59
33. Henry Gerson (FLCC / Swan Cycles / Chris Cookies) 14:59
34. Gerald Chen (Nine2Fivepro.com cycling team) 15:01
35. Jeff Fieldhack (Ranchos Cycling Club) 15:01
36. Christopher Darling (OA/ Cyclemania) 15:02
37. Matthew Looney (McKinney Velo Club) 15:47
38. Russ Emerson (McKinney Velo) 17:10
39. Bill Muzzio (BETHEL CYCLE SPORT) 17:37
40. John Provart (Midweek Cycling Club) 17:39
41. John Lynch (FLCC/Chris Cookies/Swan Cycles) 18:17
42. Richard Wolter (Central Jersey Cycling Team) 19:52
43. Greg Waggoner (CRCA/Sids Bikes NYC) 21:07
44. Marc Mazer (Midweek Cycling Club) 22:18
45. Andrew Stewart (Team IFG by Cyclelogik/Endurosport) 22:18
46. Ben Tufford (MTBNJ.com – Halter's) 25:39:00
47. Robert Campbell (Cycle Lodge) 28:30:00
48. Otto Sanchez (PSRacing/ Masterpiece Kitchens) 28:44:00
49. Michael Halstead (Favata's TRT Bikes) 31:11:00
50. Tom Sybert (Village-Verdigris Cycling) 32:58:00
51. Pierre Pigeon (PowerWatts) 33:15:00
52. Chad Weisgram (Grand Performance) 33:43:00
53. Abe Barley (Thru it all body shop) 36:37:00
54. Ron Short (QCW Cycling p.b. Breakawaybikes.com) 36:37:00
55. Richard Brown 36:40:00
56. Stephane Dodier (PowerWatts) 41:29:00
57. David Wells (EXPO WHEELMEN) 43:26:00
58. Alan Brookshire (Team Velosports) 44:04:00
59. Darin Bedle (Metra/Cycles54CyclingTeam) 51:38:00
60. Chris Buonomo (Campanohvac/breakawaybikes.com) 53:29:00
61. Matt Braun (Breakawaybikes.com) 53:41:00
62. Harper Watters (Breakawaybikes.com) 53:41:00
DNF Doug Blades (Team IFG by Cyclelogic/Endurosport) 0:00
DNF Lorenzo Grippo (Black Tie Sports / Spine) 0:00
DNF Billy Jones (IsCorp Intelligentisa coffee) 0:00
DNF Ciaran Mangan (CCB/ RACING) 0:00
DNF Mark Misicko (Tower Racing) 0:00
Men 50+ 65 Miles 21.44 MPH (64 Starters)
1. Dirk Himley (Hammer Nutrition/Charity of Choice) 3:01:53
2. Hunter East (OKC Velo) 9:08
3. James Nash (CCB Racing) 9:08
4. John Funk (No.22 Bicycle Company / CCNS) 9:08
5. Hunter Ziesing (Hammer Nutrition/Charity of Choice) 10:58
6. Michael H Brown (McKinney Velo) 11:42
7. Steve Warren 11:56
8. Anthony Felitte (CCC/ Keltic Const/ Zanes cycles) 12:05
9. James Walker (Team Placid Planet) 12:05
10. Hank Pfeifle (Downeast Racing) 12:06
11. Guy Poirier (bethel cycle) 13:38
12. Thomas Butler (ccc/keltic construction) 13:44
13. Stéphane Demers (Équipe Brunet) 13:44
14. Joseph Piscitello (Pa Masters rc.) 13:44
15. Mark Featherman (Guy's Racing) 13:44
16. Richard Karaz (GS MVBC) 13:45
17. Mike Vella (LuxVue-SunPower Racing Team) 13:45
18. Eric Sutherland (CRCA/CycleLifeUSA GF Capital) 13:47
19. Tyler Munroe (Riverside Racing) 13:54
20. Jerry Hillard (Slouch Racing) 14:15
21. Marty Hodge (Stage 1 / fusionTHINK) 14:15
22. Eric Pearce (Arc En Ciel Racing Team) 17:15
23. Jonathan Tarbox (Expowheelmen) 17:59
24. Greg Campi (3D Racing Team/Tom's Atlantic Cyclery) 18:00
25. Paul Mcdonnell (Capital Bicycle Racing Club (CBRC)) 21:41
26. Brian Mcandrews (PA Masters) 21:50
27. Len Engel (Minuteman Road Club) 22:02
28. Chris Connaughty (clr) 23:03
29. Morgan Stebbins (Signature Cycles/Rockstar Racing) 23:34
30. Keith Button (CCB racing) 23:54
31. James Schaefer (Cycor) 23:57
32. Terry Blanchet (North American Velo) 24:01:00
33. Fabio Piergentili (WH Bagshaw Precision Parts) 24:53:00
34. William Caligari (Housatonic Wheel Club) 24:53:00
35. Christando Lombardo (wcj racing) 24:55:00
36. Don Seib (BIKEMAN.COM) 25:37:00
37. Kevin Hays (Arc En Ciel Racing) 25:42:00
38. Bill Mcgreevy (Team Placid Planet) 27:26:00
39. Sean Mooney (Action Wheels Bike Shop) 32:02:00
40. Douglas Campbell (CCC / Keltic Construction / Zanes Cycles) 32:02:00
41. Eric Danver (PSRacing/Masterpiece Kitchens) 32:03:00
42. Alfred Bissell (Riverside Racing) 35:31:00
43. Bruce Schwab (OA/Cyclemania) 35:31:00
44. Daniel T. O'Connor (GearWorks/ Peak Racing) 35:32:00
45. Dan Fitch (Empire Brewing – Syracuse Bicycle) 35:36:00
46. Raul Galliano (2NMR p/b ESSEX Pharmacy & Strictly Bicycles) 36:41:00
47. Michael Mascarenhas (North American Velo) 36:41:00
48. Mark Coleman (NEBC p/b Cycle Loft) 43:14:00
49. Robert Brnilovich (Stark Velo) 47:42:00
50. Richard Westwood (Kurzawinski Coach/ PBNJ.ca) 47:44:00
51. Marco Pati 50:53:00
52. Ed Burgess (TRT Bicycles p/b Stans No tubes) 52:31:00
53. Eric Larsson (Portland Velo Club) 54:13:00
54. Christian Sell (QCW Cycling p.b. Breakawaybikes.com) 57:40:00
55. Kevin Schaeffer (Keystone Velo Club) 58:10:00
56. Jeff Gibeley (CCB) 59:24:00
57. Albert Bold (Team Makuri) 0:31
58. William Holmes (Boston Road Club) 5:11
59. Paul Ballew (CRCA) 6:42
60. Mark Valentine (QCW Cycling p.b. Breakawaybikes.com) 20:22
61. Miguel Torres Jr (Cheshire Cycle Racing) 22:28
62. Don Post (C R C of A/Pete's Bike & Fitness) 47:09:00
DNF Lawrence King (Cox/W.E. Stedman Cycling) 0:00
DNF Michael Sernyak (Zane's Cycle Club) 0:00
Men 60+ 65 Miles 17.73 MPH (19 Starters)
1. Laird James (Peak Racing/Gear Works Cyclery) 3:40:00
2. Denis Finnin (James Vincent Bicycles/JV Racing) 0:00
3. Ralph Hanseler (NEBC p/b cycle loft) 1:44
4. Joe Giovenco (Buffalo Cycling / Buffalo Bicycling Club) 2:43
5. James Scally (Cape Cod Racing / C4) 4:56
6. David Burnell (cox communications cycling team) 11:15
7. Matt Moore (CCC/Keltic Construction/Zane's Cycles) 13:02
8. Robert Dillon (1K2GO-Onion River Sports) 13:39
9. Michael Chizkov (Bicycle Therapy/Molina coffee) 23:49
10. Robert Olsson (DOWN CYCLES) 26:07:00
11. Harold Schmidt (Team Placid Planet) 26:25:00
12. Timothy Ainsworth 30:25:00
13. Richard Bauch (NJ/NY Colavita Regional Team) 34:31:00
14. Richard Camping (Team Towpath / GVCC) 35:07:00
15. Arthur Goedeke (C B R C) 39:10:00
16. Kenneth Mcguinness 41:09:00
17. Clive Hallwood (MBCR) 57:02:00
18. Eugene Colon (MBCR) 25:29:00
19. James Kangas (Pinnacle Bike Works) 28:22:00
Men 65+ 65 Miles 17.73 MPH (9 Starters)
1. Mark Mccarthy (PITTSFORD PAINTING CYCLING) 3:39:58
2. Scott Haverstick (ERA Cycling) 0:00
3. Ronnie Poplar 2:49
4. David Burnett (Zanes cycling \ NEMCA) 10:34
5. William Care (ERA Cycling) 16:56
6. Rick Finnin (Full Spectrum Racing) 18:38
7. James Themig (Mystic Velo Club) 35:52:00
8. Walter Hard (Eastern Bloc Cycling Club) 41:13:00
9. Rob Lea (T.E.A.M FUJI) 47:23:00