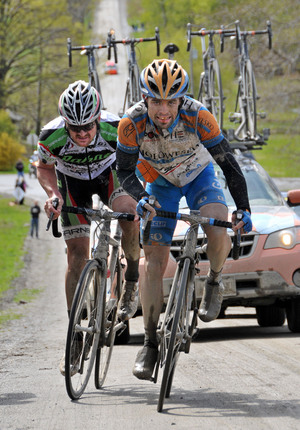 October 27, 2011 (Cambridge, NY) – Anthem Sports announces that their 8th Annual Tour of the Battenkill has secured a spot on USA Cycling's National Racing Calendar (NRC) of professional cycling events for 2012. The classic-style event, scheduled for April 14-15, will feature the popular Pro/Am event including the elite women's race on Saturday, and the professional men's NRC race on Sunday. The addition of the men's professional event to the NRC brings the event total to 10 for the series that includes several multi-day events for men and women. The Tour of the Battenkill in April and the Univest Grand Prix in September are the only one-day events on the calendar.
The 100 km Tour of the Battenkill Pro/Am drew more than 2,500 registrants in 2011 and expects to reach nearly 3,000 in 2012. The 2-lap, 200 km professional event is expected to feature a 200 rider field. Past winners of the professional men's race includes BMC's Scott Nydam and Garmin/Holowesko Partners' Caleb Fairly who reached the World Tour with HTC-Highroad in 2011 after claiming the 2010 edition over Floyd Landis in a late-race, 2-man break in wet conditions and muddy roads.
The course features 25% dirt roads and a downtown start & finish in scenic Cambridge, NY. The event also features an expo, live entertainment, and the Sunday morning non-competitive Bike Marathon-Battenkill to benefit various charities. The fully-supported non-competitive Battenkill Spring Preview Ride is also scheduled for Sunday, March 25 in Cambridge where several hundred riders are expected.
The event is also part of the Great American Cycling Series that includes several classic-style Pro/Am events across the US. A full calendar for the series will be published in December.
Online registration opens on December 21 where more than 2,000 amateur racers registered in less than 24 hours for the 2011 event.
As in 2010 and 2011 under presenting sponsor Pepsi, various community outreach events are planned, including school programs, youth cycling races, and benefit rides on the course. American professional teams Kelly Benefit / Optum Health and Jelly Belly Professional Cycling teams were among the teams supporting the popular outreach programs in 2011.
The Tour of the Battenkill is the largest road cycling race in North America and featured racers from more than 40 States and 15 countries in 2011. New Zealander Brett Tivers won the professional men's race in 2011, while Lex Albrecht of Quebec won the women's elite race. Previous podium finishers include ProTour riders Caleb Fairly and Evelyn Stevens, and former professional Floyd Landis.
The event is organized by Anthem Sports and is part of the Great American Classic Series of Pro/Am cycling events that includes the Tour of the Battenkill in April, Michigan's Tour of Washtenaw in May, New York's Tour of the Catskills in August, and September 17th's Tour of the Adirondacks, also in New York. Additional events are planned as part of the 2012 series. www.tourofthebattenkill.com
2012 USA Cycling National Racing Calendar
– Mar. 22-25 Redlands Bicycle Classic Redlands, CA 2.2 M/W
– April 15 Tour of the Battenkill, NY 1.1 M
– Apr. 26-29 Joe Martin Stage Race p/b Nature Valley Fayetteville, AR 2.3 M/W
– May 2-6 SRAM Tour of the Gila Silver City, NM 2.2 M/W
– June 3 Liberty Classic Philadelphia, PA 1.HC W
– June 13-17 Nature Valley Grand Prix Minneapolis/St. Paul, MN 2.1 M/W
– July 17-22 Cascade Classic Stage Race Bend, OR 2.2 M/W
– Aug. 3-5 Tour of Elk Grove Elk Grove, IL 2.3 W
– Aug. 21-23 Aspen/Snowmass Pro Women's Race Aspen, CO 2.5.2 W
– Sept. 15 Univest Grand Prix Souderton, PA 1.HC M