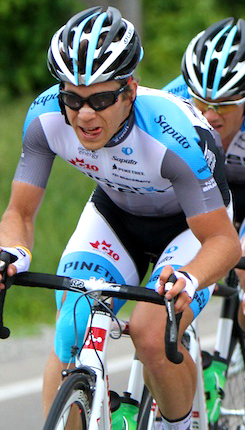 August 19, 2011 (Limoges, France) – Guillaume Boivin finished 22nd in the Tour of Limousin, a four-stage race in Southern France. This race, which was marked by stages filled with climbs, descents, technical routes, and that in extreme weather conditions with temperatures bordering 35 degrees Celsius.
Boivin finished the race 35 seconds behind the Tour winner's time, posted by the Belgian Bjorn Leukemans of Vacansoleil-DCM. Leukemans led the Tour for the last three stages to win the 44th edition of the Tour.
"Today's final [Stage 4 from Lacs de Haute Charente to Limoges, 180.9km] didn't go as well as we hoped. However, the boys are all riding well now. They are gaining form rather than fatiguing. This is a great sign that bodes well for our upcoming races in Chateauroux, Zottegem and Overjise," said Kevin Field, Directeur sportif. "Will Routley is recovering from his injuries; he struggled a little in this tour and is finishing with much better sensations."
"Guillaume and Svein really started to gel as a unit in the final kilometers of these races. And Hugo, Mark and Ryan are doing an excellent job of getting them there," added Field.
French Matthieu Ladagnous of Française-Des-Jeux won the fourth and final stage in the final sprint of the peloton, his second stage win in as many days. In the final group, there were both Boivin and Svein Tuft of SpiderTech.
SpiderTech powered by C10 will be back in competition this Sunday at Le Classique de l'Indre 2011, a one-day race, still on French soil. Next week, another SpiderTech delegation will participate in the USA Pro Challenge in Colorado, United States, which begins Aug. 22 with the prologue.
Results
1. Matthieu Ladagnous (Fra) FDJ 4:39:12
2. Jure Kocjan (Slo) Team Type 1-Sanofi
3. Björn Leukemans (Bel) Vacansoleil-DCM
4. Samuel Dumoulin (Fra) Cofidis, Le Credit en Ligne
5. Blel Kadri (Fra) Ag2r-La Mondiale
6. Laurent Pichon (Fra) Bretagne-Schuller
7. Pierrick Fédrigo (Fra) FDJ
8. Jeremie Galland (Fra) Saur-Sojasun
9. Davy Commeyne (Bel) Landbouwkrediet
10. Bert De Waele (Bel) Landbouwkrediet
11. Yukiya Arashiro (Jpn) Team Europcar
12. Tony Gallopin (Fra) Cofidis, Le Credit en Ligne
13. Evert Verbist (Bel) Veranda's Willems-Accent
14. Thomas Degand (Bel) Veranda's Willems-Accent
15. Morgan Kneisky (Fra) Roubaix Lille Metropole
16. Jean-Luc Delpech (Fra) Bretagne-Schuller
17. Rinaldo Nocentini (Ita) Ag2r-La Mondiale
18. Kevin Lalouette (Fra) Roubaix Lille Metropole
19. Maxime Méderel (Fra) Big Mat-Auber 93
20. Anthony Roux (Fra) FDJ
21. Egoitz Garcia Echeguibel (Esp) Caja Rural
22. Ruben Reig Conejero (Esp) Caja Rural
23. Reinier Honig (Ned) Landbouwkrediet
24. Staf Scheirlinckx (Bel) Veranda's Willems-Accent
25. Anthony Geslin (Fra) FDJ
26. Renaud Dion (Fra) Bretagne-Schuller
27. Ben Gastauer (Lux) Ag2r-La Mondiale
28. Dalivier Ospina Navarro (Col) Colombia es Pasion-Cafe de Colombia
29. Florian Guillou (Fra) Bretagne-Schuller
30. John Edibberto Martinez Montero (Col) Colombia es Pasion-Cafe de Colombia
31. Laszlo Bodrogi (Fra) Team Type 1-Sanofi
32. Arnaud Gerard (Fra) FDJ
33. Mickaël Chérel (Fra) Ag2r-La Mondiale
34. Frédéric Guesdon (Fra) FDJ
35. Julien Guay (Fra) Roubaix Lille Metropole
36. Sébastien Turgot (Fra) Team Europcar
37. Arturo Mora Ortiz (Esp) Caja Rural
38. José Herrada Lopez (Esp) Caja Rural
39. Jean-Marie Bideau (Fra) Bretagne-Schuller
40. Jonathan Thire (Fra) Big Mat-Auber 93
41. Johan Mombaerts (Fra) Big Mat-Auber 93
42. Guillaume Boivin (Can) Team Spidertech Powered By C10
43. Fabien Bacquet (Fra) Big Mat-Auber 93
44. Svein Tuft (Can) Team Spidertech Powered By C10
45. Jarlinson Pantano (Col) Colombia es Pasion-Cafe de Colombia
46. Vincent Jérôme (Fra) Team Europcar
47. Yohann Gène (Fra) Team Europcar 00:10
48. Hugo Houle (Can) Team Spidertech Powered By C10 00:16
49. Florian Le Corre (Fra) Roubaix Lille Metropole
50. Zachary Bell (Can) Team Spidertech Powered By C10 00:18
51. Jonathan Perdiguero (Esp) Caja Rural 00:20
52. Johnny Hoogerland (Ned) Vacansoleil-DCM
53. Antoine Lavieu (Fra) Cofidis, Le Credit en Ligne 00:22
54. Julien Simon (Fra) Saur-Sojasun 00:35
55. Julien Loubet (Fra) Ag2r-La Mondiale 00:37
56. Gregory Habeaux (Bel) Veranda's Willems-Accent
57. Alessandro Bazzana (Ita) Team Type 1-Sanofi 00:41
58. Franck Bouyer (Fra) Team Europcar 00:43
59. Sébastien Duret (Fra) Bretagne-Schuller 00:44
60. Mickael Delage (Fra) FDJ 00:47
61. Florent Barle (Fra) Cofidis, Le Credit en Ligne 01:00
62. Guillaume Le Floch (Fra) Team Europcar 01:13
63. Luis Felipe Laverde Jimenez (Col) Colombia es Pasion-Cafe de Colombia 01:30
64. Victor Hugo Pena Grisales (Col) Colombia es Pasion-Cafe de Colombia
65. Will Routley (Can) Team Spidertech Powered By C10 01:32
66. Sylvain Georges (Fra) Big Mat-Auber 93
67. Alexander Riabkin (Rus) Caja Rural 01:35
68. Jonathan Hivert (Fra) Saur-Sojasun 01:38
69. Sébastien Joly (Fra) Saur-Sojasun 02:07
70. Rob Ruijgh (Ned) Vacansoleil-DCM 02:34
71. Alberto Ongarato (Ita) Vacansoleil-DCM
72. Arnoud Van Groen (Ned) Veranda's Willems-Accent 04:19
73. Kevin Van Melsen (Bel) Veranda's Willems-Accent 04:59
74. Edwig Cammaerts (Bel) Landbouwkrediet
75. Baptiste Planckaert (Bel) Landbouwkrediet
76. Jaco Venter (RSA) Veranda's Willems-Accent
77. Nicolas Rousseau (Fra) Big Mat-Auber 93
78. Koen Barbe (Bel) Landbouwkrediet
79. Dominique Rollin (Can) FDJ
80. Stéphane Poulhies (Fra) Saur-Sojasun
81. Cyril Bessy (Fra) Saur-Sojasun
82. Ryan Anderson (Can) Team Spidertech Powered By C10 05:16
83. Théo Vimpere (Fra) Big Mat-Auber 93 06:22
84. Ben King (Aus) Team Type 1-Sanofi 07:41
85. Gorik Gardeyn (Bel) Vacansoleil-DCM 10:55
86. Marcello Pavarin (Ita) Vacansoleil-DCM
87. Maxim Belkov (Rus) Vacansoleil-DCM
88. Carlos Andres Martinez Montero (Col) Colombia es Pasion-Cafe de Colombia 11:24
89. Alexey Shmidt (Rus) Team Type 1-Sanofi
DNF Joeri Stallaert (Bel) Landbouwkrediet
DNF Said Haddou (Fra) Team Europcar
DNF Mark Batty (Can) Team Spidertech Powered By C10
DNF Cyril Lemoine (Fra) Saur-Sojasun
DNF Anthony Ravard (Fra) Ag2r-La Mondiale
DNF Andrea Grendene (Ita) Team Type 1-Sanofi
DNF Boris Zimine (Fra) Roubaix Lille Metropole
DNF Anthony Colin (Fra) Roubaix Lille Metropole
DNF Perrig Quemeneur (Fra) Team Europcar
DNF Loïc Desriac (Fra) Roubaix Lille Metropole
DNF Juan Villegas (Col) Colombia es Pasion-Cafe de Colombia
Final GC
1. Björn Leukemans (Bel) Vacansoleil-DCM 18:21:48
2. Matthieu Ladagnous (Fra) FDJ 00:07
3. Florian Guillou (Fra) Bretagne-Schuller 00:13
4. Tony Gallopin (Fra) Cofidis, Le Credit en Ligne 00:18
5. Thomas Degand (Bel) Veranda's Willems-Accent 00:24
6. Jure Kocjan (Slo) Team Type 1-Sanofi 00:25
7. Anthony Geslin (Fra) FDJ 00:26
8. Anthony Roux (Fra) FDJ
9. Mickaël Chérel (Fra) Ag2r-La Mondiale 00:27
10. Yukiya Arashiro (Jpn) Team Europcar 00:30
11. Laszlo Bodrogi (Fra) Team Type 1-Sanofi
12. Frédéric Guesdon (Fra) FDJ
13. Jeremie Galland (Fra) Saur-Sojasun 00:31
14. Jonathan Thire (Fra) Big Mat-Auber 93
15. Jean-Marie Bideau (Fra) Bretagne-Schuller
16. Pierrick Fédrigo (Fra) FDJ 00:32
17. Maxime Méderel (Fra) Big Mat-Auber 93 00:33
18. Ben Gastauer (Lux) Ag2r-La Mondiale
19. Egoitz Garcia Echeguibel (Esp) Caja Rural 00:34
20. Blel Kadri (Fra) Ag2r-La Mondiale 00:35
21. Bert De Waele (Bel) Landbouwkrediet
22. Guillaume Boivin (Can) Team Spidertech Powered By C10
23. Reinier Honig (Ned) Landbouwkrediet
24. Sébastien Turgot (Fra) Team Europcar
25. Kevin Lalouette (Fra) Roubaix Lille Metropole
26. Ruben Reig Conejero (Esp) Caja Rural
27. Julien Guay (Fra) Roubaix Lille Metropole
28. Renaud Dion (Fra) Bretagne-Schuller
29. Dalivier Ospina Navarro (Col) Colombia es Pasion-Cafe de Colombia
30. Arnaud Gerard (Fra) FDJ
31. Jarlinson Pantano (Col) Colombia es Pasion-Cafe de Colombia 00:43
32. John Edibberto Martinez Montero (Col) Colombia es Pasion-Cafe de Colombia
33. Svein Tuft (Can) Team Spidertech Powered By C10
34. Vincent Jérôme (Fra) Team Europcar
35. Yohann Gène (Fra) Team Europcar 00:53
36. Johnny Hoogerland (Ned) Vacansoleil-DCM 00:55
37. Julien Loubet (Fra) Ag2r-La Mondiale 01:12
38. Sylvain Georges (Fra) Big Mat-Auber 93 02:14
39. Florian Le Corre (Fra) Roubaix Lille Metropole 02:27
40. Sébastien Joly (Fra) Saur-Sojasun 04:43
41. Jean-Luc Delpech (Fra) Bretagne-Schuller 05:11
42. Evert Verbist (Bel) Veranda's Willems-Accent 05:39
43. Cyril Bessy (Fra) Saur-Sojasun 05:42
44. Arturo Mora Ortiz (Esp) Caja Rural 05:47
45. Rob Ruijgh (Ned) Vacansoleil-DCM 05:52
46. Gregory Habeaux (Bel) Veranda's Willems-Accent 06:16
47. Laurent Pichon (Fra) Bretagne-Schuller 06:31
48. Théo Vimpere (Fra) Big Mat-Auber 93 07:04
49. Rinaldo Nocentini (Ita) Ag2r-La Mondiale 07:43
50. Sébastien Duret (Fra) Bretagne-Schuller 09:20
51. Dominique Rollin (Can) FDJ 10:00
52. Luis Felipe Laverde Jimenez (Col) Colombia es Pasion-Cafe de Colombia 10:53
53. Fabien Bacquet (Fra) Big Mat-Auber 93 14:19
54. Alexander Riabkin (Rus) Caja Rural 16:02
55. Morgan Kneisky (Fra) Roubaix Lille Metropole 17:30
56. Staf Scheirlinckx (Bel) Veranda's Willems-Accent 17:33
57. Alberto Ongarato (Ita) Vacansoleil-DCM 17:54
58. Hugo Houle (Can) Team Spidertech Powered By C10 17:57
59. Mickael Delage (Fra) FDJ 19:12
60. Davy Commeyne (Bel) Landbouwkrediet 19:31
61. Johan Mombaerts (Fra) Big Mat-Auber 93 21:36
62. Kevin Van Melsen (Bel) Veranda's Willems-Accent 22:02
63. Samuel Dumoulin (Fra) Cofidis, Le Credit en Ligne 22:37
64. Julien Simon (Fra) Saur-Sojasun 24:11
65. Ryan Anderson (Can) Team Spidertech Powered By C10 24:27
66. Franck Bouyer (Fra) Team Europcar 24:43
67. Arnoud Van Groen (Ned) Veranda's Willems-Accent 25:52
68. Jonathan Hivert (Fra) Saur-Sojasun 26:05
69. Stéphane Poulhies (Fra) Saur-Sojasun 28:39
70. Zachary Bell (Can) Team Spidertech Powered By C10 29:12
71. Guillaume Le Floch (Fra) Team Europcar 29:16
72. Nicolas Rousseau (Fra) Big Mat-Auber 93 29:47
73. José Herrada Lopez (Esp) Caja Rural 29:51
74. Victor Hugo Pena Grisales (Col) Colombia es Pasion-Cafe de Colombia 31:30
75. Florent Barle (Fra) Cofidis, Le Credit en Ligne 31:37
76. Jonathan Perdiguero (Esp) Caja Rural 33:24
77. Carlos Andres Martinez Montero (Col) Colombia es Pasion-Cafe de Colombia 33:44
78. Koen Barbe (Bel) Landbouwkrediet 35:42
79. Alessandro Bazzana (Ita) Team Type 1-Sanofi 35:50
80. Jaco Venter (RSA) Veranda's Willems-Accent 38:13
81. Antoine Lavieu (Fra) Cofidis, Le Credit en Ligne 38:14
82. Will Routley (Can) Team Spidertech Powered By C10 38:30
83. Ben King (Aus) Team Type 1-Sanofi 39:03
84. Baptiste Planckaert (Bel) Landbouwkrediet 39:44
85. Edwig Cammaerts (Bel) Landbouwkrediet
86. Marcello Pavarin (Ita) Vacansoleil-DCM 46:35
87. Gorik Gardeyn (Bel) Vacansoleil-DCM 46:39
88. Maxim Belkov (Rus) Vacansoleil-DCM 48:20
89. Alexey Shmidt (Rus) Team Type 1-Sanofi 1:07:37