May 12, 2014 (Sacramento, CA) – Carmen Small (TSL) went big when it counted on the final stretch to claim a surprise victory over the largest pro women's race in ATOC's history winning the women's 60-minute circuit race in downtown Sacramento. Small kicked it into high gear at the finish to beat out Coryn Rivera (USA) UnitedHealthcare Pro Cycling in a lead group of 25 hungry competitors. Brianna Walle (USA) Optum p/b Kelly Benefit Strategies took third.
The race began at high noon and got the crowd addicted to the blistering speeds of over 50 km/hr on the invitational flat circuit race. Filled with a day of headwinds in California's state capitol, but under sunny skies and warm temperatures, the elite Pro women from nine countries and 108 riders delivered an exciting race including some unpredictable crashes.
Many riders were going for their share of the prize purse as the field included seasoned pros and aspiring U23 riders. The Canadian National Team came out strong attacking early but UnitedHealthcare, Specialized, Colavita, and Tibco had them marked as they battled for supremacy.
Team Canada's Steph Roorda of track fame and her squad were extremely aggressive, making waves and animating the race. Roorda rode offensively, with attacks and a breakaway that threatened to stick, forcing big squads Specialized-lululemon and UnitedHealthCare to dig deep and pull her back. Team Canada and fellow Canuck Annie Ewart's Optum p/b Kelly Benefit Strategies made late-race attacks, but to no avail.
American Alison Powers (UHC), a constant threat in any race, was near the front at the end and ready to surge but couldn't quite get around Small who blazed through on the inside to clinch the victory.
"I had no idea I would still have enough gas but I saved up enough staying on others wheels so that I could sprint–it worked this time, and those headwinds were at times brutal," said Small following her first victory here.
"I thought I had the door open but I just didn't have the legs at the end, she deserved the victory–it was fun though," added Powers.
Gillian Carleton (Vanderkitten) also a star on the track, was the top Canuck finishing 10th, followed by fellow Ewart in 16th. Anika Todd (TIBCO To The Top) came in 22nd while Roorda finished 26th seven seconds behind the leader. TIBCO's Jasmin Glasser placed 33rd followed by Annie Foreman-Mackey (Team Canada) in 34th with Laura Brown (Colavita) 36th place at 12 seconds down.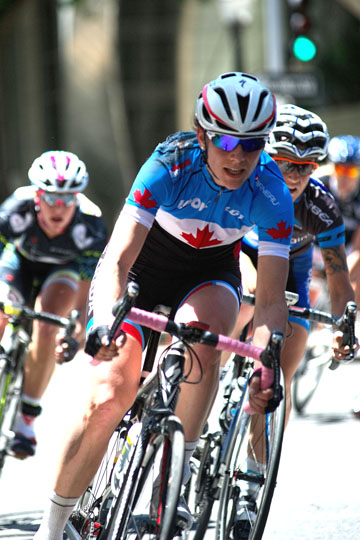 Mary-Ellen Ash (Can) Metromint Cycling, Allison Beveridge (Team Canada) and Catherine Desserault (Team Canada) finished 53rd, 55th, and 57th, respectively, after a crash disrupted their race.
Monday features the  ITT for both men and women pros by invitation taking place in nearby Folsom.
Full results here.