June 12, 2013 (Edmonton, Alberta) – Leading Alberta companies and organizations, along with some key national and international corporations, are among the initial roster of partners helping create and ensure the success of the inaugural year of the Tour of Alberta, Canada's first and largest international professional cycling stage race event to be held September 3-8, 2013.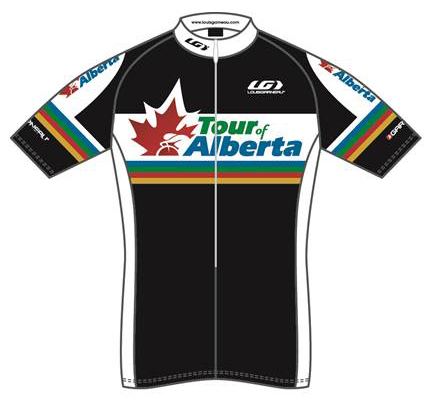 At an event in Edmonton, Alberta June 12, the organizers of the 2013 Tour of Alberta, welcomed these key companies who are helping create and build the Tour of Alberta as one of the newest and top professional sporting events in North America.
Acknowledging the initial support from the Rural Alberta Development Fund (RADF), whose funding commitment helped the province secure the sanctioning of the race by the Union Cycliste International (UCI) in 2012, Executive Director of the Tour of Alberta Duane Vienneau said the support of the inaugural partners help ensure the event will be a success.
"We are overwhelmed by the commitment our partners have shown to helping bring the Tour of Alberta to life, and to ensure Alberta's – and Canada's — first international, professional stage race is world class," said Vienneau. "The vision and passion of our partners is inspiring, and will help showcase the province, our host communities and the sport of cycling to the world this September."
The initial list of official partners announced June 12 includes:
– ATB Financial
– Cisco
– Clark Builders
– Cowan Imaging Group
– Canadian Western Bank/Canadian Direct Insurance
– Digitex
– Elite Sportswear & Awards
– Heritage Frozen Foods/Cheemo Perogies
– ION Print Solutions
– Louis Garneau
– PCL
– Polar Bottles
– Simson Maxwell
– Thule
– United Association of Plumbers and Pipefitters Local Union 488
At the official partner event, the Tour of Alberta unveiled its commemorative cycling jersey for the 2013 Tour of Alberta, created by Official Jersey and Technical Apparel Partner for the Tour, Canada's Louis Garneau.
"We are thrilled to be participating in the inaugural Tour of Alberta, the highest-rated stage race ever held in Canada," said former Canadian pro cyclist and company founder, Louis Garneau. "As a Canadian company, we are proud to have this event, representing the passion Canadians have for cycling, in Alberta. In addition, Garneau-Quebecor, our UCI Continental Team, will be participating in the tour. Garneau-Quebecor illustrates our commitment to racing and to bringing riders to the international stage."
"The Tour of Alberta Jerseys will represent the latest technology that Garneau is renowned for," added Pierre Perron, International Marketing Director for Louis Garneau. "The athletes awarded the Jerseys will have the opportunity to wear the same jersey as Team Europcar, which features coldblack® textile technology and an aerodynamic-enhanced design and fit. Garneau's custom division is chosen by the world's best athletes for innovation and comfort."
The Tour of Alberta also used the event to announce two opportunities for cyclists of all ages and abilities to ride portions of the Tour of Alberta routes in Edmonton and around Calgary on the Tour's opening and closing weekends respectively. Details of these specific events and how to get involved will be available in the coming weeks.
The Tour of Alberta introduced the first official partners of the inaugural year of the Tour of Alberta at an event at Edmonton City Hall, located on Sir Winston Churchill Square, which is where the event begins with a prologue time trial race on the evening of Tuesday, September 3.
"Edmonton is proud to have been chosen to kick off this prestigious sporting event — an exciting new event for both our city and province," says Mayor Stephen Mandel. "We have a long history of sporting excellence and an outstanding track record of hosting provincial, national and international events. Edmonton's world-class facilities, lively arts and cultural celebrations and dedicated volunteer base guarantee the Tour of Alberta will be a superior event."
As the first pro cycling race of its kind to be held in Canada, the Tour of Alberta is expected to attract significant international attention, and feature top professional teams from around the world, including Tour de France competitors and world champions.
Comments from Official Tour of Alberta Partners
ATB Financial
The Tour of Alberta cyclists started out like all the rest of us when it comes to riding a bike. Their mom or dad or brother or sister, maybe it was a neighbour or friend or grandparent, ran alongside them as they took a few wobbly pedals to freedom. But these cyclists kept going. They got stronger and faster and braver and their bikes got fancier and more expensive and those bikes took them around the world. We think they're a pretty cool brand of athlete. And we think the ATB Financial Autograph Alley, where young cyclists and cycling fans can meet these stars, will be a special part of the Tour of Alberta. And maybe the starting line for some new dreams.
– Dave Mowat, President and CEO, ATB Financial
Cisco
Cisco is pleased to be Tour of Alberta's official technology partner and to share in the excitement this inaugural international cycling race will bring to this province. Together with Long View Systems, we look forward to helping fans share the experience in each of the six stages, from the start to the finish line. Our digital signage and telepresence technology will help cycling fans, media and organizers keep their eyes on the race and enhance the experience for all.
– Greg Masniuk, Vice President Sales, Western Canada, Cisco Canada
Clark Builders
The Tour of Alberta is an exciting event that will showcase this province's diverse landscapes and the people who contribute to Alberta's success Clark Builders is honoured to provide our support and be the Official Construction Services Partner for this world-class cycling event.
– Paul Verhesen, President & CEO, Clark Builders
Cowan Imaging Group
We are excited to partner with the Tour of Alberta and bring this world-class event to our province. Our company has a long history of involvement with international events. We take pride in these and are both proud and very resolved to make a difference this fall, and in the ensuing years. We will work hard to do everything we can to make this world-class event a raging success.
– Blaine MacMillan, President, Cowan Imaging Group
Canadian Western Bank/Canadian Direct Insurance
At Canadian Western Bank, we see the Tour of Alberta as an opportunity for local communities and businesses to come together to experience a unique event while celebrating their shared values, and that's something we're proud to support. The anticipated global audience that comes along with a premier event like this is very exciting for Alberta – it's an excellent opportunity to showcase our province on the international stage.
– Tracey Ball, Executive Vice President and Chief Financial Officer
Elite Sportswear & Awards
Elite Sportswear and Awards is proud to be a partner of Tour of Alberta. This inaugural event will show case the beauty of our province and the passion of all our sport enthusiasts. Elite Sportswear and Awards is excited to deliver the apparel, awards and promotional products for this event. We have been a proud sponsor and supporter of countless athletes, sporting events, charities and fundraisers in Alberta for over 25 years.
– Drew Schamehorn, Owner/President, Elite Sportswear & Awards
Heritage Frozen Foods/CHEEMO Perogies
As an Alberta based company, we are very strong supporters of local Alberta agriculture, Alberta companies and Alberta events, and as an Alberta staple grocery item for over 41 years, we are very appreciative of our local heritage. Through the mutual effort and support from all of the corporate partners, we can ensure the same long and prosperous success for the Tour in becoming an Alberta staple event.
– Joseph Makowecki, President of Heritage Frozen Foods/CHEEMO Perogies
ION Print Solutions
What a delight for ION Print Solutions to be associated with the largest professional cycling event in Canada. Involvement in six festive and competitive days of international sport to celebrate cycling, recognize courage, and promote health is magnificent. ION's business values align with the Tour by encouraging the betterment of well-being, creating a healthy environment and striving for vibrant communities, I wish participants, organizers, volunteers, sponsors and partners great success in the inaugural event in September.
– Craig McEwen, President of ION Print Solutions
PCL
PCL is proud to partner with the Alberta Peloton Association in bringing a world-class event like the Tour of Alberta to our province. This unique event inspires the same commitment and dedication that drives our people, while promoting our key values of health and wellness, community, and sustainability.
– Paul Douglas, President and CEO, PCL
Simson Maxwell
Simson Maxwell is proud to support the 2013 Tour of Alberta. We at Simson Maxwell support the communities that we live and work in and the 2013 Tour of Alberta is an outstanding way for all of us at Simson Maxwell to contribute. This sanctioned UCI 2.1 Pro Stage Race is the first of its kind in Canada; it will allow many of us from Alberta and Canada to witness the spectacle of a professional cycling event in person. We are excited to be a part of this event and hope that it becomes an annual event for all to enjoy.
– Daryl Kruper, President, Simson Maxwell
United Association of Plumbers and Pipefitters Local 488
The United Association of Plumbers and Pipefitters Local 488 is Canada's largest supplier of pipe trades professionals and its affiliated Alberta Pipe Trades College is a world-class training institution. Throughout its 109-year history, UA Local 488 has had a strong sense of community and has been involved in numerous philanthropic endeavours. Together, we are proud to participate as sponsors of the inaugural Tour of Alberta.
More information on the Tour of Alberta can be found here. Follow the Tour of Alberta on Twitter or on Facebook.
About the Tour of Alberta
The Tour of Alberta: Canada's Pro-Cycling Festival is a six-day stage race scheduled to be held September 3 to 8, 2013. The Union Cycliste Internationale (UCI), cycling's governing body, awarded the inaugural Tour of Alberta with a 2.1 sanctioning in September 2012, making it the highest level pro cycling stage race in Canada, and one of the highest level events in North America. An annual event beginning in 2013, the Tour of Alberta will feature up to 15 professional, international cycling teams, comprised of eight riders per team. The event will be broadcast live daily in Canada on Sportsnet, and broadcast internationally on various networks, as it is expected that the event will host riders from over 20 countries around the world.