September 05, 2015 (Marmot Basin, AB) – Tom-Jelte Slagter (Ned) Cannondale-Garmin Pro Cycling Team timed his final attack with precision as he took his consecutive victory on Stage 4 from Jasper to Marmot Basin, 162.1km with 200m to go.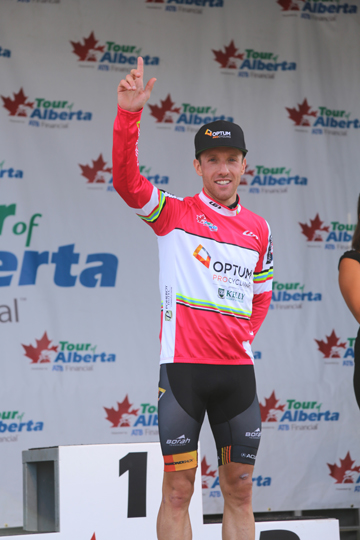 The final climb is 12 kilometres long and finishes at more than 1,600 metres elevation, the highest in the event's history. Canada's Mike Woods (Optum p/b Kelly Benefit Strategies) finished a strong 10th to move into 9th overall as the top Canadian.
Race leader, Bauke Mollema (Ned) Trek Factory Racing, came second on the stage and continues to lead overall with 6s on Adam Yates (Gbr) Orica GreenEdge and 22s on Slagter.
Results
1. Tom-Jelte Slagter (Ned) Cannondale-Garmin Pro Cycling Team 4:09:26
2. Bauke Mollema (Ned) Trek Factory Racing 0:04
3. Adam Yates (Gbr) Orica GreenEdge
4. Dion Smith (Nzl) Hincapie Racing Team 0:06
5. Evan Huffman (USA) Team SmartStop 0:08
6. James Oram (Nzl) Axeon Cycling 0:14
7. Sergey Lagutin (Rus) Team Katusha 0:19
8. Toms Skujin_ (Lat) Hincapie Racing Team 0:22
9. Paul Voss (Ger) Bora-Argon 25 0:27
10. Mike Woods (Can) Optum p/b Kelly Benefit Strategies
11. Tobias Ludvigsson (Swe) Team Giant-Alpecin 0:35
12. Davide Formolo (Ita) Cannondale-Garmin Pro Cycling Team
13. Jon Hornbeck (USA) Hincapie Racing Team 0:49
14. Gavin Mannion (USA) Jelly Belly p/b Maxxis 0:51
15. Kyle Murphy (USA) Lupus Racing Team 0:54
16. Christian Meier (Can) Orica GreenEdge 0:56
17. Georg Preidler (Aut) Team Giant-Alpecin 0:58
18. Andzs Flaksis (Lat) Hincapie Racing Team 1:03
19. Nate Brown (USA) Cannondale-Garmin Pro Cycling Team 1:09
20. Lars van der Haar (Ned) Team Giant-Alpecin 1:13
21. Jan Bárta (Cze) Bora-Argon 19
22. Simon Spilak (Slo) Team Katusha 1:23
23. Ilnur Zakarin (Rus) Team Katusha
24. Ryder Hesjedal (Can) Cannondale-Garmin Pro Cycling Team 1:28
25. Sven Erik Bystrøm (Nor) Team Katusha 1:39
26. Lasse-Norman Hansen (Den) Cannondale-Garmin Pro Cycling Team 1:45
27. Sergei Chernetsky (Rus) Team Katusha
28. Taylor Shelden (USA) Jelly Belly p/b Maxxis 1:48
29. Alexandr Braico (Mda) Jelly Belly p/b Maxxis
30. Alexander Ray (Nzl) Silber Pro Cycling
31. Alex Cataford (Can) Silber Pro Cycling 1:51
32. Ryan Anderson (Can) Optum p/b Kelly Benefit Strategies
33. Nigel Ellsay (Can) Silber Pro Cycling
34. Fredrik Ludvigsson (Swe) Team Giant-Alpecin
35. Joe Lewis (Aus) Hincapie Racing Team 1:55
36. Luke Durbridge (Aus) Orica GreenEdge 2:45
37. Garrett McLeod (Can) H&R Block Pro Cycling 3:05
38. Daniel Eaton (USA) Axeon Cycling
39. Matthieu Jeannes (Fra) Lupus Racing Team 3:39
40. Matteo Dal-Cin (Can) Silber Pro Cycling 3:58
41. Kristoffer Skjerping (Nor) Cannondale-Garmin Pro Cycling Team
42. Benjamin Perry (Can) Silber Pro Cycling 4:01
43. Florenz Knauer (Ger) H&R Block Pro Cycling
44. Adam de Vos (Can) H&R Block Pro Cycling
45. Cesare Benedetti ITA Bora-Argon 20 4:03
46. Chad Haga (USA) Team Giant-Alpecin 4:15
47. Felix Cote Bouvette (Can) H&R Block Pro Cycling 4:19
48. Greg Daniel (USA) Axeon Cycling 4:25
49. Lachlan Morton (Aus) Jelly Belly p/b Maxxis 4:34
50. Travis Livermon (USA) Team SmartStop 4:45
51. Christoph Pfingsten (Ger) Bora-Argon 23 5:09
52. Logan Owen (USA) Axeon Cycling
53. Viacheslav Kuznetsov (Rus) Team Katusha
54. Michael Matthews (Aus) Orica GreenEdge 5:12
55. Laurent Didier (Lux) Trek Factory Racing 5:38
56. Matthew Busche (USA) Trek Factory Racing 6:07
57. Jesse Sergent (Nzl) Trek Factory Racing
58. Michael Le Rossignol (Can) Silber Pro Cycling 7:29
59. Sam Bewley (Nzl) Orica GreenEdge
60. Phil O'Donnell (USA) Axeon Cycling
61. Michael Hepburn (Aus) Orica GreenEdge
62. Dominik Nerz (Ger) Bora-Argon 22
63. Chris Putt (USA) Axeon Cycling
64. Josh Berry (USA) Jelly Belly p/b Maxxis
65. Alexey Tsatevich (Rus) Team Katusha
66. Ramon Sinkeldam (Ned) Team Giant-Alpecin
67. Chad Beyer (USA) Lupus Racing Team
68. Bailey McKnight (Can) H&R Block Pro Cycling
69. Tom Zirbel (USA) Optum p/b Kelly Benefit Strategies
70. Travis Meyer (Aus) Drapac Pro Cycling
71. Hayden Roulston (Nzl) Trek Factory Racing
72. Winston David (USA) Lupus Racing Team
73. Gregory Rast (Sui) Trek Factory Racing
74. Alexander Porsev (Rus) Team Katusha
75. Jacob Schwingboth (Can) H&R Block Pro Cycling
76. Travis McCabe (USA) Team SmartStop 7:36
77. Thomas Vaubourzeix (Fra) Lupus Racing Team 7:57
78. Michael Olheiser (USA) Lupus Racing Team
79. Eric Marcotte (USA) Team SmartStop 8:54
80. Jesse Anthony (USA) Optum p/b Kelly Benefit Strategies 9:22
81. Derrick St. John (Can) Silber Pro Cycling 9:38
82. Ryan Roth (Can) Silber Pro Cycling 9:55
83. Ted King (USA) Cannondale-Garmin Pro Cycling Team 0:10:03
84. Julian Kyer (USA) Team SmartStop 0:10:57
85. Jure Rupnik (Slo) H&R Block Pro Cycling
86. Geoffrey Curran (USA) Axeon Cycling    11:37
87. Malcolm Rudolph (Aus) Drapac Pro Cycling
88. Mackenzie Brennan (USA) Hincapie Racing Team
89. Jasper Bovenhuis (Ned) Team Cannondale-Garmin
90. Wouter Wippert (Ned) Drapac Pro Cycling
91. Zach Bell (Can) Team SmartStop
92. Simon Geschke (Ger) Team Giant-Alpecin
93. Will Routley (Can) Optum p/b Kelly Benefit Strategies
94. Justin Oien (USA) Axeon Cycling
95. Shane Kline (USA) Team SmartStop
96. Mike Stone (USA) Lupus Racing Team
97. Kris Dahl (Can) Team SmartStop
98. Guillaume Boivin (Can) Optum p/b Kelly Benefit Strategies
99. Miguel Bryon (USA) Hincapie Racing Team
100. Tyler Magner (USA) Hincapie Racing Team
101. Jordan Kerby (Aus) Drapac Pro Cycling
102. Svein Tuft (Can) Orica-GreenEDGE
103. Peter Koning (Ned) Drapac Pro Cycling
104. Scott Thwaites (Gbr) Bora-Argon 18
105. Sam Bennett (Irl) Bora-Argon 18
106. Angus Morton (Aus) Jelly Belly p/b Maxxis
107. Thomas Soladay (USA) Optum p/b Kelly Benefit Strategies
108. Evan Murphy (USA) Lupus Racing Team
109. Scott Zwizanski (USA) Optum p/b Kelly Benefit Strategies
110. Shane Archbold (Nzl) Bora-Argon 18    11:49
111. Jens Mouris (Ned) Orica-GreenEDGE
112. Travis Samuel (Can) H&R Block Pro Cycling    13:53
113. Fred Rodriguez (USA) Jelly Belly p/b Maxxis    16:50
114. Will Clarke (Aus) Drapac Pro Cycling
115. Bernard Sulzberger (Aus) Drapac Pro Cycling
116. Steve Fisher (USA) Jelly Belly p/b Maxxis
117. Graeme Brown (Aus) Drapac Pro Cycling
118. Kristof Vandewalle (Bel) Trek Factory Racing
119. Marco Coledan (Ita) Trek Factory Racing
120. Nikias Arndt (Ger) Team Giant-Alpecin    17:42
GC after Stage 4
1. Bauke Mollema (Ned) Trek Factory Racing 13:10:58
2. Adam Yates (Gbr) Orica GreenEdge 0:06
3. Tom-Jelte Slagter (Ned) Cannondale-Garmin Pro Cycling Team 0:22
4. Sergey Lagutin (Rus) Team Katusha 0:35
5. Dion Smith (Nzl) Hincapie Racing Team 0:45
6. Toms Skujins (Lat) Hincapie Racing Team 1:14
7. Paul Voss (Ger) Bora-Argon 1:16
8. Davide Formolo (Ita) Cannondale-Garmin Pro Cycling Team 1:20
9. Mike Woods (Can) Optum p/b Kelly Benefit Strategies 1:22
10. James Oram (Nzl) Axeon Cycling 1:26
11. Evan Huffman (USA) Team SmartStop 1:29
12. Jon Hornbeck (USA) Hincapie Racing Team 1:39
13. Simon Spilak (Slo) Team Katusha 1:48
14. Andzs Flaksis (Lat) Hincapie Racing Team 1:59
15. Georg Preidler (Aut) Team Giant-Alpecin 2:02
16. Tobias Ludvigsson (Swe) Team Giant-Alpecin 2:06
17. Kyle Murphy (USA) Lupus Racing Team 2:08
18. Ilnur Zakarin (Rus) Team Katusha 2:12
19. Nate Brown (USA) Cannondale-Garmin Pro Cycling Team
20. Ryder Hesjedal (Can) Cannondale-Garmin Pro Cycling Team 2:17
21. Jan Bárta (Cze) Bora-Argon 2:22
22. Gavin Mannion (USA) Jelly Belly p/b Maxxis 2:33
23. Lasse-Norman Hansen (Den) Cannondale-Garmin Pro Cycling Team 2:41
24. Joe Lewis (Aus) Hincapie Racing Team 2:51
25. Ryan Anderson (Can) Optum p/b Kelly Benefit Strategies 3:21
26. Alexander Ray (Nzl) Silber Pro Cycling 3:35
27. Nigel Ellsay (Can) Silber Pro Cycling 3:38
28. Christian Meier (Can) Orica GreenEdge 3:50
29. Taylor Shelden (USA) Jelly Belly p/b Maxxis
30. Alexandr Braico (Mda) Jelly Belly p/b Maxxis 4:13
31. Daniel Eaton (USA) Axeon Cycling 4:52
32. Sergei Chernetsky (Rus) Team Katusha 5:20
33. Chad Haga (USA) Team Giant-Alpecin 5:28
34. Kristoffer Skjerping (Nor) Cannondale-Garmin Pro Cycling Team
35. Lars van der Haar (Ned) Team Giant-Alpecin 6:18
36. Lachlan Morton (Aus) Jelly Belly p/b Maxxis 6:19
37. Michael Matthews (Aus) Orica GreenEdge 6:30
38. Luke Durbridge (Aus) Orica GreenEdge 6:51
39. Sven Erik Bystrøm (Nor) Team Katusha 7:00
40. Alexey Tsatevich (Rus) Team Katusha 8:21
41. Christoph Pfingsten (Ger) Bora-Argon 23 8:33
42. Logan Owen (USA) Axeon Cycling 8:46
43. Matthieu Jeannes (Fra) Lupus Racing Team 9:18
44. Garrett McLeod (Can) H&R Block Pro Cycling 9:54
45. Alex Cataford (Can) Silber Pro Cycling 0:10:00
46. Viacheslav Kuznetsov (Rus) Team Katusha 0:10:10
47. Fredrik Ludvigsson (Swe) Team Giant-Alpecin 0:10:21
48. Hayden Roulston (Nzl) Trek Factory Racing 0:10:43
49. Laurent Didier (Lux) Trek Factory Racing 0:11:00
50. Jesse Sergent (Nzl) Trek Factory Racing
51. Travis McCabe (USA) Team SmartStop 0:11:18
52. Ryan Roth (Can) Silber Pro Cycling 0:11:22
53. Travis Livermon (USA) Team SmartStop 0:11:51
54. Matthew Busche (USA) Trek Factory Racing 0:11:59
55. Chad Beyer (USA) Lupus Racing Team 0:12:34
56. Scott Thwaites (Gbr) Bora-Argon 24 0:12:48
57. Greg Daniel (USA) Axeon Cycling 0:12:52
58. Gregory Rast (Sui) Trek Factory Racing 0:13:10
59. Julian Kyer (USA) Team SmartStop
60. Florenz Knauer (Ger) H&R Block Pro Cycling 0:13:25
61. Felix Cote Bouvette (Can) H&R Block Pro Cycling 0:13:30
62. Simon Geschke (Ger) Team Giant-Alpecin 0:14:25
63. Ramon Sinkeldam (Ned) Team Giant-Alpecin 0:15:22
64. Alexander Porsev (Rus) Team Katusha 0:16:00
65. Josh Berry (USA) Jelly Belly p/b Maxxis 0:16:06
66. Michael Olheiser (USA) Lupus Racing Team 0:16:09
67. Dominik Nerz (Ger) Bora-Argon 22 0:16:22
68. Cesare Benedetti ITA Bora-Argon 20 0:16:39
69. Tom Zirbel (USA) Optum p/b Kelly Benefit Strategies 0:17:03
70. Winston David (USA) Lupus Racing Team 0:17:08
71. Wouter Wippert (Ned) Drapac Pro Cycling 0:17:10
72. Eric Marcotte (USA) Team SmartStop 0:17:26
73. Jesse Anthony (USA) Optum p/b Kelly Benefit Strategies 0:17:34
74. Phil O'Donnell (USA) Axeon Cycling 0:17:37
75. Bailey McKnight (Can) H&R Block Pro Cycling 0:17:46
76. Michael Le Rossignol (Can) Silber Pro Cycling 0:18:33
77. Nikias Arndt (Ger) Team Giant-Alpecin 0:18:34
78. Ted King (USA) Cannondale-Garmin Pro Cycling Team 0:19:36
79. Malcolm Rudolph (Aus) Drapac Pro Cycling 0:19:45
80. Mike Stone (USA) Lupus Racing Team 0:19:49
81. Evan Murphy (USA) Lupus Racing Team 0:19:55
82. Derrick St. John (Can) Silber Pro Cycling 0:20:04
83. Kris Dahl (Can) Team SmartStop 0:20:09
84. Geoffrey Curran (USA) Axeon Cycling 0:20:16
85. Guillaume Boivin (Can) Optum p/b Kelly Benefit Strategies 0:20:18
86. Justin Oien (USA) Axeon Cycling 0:20:41
87. Jordan Kerby (Aus) Drapac Pro Cycling 0:20:50
88. Jasper Bovenhuis (Ned) Cannondale-Garmin Pro Cycling Team 0:20:57
89. Matteo Dal-Cin (Can) Silber Pro Cycling 0:21:03
90. Jure Rupnik (Slo) H&R Block Pro Cycling 0:21:34
91. Adam de Vos (Can) H&R Block Pro Cycling 0:22:21
92. Mac Brennan (USA) Hincapie Racing Team 0:23:01
93. Will Routley (Can) Optum p/b Kelly Benefit Strategies 0:23:26
94. Thomas Vaubourzeix (Fra) Lupus Racing Team 0:23:32
95. Peter Koning (Ned) Drapac Pro Cycling 0:24:00
96. Travis Meyer (Aus) Drapac Pro Cycling 0:24:22
97. Svein Tuft (Can) Orica GreenEdge 0:24:37
98. Scott Zwizanski (USA) Optum p/b Kelly Benefit Strategies 0:25:21
99. Fred Rodriguez (USA) Jelly Belly p/b Maxxis 0:25:39
100. Zach Bell (Can) Team SmartStop 0:25:41
101. Michael Hepburn (Aus) Orica GreenEdge 0:25:42
102. Chris Putt (USA) Axeon Cycling 0:26:13
103. Sam Bewley (Nzl) Orica GreenEdge 0:26:32
104. Angus Morton (Aus) Jelly Belly p/b Maxxis 0:26:45
105. Steve Fisher (USA) Jelly Belly p/b Maxxis 0:26:46
106. Miguel Bryon (USA) Hincapie Racing Team 0:27:30
107. Jacob Schwingboth (Can) H&R Block Pro Cycling 0:27:40
108. Sam Bennett (Irl) Bora-Argon 21 0:28:24
109. Benjamin Perry (Can) Silber Pro Cycling 0:28:40
110. Shane Kline (USA) Team SmartStop 0:29:16
111. Ty Magner (USA) Hincapie Racing Team 0:29:43
112. Marco Coledan (Ita) Trek Factory Racing 0:29:50
113. Bernard Sulzberger (Aus) Drapac Pro Cycling 0:30:20
114. Thomas Soladay (USA) Optum p/b Kelly Benefit Strategies 0:30:46
115. Shane Archbold (Nzl) Bora-Argon 18 0:32:00
116. Jens Mouris (Ned) Orica GreenEdge 0:32:19
117. Will Clarke (Aus) Drapac Pro Cycling 0:34:43
118. Graeme Brown (Aus) Drapac Pro Cycling 0:35:54
119. Kristof Vandewalle (Bel) Trek Factory Racing 0:38:49
120. Travis Samuel (Can) H&R Block Pro Cycling