September 02, 2017 (Spruce Grove, AB) – Elliott Doyle (Garneau – Québecor) was the top Canadian in 6th following 139km on Stage 2 in Spruce Grove as Wouter Wippert (Ned) Cannondale-Drapac took the win over Brendan Rhim (USA) Holowesko-Citadel p/b Hincapie Sportswear in second and Ryan MacAnally (Aus) H&R Block Pro Cycling in third. Pier-André Coté (Can) Silber Pro Cycling placed 10th as Jack Burke (Can) Aevolo in 18th continues as the Best Canadian overall.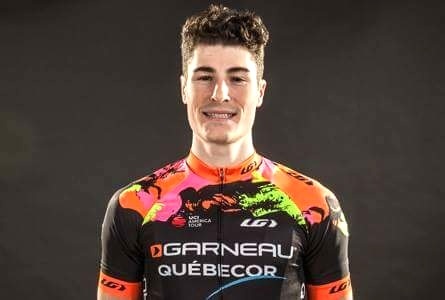 Tour of Alberta Report
Cannondale Drapac's Wouter Wippert jumped from the field with about 25 metres to go and outsprinted the pack to win his first race in more than two years. The Dutchman outdistanced second-place finisher John Murphy of Holowesko | Citadel presented by Hincapie Sportswear of the United States and H & R Block Pro Cycling's Ryan Macanally of Australia to win.
"It releases some pressure for sure, especially noting the state of our team," said Wippert. Who's American-based team is facing potential shut down next week if funding isn't found. "A win in a (big) race like this certainly helps the effort."
American Evan Huffman of Rally Racing increased his lead by three seconds via a time bonus over teammate Sepp Kuss (18 seconds behind) and third-place overall Cannondale Drapac's Tom-Jelte Slagter of The Netherlands (31 seconds behind).
"The overall race isn't done at all," said Huffman. "But, we're in a really good (team) position. We have several guys in the top 10 hold the right cards. The goal is to be on top of the podium on Monday."
Jack Burke of Aevolo continues to impress and continues to be the highest place Canadian as well as Best Young Rider. The 22-year-old is from Squamish, B.C.
Sepp Kuss (USA) of Rally Racing took over the Lexus of Edmonton King of the Mountain jersey.
Today's stage is a 116.5 km circuit race. The course features 11 laps with a climb in and out of the River Valley. The climb out of Hawrelak Park area was included in last year's individual time trial but most of the circuit is new. Huffman said it will be a good "test" for his team.
Results
1. Wouter Wippert (Ned) Cannondale-Drapac 2:55:14
2. Brendan Rhim (USA) Holowesko-Citadel p/b Hincapie Sportswear
3. Ryan MacAnally (Aus) H&R Block Pro Cycling
4. Michael Hernandez (USA) Aevolo
5. Connor Brown (USA) Elevate-KHS Pro Cycling
6. Elliott Doyle (Can) Garneau – Québecor
7. Weimar Alfonso Roldan Ortiz (Col) Medellin-Inder
8. Robigzon Leandro Oyola Oyola (Col) Medellin-Inder
9. Serghei Tvetcov (Rom) Jelly Belly p/b Maxxis
10. Pier-André Coté (Can) Silber Pro Cycling
11. Josh Berry (USA) Jelly Belly p/b Maxxis
12. Christopher Jones (USA) UnitedHealthcare Professional Cycling Team
13. Jesse Anthony (USA) Rally Cycling
14. Tyler Stites (USA) Aevolo
15. Sepp Kuss (USA) Rally Cycling
16. James Piccoli (Can) Elevate-KHS Pro Cycling
17. Jose Alfredo Rodriguez Victoria (Mex) Elevate-KHS Pro Cycling
18. Jack Burke (Can) Aevolo
19. Juan Esteban Arango Carvajal (Col) Medellin-Inder
20. Ryan Roth (Can) Silber Pro Cycling
21. Zeke Mostov (USA) Aevolo
22. Evan Huffman (USA) Rally Cycling
23. Oscar Sevilla Ribera (Esp) Medellin-Inder
24. Luis Villalobos Hernandez (Mex) Aevolo
25. Jean Simon D'Anjou (Can) Garneau – Québecor
26. Taylor Shelden (USA) Jelly Belly p/b Maxxis
27. Matteo Dal-Cin (Can) Rally Cycling
28. Cory Lockwood (USA) Elevate-KHS Pro Cycling
29. Lachlan Norris (Aus) UnitedHealthcare Professional Cycling Team
30. Rob Britton (Can) Rally Cycling
31. Tom-Jelte Slagter (Ned) Cannondale-Drapac
32. Christopher Prendergast (Can) H&R Block Pro Cycling
33. Nigel Ellsay (Can) Silber Pro Cycling
34. Jordan Cheyne (Can) Jelly Belly p/b Maxxis
35. Jonathan Clarke (Aus) UnitedHealthcare Professional Cycling Team
36. Alex Howes (USA) Cannondale-Drapac
37. Keegan Swirbul (USA) Jelly Belly p/b Maxxis
38. Nicholas Torraca (USA) Elevate-KHS Pro Cycling
39. Ulises Alfredo Castillo Soto (Mex) Jelly Belly p/b Maxxis
40. Kristijan Koren (Slo) Cannondale-Drapac
41. Olivier Brisebois (Can) Garneau – Québecor
42. Colin Joyce (USA) Rally Cycling
43. Simon-Pierre Gauthier (Can) Garneau – Québecor 0:00:09
44. César Nicolas Paredes Avellaneda (Col) Medellin-Inder 0:12
45. Conor O'Brien (Can) H&R Block Pro Cycling
46. Oscar Clark (USA) Holowesko-Citadel p/b Hincapie Sportswear
47. Jason Saltzman (USA) Aevolo
48. Alexander Cataford (Can) UnitedHealthcare Professional Cycling Team
49. Michael Sheehan (USA) Jelly Belly p/b Maxxis
50. Eduardo Estrada Celis (Col) Medellin-Inder
51. Lawson Craddock (USA) Cannondale-Drapac 0:19
52. Jure Rupnik (Slo) H&R Block Pro Cycling 0:21
53. Alexis Cartier (Can) H&R Block Pro Cycling 0:00:23
54. Laurent Gervais (Can) Aevolo
55. Nathan Brown (USA) Cannondale-Drapac 0:29
56. Marc-Antoine Soucy (Can) Silber Pro Cycling 0:00:31
57. Adam Roberge (Can) Silber Pro Cycling
58. Jokin Etxabe Leturia (Esp) Aevolo
59. Brian McCulloch (USA) Elevate-KHS Pro Cycling
60. Alexander Cowan (Can) Silber Pro Cycling
61. Miguel Bryon (USA) Holowesko-Citadel p/b Hincapie Sportswear
62. Daniel Eaton (USA) UnitedHealthcare Professional Cycling Team 0:33
63. John Murphy (USA) Holowesko-Citadel p/b Hincapie Sportswear
64. Travis McCabe (USA) UnitedHealthcare Professional Cycling Team
65. Tyler Magner (USA) Holowesko-Citadel p/b Hincapie Sportswear 0:40
66. Cyrus Monk (Aus) Cannondale-Drapac 0:42
67. Taylor Eisenhart (USA) Holowesko-Citadel p/b Hincapie Sportswear 0:44
68. Adam De Vos (Can) Rally Cycling 0:46
69. Tanner Putt (USA) UnitedHealthcare Professional Cycling Team
70. Andzs Flaksis (Lat) Holowesko-Citadel p/b Hincapie Sportswear
71. Janier Acevedo (Col) UnitedHealthcare Professional Cycling Team 0:49
72. Émile Jean (Can) Silber Pro Cycling 0:59
73. Bruno Langlois (Can) Garneau – Québecor
74. Nick Zukowsky (Can) Silber Pro Cycling 1:05
75. Joseph Lewis (Aus) Holowesko-Citadel p/b Hincapie Sportswear 1:07
76. Marc-Antoine Nadon (Can) H&R Block Pro Cycling 1:15
77. Travis Samuel (Can) H&R Block Pro Cycling
78. Felix Coté Bouvette (Can) Garneau – Québecor 1:22
79. Danny Pate (USA) Rally Cycling 1:27
DNF Philip Lavery (Irl) H&R Block Pro Cycling
GC after Stage 2
1. Evan Huffman (USA) Rally Cycling 6:43:57
2. Sepp Kuss (USA) Rally Cycling 0:18
3. Tom-Jelte Slagter (Ned) Cannondale-Drapac 0:31
4. Christopher Jones (USA) UnitedHealthcare Professional Cycling Team 0:33
5. Jack Burke (Can) Aevolo 0:35
6. Alex Howes (USA) Cannondale-Drapac 0:41
7. Colin Joyce (USA) Rally Cycling 0:44
8. Rob Britton (Can) Rally Cycling 0:45
9. James Piccoli (Can) Elevate-KHS Pro Cycling 0:50
10. Matteo Dal-Cin (Can) Rally Cycling 0:53
11. Oscar Sevilla Ribera (Esp) Medellin-Inder 0:56
12. Lachlan Norris (Aus) UnitedHealthcare Professional Cycling Team 0:00:57
13. Serghei Tvetcov (Rom) Jelly Belly p/b Maxxis 0:58
14. Nigel Ellsay (Can) Silber Pro Cycling
15. Jonathan Clarke (Aus) UnitedHealthcare Professional Cycling Team
16. Jordan Cheyne (Can) Jelly Belly p/b Maxxis 1:01
17. Taylor Shelden (USA) Jelly Belly p/b Maxxis 1:07
18. César Nicolas Paredes Avellaneda (Col) Medellin-Inder 1:10
19. Luis Villalobos Hernandez (Mex) Aevolo 1:12
20. Alexander Cataford (Can) UnitedHealthcare Professional Cycling Team 1:31
21. Tyler Magner (USA) Holowesko-Citadel p/b Hincapie Sportswear 1:47
22. John Murphy (USA) Holowesko-Citadel p/b Hincapie Sportswear 2:42
23. Robigzon Leandro Oyola Oyola (Col) Medellin-Inder 2:43
24. Miguel Bryon (USA) Holowesko-Citadel p/b Hincapie Sportswear 2:44
25. Zeke Mostov (USA) Aevolo 2:49
26. Andzs Flaksis (Lat) Holowesko-Citadel p/b Hincapie Sportswear 2:51
27. Kristijan Koren (Slo) Cannondale-Drapac 3:03
28. Travis McCabe (USA) UnitedHealthcare Professional Cycling Team 3:11
29. Christopher Prendergast (Can) H&R Block Pro Cycling 3:16
30. Keegan Swirbul (USA) Jelly Belly p/b Maxxis 3:41
31. Alexander Cowan (Can) Silber Pro Cycling 3:42
32. Weimar Alfonso Roldan Ortiz (Col) Medellin-Inder 0:04:15
33. Alexis Cartier (Can) H&R Block Pro Cycling 0:04:21
34. Janier Acevedo (Col) UnitedHealthcare Professional Cycling Team 0:04:31
35. Jokin Etxabe Leturia (Esp) Aevolo 0:05:13
36. Juan Esteban Arango Carvajal (Col) Medellin-Inder 0:05:15
37. Adam Roberge (Can) Silber Pro Cycling 0:05:16
38. Conor O'Brien (Can) H&R Block Pro Cycling 0:05:24
39. Tanner Putt (USA) UnitedHealthcare Professional Cycling Team 0:05:50
40. Nathan Brown (USA) Cannondale-Drapac 0:06:58
41. Eduardo Estrada Celis (Col) Medellin-Inder 0:06:59
42. Brendan Rhim (USA) Holowesko-Citadel p/b Hincapie Sportswear 0:07:42
43. Jose Alfredo Rodriguez Victoria (Mex) Elevate-KHS Pro Cycling 0:07:48
44. Olivier Brisebois (Can) Garneau – Québecor
45. Cyrus Monk (Aus) Cannondale-Drapac 0:08:30
46. Laurent Gervais (Can) Aevolo 0:08:39
47. Felix Coté Bouvette (Can) Garneau – Québecor 0:09:10
48. Josh Berry (USA) Jelly Belly p/b Maxxis 0:10:19
49. Tyler Stites (USA) Aevolo
50. Jean Simon D'Anjou (Can) Garneau – Québecor
51. Ulises Alfredo Castillo Soto (Mex) Jelly Belly p/b Maxxis 0:10:22
52. Simon-Pierre Gauthier (Can) Garneau – Québecor 0:10:28
53. Jason Saltzman (USA) Aevolo 0:10:31
54. Adam De Vos (Can) Rally Cycling 0:11:05
55. Bruno Langlois (Can) Garneau – Québecor 0:11:15
56. Daniel Eaton (USA) UnitedHealthcare Professional Cycling Team 0:11:29
57. Danny Pate (USA) Rally Cycling 0:11:52
58. Joseph Lewis (Aus) Holowesko-Citadel p/b Hincapie Sportswear 0:12:00
59. Nick Zukowsky (Can) Silber Pro Cycling 0:12:19
60. Connor Brown (USA) Elevate-KHS Pro Cycling 0:15:01
61. Michael Hernandez (USA) Aevolo
62. Elliott Doyle (Can) Garneau – Québecor
63. Pier-André Coté (Can) Silber Pro Cycling
64. Cory Lockwood (USA) Elevate-KHS Pro Cycling
65. Nicholas Torraca (USA) Elevate-KHS Pro Cycling
66. Jesse Anthony (USA) Rally Cycling 0:15:06
67. Ryan Roth (Can) Silber Pro Cycling
68. Ryan MacAnally (Aus) H&R Block Pro Cycling 0:15:09
69. Wouter Wippert (Ned) Cannondale-Drapac 0:15:11
70. Michael Sheehan (USA) Jelly Belly p/b Maxxis 0:15:13
71. Oscar Clark (USA) Holowesko-Citadel p/b Hincapie Sportswear 0:15:18
72. Lawson Craddock (USA) Cannondale-Drapac 0:15:20
73. Jure Rupnik (Slo) H&R Block Pro Cycling 0:15:27
74. Brian McCulloch (USA) Elevate-KHS Pro Cycling 0:15:32
75. Marc-Antoine Soucy (Can) Silber Pro Cycling
76. Taylor Eisenhart (USA) Holowesko-Citadel p/b Hincapie Sportswear 0:15:50
77. Émile Jean (Can) Silber Pro Cycling 0:16:00
78. Marc-Antoine Nadon (Can) H&R Block Pro Cycling 0:16:21
79. Travis Samuel (Can) H&R Block Pro Cycling 0:16:25
Best Canadian Rider
1. Jack Burke (Can) Aevolo 6:44:32
2. Rob Britton (Can) Rally Cycling 0:10
3. James Piccoli (Can) Elevate-KHS Pro Cycling 0:15
4. Matteo Dal-Cin (Can) Rally Cycling 0:18
5. Nigel Ellsay (Can) Silber Pro Cycling 0:23
6. Jordan Cheyne (Can) Jelly Belly p/b Maxxis 0:26
7. Alexander Cataford (Can) UnitedHealthcare Professional Cycling Team 0:56
8. Christopher Prendergast (Can) H&R Block Pro Cycling 2:41
9. Alexander Cowan (Can) Silber Pro Cycling 3:07
10. Alexis Cartier (Can) H&R Block Pro Cycling 3:46
11. Adam Roberge (Can) Silber Pro Cycling 4:41
12. Conor O'Brien (Can) H&R Block Pro Cycling 4:49
13. Olivier Brisebois (Can) Garneau – Québecor 7:13
14. Laurent Gervais (Can) Aevolo 8:04
15. Felix Coté Bouvette (Can) Garneau – Québecor 8:35
16. Jean Simon D'Anjou (Can) Garneau – Québecor 9:44
17. Simon-Pierre Gauthier (Can) Garneau – Québecor 9:53
18. Adam De Vos (Can) Rally Cycling 10:30
19. Bruno Langlois (Can) Garneau – Québecor 10:40
20. Nick Zukowsky (Can) Silber Pro Cycling 11:44
21. Elliott Doyle (Can) Garneau – Québecor 14:26
22. Pier-André Coté (Can) Silber Pro Cycling
23. Ryan Roth (Can) Silber Pro Cycling 14:31
24. Marc-Antoine Soucy (Can) Silber Pro Cycling 14:57
25. Émile Jean (Can) Silber Pro Cycling 15:25
26. Marc-Antoine Nadon (Can) H&R Block Pro Cycling 15:46
27. Travis Samuel (Can) H&R Block Pro Cycling 15:50