November 14, 2017 (Kigali, Rwanda – Gatineau, QC) – Outaouais-based cycling team Lowestrates.ca showed their colours on Sunday morning, the first day of racing at the Tour du Rwanda. Saint-Lazare Québec's, Cameron McPhaden, took 9th place in the very short time trial of 3.3 kilometers on the streets of the capital of Rwanda. Covering the distance in a time of 3 minutes 57 seconds, he finished just 11 second off the time of the winner, Rwanda's Jean-Bosco Nsengimana.
With a speed of 50.1 kilometers an hour (km/h), Cameron McPhaden has placed himself in a good position to face the difficult mountains stages that characterise the Tour du Rwanda, during this coming week.  He is now in 9th position of the overall standings.Other Lowestrates.ca team member results are, Brett Wachtendorf 25th, Edward Greene 41st, along with Gatineau's Stephen Keeping and Jules Cusson-Fradet finishing 51st and 56threspectively.
Team sports director, Frédérick Gates is delighted with the Cameron's result. "He's a cyclist that brings a lot of energy but is often overlooked because he's always supporting the other members of the team.  He chases down the breakaways; he delivers the water bottlesŠhe works extremely hard for the team.  This year his regular season was shortened while he finished is Master's thesis for September at the University of Kingston.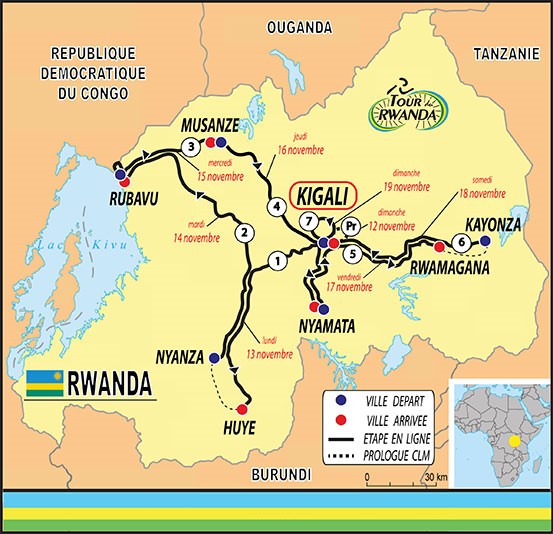 As soon as he submitted his thesis he put 100% into his preparation for the Tour du Rwanda focusing specifically on altitude training.  I am convinced that we will hear his name again during this Tour du Rwanda" declared Frederick Gates.
Monday, the riders will cover a distance of 120.3 km between Kigali and Huye.  The stage is highlighted by two 'category 2' climbs and two 'category 3' climbs reaching a maximum altitude of 1893 meters (6,210 feet).