March 27, 2015 (Taiwan) – Team SmartStop have concluded their first race in Asia at the Tour de Taiwan with Rob Britton finishing in tenth place on the overall general classification. The final 178km Stage 5 on March 26 marked the end of the five-day stage race with Jure Kocjan sprinting to 11th.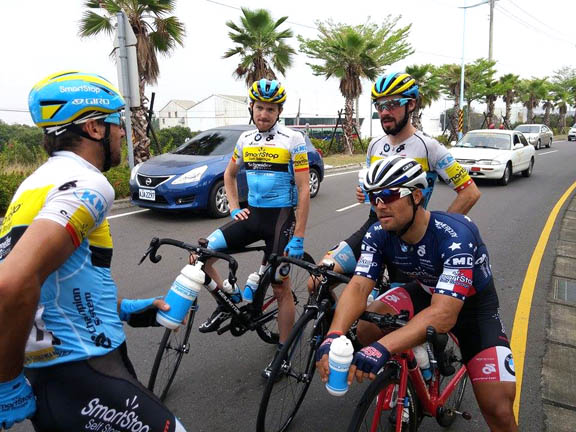 Team Captain, Zach Bell, said that although the team did not come away with a podium finish the Tour de Taiwan has shown the team is on good form and ready for what the rest of the season brings.
"It was disappointing to not come away from here with more but it was not from a lack of preparation," said Zach, "I think it will just make guys realize we have to stay hungry and keep working hard for everything we get."
The final stage started very aggressively with a number of teams wanting to get in the early break but the stage was to be the most adhesive day of the Tour de Taiwan. Eric Marcotte took his chance on a move that looked like it was going to stay away until a rider from the Pishgaman Giant Team chased it down solo.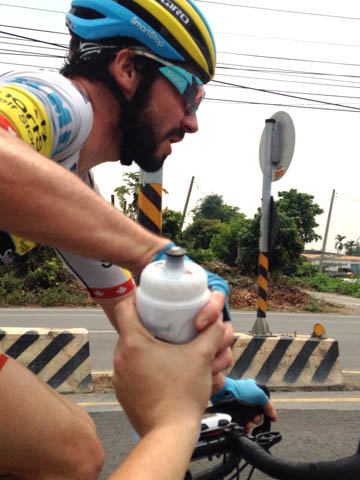 "Breaks seemed to always include a key general classification contender and got quickly and fiercely chased down," said Zach.
Zach countered the move Eric was in, which eventually grew to six riders who rode the remaining 100km flat course with a gap of two minutes. The breakaway group was working well together until the final finishing circuit.
"On the circuit the gap started to drop and the group worked hard to make it stick," explained Zach, "but lights started going out about 15 km to go so I went away on my own with about a 45 sec gap."
"It forced the other sprint teams to continue a hard chase and burn through more guys. I was caught about 4.5km from the line."
From there Team SmartStop set up for Jure in the sprint but the bunch was poorly organized and Jure got caught behind some bad decisions. Eric attacked with 800 to go and got clear but got picked up just 100 from the line.
Despite the results Zach says the team looks to be in good form, which is consistently building as the stages go on.
"We had some bad luck this week that hurt the results a little but it was hard teaching at a high level. The team was on the mix and I would say it's the first race where we have not had the combination of good legs and decent luck."
The team now returns to America and sets their sights on the Redlands Bicycle Classic in California in two weeks time.
Results
1. Tino Thömel (Ger) RTS-Santic Racing Team 4:00:47
2. Wouter Wippert (Ned) Drapac Professional Cycling
3. Ioannis Tamouridis (Gre) Synergy Baku Cycling Project
4. Po Hung Wu (Tpe) Chinese Taipei Team
5. Aldo Ino Ilesic (Slo) Team Vorarlberg
6. Patrick Bevin (Nzl) Avanti Racing Team
7. Sunjae Jang (Kor) RTS-Santic Racing Team
8. Keonwoo Park (Kor) Korea National Team
9. Yevgeniy Gidich (Kaz) Vino 4ever
10. Marco Zanotti (Ita) Parkhotel Valkenburg Continental Team
41. Rob Britton (Can) Team SmartStop
86. Zach Bell (Can) Team SmartStop 2:45
Final GC
1. Mirsamad Pourseyedi Golakhour (Iri) Tabriz Petrochemical Team 14:10:34
2. Hossein Askari (Iri) Pishgaman-Giant Team 0:30
3. Rahim Emami (Iri) Pishgaman-Giant Team 0:46
4. Patrick Bevin (Nzl) Avanti Racing Team 1:50
5. Víctor De La Parte (Esp) Team Vorarlberg 2:34
6. Yukihiro Doi (Jpn) Team Ukyo 2:36
7. Jasper Ockeloen (Ned) Parkhotel Valkenburg Continental Team
8. Travis Meyer (Aus) Drapac Professional Cycling
9. Hyeong Min Choe (Kor) Korea National Team 2:48
10. Rob Britton (Can) Team SmartStop 2:51
54. Zach Bell (Can) Team SmartStop 25:04