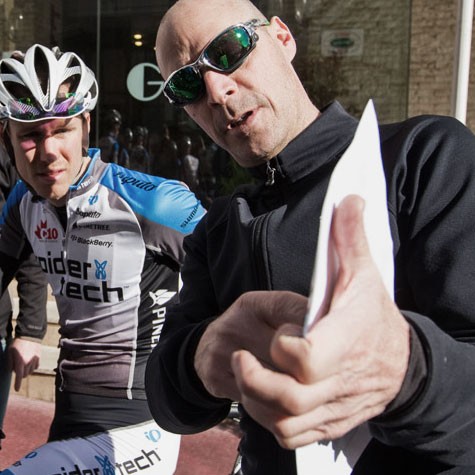 April 02, 2012 –  Team SpiderTech powered by C10 director and co-founder Steve Bauer answered a few questions about the team's upcoming participation in the Tour de Suisse.
The invitation to the Tour de Suisse is obviously a huge milestone for Team SpiderTech powered by C10. Where does this event fit in the team's long-term objectives?
Steve Bauer: It is our first opportunity on the WorldTour in Europe. It gives our team a focus for early summer and pushes our team on all fronts to reach to this higher level of competition and prestige. After Amgen Tour of California, the Tour de Suisse is perfectly positioned for us on the calendar.
You had a fantastic ride in the 1988 Tour de Suisse, winning a stage and finishing second overall. What's your best memory of that year's race?
SB: I won the "Queen Stage" (most mountainous) of that year and it was a really big win for me. It proved I was riding very strong. I outsprinted Acacio Da Silva if I remember well. It was not a mountain top finish but we crossed some first-category mountain passes along the way.
The Tour de Suisse is a new race for the team, but there are a few members besides you who have been to the race before. Brian Vandborg had a great ride there in 2009 and mechanic Thierry Vianne has seen just about everything there is to see in cycling. How much will you be leaning on their experience for the race?
SB: Our new addition to the team, Brian Vandborg, will help tremendously. His former experience in the Grand Tours will bring leadership to our guys. That being said, the task for the rest of our riders to be ready is on in a big way.
We are aiming to do our best and be well prepared but I cannot push the envelope for our riders more than what we are doing now. We have a great spring program. We have some resourceful people to help us reach our goals. The homework on the road is up to the boys.
Although a few non-climbers have had good rides in the Tour de Suisse, traditionally it has a very mountainous course – in fact, this year has two hors-categorie climbs in the first road stage, with the finish line at the top of the second one. Who on the team do you expect to shine there?
SB: We have some good stage races coming up which should bring out the best of our riders. Giro Trentino, Tour of Turkey and Amgen Tour of California.
I am leaving that question open ended to let the performance of our guys dictate who wants to show their talent in Switzerland.
What are the team's objectives going into the Tour de Suisse? Are there any specific stages that you're targeting?
SB: At this point it is too early. The team will need to be focused on the task, be prepared to go into breakaways and take some risk while keeping a reserve of confidence in the riders on our team who can challenge in a strong man sprint or surprise in breakaways. We should not race for general classification but shoot for goals and prizes within the races. Stage results, animating breaks, grab one of the classification jerseys for a day or two.
It's the fourth-most prestigious stage race behind the three Grand Tours, therefore we will go into it ready to challenge but have modesty in our approach and our messages.