July 29, 2014 (Montreal, QC) – As of January 1, 2015, the Endura-NetApp Team, whose leader finished 7th overall in the individual ranking at the most recent Tour de France team, will be named Bora-Argon 18. Quebec-based bicycle manufacturer, Argon 18, formalized the signing of a three-year agreement with the German team and becomes the main sponsor along with Bora, a premium manufacturer of extraction and cooktop systems.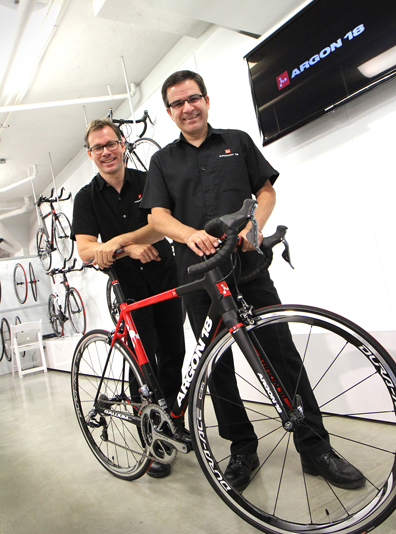 "This team, we have chosen in the belief that it will confirm our status as an innovative leader in the global bicycle market," says Gervais Rioux, Olympian and founder of Argon 18. "The NetApp-Endura Pro Continental team has twenty riders with an impressive international race program. With leaders like Leopold König, it has grown steadily since its inception. His 7th place overall in the Tour de France is very compelling. Now that the team will roll on Argon 18 bikes, we will choose allies to develop even more efficient and innovative products. "
Martin Rioux, brother of Gervais, was also happy with their team selection because of the similarities shared by both companies. "Bora and our company have a lot in common," commented Martin, President of Agon 18. "We have taken a similar route and believe in innovation and continuous development. Germany is renowned for its high standards of quality. We are proud that a German team has chosen us. It says a lot about our reputation. From a business perspective, the country is also very significant for Argon 18, since it is our most important market in Europe. Germany is an economic locomotive. "
In the Tour de France, only five bike brands can claim to be part of the team name they sponsor. This will now be the case with Bora-Argon 18. "This is a significant advantage for the international reputation of our company, because every time the team is discussed our name Argon 18 will be conveyed. For us, this option was somehow a must. It is also for this reason that this team was a perfect choice, because it would allow us to increase our visibility in all countries where our products are available in addition to supporting our research and development," added Gervais.
For more information click here.