October 18, 2011 (Paris, France) – The 2012 Tour de France route, revealed this morning in Paris' Palais des Congrès, casts the spotlight on the potential of intermediate mountain ranges. Christian Prudhomme has turned to novelty and to the cyclists' fighting spirit to keep the race for the Yellow Jersey open for as long as possible.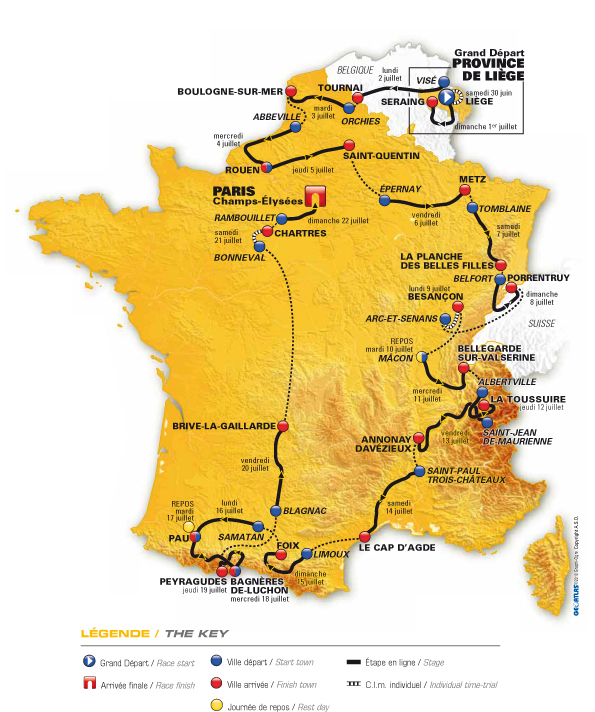 Place and date: Liège, Saturday, June 30, 2012. This will be the fourth time that the Tour de France kicks off in Belgium, a country which has always known how to instil a sense of panache into the peloton. It is precisely this sense of courage which inspired the design of the route of the 99th edition, one in which fortune will favour the bold, even in places where no-one expects it. Punchy riders will get their chance to shine on the rolling terrain of the Province of Liège and, later, Northern France. Those vying for the final victory will be able to go head-to-head before the end of the first week. They may even be able to open gaps if they make the most of the mountaintop finish at the Planche des Belles Filles (which makes its debut in the Tour) or the finale of the Porrentruy stage, right in the heart of the Swiss Jura.
While the favourites to win the Tour will be expected to dig deep on mountains which until now were labelled "intermediate", they will also have their work cut out for them on the Alpine and Pyrenean stages, whose profiles are especially dynamic. The 140-km-long stage between Albertville and La Toussuire – Les Sybelles will offer no respite to those poor riders who choose to play the waiting game. In the Pyrenees, the discovery of the Mur de Péguère, right before diving to Foix, together with the Aubisque-Tourmalet-Aspin-Peyresourde sequence on the Bagnères-de-Luchon stage and the Peyragudes summit finish, will give climbers the opportunity to shine. Cyclists will have no choice but to spring into action at the decisive moments. Indeed, the Liège prologue and the stages in Besançon and Chartres will force them to defend their positions in the race against the clock over a combined length of more than 100 kilometres.
TdF 2012 Stages
– Prologue – June 30, 2012 – Liège (ITT)     6.1km
– Stage 1 – July 1, 2012 – Liège to Seraing     198 km
– Stage 2 – July 2, 2012 – Visé to Tournai     207 km
– Stage 3 – July 3, 2012 – Orchies to Boulogne-sur-Mer     197 km
– Stage 4 – July 4, 2012 – Abbeville to Rouen     214km
– Stage 5 – July 5, 2012 – Rouen to Saint-Quentin     197km
– Stage 6 – July 6, 2012 – Épernay to Metz     210km
– Stage 7 – July 7, 2012 – Tomblaine to La Planche des Belles Filles     199km
– Stage 8 – July 8, 2012 – Belfort to Porrentruy     154km
– Stage 9 – July 9, 2012 – Arc-et-Senans to Besançon (ITT)     38km

Rest Day 1     July 10, 2012
– Stage 10 – July 11, 2012 – Mâcon to Bellegarde-sur-Valserine     194km
– Stage 11 – July 12, 2012 – Albertville to La Toussuire-Les Sybelles     140km
– Stage 12 – July 13, 2012 – Saint-Jean-de-Maurienne to Annonay Davézieux     220km
– Stage 13 – July 14, 2012 – Saint-Paul-Trois-Châteaux to Le Cap d'Agde     215km
– Stage 14 – July 15, 2012 – Limoux to Foix     192km
– Stage 15 – July 16, 2012 – Samatan to Pau     160km

Rest Day 2     July 17, 2012
– Stage 16 – July 18, 2012 – Pau to Bagnères-de-Luchon     197km
– Stage 17 – July 19, 2012 – Bagnères-de-Luchon to Peyragudes     144km
– Stage 18 – July 20, 2012 – Blagnac to Brive-la-Gaillarde     215km
– Stage 19 – July 21, 2012 – Bonneval to Chartres (ITT)     52km
– Stage 20 – July 22, 2012 – Rambouillet to Paris Champs-Élysées     130km