July 09, 2017 (Delta, BC) – Already a decorated cyclist in her homeland of New Zealand, Holly Edmonston is on her way to making a name for herself at BC Superweek after winning the 2017 Ladner Criterium on Saturday night. The 21-year-old Kiwi sprinted ahead of a large pack on the last lap to claim the 40-lap, 40.5 kilometre race in a time of one hour, one minute, and eight seconds.
On the last corner before the finish line, it seemed like Edmonston and her Cycling New Zealand team came out of nowhere to put themselves in the mix to be atop the podium – and it worked. "We just went for it on the inside of the back straight, managed to get around the corner first and then I just gunned it," she explained.
The race progressed slower than Friday's BC Superweek and Tour de Delta opener, the MK Delta Lands Criterium, due to the caliber of the field, which is among the strongest ever at this event, and a tactical approach from the riders and teams. However, the last lap came down to a sprint, in which Edmonston's team drew upon their extensive track experience when they saw the door open.
Montreal's Kristi Lay made it to the podium for the second straight night at BC Superweek after winning the MK Delta Lands Criterium. The 29-year-old Lay – a former elite speed skater – looked like she was riding for a teammate during the final lap, but her Rally Cycling cohort Allison Beveridge didn't quite make it to her wheel.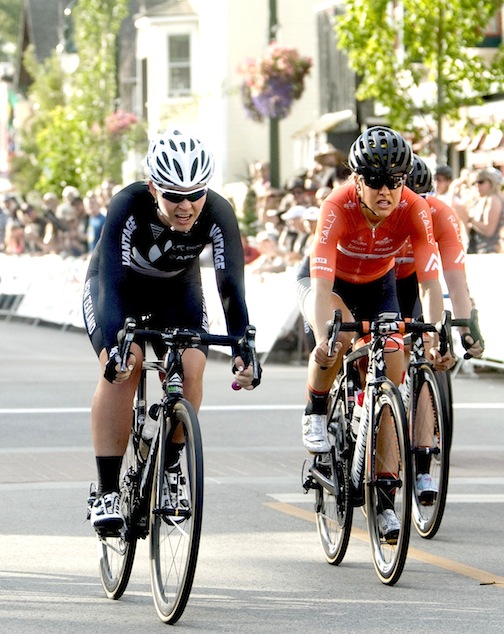 "It was a bit crazy, the last lap there, everyone was gunning for the second to last turn because you want position (going into the final turn). With Rally, we have such great sprinters and anything I can do to get them into position (I will)," said Lay, who won gold at the 2015 Pan-Am Games, silver at the 2016 World Championships and 2015 Pan-Am Championships, and bronze at the 2016 Rio Olympics and 2015 World Championships for Canada. "Sometimes it doesn't work in a race, but you've got to just keep going to the finish and it worked for us!"
The riders were well aware that the first 39 laps were a bit methodical, and as a result, the final lap was breakneck. Aussie Josie Talbot, riding for ISCorp p/b Progress, wound up just behind Edmonston and Lay in third place. Talbot had only three teammates in the race, so it was tough for them to tackle attacks from powerhouses like Rally, Trek Red Truck, and The Cyclery – 4iiii. The lack of numbers affected their ability to build a team strategy for the final lap.
Men's Race
Normally when a cyclist discovers their bike has a mechanical issue and they can't use it to ride, they simply get it fixed before the race. However, what if the mechanical issue can't be fixed at all – and the problem is that a vital piece of equipment on the bike isn't allowed to be used?
"They told us on the line we couldn't ride the bike, so it was a little bit of a surprise," said Williams. "She was just so great in letting me use hers, she just pointed to her bike and was like, 'You want it?' and I said, 'Yeah, that'd be great.'"
The 28-year-old Williams was second in Ladner last year and really pushed Numainville's bike to the limit on the last lap – including the tires. He finished the 60-lap, 54-kilometre race in one hour, 13 minutes, and 25 seconds.
The last few laps of the race were hectic, with a number of attacks coming from both teams and individual riders, including second place finisher John Murphy (Holoweski | Citadel Cycling Team) and third place finisher – and Murphy's teammate – Tyler Magner. Williams was able to hold them off though.
"I'm grateful that guys gave me respect and on the last lap I was on the right wheel. Going into the second to last corner, Magner let a little gap open and maybe he was going to take a run at Murphy, maybe he was going to let him roll, but I just couldn't take that chance," Williams explained. "After everything that happened before the race, I really wanted it. I shot Magner's inside, which I normally wouldn't do but it felt like the right thing in the moment."
With three wins at the Tour de Delta last year and three Canadian National Road Race Championships (2015, 2013, 2010), Numainville has  done pretty well on her bike – now if only she can get it back from Williams. He might not be so eager to part with it after Saturday's win in Ladner.
Results (brief)
Women Pro 1/2/3
1. Holly Edmondston (Nzl) Cycling New Zealand 1:01:08
2. Kirsti Lay (Can) Rally Cycling
3. Josie Talbot (Aus) ISCorp p/b Progress
4. Joelle Numainville (Can) Independent
5. Allison Beveridge (Can) Rally Cycling
6. Elizabeth Williams (Aus) Hagens Berman | Supermint
7. Michaela Drummond (Nzl) Cycling New Zealand
8. Sarah Coney (Can) Fluevog's Crit Nasty a
9. Karlee Gendron (Can) Rise Racing 1:01:10
10. Rachel Langdon (Gbr) ISCorp p/b Progress
11. Meghan Grant (Can) Independent
12. Anna Booth (Aus) CBR Women's Cycling Team
13. Sara Bergen (Can) Rally Cycling
14. Lindsay Bayer (USA) Hagens Berman | Supermint
15. Racquel Sheath (Nzl) Cycling New Zealand
16. Chloe McIntosh (Aus) CBR Women's Cycling Team
17. Jamie Gilgen (Can) Rise Racing
18. Ione Johnson (Nzl) Independent
19. Caroline Baur (Sui) ISCorp p/b Progress
20. Jessica Mundy (USA) Colavita – Bianchi
Men Pro 1/2
1. Justin Williams (USA) Cylance Cycling Team 1:13:26
2. John P Murphy (USA) Holowesko|Citadel Cycling Team
3. Tyler Magner (USA) Holowesko|Citadel Cycling Team
4. Ryan Macanally (Aus) H&R Block Pro Cycling Team
5. Ryan Primeau (Can) Veloselect Racing Team
6. Pier-Andre Cote (Can) Silber Pro Cycling
7. Felix Cote-Bouvette (Can) Garneau Quebecor
8. Jure Rupnik (Can) H&R Block Pro Cycling Team
9. Jean-Simon D'anjou (Can) Garneau Quebecor
10. Brad Huff (USA) Rally Cycling
11. Pierrick Naud (Can) Rally Cycling
12. Elliott Doyle (Can) Garneau Quebecor
13. Eric Young (USA) Rally Cycling
14. Hendrik Pineda (Can) Transports Lacombe/Devinci
15. Wolfgang Brandl (Ger) Movistar Team Ecuador
16. Curtis White (USA) Rally Cycling
17. Simon-Pierre Gauthier (Can) Garneau Quebecor
18. Ryan Aitcheson (Can) First Internet Bank Cycling
19. Liam White (Aus) Kallisto FCV p/b Peloton Contracting Cycling Team
20. Evan Murphy (USA) Toronto Hustle