May 16, 2016 (Medellin, Colombia) – Cycling Canada is pleased to announce the team selected to represent Canada at the BMX World Championships, which will be held in Medellin, Colombia, on May 25-29, 2016. The team of 16 athletes will be led by Tory Nyhaug, of Coquitlam, BC.  Tory is the reigning Pan American Games champion for men, and will enter the world championships looking to continue his streak of three consecutive wins in the Time Trial event on the World Cup circuit this season.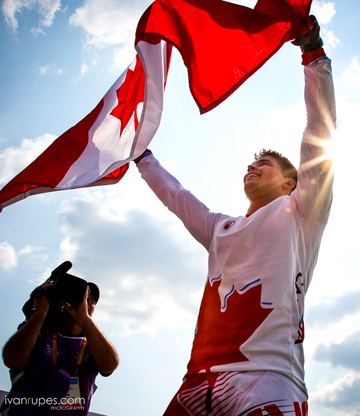 The world championships will also serve as Tory's final major competition before the Olympic Games in Rio this summer.  James Palmer [North Vancouver, BC] and Gaby Malenfant [Drummondville, QC] will compete alongside Tory Nyhaug in the Elite Men's category.
Amelia Walsh of Ayr, ON, is Canada's lone entry in the Elite Women's category.  Walsh will be in a tense battle with riders from four other countries to qualify for an Olympic spot.  The top two countries at the world championships that have not already earned a berth for Rio will qualify for the Games in Colombia.
For the Junior Men and Women [17-18 years], Canada is bringing a contingent of seven riders, led by Alex Tougas [Pitt Meadows, BC].  Tougas won the Challenge world title as a 15 and 16 year old, and finished 17th in his first year as a Junior last year; this year he is looking for a return to the podium.  Megane Belanger [Oka, QC] is the sole competitor for Junior Women.
Cycling Canada will also continue, for the second year, its development program, with five athletes named to the NextGen Development Team.  Racing in the entry-level Challenge Classes, these athletes will receive support to help them develop for future world championship success.
"We have selected a really good group of athletes," stated Adam Muys, National BMX Development Coach.  "Leading into the Olympics this is going to be a high pressure event, where our top athletes are looking to perform and our development athletes are going to get an intense experience to lead them to future success."
Most of the team competed at the Canada Cup national series event in Abbotsford, BC, on May 14-15, and will follow that with a final training camp at the Abbotsford national training centre.  The team will depart for the world championships on Monday, May 23rd.
BMX World Championships, Medellin, Colombia – May 25-29
Elite Men
Tory NYHAUG, BC
James PALMER, BC
Gaby MALENFANT, QC
Elite Women
Amelia WALSH, ON
Junior Men
Deven KAWA, AB
Riley LAVORATO, AB
Alex TOUGAS, BC
Benjamin LESLIE, BC
Josh SAMELLS, ON
Nicholas DOYLE, ON
Junior Women
Mégane BÉLANGER, QC
NextGen Development Team
Avriana HEBERT, AB (16 Female)
Alison GRECHT, BC (16 Female)
Aidan WEBBER, BC (16 Male)
James HEDGCOCK, ON (15 Male)
Felix MALTAIS, QC (16 Male)
 
SUPPORT STAFF
Adam Muys – Championship Team Manager
Brendan Arnold – Support staff
Kit Wong – Strength & Conditioning Coach
Jen Turner – Medical staff
Nicoline Hebert – Chaperone for Devo team
Brian Mansell – Challenge Team Manager