October 18, 2011 (Toronto, ON) –  The 2nd day of racing at Centennial Park at the Toronto Cross was met by the threat of rain and windy conditions. The course was fairly dry and only a few corners had some questionable grip. The early start had honorary Team CF member and my pit crew Tyler Lee take a solid 2nd place behind Connor Nevin, while Neil Armstrong finished off his career in bagging sand, in glorious style, with a win in the M3 race. He was later seen trying to get DQ'd for using 34mm tires thus denying his MANDATORY upgrade, but there were no calipers in sight. See you in M2 -Neil.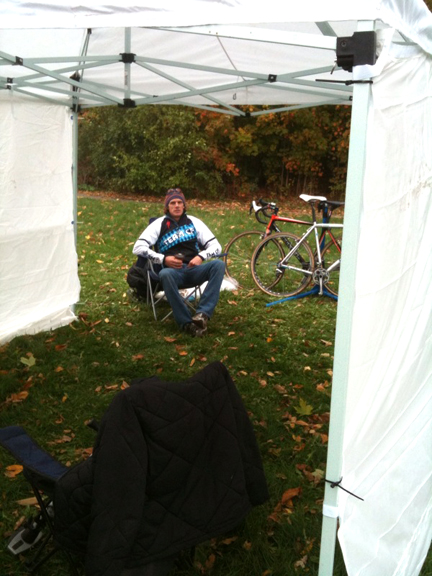 The Team CF master women duo of Aly Armstrong and Lesley Chown were next to line up in the Masters/Elite women's race. From the gun it was a competitive race on both fronts with Leigh Hobson of the Hub Race Team taking the win for the Elite women, and Lesley and Aly having a sprint finish for 2nd in the master's race behind Lori Koffman.
I lined up so to speak for the Elite men's race to have 10 guys crammed in the front row ready to race 200m and take a 120 degree turn into three 180's. So basically if you had a bad start it was going to be an uphill battle on the course as there were only two good areas to pass and plenty of quick succession corners, along with three forced dismounts. This made for a test of all skills one would use on the cross bike.
I managed to politely convince some riders to go to the 2nd row and took a spot at the front. As the gun went – that's right, no New Year's Eve countdown this race – Eric Box took off like a rocket (a model version though) and got the holeshot into dangerbay corner #1. I managed to avoid the traffic and slotted into 4th wheel behind Ben Perry and eventual winner Zach Hughes. Eric set a solid pace for lap one and I lost contact with the three leaders over a set of random logs on the course.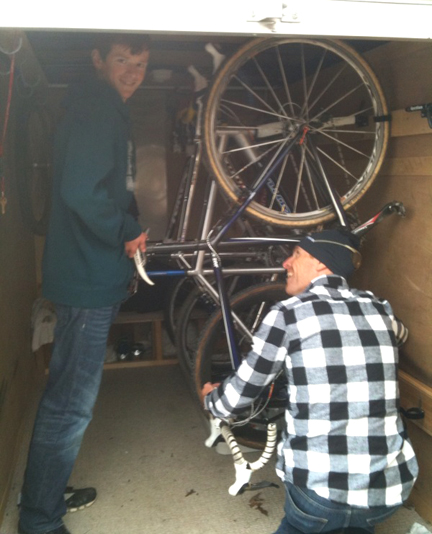 By the time I regained contact, Zach had made his move and it was unlikely he was going to be reeled in. I moved past Eric and got up to Ben only to bail on a fast right hander. I got up quick and was shortly joined by Adam Morka, who was with for a total of 10 secs as he put on the gas and left me in the dust. I got my bearings back after the spill and a few turns later saw Ben picking up his bike after a fall, and remounting as I came up to him. We rode the next 6 or 7 laps together.
We continued to lose time to Zach and Adam and with three laps remaining, Eric was within 15 secs of us. With 1 to go, I took the lead and gave it all I had in hopes of forcing Ben to make a mistake but he rode clean and it was down to a sprint which I was able to take in the end.
We had the total pro-set up with the trailer, tent and hot-soup post-race. Many thanks to our pit crew/supports club of Brian and Tyler Lee. Overall it was a great for Team CF with all four members making their race podiums. The Kona Major Jake was rock solid and is looking forward to some mud.
Thanks goes out to Midweek CC for putting on a great weekend.
Full results and photos HERE.