January 08, 2014 (Calgary, AB) – Top Canadian track rider and reigning Kilo champ, Vincent De Haitre, is likely heading to Sochi as the talented athlete is also an accomplished speed skater. De Haitre won both gold and bronze at the Canadian Olympic long-track speed skating team trials in Calgary between Dec. 28 and January 3 reports the Ottawa Citizen. The 19-year-old from near Ottawa, won the men's 1,000 metres on Monday and placed third in Thursday's 1,500m last week.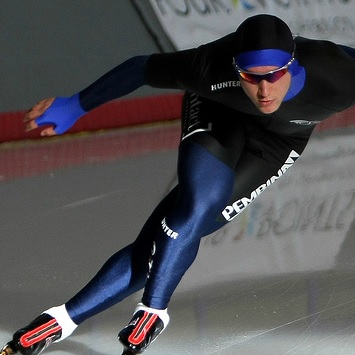 Canada has four quota spots in those events at Sochi, so De Haître better start packing his bags even though the Canadian Olympic Committee will not make the team selection announcement until Jan. 22. The Sochi Olympics take place in and around Sochi, Russia, from Feb. 6-23, 2014; followed by the Paralympics from March 7–16.
De Haitre also made the news on his bike in September at the 2013 Track Canadian Championships presented by Mikes Bike Shop in Dieppe, NB. There he won gold in the Elite Men's Time Trial, finishing ahead of Joakim Albert and Zack Bell. He was also third in the Elite Men's Sprint competition behind Albert in second and winner Hugo Barrette.
There are other prominent Canada riders who also distinguished themselves in speed skating. Clara Hughes, an 18-time Canadian national cycling champion, is the only person worldwide to have ever won multiple medals in both summer and winter Olympics. She won two bronze medals in cycling (RR, ITT) at the Atlanta Summer Olympics in 1996 and four medals (one gold, one silver, two bronze) won in speed skating over the course of three Winter Olympics (2002, 2006, 2010).
Canada's current U23 road champ, Elisabeth Albert, is also a speed skater of note and finished third in both the 500m and 1,000m events at the 2011 Canada Winter Games. Albert had to drop skating because of scheduling problems while studying medicine at l'Université de Sherbrooke, but is continuing with cycling.
Pedal
wishes Vincent the best with his athletic career in both sports. Those wishing to support this promising athlete financially can do so via his website:
www.vincentdehaitre.com
Elite Men – Time Trial (Sept 1, 2013)
1. Vincent De Haitre (Team Ontario) 1:07.936
2. Joakim Albert (Equipe Du Quebec) 1:08.240
3. Zachary Bell (Champion System Pro Cycling) 1:08.458
Elite Men – Sprint (Aug. 27, 2013)
1. Hugo Barrette (Equipe Du Quebec)
2. Joakim Albert (Equipe Du Quebec)
3. Vincent De Haitre (Team Ontario)
Ottawa Citizen article about speed skating wins:
www.ottawacitizen.com/sports/Speedskater+Vincent+Ha%C3%AFtre+hurries+Olympic+plan/9350194/story.html
Pedal article about track win:
http://pedalmag.com/2013-track-canadian-championships-all-podium-results/