September 20, 2017 (Bergen, Norway) – On a 31km ITT that featured a unique 3.4km summit finish, Canadian rider, Hugo Houle from Sainte-Perpetue, Que., battled against the world's best to claim a top-30 result ending up 29th in the Elite Men's ITT at the 2017 UCI Road World Championships in Bergen, Norway.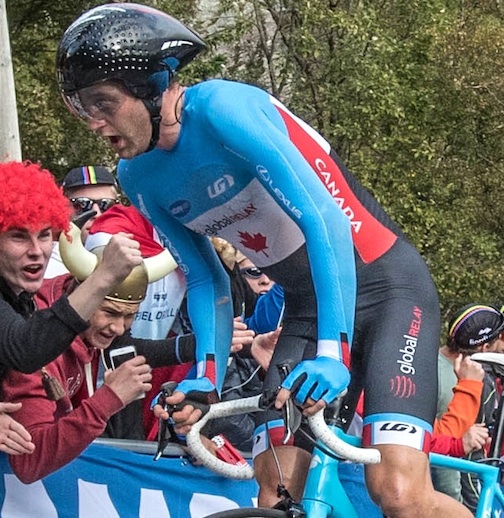 Tom Dumoulin captured the Netherlands second  Elite time trial gold , clinching the victory just 24 hours after compatriot Annemiek van Vleuten triumphed in the women's equivalent event. Dumoulin's victory was an emphatic 57 seconds faster than Slovenian Primoz Roglic in second, while Great Britain's Chris Froome took home the bronze, at 1:21 back.
"It was very steep with many turns and the crowd was amazing! It was really impressive to see how they encouraged us. I am still quite satisfied with my overall time,"commented Houle in a Sportcom interview.
"I finish a bit far, but that's the price to pay when Tom Dumoulin takes a minute to Chris Froome. It's impressive. I am satisfied, I made a good effort and it bodes well for the road race," said Houle who added that he did not prepare specifically for this event.
Fellow Canuck Robert Britton from Regina, Saskatchewan who races for Rally Cycling finished 48th. Riders were allowed to switch their bikes before the final climb on a 20-metre section of carpet on a cobbled sector and get a push to get going.
This was Dumoulin's second gold here as his Team Sunweb squad won the men's team time trial on Sunday. Bronze in the 2014 World Championships TIme Trial, fifth in 2015 and seventh last year, Dumoulin has been close to the Elite Men's Time Trial triumph for several years. But in a season where the 26-year-old rider from Maastricht has already captured his country's first ever Giro d'Italia, he has now raised the bar even further by becoming the Netherlands' first ever Elite Male Time Trial Champion.
"I can't believe it, I had such a good day, I thought my power meter was off because it was so high," Dumoulin said afterwards after he had completed the 31 kilometre course. "Doing the double [with team time trial gold] is amazing, Sunday was amazing but today [Wednesday] maybe less surprising. I was still one of the favourites, which made it even more difficult to stay calm. But I did that and I was on a good day."
After Thursday's break from the competitions, Friday will see the first road races get underway with the Junior Women followed by the Under-23 Men.
Results here.