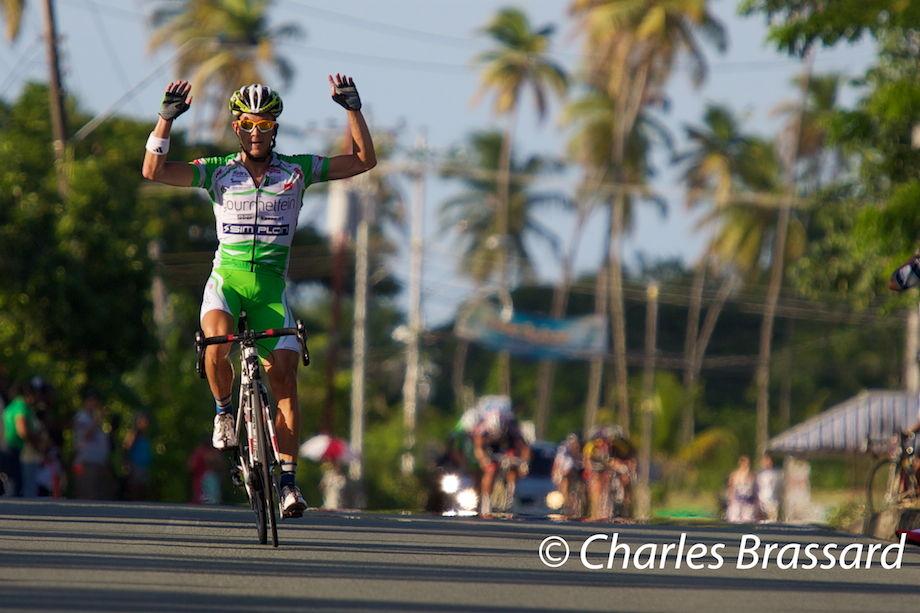 October 01, 2011 (Trinidad and Tobago) – Stage One Coral Gardens/Shirvan/Carnbee Circuit Race, of the Tobago International Cycling Classic, was won by Riccardo Zoidl (RC Gourmetfein Wels), ahead of Euris Vidale (Team Foundation) and Emile Abraham (Team Vita Malt).
The 120km race was marked by a succession of breakaways. As soon as a group was caught, an other break formed. A group of 20 got away with 30km to go. It looked like the race would end in a bunch sprint as the riders were coming to the finish line, but Zoidl made an attack on the final climb and crossed the line five seconds ahead of Vidale who out-sprinted Abraham.
Vidale is the leader of the sprint classification. The yellow jersey was on the shoulders of Zoidl at the start of stage two. The general classification is not based on time, but on points. The Austrian rider is leading with 25 points, two points ahead of Vidale and four points ahead of local favorite, Emile Abraham.

Stage 2
Stage two was 117 kilometres long. The profile of the circuit was hilly, with a succession of five climbs coming into the finish line. One of those had a 20% grade. Jose Navarro (Team Coco) won the stage after droping his breakaway companions.
Lang Reynolds (Team Passo Prime Beef) came second and Stefan Rabitsch (RC Gourmetfein Wels) was third. There were a few breakaways during the race, but the difficulty of the course made a natural sélection. It was survival of the fittest out there as the riders were climbing – only 24 riders finished the stage.
The yellow jersey leader Zoidl holds on to his lead as he finished seventh at the line. With this result, he increased his lead in the general classification as he now has 39 points. There is a tie for second place between Mathias Wiele (Team Janatec) and Raphael Meran (Team Foundation) as both have 32 points.
Results
Stage 1 – Sept. 28 – Coral Gardens/Shirvan/Carnbee Circuit Race – 120km
1. Riccardo Zoidl (Aut) RC Gourmetfein Wels 25 pts (2:34:22)
2. Euris Vidale (Dom) Team Foundation  23
3. Emile Abraham (Tri) Team Vita Malt Cycling  21
4. Werner Riebenbauer (Aut) RC Gourmetfein Wels  19
5. Mathias Wiele (Ger) Team Janatec  17
6. David Bartl (Ger) BQ Cycling Team  15
7. Nils Penton (Swe) Team 1% for the Planet  14
8. Raphael Meran (Dom) Team Foundation  13
9. Yosmani Pol (USA) Team Coco  12
10. Frank Scherzinger (Ger) BQ Cycling Team  11
11. Geron Williams (Guy) Team Coco  10
12. Adam Carr (USA) Team Rio Grande  9
13. Lang Reynolds (USA) Team Passo Prime Beef  8
14. Jean-Michel Lachance (Can) Team 1% for the Planet  7
15. Trevor Connor (Can) Team Rio Grande  6
16. Darren Matthews (Bar) Team Vita Malt Cycling  5
17. Andy Scarano (USA) Team Foundation  4
18. Georg Tazreiter (Aut) RC Gourmetfein Wels  3
19. Michael Jesinski (USA) Team Foundation  2
20. Serghei Tvetcov (USA) Team Vita Malt Cycling  1
21. Adam Alexander (Tri) Team Foundation
22. Joshua Alexander (Tri) Rafmon/Mecalfab Heatwave
23. Lukas Altenkamp (Ger) BQ Cycling Team
24. Shimano Bailey (Svg) OECS
25. Ramirez Bernal (Col) Team Passo Prime Beef
26. Linford Blackwood (Jam) Team Trek
27. Denis Bojarkin (Ger) BQ Cycling Team
28. Jymes Bridges (Ant) OECS
29. Sebastian Cancio (Arg) Team Vita Malt Cycling
30. Christian Christoph (Ger) Team Janatec
31. Phillip Clarke (Bar) Rafmon/Mecalfab Heatwave
32. Guy Costa (Tri) Rafmon/Mecalfab Heatwave
33. David Cueli (USA) Team Coco
34. Nick Daems (Bel) Team 1% for the Planet
35. Atze Dijkhuis (Ned) Team Passo Prime Beef
36. Felix Doring (Ger) BQ Cycling Team
37. Dirk Feist (Ger) Team Janatec
38. Andreas Feistel (Ger) Team Janatec
39. Diego Garavito (Col) Team Vita Malt Cycling
40. Andreas Graf (Aut) RC Gourmetfein Wels
41. Walter Grant-Stuart (Guy) Team Coco
42. Chris Gruber (Can) Team 1% for the Planet
43. David Guttenplan (USA) Team Vita Malt Cycling
44. Alex Hagman (USA) Team Vita Malt Cycling
45. Chris Hillier (Can) Team Rio Grande
46. Benjamin Joerges (Ger) BQ Cycling Team
47. Dylan Jones (USA) Team Rio Grande
48. Curtis Juteram (USA) Team Trek
49. Patrick Konrad (Aut) RC Gourmetfein Wels
50. Louis Lacroix (Can) Team 1% for the Planet
51. Michael Larsen (Den) Team Passo Prime Beef
52. Constantin Liebenow (Ger) Team Janatec
53. Maikel Matos (USA) Team Coco
54. Warren McKay (Guy) Team Trek
55. Jose Navarro (Cub) Team Coco
56. Matthew O'Hagan (Can) Team Rio Grande
57. Dominic Ollivierre (Svg) OECS
58. Timo Ottens (Ned) Team Passo Prime Beef
59. John Phillips (USA) Team Rio Grande
60. Albert Quammie (Svg) OECS
61. Stefan Rabitsch (Aut) RC Gourmetfein Wels
62. Manuel Reich (Ger) Team Janatec
63. Henner Rodel (Ger) Team Passo Prime Beef
64. Marloe Rodman (Jam) Rafmon/Mecalfab Heatwave
65. Jose Rodriguez (Dom) Team Coco
66. Mathieu Roy (Can) Team 1% for the Planet
67. Etienne Samson (Can) Team 1% for the Planet
68. Gevan Samuel (Tri) Team Trek
69. Rob Scheffler (USA) Team 1% for the Planet
70. Spencer Smitherman (Can) Team Rio Grande
71. Nichlas Sorenson (Den) Team Passo Prime Beef
72. Chris Spence (Gbr) Team Vita Malt Cycling
73. Benjamin Staudes (Ger) BQ Cycling Team
74. James Stout (Gbr) Team Passo Prime Beef
75. Jonathan Teeter (USA) Team Passo Prime Beef
76. Hans – Jorg Thallhammer (Aut) RC Gourmetfein Wels
77. Sydney Walters (Gre) OECS
78. Marlon Williams (Guy) Rafmon/Mecalfab Heatwave
79. Rowan Wilson (Tri) Team Trek
80. Quinten Winkle (Ned) Team Foundation
Stage 2 – Sept. 29 – Les Coteaux to Whim Circuit Race – 117km
1. Jose Navarro (Cub) Team Coco 3:14:41
2. Lang Reynolds (USA) Team Passo Prime Beef
3. Stefan Rabitsch (Aut) RC Gourmetfein Wels
4. Raphael Meran (Dom) Team Foundation
5. Andreas Graf (Aut) RC Gourmetfein Wels
6. Mathias Wiele (Ger) Team Janatec
7. Riccardo Zoidl (Aut) RC Gourmetfein Wels
8. Patrick Konrad (Aut) RC Gourmetfein Wels
9. Constantin Liebenow (Ger) Team Janatec
10. David Bartl (Ger) BQ Cycling Team
11. Michael Larsen (Den) Team Passo Prime Beef
12. Lukas Altenkamp (Ger) BQ Cycling Team
13. Ramirez Bernal (Col) Team Passo Prime Beef
14. Emile Abraham (Tri) Team Vita Malt
15. Nils Penton (Swe) Team 1% for the Planet
16. Trevor Connor (Can) Team Rio Grande
17. Adam Carr (USA) Team Rio Grande
18. Michael Jesinski (USA) Team Foundation
19. Darren Matthews (Bar) Team Vita Malt
20. Werner Riebenbauer (Aut) RC Gourmetfein Wels
21. Spencer Smitherman (Can) Team Rio Grande
22. Benjamin Joerges (Ger) BQ Cycling Team
23. Quinten Winkle (Ned) Team Foundation
24. Maikel Matos (USA) Team Coco
GC  after Stage 2
1. Riccardo Zoidl (Aut) RC Gourmetfein Wels 39 pts
2. Mathias Wiele (Ger) Team Janatec 32
3. Raphael Meran (Dom) Team Foundation 32
4. Lang Reynolds (USA) Team Passo Prime Beef 31
5. Emile Abraham (Tri) Team Vita Malt 28
6. David Bartl (Ger) BQ Cycling Team 26
7. Jose Navarro (Cub) Team Coco 25
8. Euris Vidale (Dom) Team Foundation 23
9. Stefan Rabitsch (Aut) RC Gourmetfein Wels 21
10. Werner Riebenbauer (Aut) RC Gourmetfein Wels 20
11. Nils Penton (Swe) Team 1% for the Planet 20
12. Andreas Graf (Aut) RC Gourmetfein Wels 17
13. Adam Carr (USA) Team Rio Grande 13
14. Patrick Konrad (Aut) RC Gourmetfein Wels 13
15. Yosmani Pol (USA) Team Coco 12
16. Constantin Liebenow (Ger) Team Janatec 12
17. Frank Scherzinger (Ger) BQ Cycling Team 11
18. Trevor Connor (Can) Team Rio Grande 11
19. Geron Williams (Guy) Team Coco 10
20. Michael Larsen (Den) Team Passo Prime Beef 10
21. Lukas Altenkamp (Ger) BQ Cycling Team 9
22. Ramirez Bernal (Col) Team Passo Prime Beef 8
23. Jean-Michel Lachance (Can) Team 1% for the Planet 7
24. Darren Matthews (Bar) Team Vita Malt 7
25. Michael Jesinski (USA) Team Foundation 5
26. Andy Scarano (USA) Team Foundation 4
27. Georg Tazreiter (Aut) RC Gourmetfein Wels 3
28. Serghei Tvetcov (USA) Team Vita Malt 1
29. Adam Alexander (Tri) Team Foundation 0
30. Joshua Alexander (Tri) Rafmon/Mecalfab Heatwave 0
31. Shimano Bailey (Svg) OECS 0
32. Linford Blackwood (Jam) Team Trek 0
33. Denis Bojarkin (Ger) BQ Cycling Team 0
34. Jymes Bridges (Ant) OECS 0
35. Sebastian Cancio (Arg) Team Vita Malt 0
36. Christian Christoph (Ger) Team Janatec 0
37. Phillip Clarke (Bar) Rafmon/Mecalfab Heatwave 0
38. Guy Costa (Tri) Rafmon/Mecalfab Heatwave 0
39. David Cueli (USA) Team Coco 0
40. Nick Daems (Bel) Team 1% for the Planet 0
41. Atze Dijkhuis (Ned) Team Passo Prime Beef 0
42. Felix Doring (Ger) BQ Cycling Team 0
43. Dirk Feist (Ger) Team Janatec 0
44. Andreas Feistel (Ger) Team Janatec 0
45. Diego Garavito (Col) Team Vita Malt 0
46. Walter Grant-Stuart (Guy) Team Coco 0
47. Chris Gruber (Can) Team 1% for the Planet 0
48. David Guttenplan (USA) Team Vita Malt 0
49. Alex Hagman (USA) Team Vita Malt 0
50. Chris Hillier (Can) Team Rio Grande 0
51. Benjamin Joerges (Ger) BQ Cycling Team 0
52. Dylan Jones (USA) Team Rio Grande 0
53. Curtis Juteram (USA) Team Trek 0
54. Louis Lacroix (Can) Team 1% for the Planet 0
55. Maikel Matos (USA) Team Coco 0
56. Warren McKay (Guy) Team Trek 0
57. Matthew O'Hagan (Can) Team Rio Grande 0
58. Dominic Ollivierre (Svg) OECS 0
59. Timo Ottens (Ned) Team Passo Prime Beef 0
60. John Phillips (USA) Team Rio Grande 0
61. Albert Quammie (Svg) OECS 0
62. Manuel Reich (Ger) Team Janatec 0
63. Henner Rodel (Ger) Team Passo Prime Beef 0
64. Marloe Rodman (Jam) Rafmon/Mecalfab Heatwave 0
65. Jose Rodriguez (Dom) Team Coco 0
66. Mathieu Roy (Can) Team 1% for the Planet 0
67. Etienne Samson (Can) Team 1% for the Planet 0
68. Gevan Samuel (Tri) Team Trek 0
69. Rob Scheffler (USA) Team 1% for the Planet 0
70. Spencer Smitherman (Can) Team Rio Grande 0
71. Nichlas Sorenson (Den) Team Passo Prime Beef 0
72. Chris Spence (Gbr) Team Vita Malt 0
73. Benjamin Staudes (Ger) BQ Cycling Team 0
74. James Stout (Gbr) Team Passo Prime Beef 0
75. Jonathan Teeter (USA) Team Passo Prime Beef 0
76. Hans – Jorg Thallhammer (Aut) RC Gourmetfein Wels 0
77. Sydney Walters (Gre) OECS 0
78. Marlon Williams (Guy) Rafmon/Mecalfab Heatwave 0
79. Rowan Wilson (Tri) Team Trek 0
80. Quinten Winkle (Ned) Team Foundation 0