September 08, 2013 (Calgary, AB) – Rohan Dennis of Team Garmin-Sharp won the inaugural Tour of Alberta, crossing the finish line after more than 900 kilometers over five days, while Ryan Anderson of Vancouver, BC, who grew up in Spruce Grove, AB near Edmonton, took the Best Canadian Jersey honours in eighth place of the overall classification.
Dennis, 23, took possession of the yellow jersey on Day 4, in the third stage finishing in Drumheller. Despite not being in the winning break yesterday, none of the GC contenders were, keeping his jersey for the last day. With a short final stage that finished in a sprint, as expected, no time were gained on the leader, securing him his first race win outside of his native Australia.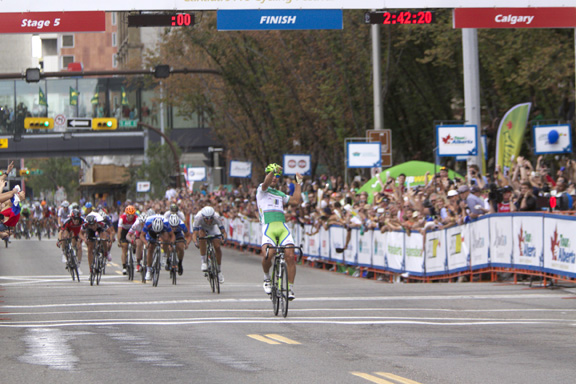 Dennis completed the six-day race with an 18 second lead of Brent Bookwalter of BMC Racing team, and 30-second lead on Damino Caruso of Cannondale Pro Cycling.
"It feels pretty good actually. I didn't expect this. I kept saying it was a goal of mine to come here. I rode really well in the prologue," said Dennis, donning the yellow jersey. "It was a sprinter's race, and Peter Sagan has been performing really well, in Utah and Colorado. It's really a great honour to come home with a win, and it was completely unexpected. This race will always be close to me. Hopefully I can come back next year and prepare for Worlds, and trying to back up my win this year."
On the last stage, Peter Sagan of Cannondale Pro Cycling crossed the line in a sprint finish, well ahead of the peloton for a typical sprint finish, in front of over 50,000 people gathered in the finishing circuits downtown Calgary.
Ryan Anderson of Vancouver, BC riding with Optum-Kelly Benefits Strategies won the Best Canadian Jersey, rolling in downtown Calgary wearing the red jersey. Anderso, who finished eighth in today's final stage,  had a great read on the decisive move on the third stage, and jumped in break that went all the way to the finish line, with a 17-minute gap on the main group.
"It's definitely special for Optum-Kelly Benefits, and for me as well. Being the first year of this race, and able to come and be on the podium for the last three days, in front of all the crowds, is something special for me. I was glad to be a part of this first year and take the Best Canadian Jersey," said Anderson.
"I'm not too surprised about all the crowd. Alberta has always been known for supporting and rallying behind big events. I expected the crowds to be good, and they were. Even along the way, the school kids came out to cheer, and it was fantastic."
As for the National Team, Antoine Duchesne of Québec, QC had the performance of his life yesterday, making the break and the chase to finish in fifth place, winning the most aggressive rider jersey for the last stage.
"It was a really nice race. I missed my chance in the third stage heading to Drumheller. I am really satisfied with yesterday's break. I was in the good break yesterday, and today I was active. Again today I was part of some early breaks. I just missed the long break that stood. At the end, I helped place JS [Jean-Sébastien Perron] for the final sprint. It was a good race for the whole team. It was a first for pretty much all of us, racing at this level. Everyone rode well, and it's fun to see that Canadians can do well in big races."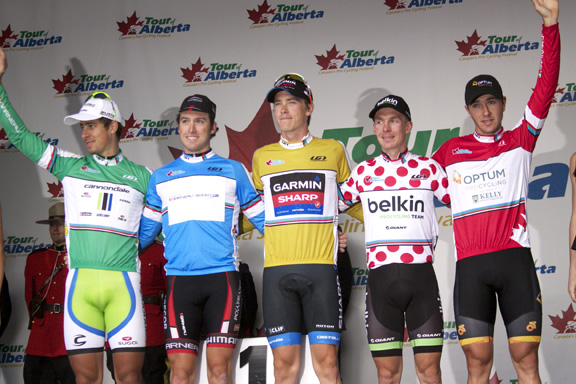 Duchesne will now travel to Quebec City, along with seven other guys including Anderson, to suit up for the National team at the Grand Prix cycliste Québec et Montréal. "I feel comfortable on the Quebec City course. The form is really good right now. I'll do my very best and get the most of that WorldTour race."
Gord Fraser was pleased with the first edition of this Tour of Alberta, and how his young riders withstood the pressure of racing with big teams.
"I think the race as a whole was a great success. The organizers pulled off a great year for the first year. They have overcome a lot with the unfortunate floods they had here a few months ago, and they pulled it off," said Gord Fraser, Director Sportif for Cycling Canada.
"It would be nice to have more diversity on the course with stages, in terms of profiles and such. All in all, they handled the organizational aspect, the volunteers, getting the word out very well… The fans were incredible. Just today in Calgary, there were probably over 50,000 people on that circuit. Hats off to the organizers. I am looking forward to next year."
Final Tour of Alberta 2013 Jerseys
Yellow Jersey (Province of Alberta Leader Jersey)
– Rohan Dennis (Team Garmin-Sharp), Australia
Green Jersey (Subway® Sprint Points Jersey)
– Peter Sagan (Cannondale Pro Cycling), Slovakia
Polka Dot Jersey (Budweiser Crown King of the Mountains Jersey)
– Tom Jelte Slagter (Belkin Pro Cycling Team), Netherlands
White Jersey (Canadian Western Bank Best Young Rider)
– Rohan Dennis (Team Garmin-Sharp), Australia
Maple Leaf (Best Canadian Rider)
– Ryan Anderson (Optum P/B Kelly Benefit Strategies), Canada
Blue Jersey (Most Aggressive Rider)
– Adam Farabaugh (Equipe Garneau-Quebecor), United States
Results
1. Peter Sagan (Svk) Cannondale Pro Cycling  2:42:20
2. Luka Mezgec (Slo) Team Argos-Shimano
3. Robert Förster (Ger) UnitedHealthcare Pro Cycling Team
4. Luke Keough (USA) UnitedHealthcare Pro Cycling Team
5. Nicolai Brochner (Den) Bissell Pro Cycling
6. Charles Bradley Huff (USA) Jelly Belly p/b Kenda
7. Brent Bookwalter (USA) BMC Racing Team
8. Ryan Anderson (Can) Optum p/b Kelly Benefit Strategies
9. Tomas Vaitkus (Ltu) Orica-GreenEdge
10. Pierrick Naud (Can) Equipe Garneau-Québecor
11. Eric Young (USA) Optum p/b Kelly Benefit Strategies
12. Fred Rodriguez (USA) Jelly Belly p/b Kenda
13. Shane Kline (USA) Team SmartStop p/b Mountain Khakis
14. Francisco Mancebo Perez (Spa) 5-hour Energy p/b Kenda
15. Travis McCabe (USA) Team SmartStop p/b Mountain Khakis
16. Aidis Kruopis (Ltu) Orica-GreenEdge
17. Marcus Burghardt (Ger) BMC Racing Team
18. Jonas Ahlstrand (Swe) Team Argos-Shimano
19. Rohan Dennis (Aus) Garmin-Sharp
20. Patrick Gretsch (Ger) Team Argos-Shimano
21. Zachary Bell (Can) Champion System Pro Cycling Team
22. Damiano Caruso (Ita) Cannondale Pro Cycling
23. Robert Sweeting (USA) 5-hour Energy p/b Kenda
24. Simon Geschke (Ger) Team Argos-Shimano  7
25. Moreno Hofland (Ned) Belkin Pro Cycling Team
26. Matthias Friedemann (Ger) Champion System Pro Cycling Team
27. Dennis Van Winden (Ned) Belkin Pro Cycling Team
28. Antoine Duchesne (Can) Canadian National Team
29. Robert Gesink (Ned) Belkin Pro Cycling Team
30. Silvan Dillier (Sui) BMC Racing Team
31. Ken Hanson (USA) Optum p/b Kelly Benefit Strategies
32. Tommy Nankervis (Aus) Bissell Pro Cycling
33. Jakub Novak (Cze) BMC Racing Team
34. Michel Koch (Ger) Cannondale Pro Cycling
35. Sean Mazich (USA) Jelly Belly p/b Kenda
36. Tom Zirbel (USA) Optum p/b Kelly Benefit Strategies
37. Steven Kruijswijk (Ned) Belkin Pro Cycling Team
38. Frank Kevin Pipp (USA) Bissell Pro Cycling
39. Christopher Jones (USA) UnitedHealthcare Pro Cycling Team
40. Fumiyuki Beppu (Jpn) Orica-GreenEdge
41. Shawn Milne (USA) 5-hour Energy p/b Kenda
42. Cadel Evans (Aus) BMC Racing Team
43. Andrew Dahlheim (USA) Bissell Pro Cycling
44. Eric Marcotte (USA) Team SmartStop p/b Mountain Khakis
45. Fabian Wegmann (Ger) Garmin-Sharp
46. Garrett McLeod (Can) Canadian National Team
47. David Millar (Gbr) Garmin-Sharp
48. Michael Olsson (Swe) Team Argos-Shimano
49. Mark Renshaw (Aus) Belkin Pro Cycling Team
50. Scott Zwizanski (USA) Optum p/b Kelly Benefit Strategies
51. Tobias Ludvigsson (Swe) Team Argos-Shimano
52. Jean-Sebastien Perron (Can) Canadian National Team
53. Jeffry Louder (USA) UnitedHealthcare Pro Cycling Team
54. Amaël Moinard (Fra) BMC Racing Team
55. Steve Morabito (Sui) BMC Racing Team
56. Thomas Soladay (USA) Optum p/b Kelly Benefit Strategies
57. Alexander Cataford (Can) Equipe Garneau-Québecor
58. Pieter Weening (Ned) Orica-GreenEdge
59. Tom Jelte Slagter (Ned) Belkin Pro Cycling Team
60. Lawrence Warbasse (USA) BMC Racing Team  0:15
61. Christian Vande Velde (USA) Garmin-Sharp
62. Benjamin Chaddock (Can) Team SmartStop p/b Mountain Khakis
63. Jean-Michel Lachance (Can) Canadian National Team
64. Kang Jiyong (Kor) Orica-GreenEdge
65. Flavio De Luna (Mex) Team SmartStop p/b Mountain Khakis
66. Edward King (USA) Cannondale Pro Cycling
67. Geoffroy Dussault (Can) Equipe Garneau-Québecor
68. Cameron Meyer (Aus) Orica-GreenEdge
69. Kirk Carlsen (USA) Bissell Pro Cycling
70. Jeremy Vennell (Nzl) Bissell Pro Cycling
71. Ryan Roth (Can) Champion System Pro Cycling Team  0:30
72. Rob Britton (Can) Canadian National Team  0:38
73. Stuart Wight (Can) Canadian National Team
74. Andres Diaz (Col) 5-hour Energy p/b Kenda
75. Michael Chauner (USA) Equipe Garneau-Québecor
76. Ryan Aitcheson (Can) Canadian National Team
77. Davide Frattini (Ita) UnitedHealthcare Pro Cycling Team
78. John Murphy (USA) UnitedHealthcare Pro Cycling Team  0:43
79. Jeremy Powers (USA) Jelly Belly p/b Kenda  0:47
80. Clay Murfet (Aus) Team SmartStop p/b Mountain Khakis  0:54
81. Emerson Oronte (USA) Jelly Belly p/b Kenda  1:02
82. Nic Hamlton (Can) Jelly Belly p/b Kenda  1:18
83. Ryder Hesjedal (Can) Garmin-Sharp
84. Brian Vandborg (Den) Cannondale Pro Cycling
85. Benjamin Day (Aus) UnitedHealthcare Pro Cycling Team
86. Michael Hepburn (Aus) Orica-GreenEdge
87. Max Jenkins (USA) 5-hour Energy p/b Kenda
88. Simon-Pierre Gauthier (Can) Equipe Garneau-Québecor  a
89. William Clarke (Aus) Team Argos-Shimano
90. Chris Butler (USA) Champion System Pro Cycling Team
91. Chad Beyer (USA) Champion System Pro Cycling Team
92. Carter Jones (USA) Bissell Pro Cycling
93. Serghei Tvetcov (Mda) Jelly Belly p/b Kenda
94. Michael Friedman (USA) Optum p/b Kelly Benefit Strategies
95. Aldo Ino Ilesic (Slo) UnitedHealthcare Pro Cycling Team
96. Taylor Shelden (USA) 5-hour Energy p/b Kenda
97. Chad Haga (USA) Optum p/b Kelly Benefit Strategies
98. Adam Matthew Farabaugh (USA) Equipe Garneau-Québecor
99. Bruno Langlois (Can) Equipe Garneau-Québecor
100. Derrick St. John (Can) Canadian National Team  1:35
101. Jack Bobridge (Aus) Belkin Pro Cycling Team  2:14
102. Marc Goos (Ned) Belkin Pro Cycling Team
103. Thomas Damuseau (Fra) Team Argos-Shimano
104. Bobby Lea (USA) Team SmartStop p/b Mountain Khakis
105. Nariyuki Masuda (Jpn) Cannondale Pro Cycling
106. Ben Wolfe (USA) Jelly Belly p/b Kenda
107. Kristofer Dahl (Can) Team SmartStop p/b Mountain Khakis
108. Craig Lewis (USA) Champion System Pro Cycling Team
109. David Williams (USA) 5-hour Energy p/b Kenda
110. Thomas Dekker (Ned) Garmin-Sharp  2:23
111. Jason McCartney (USA) Bissell Pro Cycling  2:50
112. James Stemper (USA) 5-hour Energy p/b Kenda  4:33
DNF  David Zabriskie (USA) Garmin-Sharp
Final GC
1. Rohan Dennis (Aus) Garmin-Sharp  17:48:40
2. Brent Bookwalter (USA) BMC Racing Team  0:18
3. Damiano Caruso (Ita) Cannondale Pro Cycling  0:30
4. Patrick Gretsch (Ger) Team Argos-Shimano  0:31
5. Robert Gesink (Ned) Belkin Pro Cycling Team  0:41
6. Robert Sweeting (USA) 5-hour Energy p/b Kenda  0:54
7. Francisco Mancebo Perez (Spa) 5-hour Energy p/b Kenda  0:55
8. Ryan Anderson (Can) Optum p/b Kelly Benefit Strategies  0:56
9. Matthias Friedemann (Ger) Champion System Pro Cycling Team  1:19
10. Steven Kruijswijk (Ned) Belkin Pro Cycling Team  1:22
11. Jakub Novak (Cze) BMC Racing Team  1:27
12. Steve Morabito (Sui) BMC Racing Team  1:32
13. Marcus Burghardt (Ger) BMC Racing Team  2:27
14. Jeremy Vennell (Nzl) Bissell Pro Cycling  5:28
15. Aidis Kruopis (Ltu) Orica-GreenEdge  6:06
16. Christopher Jones (USA) UnitedHealthcare Pro Cycling Team  6:32
17. Cadel Evans (Aus) BMC Racing Team  7:24
18. Simon Geschke (Ger) Team Argos-Shimano  7:40
19. Tom Jelte Slagter (Ned) Belkin Pro Cycling Team  8:04
20. Alexander Cataford (Can) Equipe Garneau-Québecor  8:23
21. Antoine Duchesne (Can) Canadian National Team  8:26
22. Benjamin Day (Aus) UnitedHealthcare Pro Cycling Team  9:07
23. Ryan Roth (Can) Champion System Pro Cycling Team  0:10:20
24. Scott Zwizanski (USA) Optum p/b Kelly Benefit Strategies  0:10:26
25. Clay Murfet (Aus) Team SmartStop p/b Mountain Khakis  0:10:59
26. James Stemper (USA) 5-hour Energy p/b Kenda  0:14:23
27. Peter Sagan (Svk) Cannondale Pro Cycling  0:16:25
28. Tobias Ludvigsson (Swe) Team Argos-Shimano  0:17:10
29. Pieter Weening (Ned) Orica-GreenEdge  0:17:25
30. Tom Zirbel (USA) Optum p/b Kelly Benefit Strategies  0:17:28
31. Silvan Dillier (Sui) BMC Racing Team  0:17:33
32. Shawn Milne (USA) 5-hour Energy p/b Kenda  0:17:37
33. Luka Mezgec (Slo) Team Argos-Shimano  0:17:41
34. Eric Young (USA) Optum p/b Kelly Benefit Strategies
35. Cameron Meyer (Aus) Orica-GreenEdge  0:17:45
36. Amaël Moinard (Fra) BMC Racing Team
37. Travis McCabe (USA) Team SmartStop p/b Mountain Khakis  0:17:46
38. Fred Rodriguez (USA) Jelly Belly p/b Kenda  0:17:47
39. Tomas Vaitkus (Ltu) Orica-GreenEdge  0:17:48
40. Michael Olsson (Swe) Team Argos-Shimano  0:17:49
41. Christian Vande Velde (USA) Garmin-Sharp  0:17:51
42. Nicolai Brochner (Den) Bissell Pro Cycling  0:17:53
43. Lawrence Warbasse (USA) BMC Racing Team  0:17:55
44. Fabian Wegmann (Ger) Garmin-Sharp
45. Moreno Hofland (Ned) Belkin Pro Cycling Team  0:18:00
46. Shane Kline (USA) Team SmartStop p/b Mountain Khakis  0:18:03
47. Kirk Carlsen (USA) Bissell Pro Cycling  0:18:09
48. John Murphy (USA) UnitedHealthcare Pro Cycling Team
49. Tommy Nankervis (Aus) Bissell Pro Cycling  0:18:10
50. Edward King (USA) Cannondale Pro Cycling  0:18:12
51. Pierrick Naud (Can) Equipe Garneau-Québecor  0:18:17
52. Jean-Michel Lachance (Can) Canadian National Team  0:18:18
53. Rob Britton (Can) Canadian National Team  0:18:20
54. Fumiyuki Beppu (Jpn) Orica-GreenEdge  0:18:22
55. Frank Kevin Pipp (USA) Bissell Pro Cycling  0:18:25
56. Andres Diaz (Col) 5-hour Energy p/b Kenda  0:18:28
57. Flavio De Luna (Mex) Team SmartStop p/b Mountain Khakis  0:18:29
58. Andrew Dahlheim (USA) Bissell Pro Cycling  0:18:30
59. Luke Keough (USA) UnitedHealthcare Pro Cycling Team  0:18:34
60. Ryder Hesjedal (Can) Garmin-Sharp  0:18:39
61. Chad Haga (USA) Optum p/b Kelly Benefit Strategies  0:18:42
62. Charles Bradley Huff (USA) Jelly Belly p/b Kenda  0:18:46
63. Serghei Tvetcov (Mda) Jelly Belly p/b Kenda  0:18:52
64. Nic Hamlton (Can) Jelly Belly p/b Kenda  0:18:54
65. Dennis Van Winden (Ned) Belkin Pro Cycling Team  0:18:57
66. Jean-Sebastien Perron (Can) Canadian National Team  0:18:59
67. Mark Renshaw (Aus) Belkin Pro Cycling Team  0:19:03
68. Garrett McLeod (Can) Canadian National Team  0:19:04
69. Benjamin Chaddock (Can) Team SmartStop p/b Mountain Khakis  0:19:07
70. Eric Marcotte (USA) Team SmartStop p/b Mountain Khakis  0:19:08
71. Taylor Shelden (USA) 5-hour Energy p/b Kenda  0:19:11
72. Ken Hanson (USA) Optum p/b Kelly Benefit Strategies  0:19:12
73. Bruno Langlois (Can) Equipe Garneau-Québecor  0:19:15
74. Davide Frattini (Ita) UnitedHealthcare Pro Cycling Team
75. Emerson Oronte (USA) Jelly Belly p/b Kenda  0:19:21
76. Robert Förster (Ger) UnitedHealthcare Pro Cycling Team  0:19:33
77. Jeffry Louder (USA) UnitedHealthcare Pro Cycling Team  0:19:34
78. David Millar (Gbr) Garmin-Sharp  0:19:39
79. Michael Hepburn (Aus) Orica-GreenEdge  0:19:41
80. Chris Butler (USA) Champion System Pro Cycling Team
81. Michael Chauner (USA) Equipe Garneau-Québecor  0:19:50
82. Jonas Ahlstrand (Swe) Team Argos-Shimano  0:19:52
83. Chad Beyer (USA) Champion System Pro Cycling Team  0:19:53
84. Geoffroy Dussault (Can) Equipe Garneau-Québecor  0:29
85. Derrick St. John (Can) Canadian National Team  0:20:12
86. Max Jenkins (USA) 5-hour Energy p/b Kenda  0:20:15
87. Craig Lewis (USA) Champion System Pro Cycling Team  0:20:19
88. Marc Goos (Ned) Belkin Pro Cycling Team  0:20:25
89. Ryan Aitcheson (Can) Canadian National Team  0:20:26
90. Thomas Damuseau (Fra) Team Argos-Shimano  0:20:28
91. Kang Jiyong (Kor) Orica-GreenEdge  0:20:30
92. Stuart Wight (Can) Canadian National Team  0:20:31
93. Sean Mazich (USA) Jelly Belly p/b Kenda
94. Adam Matthew Farabaugh (USA) Equipe Garneau-Québecor  0:20:37
95. Carter Jones (USA) Bissell Pro Cycling  0:20:41
96. Thomas Soladay (USA) Optum p/b Kelly Benefit Strategies  0:21:20
97. Michael Friedman (USA) Optum p/b Kelly Benefit Strategies  0:22:02
98. Michel Koch (Ger) Cannondale Pro Cycling
99. Kristofer Dahl (Can) Team SmartStop p/b Mountain Khakis  0:22:32
100. Jeremy Powers (USA) Jelly Belly p/b Kenda  0:22:57
101. Ben Wolfe (USA) Jelly Belly p/b Kenda  0:23:04
102. David Williams (USA) 5-hour Energy p/b Kenda  0:23:05
103. Jack Bobridge (Aus) Belkin Pro Cycling Team  0:23:13
104. Brian Vandborg (Den) Cannondale Pro Cycling  0:23:18
105. Zachary Bell (Can) Champion System Pro Cycling Team  0:23:47
106. Thomas Dekker (Ned) Garmin-Sharp  0:24:08
107. Jason McCartney (USA) Bissell Pro Cycling  0:24:38
108. William Clarke (Aus) Team Argos-Shimano  0:25:39
109. Nariyuki Masuda (Jpn) Cannondale Pro Cycling  0:25:47
110. Aldo Ino Ilesic (Slo) UnitedHealthcare Pro Cycling Team  0:27:39
111. Bobby Lea (USA) Team SmartStop p/b Mountain Khakis  0:29:34
112. Simon-Pierre Gauthier (Can) Equipe Garneau-Québecor  0:31:40
Sprint Classification
1. Peter Sagan (Svk) Cannondale Pro Cycling  40  pts
2. Rohan Dennis (Aus) Garmin-Sharp  25
3. Luka Mezgec (Slo) Team Argos-Shimano  24
4. Eric Young (USA) Optum p/b Kelly Benefit Strategies  21
5. Brent Bookwalter (USA) BMC Racing Team  21
6. Simon Geschke (Ger) Team Argos-Shimano  17
7. Cadel Evans (Aus) BMC Racing Team  15
8. Silvan Dillier (Sui) BMC Racing Team  15
9. Ryan Anderson (Can) Optum p/b Kelly Benefit Strategies  15
10. Damiano Caruso (Ita) Cannondale Pro Cycling  13
11. Serghei Tvetcov (Mda) Jelly Belly p/b Kenda  12
12. Nicolai Brochner (Den) Bissell Pro Cycling  11
13. Tom Jelte Slagter (Ned) Belkin Pro Cycling Team  10
14. Moreno Hofland (Ned) Belkin Pro Cycling Team  10
15. Robert Förster (Ger) UnitedHealthcare Pro Cycling Team  10
16. Patrick Gretsch (Ger) Team Argos-Shimano  9
17. Luke Keough (USA) UnitedHealthcare Pro Cycling Team  8
18. Aidis Kruopis (Ltu) Orica-GreenEdge  7
19. Benjamin Day (Aus) UnitedHealthcare Pro Cycling Team  7
20. Robert Gesink (Ned) Belkin Pro Cycling Team  6
21. Antoine Duchesne (Can) Canadian National Team  6
22. Fumiyuki Beppu (Jpn) Orica-GreenEdge  5
23. William Clarke (Aus) Team Argos-Shimano  5
24. Steve Morabito (Sui) BMC Racing Team  5
25. Scott Zwizanski (USA) Optum p/b Kelly Benefit Strategies  5
26. Tobias Ludvigsson (Swe) Team Argos-Shimano  5
27. Charles Bradley Huff (USA) Jelly Belly p/b Kenda  5
28. Fabian Wegmann (Ger) Garmin-Sharp  4
29. Nic Hamilton (Can) Jelly Belly p/b Kenda  4
30. Jeremy Powers (USA) Jelly Belly p/b Kenda  4
31. Matthias Friedemann (Ger) Champion System Pro Cycling Team  3
32. Marcus Burghardt (Ger) BMC Racing Team  3
33. Clay Murfet (Aus) Team SmartStop p/b Mountain Khakis  3
34. Pieter Weening (Ned) Orica-GreenEdge  3
35. Travis McCabe (USA) Team SmartStop p/b Mountain Khakis  3
36. Marc Goos (Ned) Belkin Pro Cycling Team  3
37. Adam Matthew Farabaugh (USA) Equipe Garneau-Québecor  3
38. Jakub Novak (Cze) BMC Racing Team  2
39. Jeremy Vennell (Nzl) Bissell Pro Cycling  2
40. Ryan Roth (Can) Champion System Pro Cycling Team  2
41. Tomas Vaitkus (Ltu) Orica-GreenEdge  2
42. John Murphy (USA) UnitedHealthcare Pro Cycling Team  2
43. Dennis Van Winden (Ned) Belkin Pro Cycling Team  2
44. James Stemper (USA) 5-hour Energy p/b Kenda  1
45. Pierrick Naud (Can) Equipe Garneau-Québecor  1
KOM Classification
1. Tom Jelte Slagter (Ned) Belkin Pro Cycling Team  37  pts
2. Robert Gesink (Ned) Belkin Pro Cycling Team  25
3. Nic Hamilton (Can) Jelly Belly p/b Kenda  18
4. Rohan Dennis (Aus) Garmin-Sharp  16
5. Brent Bookwalter (USA) BMC Racing Team  15
6. Antoine Duchesne (Can) Canadian National Team  12
7. Benjamin Day (Aus) UnitedHealthcare Pro Cycling Team  12
8. Simon Geschke (Ger) Team Argos-Shimano  11
9. Serghei Tvetcov (Mda) Jelly Belly p/b Kenda  10
10. Kristofer Dahl (Can) Team SmartStop p/b Mountain Khakis  10
11. Fabian Wegmann (Ger) Garmin-Sharp  10
12. Steve Morabito (Sui) BMC Racing Team  9
13. Cadel Evans (Aus) BMC Racing Team  9
14. Clay Murfet (Aus) Team SmartStop p/b Mountain Khakis  9
15. Peter Sagan (Svk) Cannondale Pro Cycling  9
16. Silvan Dillier (Sui) BMC Racing Team  9
17. Fumiyuki Beppu (Jpn) Orica-GreenEdge  9
18. Francisco Mancebo Perez (Spa) 5-hour Energy p/b Kenda  8
19. Damiano Caruso (Ita) Cannondale Pro Cycling  7
20. Jack Bobridge (Aus) Belkin Pro Cycling Team  7
21. James Stemper (USA) 5-hour Energy p/b Kenda  6
22. Frank Kevin Pipp (USA) Bissell Pro Cycling  6
23. Patrick Gretsch (Ger) Team Argos-Shimano  5
24. Dennis Van Winden (Ned) Belkin Pro Cycling Team  5
25. Carter Jones (USA) Bissell Pro Cycling  5
26. Matthias Friedemann (Ger) Champion System Pro Cycling Team  4
27. Ryan Roth (Can) Champion System Pro Cycling Team  4
28. Scott Zwizanski (USA) Optum p/b Kelly Benefit Strategies  4
29. Adam Matthew Farabaugh (USA) Equipe Garneau-Québecor  4
30. Jakub Novak (Cze) BMC Racing Team  2
31. Geoffroy Dussault (Can) Equipe Garneau-Québecor  2
32. Craig Lewis (USA) Champion System Pro Cycling Team  2
Top Canadian Classification
1. Ryan Anderson (Can) Optum p/b Kelly Benefit Strategies  17:49:36
2. Alexander Cataford (Can) Equipe Garneau-Québecor  0:07:27
3. Antoine Duchesne (Can) Canadian National Team  0:07:30
4. Ryan Roth (Can) Champion System Pro Cycling Team  0:09:24
5. Pierrick Naud (Can) Equipe Garneau-Québecor  0:17:21
6. Jean-Michel Lachance (Can) Canadian National Team  0:17:22
7. Rob Britton (Can) Canadian National Team  0:17:24
8. Ryder Hesjedal (Can) Garmin-Sharp  0:17:43
9. Nic Hamilton (Can) Jelly Belly p/b Kenda  0:17:58
10. Jean-Sebastien Perron (Can) Canadian National Team  0:18:03
11. Garrett McLeod (Can) Canadian National Team  0:18:08
12. Benjamin Chaddock (Can) Team SmartStop p/b Mountain Khakis  0:18:11
13. Bruno Langlois (Can) Equipe Garneau-Québecor  0:18:19
14. Geoffroy Dussault (Can) Equipe Garneau-Québecor  0:19:13
15. Derrick St. John (Can) Canadian National Team  0:19:16
16. Ryan Aitcheson (Can) Canadian National Team  0:19:30
17. Stuart Wight (Can) Canadian National Team  0:19:35
18. Kristofer Dahl (Can) Team SmartStop p/b Mountain Khakis  0:21:36
19. Zachary Bell (Can) Champion System Pro Cycling Team  0:22:51
20. Simon-Pierre Gauthier (Can) Equipe Garneau-Québecor  0:30:44
Young Rider Classification
1. Rohan Dennis (Aus) Garmin-Sharp  17:48:40
2. Jakub Novak (Cze) BMC Racing Team  0:01:27
3. Tom Jelte Slagter (Ned) Belkin Pro Cycling Team  0:08:04
4. Alexander Cataford (Can) Equipe Garneau-Québecor  0:08:23
5. Antoine Duchesne (Can) Canadian National Team  0:08:26
6. Clay Murfet (Aus) Team SmartStop p/b Mountain Khakis  0:10:59
7. Peter Sagan (Svk) Cannondale Pro Cycling  0:16:25
8. Tobias Ludvigsson (Swe) Team Argos-Shimano  0:17:10
9. Silvan Dillier (Sui) BMC Racing Team  0:17:33
10. Eric Young (USA) Optum p/b Kelly Benefit Strategies  0:17:41
11. Travis McCabe (USA) Team SmartStop p/b Mountain Khakis  0:17:46
12. Nicolai Brochner (Den) Bissell Pro Cycling  0:17:53
13. Lawrence Warbasse (USA) BMC Racing Team  0:17:55
14. Moreno Hofland (Ned) Belkin Pro Cycling Team  0:18:00
15. Shane Kline (USA) Team SmartStop p/b Mountain Khakis  0:18:03
16. Pierrick Naud (Can) Equipe Garneau-Québecor  0:18:17
17. Flavio De Luna (Mex) Team SmartStop p/b Mountain Khakis  0:18:29
18. Luke Keough (USA) UnitedHealthcare Pro Cycling Team  0:18:34
19. Garrett McLeod (Can) Canadian National Team  0:19:04
20. Emerson Oronte (USA) Jelly Belly p/b Kenda  0:19:21
21. Michael Hepburn (Aus) Orica-GreenEdge  0:19:41
22. Jonas Ahlstrand (Swe) Team Argos-Shimano  0:19:52
23. Marc Goos (Ned) Belkin Pro Cycling Team  0:20:25
24. Ryan Aitcheson (Can) Canadian National Team  0:20:26
25. Thomas Damuseau (Fra) Team Argos-Shimano  0:20:28
26. Stuart Wight (Can) Canadian National Team  0:20:31
27. Adam Matthew Farabaugh (USA) Equipe Garneau-Québecor  0:20:37
28. Carter Jones (USA) Bissell Pro Cycling  0:20:41
29. Michel Koch (Ger) Cannondale Pro Cycling  0:22:02
30. Kristofer Dahl (Can) Team SmartStop p/b Mountain Khakis  0:22:32
31. Ben Wolfe (USA) Jelly Belly p/b Kenda  0:23:04
32. Jack Bobridge (Aus) Belkin Pro Cycling Team  0:23:13
33. Simon-Pierre Gauthier (Can) Equipe Garneau-Québecor  0:31:40
Team Classification
1. BMC Racing Team  53:17:43
2. 5-Hour Energy p/b Kenda Racing Team  0:12:13
3. Belkin-Pro Cycling Team  0:18:17
4. Team Argos-Shimano  0:33:37
5. UnitedHealthcare Pro Cycling Team  0:35:13
6. Optum p/b Kelly Benefit Strategies  0:36:01
7. Champion System Pro Cycling Team  0:37:24
8. Team Garmin-Sharp  0:43:29
9. Cannondale Pro Cycling  0:43:46
10. Orica GreenEdge  0:44:21
11. Bissell Pro Cycling  0:44:56
12. Canadian National Team  0:52:07
13. Equipe Garneau-Québecor  0:52:27
14. Jelly Belly p/b Kenda  0:53:46
15. Team Smartstop p/b Mountain Khakis  0:53:49