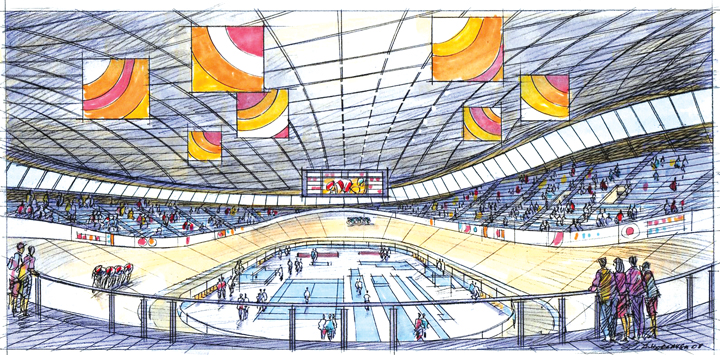 October 15, 2011 – Earlier this week Hamilton City Council voted to cap their city's financial contribution at $5 million toward a four-season velodrome at Mohawk College planned for the 2015 Pan American Games. That decision effectively killed plans there to build a velodrome, originally estimated to cost $11 million but now estimated at $40 million.
The soaring price tag on the facility meant that some $22 million was needed from Hamilton to make the project viable. Following this news on Oct. 11 the Toronto 2015 Pan/Parapan Am Games Organizing Committee (TO2015) issued a statement:
TO2015 Statement on Hamilton City Council Decision
The Toronto 2015 Pan/Parapan Am Games Organizing Committee (TO2015) acknowledges Hamilton City Council's decision to cap their contribution at $5 million towards the building of a four-season velodrome at Mohawk College.
However, this contribution, while generous, does not represent a sufficient financial commitment to go forward with the plans to build this velodrome in Hamilton.
TO2015 would like to thank the City of Hamilton for their hard work in developing a strong four-season velodrome proposal and the due diligence of their committees to evaluate this proposal.
As a result of Council's decision, TO2015 will pursue discussions with other municipalities who have expressed interest in this significant legacy facility.
This high-calibre facility remains a vital component to the Pan/Parapan Am Games legacy. The velodrome will attract future elite, and amateur national and international competitions, allow Ontario-based athletes to train in their home province and give the surrounding community access to a world-class facility.
TO2015 is looking forward to working closely with its community partners to help ensure a velodrome is delivered on time, on budget and on scope.
———-
Canada only has eight functional velodromes at present with just two of these being indoor facilities. Consequently, our cyclists often have to travel abroad to train at modern facilities such as in Los Angeles. That the country could support more velodromes is borne out by how in the 1940s there were three such facilities in Montreal alone.
Canada's eight functional velodromes:
– Argyll Velodrome, Edmonton, Alberta (333m outdoor),
– Bromont Velodrome, Bromont, Quebec (250m outdoor)
– Burnaby Velodrome, Burnaby, British Columbia (200m indoor)
– Delhi Velodrome, Delhi, Ontario (250m outdoor),
– Forest City Velodrome, London, Ontario (138m indoor)
– Glenmore Velodrome, Calgary, Alberta (400m outdoor)
– Juan de Fuca, Colwood, British Columbia (333m outdoor)
– Vélodrome Caisse Populaire de Dieppe, Dieppe, NB (250m outdoor)
Readers are encouraged sound out their local city councils regarding support for building a velodrome, pointing out that the economic spinoffs from building such a facility will last for many years. TO2015 can also be contacted and lobbied with suggestions on alternate sites for a velodrome for the 2015 PanAm Games: (416) 957-2015; info@toronto2015.org.
Read more HERE.