February 24, 2016 (Pinkham Notch, NH) – Tim Johnson, a 6-time cyclo-cross U.S. champion who is married to former top Canadian rider Lyne Bessette, rode a fat bike to the 6,288 foot (1917m) summit of Mt. Washington on Feb. 2 reports Red Bull. This is the first winter ascent of the highest mountain in the northeastern USA reputed for its horrific weather conditions. Johnson made the 4,685 ft ascent from Pinkham Notch up an icy 14-percent grade slope in one-hour, forty-five minutes and 48 seconds (01:45:48).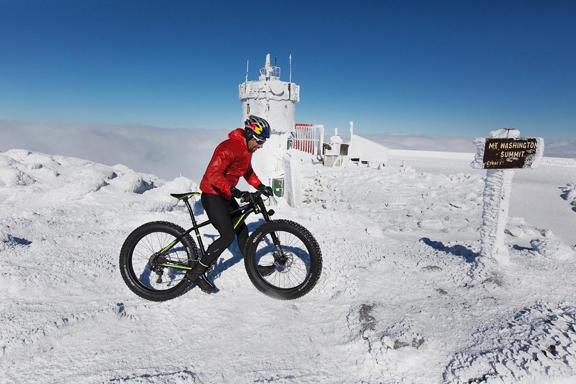 Factoring in wind chill factor, the temperature felt like -19 F (-28 C) during the climb, but Johnson started with overheating problems coming out of the parking lot. He describes reaching the Hair Pin Turn at 5,700 ft, fighting strong winds, and having no traction. Once at the summit, he turned around and seeing, "…what the White Mountains have to offer makes everything better."
Johnson, now 38 years old, started his cycling career on the same Auto Road, winning the Mount Washington Hill Climb in Aug. 2000 and 2001. Even in summer, the 7.6-mile (12.2km) route challenges the most accomplished amateur and professional cyclists. Johnson rides for Cannondale Cyclocrossworld.com and is also sponsored by Red Bull and Volkswagen. He is also a former road cyclist, who rode for the UnitedHealthcare Pro Cycling Team p/b Maxxis in 2010.
Bessette, who represented Canada the 2000 and 2004 Olympics in road cycling, also rode as a pilot in the 2012 Paralympics, wining gold with blind para-cyclist Robbi Weldon in the tandem race. Bessette and Johnson live near Boston, MA.