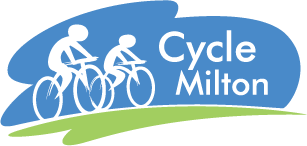 July 30, 2015 (Milton, ON) – From absolute beginners to hard core experts, the Town of Milton's new Cycle Milton initiative offers something for cycling enthusiasts of all ages and skill levels. With the launch of a brand new website serving as a one-stop resource for all things cycling-related in the community, Milton is one step closer to achieving the vision of becoming the Home of Canadian Cycling.
"The launch of Cycle Milton is an important enhancement to cycling in our community," said Milton Mayor Gord Krantz. "I encourage residents to take advantage of this exciting new initiative and use the website to get active on their bikes this summer, and explore Milton's parks and trails."
Created as a result of goals identified in the Milton Cycling Participation Strategy and the 2014 Trails & Cycling Master Plan Update, Cycle Milton will foster cycling for recreation and sport in the community and will unite all disciplines of cycling into one common vision.  Funding for the Cycle Milton initiative was received through the Government of Ontario and the Ontario Sport and Recreation Communities Fund.
The newly launched website www.CycleMilton.ca, features information for everyone, from beginner to experienced cyclists. Residents are invited to explore the site to discover tips and safety information, connections to local cycling organizations, groups and businesses, as well as a comprehensive program and events calendar listing local group rides and upcoming cycling events and happenings.
In addition, a variety of family-friendly community cycling routes are available for download to provide residents with options to get active outdoors this summer and explore Milton by bike. Each map travels a different neighbourhood, lists distances covered, outlines route surfaces and highlights amenities featured along the ride, including playgrounds, spray pads, sports fields and more. Links to regional road maps and local mountain bike trails are also available on the website for cyclists looking for a more challenging ride.
Community groups, organizations and businesses are encouraged to join the cycling revolution and get involved with Cycle Milton by gaining recognition as a "cycle-friendly" organization. Recognized groups will have access to Cycle Milton logos to aid in the promotion of cycle-friendly events and happenings, and will be listed on the Cycle Milton website.
Look for the Milton Cycling Guide, a handy, pocket-friendly resource containing a comprehensive community cycling map and important cycling information, now available in Town facilities.
For more information on Cycle Milton, visit here.