December 13, 2013 (Montreal, QC) – After six years in development, Assos is honored to introduce the new industry benchmark in cycling shorts, the S7. Assos created a new generation of cycling shorts that has raised the bar on the comfort and performance benchmarks set by the S5, which was introduced to the cycling world in 2008. The Assos S5 generation of cycling shorts has won more tests and awards than any others, and for the past six years, they have been the world's ultimate cycling shorts. Assos is pleased to introduce the S7, the next generation in cycling shorts technology and the new industry benchmark.

The Assos design team was challenged by an R&D brief that demanded the impossible – Improve on S5, praised as the "ultimate" cycling shorts, in every way. To achieve success they had to rethink everything. They started by creating the fastest aero skinsuit, the Fenomeno that was made specifically for one event, the time trial in the 2012 Olympics. Assos Centro Studio then took that unique knowledge and applied it to an entirely new generation of cycling shorts that exceeded the previous comfort and performance benchmarks. In the development process, four new technology patents were created for a total of six Assos patents featured on the S7 generation cycling shorts.
When Assos CEO Roche Maier was asked if the world really needs better cycling shorts he responded, "Yes, absolutely. The S7 is a game changer. These shorts will set the standards for both the ultimate in performance and total comfort in the saddle. When it comes to keeping cyclists comfortable, we need that every day, on every ride and in every condition." Hans Bergman, director of Sales and Marketing for Assos North America added, "It took us (Assos) six years to perfect these shorts, and after riding in them, I now understand why it took so long to create. The S7 is superior than its' predecessor, and most of us thought that was an impossible feat."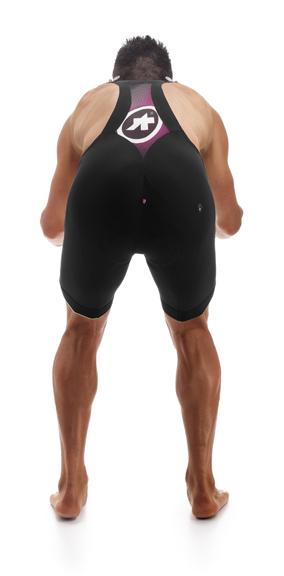 The Assos S7 Generation of Cycling Shorts represents Best in Class: Lighter, lower volume, fewer seams, less friction, softer compression and more breathability (compared to S5). These are by far the most advanced, most comfortable cycling shorts Assos has created.
The S7 generation is one platform including 4 models; T.neoPro [SRP $199.99], T.équipe [SRP $269.00], T.cento [SRP $369.00] and T.campionissimo [SRP $519.00], each serving a specific need but all for the same Assos rider. The T.équipe is the first model released and is available now at select Assos retailers in North America. The T.neoPro and T.cento will be available in January and the T.campionissimo in March.
For more information and product details see the official S7 trailer on the new Assos S7 microsite + a video interview with Assos founder, Toni Maier Moussa here.