November 26, 2015 (Ottawa, ON) – This past weekend The Cyclery-Opus, one of Canada's premier women's road teams, held their first training camp in Ottawa and Gatineau. The camp provided an opportunity for the squad to celebrate the season at the National Capital Region Cycling Celebration Dinner and fundraiser. The team was happy to support this great event which recognized some of the pillars of the Ottawa cycling community including primary team sponsor Vince Caceres (owner of the Cyclery) as the Builder of the year. The event raised over three thousand dollars towards the National Capital Cycling Bursary. Team member Katherine Maine was also awarded the Female Cyclist of the Year for a stellar season that will see her make the leap to the professional ranks next year.
It was a great opportunity for the team to celebrate some of their own successes. The 2015 season saw the team win over twenty races, field riders at four different World Championships (including two top twelve finishes from Whitten and Maine) and win three medals at the Pan-American Championships.
While there was some riding done at this camp (in the form of a spirited loop of the Gatineau Park), the focus was on setting the stage for the coming season and having some fun. All of the team members took part in functional movement assessments that will help identify any structural weaknesses that need work over the winter.
Kevin Field, past director of some of North America's most notable professional teams including Optum, Spidertech, Symmetrics and Bontrager-Livestrong, came and gave a seminar on the Saturday night on what it takes to be a professional cyclist. The free-flowing question and answer session took over two hours, and all of the team riders left knowing something more about bike racing than they did before.
The next morning the camp wrapped up with some fun indoor-rock climbing as a change of pace (and a test of some staff and rider's comfort zones!)
The Cyclery-OPUS Signs Ontario Champion Brouwer
The team also got to meet its newest member, Miriam Brouwer (25, Burlington ON), who joins the team after a successful first year racing in which she won both the Ontario Road and Cyclocross Championships. "I can't wait to race with the Cyclery-Opus in 2016! I am really looking forward to working as part of this team, and developing as a cyclist through the experience.'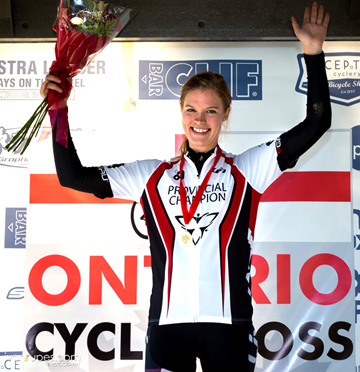 Miriam is currently working on her Masters in Speech and Language Pathology at the University of Toronto.