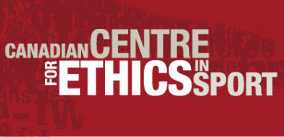 January 23, 2014 (Ottawa, Ontario) – Following a report and interview with Sebastian Salas on CTVNews.ca regarding his recent 2-year sanction for tampering with doping control (read more here), where he claims that the whole affair is more of a misunderstanding, the Canadian Centre for Ethics in Sport (CCES) has issued the following release (see below) – read the CTV report here. In the interview Salas says a medical emergency relating to his pregnant wife delayed him for his test on June 10, 2013 at the Gastown Gran Prix, and that he's a victim of a regime trying to rehabilitate a sport suffering from fallout due to recent doping scandals from high profile cyclists like Lance Armstrong and Ryder Hesjedal. CTV also interviewed Cycling Canada President John Tolkamp, who talks about the tampering of samples rather than procedures, which apparently was not the case, and Cycling Canada has issued an explanation and correction here.
Canadian Centre for Ethics in Sport (CCES) Release
The Canadian Centre for Ethics in Sport (CCES) today released further details regarding the anti-doping rule violation against Canadian cycling athlete Sebastian Salas.   On January 20, 2014, the CCES publicly disclosed an anti-rule violation for Tampering* which took place at the 2013 Gastown Grand Prix and the corresponding two-year sanction against Mr. Salas.
In light of recent public comments by Mr. Salas and others, CCES wishes to provide the following details regarding his violation of the Canadian Anti-Doping Program (CADP):
– The athlete received an anti-doping rule violation for Tampering. Pursuant to the CADP, a Tampering violation can result when an athlete subverts any part of the doping control process. Tampering is not restricted to the manipulation of an athlete's sample. Mr. Salas' violation of Tampering involved, and the CCES was prepared to prove, (i) that the athlete avoided formal notification after he knew he was selected for doping control and sample collection and unilaterally decided to leave the event venue, and (ii) the athlete remained unchaperoned for about two hours after he knew he was selected for doping control and prior to providing a urine sample.
– Mr. Salas did not make contact with the CCES Doping Control Officer to ask permission to leave the event venue – while being accompanied by a chaperone. Once there is subjective knowledge that a sample must be provided, remaining constantly chaperoned is a fundamental component to the integrity of the doping control process. The CADP has provisions to accommodate exceptional circumstances should they occur during the doping control process. None was raised by Mr. Salas at the time he learned that he was subject to doping control.
– Following the competition, the CCES commenced an initial review regarding the athlete's behaviour. The athlete was requested to provide an explanation regarding why he chose not to comply with the doping control process. The athlete provided varied explanations to the CCES, none of which satisfied CCES that a Tampering violation should not be asserted.
– As a result, the CCES asserted an anti-doping rule violation for Tampering against Mr. Salas.  The CCES does not have the authority to determine violations under the CADP. These cases must proceed to independent arbitration unless the athlete waives his or her right to a hearing and accepts the sanction. Mr. Salas initially indicated that he would like to proceed to arbitration.  The hearing process commenced, submissions were filed and the hearing was scheduled in early January 2014. Approximately four days prior to the hearing, the athlete (who was represented by legal counsel) chose to admit the Tampering violation, accept the standard two-year sanction and waive his right to a hearing.
*Tampering: Altering for an improper purpose or in an improper way; bringing improper influence to bear; interfering improperly; obstructing, misleading or engaging in any fraudulent conduct to alter results or prevent normal procedures from occurring; or providing fraudulent information to an Anti-Doping Organization.
The Canadian Centre for Ethics in Sport is an independent, national, not-for profit organization with responsibility to administer the Canadian Anti-Doping Program. We recognize that true sport can make a great difference for individuals, communities and our country. We are committed to working collaboratively to activate a values-based and principle-driven sport system; protecting the integrity of sport from the negative forces of doping and other unethical threats; and advocating for sport that is fair, safe and open to everyone.