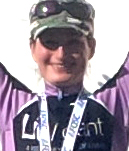 June 16, 2013 (Squamish, BC) – Neal Kindree (Specialized) successfully defended his Test of Metal title on Saturday with a second consecutive win. Kindree, of Squamish, won five of the 10 preems along the course and pulled away from second-place finisher Kris Sneddon of Secehlt in the latter stages of the race. Kindree's time was 2:34:20, just under two minutes ahead of Sneddon, in near perfect conditions on the 67-kilometre course. Quinn Moberg, at the age of 19, rode impressively, finishing fifth overall with a time of 2:41:46 and taking top Squamish men's honours.
Sandra Walter (Liv/Giant) of Coquitlam, took the women's title in 3:00:08 after taking the lead away from second-place finisher Kate Aardal (3:02:27) of Calgary on the Powerhouse Plunge. Squamish's Brandi Heisterman was the top Squamish woman and led for most of the race but eventually faded to a fourth-place finish in 3:03:41.
Complete results for the Nesters Market Squamish Test of Metal 2013 are available here.
Results (brief)
Women
1. Sandra Walter (Liv/Giant) 3:00:08
2. Kate Aardal (Calgary) 3:02:27
3. Jean Ann Berkenpas (Xprezo)  3:03:11.7
4. Brandi Heisterman (Squamish) 3:03:41
Men
1. Neal Kindree (Specialized) 2:34:20
2. Kris Sneddon (Kona) 1:52.8
3. Cory Wallace (Kona) 5:25.7