June 19, 2012 (Squamish, BC) – The Test of Metal Race has been both enjoyed and feared by the mountain bike community since 1996. The 67-kilometre course, features 1,200 metres of vertical climbing that puts any athlete to the test, and also features over 35km of tough single track that Squamish, BC is known for.
This year, Mother Nature provided the wettest, muckiest and toughest conditions the race has ever seen. With close to 900 racers starting and only 756 actually finishing, the Test of Metal Race proved to be quite a challenge this year.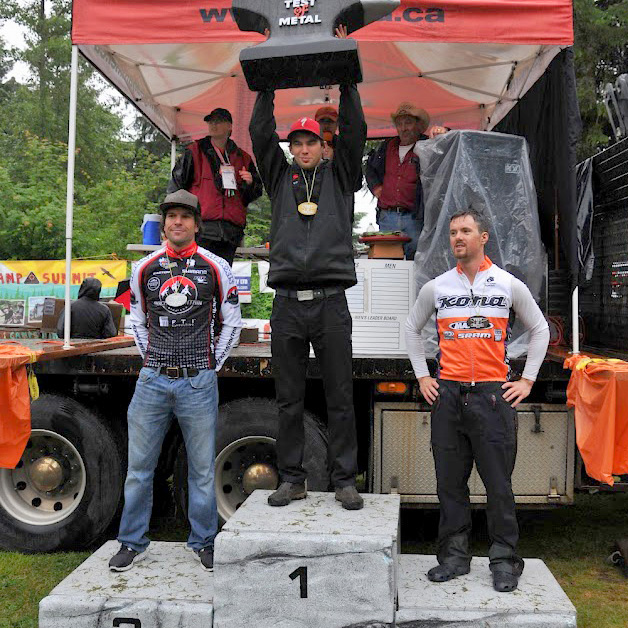 In the Men's Pro Elite category, Squamish resident, Neal Kindree produced the fasted time of the day of 2:34:24. No stranger to the Test of Metal podium, Neal last won the race back in 2007. Chris Sheppard, now living in Bend, Oregon, came in second at over 4 minutes and was said to be close to challenging Kindree for the lead during last big climb on Bonk Hill just prior to entering the fast downhill of Ring Creek Rip.
The Powerhouse Plunge, a long technical downhill,  was the talk of the day, being the muddiest anyone had seen it, with some racers describing it as riding through Nutella. This is where, Kindree really consolidated his lead. In third place, Cory Wallace of Jasper, Alberta came in at just over 7 minutes past the leader.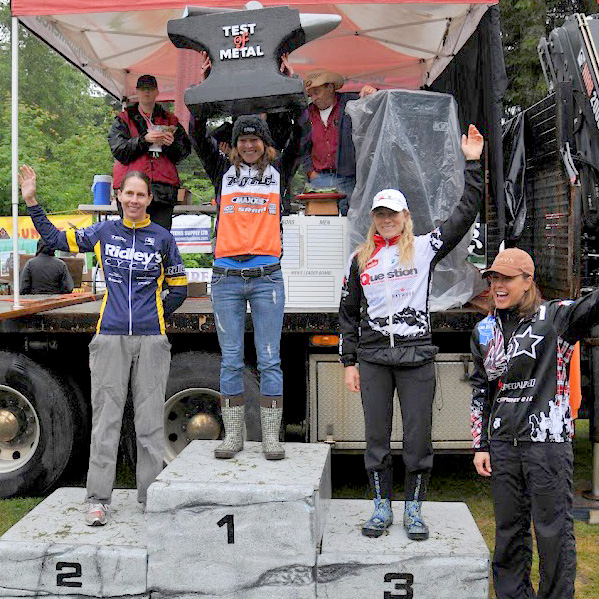 In the Pro Elite Category for women, local talent, Brandi Heisterman, led most of the race but ran out of gas during her efforts on 9-mile hill. She still managed to hold onto third place however as Wendy Simms, of Nanaimo, came out on top with a time of 3:07:19, with Kate Aardal coming in second at 2:22 behind Simms.
Results
1. Neal Kindree (Specialized/EMD Se/Specialized/EMD, Men Pro-elite) 2:34:24.4
2. Chris Sheppard (Rocky Mountain Bicyc, Men Pro-elite) 0:04:18.4
3. Cory Wallace (Kona/Kona Factory, Men Pro-elite) 0:07:02.8
4. Greg Day (Evolve Cycling Club, Men Pro-elite) 0:10:17.1
5. Logan Wetzel (Noble Bikes, Men Pro-elite) 0:13:44.7
6. Carter Hovey (MBC/Orbea/SMP, Men Pro-elite) 0:13:59.3
7. Patrick Means (Team S&M/Sellwood Cycle Repair, Men Pro-elite) 0:14:44.1
8. Kevin Calhoun (Rocky Mountain, Men Pro-elite) 0:16:42.0
9. Thomas Skinner (NORCO/OAK BAY BIKES, Men Pro-elite) 0:17:03.5
10. Jonathon Firth (Honey stinger Rocky/Cafe racers, Men Pro-elite) 0:17:30.2
11. Brian Cooke (bicyclecafe/caferacers, Men Pro-elite) 0:17:58.9
12. Kelly Servinski (SCOTT Bikes, Men Pro-elite) 0:19:10.3
13. Peter Watson (Balance Point Racing, Men Pro-elite) 0:19:18.8
14. Leighton Poidevin (Bicycle Cafe/Cafe Racers, Men 40-44) 0:19:38.6
15. Dwayne Kress (Devinci, Men Pro-elite) 0:20:38.7
16. Michael Robinson (Back in Action Physi, Men Pro-elite) 0:21:29.6
17. Marty Lazarski (Devinci, Men 20-29) 0:23:29.7
18. Andrew Handford (Different Bikes, Men 45-49) 0:24:10.8
19. Stefan Widmer (Honey Stinger-RMB, Men Pro-elite) 0:25:18.5
20. Travis Hauck (Gericks/NRG/Shimano//Nelson Cycling Cl, Men Pro-elite) 0:25:20.2
21. John Courtney (Cycle Logic/Gold Rush Cycling Cl, Men 30-34) 0:27:35.3
22. Jeff Sherstobitoff (Men 30-34) 0:29:13.5
23. Justin Mark (Steed Cycles/Steed Cycles, Men 35-39) 0:29:48.8
24. Andy Rigel (Mafia Racing NW/Mafia Racing NW, Men 35-39) 0:29:51.9
25. Drew Mackenzie (Condo Group/Shimano, Men Pro-elite) 0:30:20.0
26. Carl Goldstraw (Tantalus bikes/sorca, Men 40-44) 0:30:50.6
27. Drew Simson (Cafe Racers, Men 30-34) 0:30:53.3
28. Peter Bruce Sinclair (Men 35-39) 0:31:33.5
29. Matthew Drown (Daryl Evans Rocky M/Daryl-Evans Racin, Men 35-39) 0:31:40.0
30. Jeff Blair (Louis Garneau, Men Pro-elite) 0:32:13.2
31. Wendy Simms (SCOTT Bikes, Women Pro-elite) 0:32:54.7
32. Michael Boehm (Team Whistler, Men 35-39) 0:34:08.5
33. Normon Thibault (Frontrunners/Frontrunners, Men 40-44) 0:34:21.3
34. Davey Mitchell (SORCA, Men 20-29) 0:34:49.8
35. John Irvine (Men 40-44) 0:35:12.0
36. Brian Mccurdy (Men 35-39) 0:35:15.3
37. Kate Aardal (Ridley's Cycle, Women Pro-elite) 0:35:17.4
38. Brandi Heisterman (Rocky Mountain/Team Whistler, Women Pro-elite) 0:35:32.3
39. Matt Duggan (RMCC, Men 35-39) 0:35:44.6
40. Craig Bartlett (Bicycle Cafe, Men 40-44) 0:35:45.5
41. Mical Dyck (Pro City Racing, Women Pro-elite) 0:35:49.1
42. Matt Ewonus (Fresh Air Experience/Balance Point Rac, Men 35-39) 0:35:51.5
43. Stephen Ushy (Cannondale/Balance Point Racing, Men 40-44) 0:35:52.0
44. David Huntley (Cycle Therapy/Cowichan Valley Cycl, Men 30-34) 0:36:14.9
45. Andy Traslin (RydersEyewear/TNF/Os/Steed Cycles, Men Pro-elite) 0:36:40.1
46. Seth Wells (Dux helmet, Men Pro-elite) 0:37:51.5
47. David Reid (Credit Cards/SORCA, Men 35-39) 0:37:52.9
48. Dan Peters (Men 35-39) 0:38:00.1
49. Jeff Beltramini (Mafia Racing NW, Men 40-44) 0:38:04.4
50. Pascal Wehr (SUGOI, Men Pro-elite) 0:38:10.4
51. Pete Holzhuter (Daryl Evans Racing, Men 45-49) 0:38:14.2
52. Robert Whishaw (Obsession Bikes, Men Pro-elite) 0:38:19.7
53. Shawn Von Diebitsch (The Bike Gallery, Men 35-39) 0:38:28.9
54. Brett Grayston (Men 20-29) 0:38:33.6
55. Nathan Mckay (Corsa cycles, Men 30-34) 0:39:12.2
56. Mike Rauch (Men 40-44) 0:40:01.3
57. Steve Bachop (Island Racing Club/IRC, Men 45-49) 0:40:03.6
58. Quentin Emeriau (Men 20-29) 0:40:13.7
59. Aaron Weiss (Daryl Evans, Men 30-34) 0:40:39.6
60. Matteo Abel (Men 40-44) 0:41:11.0
61. Dan Smith (LifeSport Coaching, Men 45-49) 0:41:13.1
62. Peter Vallance (Men 30-34) 0:41:13.5
63. Michel Tessier (Men 40-44) 0:41:15.7
64. Brad Samis (Men 40-44) 0:41:16.6
65. Joshua Stott (KHS, Men Pro-elite) 0:41:17.8
66. Ryan Keesey (My Wife, Men 30-34) 0:41:18.5
67. Rhys Verner (Parents/Team Squamish, Men 14-19) 0:41:22.6
68. Kris Yip (CycleLogic-Cannondal/CycleLogic-Cannon, Men Pro-elite) 0:41:25.9
69. Ted Lawson (Men 40-44) 0:41:28.4
70. Michael Pruner (Different Bikes/Different Bikes, Men 40-44) 0:41:34.4
71. Tyler Dumont (Physiomoves, Men 45-49) 0:41:52.5
72. Trevor Jones (experience cycling/cowichan valley cyc, Men 35-39) 0:42:35.0
73. David Roulston (Men 30-34) 0:43:04.8
74. Jordan Tesluk (Jessica Carlin RMT/SORCA, Men 40-44) 0:43:22.1
75. Ted Matson (Barbara's Home Cooki/Glotman Simpson, Men 40-44) 0:43:27.6
76. Chris Bishop (Double Shutter/Corsa, Men 40-44) 0:43:36.1
77. Russ Wood (Nimby Fifty, Men 35-39) 0:43:52.9
78. Chris Lawrence (Men 45-49) 0:43:56.4
79. Brennan Covey (Men 40-44) 0:44:05.4
80. Eric Goodwin (Men 30-34) 0:44:46.8
81. Voree Smith (NWCC-Dimensional, Men 35-39) 0:44:53.3
82. Kevin Rodger (Men 35-39) 0:45:11.8
83. Tyler Saxby (Men 35-39) 0:45:12.7
84. Ken Olson (Nanaimo Mountain Bik, Men 45-49) 0:45:29.8
85. Simon Blythe (Men 35-39) 0:45:51.5
86. Scott Simpson (Pink Bike, Men 40-44) 0:45:53.5
87. Dean Dubyk (Men 40-44) 0:46:23.5
88. John Gibson (Bicycle Cafe/Cafe Racers, Men 45-49) 0:46:40.4
89. Daniel Stein (Men 20-29) 0:47:37.8
90. Natasha Hernday (Mafia Racing NW, Women Pro-elite) 0:47:57.5
91. Wai-Ben Wong (Glotman Simpson Cycl, Men Pro-elite) 0:47:59.2
92. Steve Crowley (Team Diabetes, Men 50-54) 0:48:13.8
93. Michael Kinney (Men 30-34) 0:48:15.6
94. Erik Carleberg (Men 20-29) 0:48:28.7
95. Joe Wessel (Chainline Cycle, Men 35-39) 0:49:11.8
96. Dave Eleiter (BMO/Honey Badgers, Men 45-49) 0:49:31.5
97. Terry Evans (NIMBY Fifty/Vibe9., Men 35-39) 0:49:35.2
98. Jennifer Schulz (Fresh Air/Balance Point Racing, Women Pro-elite) 0:50:02.5
99. Sean Babcock (Kona/Kona Factory Team, Men Pro-elite) 0:50:11.6
100. Jd Disney (Men 30-34) 0:50:18.3
101. Ann Yew (Trek/Red Truck Racing, Women Pro-elite) 0:50:49.9
102. Kirby Villeneuve (nanaimo mtn bike clu, Men 45-49) 0:50:55.6
103. Steven Devantier (Local Ride Racing/Local Ride Racing, Men 30-34) 0:51:12.1
104. Tom Garrow (Men 45-49) 0:52:02.6
105. Mahon Lamont (Summit Sport/Team Whistler/Rocky, Men 14-19) 0:52:26.3
106. Brady Fleguel (Men 30-34) 0:52:44.3
107. Jeff Desroches (Frenchys Frenchmen, Men 30-34) 0:53:04.5
108. Harvey Bergen (Life Cycles Bike Sho/Life Cycles Bike , Men 50-54) 0:53:46.2
109. Sean Michel (Corsa cycles, Men 45-49) 0:53:46.6
110. Mike Winkel (Men 30-34) 0:53:51.5
111. Aaron Vanderwaal (PBR/Center Cycle/Mafia Racing NW, Men 35-39) 0:54:06.6
112. Mike Seniuk (Single Speed/Single Speed, Men 40-44) 0:54:07.4
113. Dusan Markovic (Men 40-44) 0:54:08.0
114. Ken Leggatt (Daryl-Evans/Daryl-Evans Racing, Men 35-39) 0:54:08.7
115. Barry Rempel (Oak Bay Bikes, Men 50-54) 0:54:11.5
116. Stephen Todd (Men 40-44) 0:54:28.6
117. Martin Roos (Men 40-44) 0:55:23.5
118. Rua Read (Corsa Dr.Rua Read I/Challenge by Choi, Women Pro-elite) 0:55:36.7
119. Brian Carson (Schmoe Racing, Men 35-39) 0:55:51.8
120. Austin Reith (Men 14-19) 0:55:57.0
121. Dave Vunic (Martys Mtn Cycle, Men 30-34) 0:56:11.7
122. Justin Webb (Men 45-49) 0:56:17.3
123. Kameron Shinkaruk (Men 35-39) 0:56:19.5
124. Russ Bougie (Men 40-44) 0:56:23.9
125. Doug Dewar (Men 40-44) 0:56:27.8
126. Ian Young (Men 30-34) 0:56:51.8
127. John Rozell (Steed Cycles, Men 50-54) 0:57:10.7
128. Cathy Zeglinski (Northlands Medical C/Northlands Medica, Women Pro-elite) 0:57:14.8
129. Ken Dean (Tantalus Bike Shop, Men 45-49) 0:57:15.9
130. Leon Poirier (Lifecycles, Men 40-44) 0:57:34.2
131. Ian Macleod (Men 40-44) 0:58:05.7
132. Manuel Zuppiger (lake country cycle, Men 35-39) 0:58:08.4
133. Jason Tardiff (Men 40-44) 0:58:17.4
134. Jesse Melamed (Team Whistler/Team Whistler, Men 20-29) 0:58:56.2
135. Tony Routley (Whistler Question/Team Whistler, Men 55-59) 0:59:32.8
136. Chris George (Single Speed/Single Speed, Men 40-44) 0:59:51.3
137. Colin Rimes (Superior Glass, Men 40-44) 0:59:59.1
138. Mike Murphy (Steed Cycles/Frontru, Men 40-44) 1:00:34.3
139. Declan Wolfe (Men 45-49) 1:00:52.2
140. Glen Illingworth (Men 45-49) 1:01:13.6
141. Ryan Denney (Mafia Racing NW, Men 35-39) 1:01:17.3
142. Luke Di Marzo (Team Squamish, Men 14-19) 1:01:36.2
143. Rob Macleod (Men 40-44) 1:02:01.3
144. Mike Charuk (Stewart Kerr/Team Squamish, Men 45-49) 1:02:01.6
145. Robert Bruce Boudot (Men 40-44) 1:02:28.5
146. Frederik Durst (Men 14-19) 1:02:29.5
147. Arran Scott (Men 40-44) 1:03:09.6
148. Leif Olson (Men 30-34) 1:03:32.8
149. Andrew Bovard (Men 35-39) 1:03:54.4
150. Mark Haldenby (Men 40-44) 1:03:57.5
151. Chris Mckillican (Shaw Cable, Men 40-44) 1:04:02.4
152. Chris Carter (Men 45-49) 1:04:16.0
153. Nicholas Rhodes (Second Ascent, Men 40-44) 1:04:29.4
154. Sean Lunny (Oak Bay Bikes/Oak Bay Bikes, Men 35-39) 1:04:34.4
155. Graeme Lister (Men 50-54) 1:04:39.1
156. Michael Henry (Men 40-44) 1:04:44.9
157. Jeff Riemer (Arrowsmith Bikes, Men 30-34) 1:04:48.4
158. L.J. Wilson (Men 35-39) 1:04:49.7
159. Dwayne Peavoy (Men 40-44) 1:04:53.1
160. Jean-Philippe Boulais (Team Whistler, Men 20-29) 1:04:56.1
161. Kevin Hodder (Men 40-44) 1:05:00.5
162. Sam Mottram (Men 40-44) 1:05:07.9
163. Jan Toom (Men 50-54) 1:05:08.8
164. Ryan Letchford (Men 35-39) 1:05:32.7
165. Dik Cox (Kona/Kona Factory, Men 45-49) 1:06:13.2
166. Joele Guynup (Condo Group/Shimano, Women Pro-elite) 1:06:46.5
167. Csaba Horvath (Jacks, Men 40-44) 1:06:49.7
168. James Cassell (Men 30-34) 1:06:53.3
169. Marshall House (Men 45-49) 1:07:02.8
170. Trevor Mackenzie (Oak Bay Bikes/Oak Bay Bikes, Men 30-34) 1:07:42.3
171. Rob Phoenix (Men 45-49) 1:08:17.0
172. Mike Pollock (Cowichan Cycles/Cowichan Valley Cycl, Men 35-39) 1:08:31.8
173. Mark Sawatzky (Lifecycles, Men 45-49) 1:09:05.1
174. Dave Spenst (Life cycles, Men 45-49) 1:09:25.9
175. Brad Kreitz (Men 45-49) 1:09:43.2
176. Anthony Bjorge (Independent, Men 40-44) 1:09:45.4
177. Jason Bond (Men 35-39) 1:10:32.3
178. Jeff Heslop (Challenge by Choice/The bone yard, Men 35-39) 1:10:33.2
179. Brett Zagozewski (Men 35-39) 1:10:49.2
180. Mark Schroeder (Men 35-39) 1:10:53.6
181. Stephen Bonn (Men 40-44) 1:11:05.2
182. Mike Carney (Men 45-49) 1:11:26.6
183. Bill Mcmillan (Nanaimo MTB Club, Men 50-54) 1:11:44.5
184. Marko Toijanen (My Family, Men 35-39) 1:11:49.5
185. Magnus Leckenby (meatbags, Men 35-39) 1:11:54.5
186. Kenneth Carruthers (Men 35-39) 1:12:04.2
187. Jean Francois Plouffe (Challenge by Choice, Men 35-39) 1:12:06.8
188. Gerhard Malherbe (Men 40-44) 1:12:08.1
189. Ethan Toom (Team Squamish, Men 14-19) 1:12:31.2
190. Alexander Ritchie (Men 30-34) 1:12:31.9
191. Kalle Karu (Men 40-44) 1:13:34.1
192. Robin Willard (Men 60-69) 1:13:36.0
193. Kirk Vandeweghe (Men 45-49) 1:13:40.5
194. Daniel Gloor (Barb Gloor Remax, Men 55-59) 1:13:42.1
195. Hal Loewen (Olympia Cycling Club, Men 50-54) 1:13:43.5
196. Tyler Jordan (Men 40-44) 1:13:47.2
197. Dudley Clarke (Men 45-49) 1:14:07.2
198. Bruce Mackenzie (Men 40-44) 1:14:10.7
199. Scott Harrhy (Balance Point Racing, Men 14-19) 1:14:13.9
200. Mika Laspa (Lifecycles, Men 40-44) 1:14:26.8
201. Megan Rose (Norco/John Henry Bikes, Women Pro-elite) 1:14:50.6
202. Paul Craig (Local Ride, Men 45-49) 1:15:00.6
203. Patrick Charlton (Tam Bikes, Men 20-29) 1:15:13.6
204. Peter Emsky (Cucina Fresca, Men 50-54) 1:15:14.1
205. Stewart Kerr (GS Kerr CAs/SORCA, Men 50-54) 1:15:29.7
206. David Stringer (Men 35-39) 1:15:37.6
207. Brent Prokop (chain line cycle, Men 45-49) 1:15:38.3
208. Linda Robichaud (NS Ride, Women Pro-elite) 1:16:14.8
209. Shane Christopher (Men 35-39) 1:16:19.5
210. Jack Bryson (Sunshine Coast Cycli, Men 45-49) 1:16:21.4
211. Graham Munro (Men 35-39) 1:16:27.3
212. Werner Gerntholtz (Men 35-39) 1:16:30.5
213. Matthew Wentzel (Men 14-19) 1:16:36.1
214. Michael Dolling (Daryl Evans Racing/Daryl Evans Racing, Men 45-49) 1:16:41.9
215. Francois Bedard (Men 35-39) 1:16:55.3
216. Lea Stralka (My amazing husband/Ragnarok Racing, Women 35-39) 1:17:25.7
217. Tom Kemecsey (Men 35-39) 1:17:33.1
218. Richard Townley (Fresh air concept, Men 40-44) 1:17:34.1
219. Ken Mcdowell (Men 45-49) 1:17:35.0
220. Paul Zuckernick (North Shore Credit U/Carol Ben and Jo, Men 45-49) 1:17:48.9
221. Stuart Cook (Men 35-39) 1:17:53.7
222. Sarah Olner (Women 30-34) 1:17:55.9
223. Ken Mcmillan (Men 45-49) 1:18:24.1
224. Martin Riis (Fri cykler, Men 35-39) 1:18:25.2
225. Tim Tallevi (Men 35-39) 1:18:43.3
226. Mitchel Perepalkin (The Frau Jane, Men 30-34) 1:18:43.7
227. Tom Kranz (Men 35-39) 1:18:44.2
228. Darren Jones (Men 35-39) 1:18:54.5
229. Andrew Clegg (Men 35-39) 1:18:59.9
230. Rick Crema (Men 40-44) 1:19:02.1
231. Tony Webster (Men 40-44) 1:19:11.5
232. Alan Moat (Team Banana Bread/Endless Biking, Men 40-44) 1:19:13.1
233. Chloe Cross (Women 30-34) 1:19:32.4
234. Ken Wade (Men 40-44) 1:19:33.8
235. Paul Nicholas (Men 40-44) 1:20:11.9
236. Bart Brown (velocity Cycles, Men 35-39) 1:20:15.1
237. Troy Knutson (Cycle Logic/Goldrush cycling clu, Men 45-49) 1:20:18.9
238. Jeremy Eden (Men 50-54) 1:20:36.1
239. Scot Wheeler (Men 40-44) 1:21:16.3
240. Dave Collins (Men 30-34) 1:21:24.6
241. Gerrit Van Schalkwyk (Men 40-44) 1:21:45.2
242. Darin Nevin (Men 45-49) 1:22:12.4
243. Alek Laursoo (Tim Hortons, Men 45-49) 1:22:18.3
244. Chris Mcgregor (Different Bikes, Men 35-39) 1:22:25.4
245. David Gillie (Men 35-39) 1:22:26.1
246. Chris Choquette (Men 35-39) 1:22:27.0
247. Dustin Gordon (Team Whistler, Men 30-34) 1:22:27.7
248. Colin Bell (RecycleSmart, Men 30-34) 1:22:33.7
249. Janna Gillick (MIVA, Women 35-39) 1:22:38.9
250. Mads Aaboe (Fri cykler, Men 30-34) 1:22:42.3
251. Jonathan Chester (R10 RACING, Men 40-44) 1:23:08.2
252. Chris Neenan (Men 45-49) 1:23:13.6
253. Francois Samson (Men 35-39) 1:23:16.0
254. John Ramsden (Steed Cycles, Men 50-54) 1:23:32.6
255. Kalum Iverson (Men 35-39) 1:23:41.4
256. Mark James (Men 40-44) 1:23:49.5
257. Bruce Hale (Rocky Cycle/Daryl Evans Racing, Men 50-54) 1:24:05.9
258. Matt Scott (Lifecycle Bike Shop/FVMBA, Men 35-39) 1:24:09.0
259. Tobin Hubner (Team Squamish, Men 14-19) 1:24:09.7
260. Doug Nottebrock (Men 50-54) 1:24:10.5
261. Graham Ross (Different Bikes, Men 45-49) 1:24:23.6
262. Daniel Mackie (Men 35-39) 1:24:29.1
263. Nick Lemmel (Men 40-44) 1:24:59.6
264. Chris Moreside (Men 35-39) 1:25:36.7
265. Gerhard Krolow (Men 40-44) 1:25:41.4
266. Magnus Collander (Fairhaven Bike Club, Men 45-49) 1:26:21.2
267. Stewart Mcallen (Team Diabetes/Team D, Men 45-49) 1:26:32.1
268. Frank Franchini (Men 45-49) 1:26:33.0
269. Don Coburn (Marty's Mountain Cyc, Men 50-54) 1:26:34.3
270. Patrick Skinner (Team Diabetes/SORCA, Men 40-44) 1:26:35.8
271. Andrew Anastasiadis (Men 35-39) 1:26:41.0
272. Regan Kohlhardt (Quest University Can/SORCA, Women 20-29) 1:27:01.4
273. Darcy Deutscher (Men 35-39) 1:27:25.0
274. Adam Thorneloe (Men 35-39) 1:27:25.9
275. Alana Heise (Terrascape Racing, Women Pro-elite) 1:27:49.8
276. Michael Fraser (Men 30-34) 1:27:52.1
277. Ian Dalziel (whistler village spo/whistler village , Men 35-39) 1:28:22.7
278. Jaegen Smith (chain line cycle, Men 45-49) 1:28:33.9
279. Mikayla Martin (Team Squamish, Women 14-19) 1:28:52.8
280. Kevin Brown (Nanaimo MTB Club, Men 40-44) 1:28:54.9
281. Mark Miller (Professional Compone, Men 45-49) 1:29:17.8
282. Rob Leigh (Men 14-19) 1:29:21.3
283. Michael Oliver (Men 35-39) 1:29:29.1
284. Carey Sather (Steed Cycles/Steed Cycles, Women 40-44) 1:29:30.9
285. Jacobus Grobbelaar (Men 40-44) 1:29:32.1
286. Clint Ruck (fraser valley cyclin, Men 40-44) 1:29:37.5
287. Allistair Clegg (Shannon/Jenaya/Kalem, Men 40-44) 1:29:52.0
288. Keith Montgomery (Men 40-44) 1:30:11.6
289. Andy Stewart (Men 40-44) 1:30:13.2
290. Kelly Wilcox (Wedgewood, Women 40-44) 1:30:16.9
291. Nicole Howell (Team Banana Bread/Endless Biking, Women 40-44) 1:30:18.5
292. Jas Gill (Men 35-39) 1:30:20.2
293. Romain Bayle (Men 35-39) 1:30:24.0
294. Alan Laurie (Men 30-34) 1:30:55.3
295. Luc Harvey (Men 14-19) 1:31:00.5
296. Donovan Thorkelson (C Slunts, Men 35-39) 1:31:28.2
297. Max Berkowitz (Deep Fried Cat Meat/West Van Secondary, Men 14-19) 1:31:36.5
298. Frank Ammirati (Daryl-Evans Racing, Men 55-59) 1:32:05.9
299. Jim Davison (Daryl Evans Racing, Men 40-44) 1:32:09.0
300. Eric Levesque (Freewheel Cycle/Freewheel Fatties, Men 30-34) 1:32:32.8
301. Christoph Zuppiger (lake country cycle, Men 30-34) 1:32:36.2
302. Jim Heinlein (Rocky Cycle/Daryl Evan Racing, Men 45-49) 1:32:51.5
303. Paul Mc Carthy (Men 30-34) 1:32:53.2
304. Mark Yudin (Men 35-39) 1:32:56.8
305. Eric Foltan (Men 45-49) 1:33:10.5
306. Douglas Rae (Men 45-49) 1:33:32.1
307. Ben Spencer (JRA Bicycle Shop/JRA Bicycle Shop, Men 45-49) 1:33:40.6
308. Dean Cote (Men 40-44) 1:33:45.6
309. Steve Coventry (Endless Biking, Men 35-39) 1:33:53.3
310. Nicole Muzechka (Women 30-34) 1:34:05.3
311. Ross Chafe (Men 50-54) 1:34:05.8
312. Devin Steif (Men 20-29) 1:34:07.4
313. Brendan Wilson (SORCA, Men 40-44) 1:34:15.6
314. Ian Gardiner (Men 30-34) 1:34:32.6
315. Jody White (Cupcakes/Cupcakes, Men 35-39) 1:34:35.6
316. Matthew Tonner (Men 30-34) 1:34:42.0
317. Ken Kobylanski (Men 45-49) 1:34:45.1
318. Kimberley Beck (Muddbunnies Race Tea/Muddbunnies Race , Women 40-44) 1:34:50.5
319. Neil Fleming (Men 35-39) 1:35:29.0
320. John Harmer (Men 40-44) 1:35:42.5
321. Perry Klassen (Life cycles, Men 50-54) 1:35:51.7
322. Michael Gamble (Men 20-29) 1:35:55.0
323. Frances Vice (Women 40-44) 1:35:57.3
324. Kailem Ward (Team Diabetes, Men 35-39) 1:36:09.4
325. Gary Tosh (NSRide/Different Bik, Men 40-44) 1:36:28.5
326. Blair Murray (Blink Creative Desig, Men 45-49) 1:36:53.2
327. Ron Rosser (Men 50-54) 1:37:12.1
328. Steven White (Men 35-39) 1:37:18.2
329. Darrell Jones (Dead Goats, Men 45-49) 1:37:29.8
330. Kiva Hartfield (Men 35-39) 1:37:32.3
331. Tom Mackesy (FVMBA, Men 35-39) 1:37:45.4
332. Barry Paul (Men 50-54) 1:37:47.7
333. Claus Schroeder (Men 45-49) 1:37:52.8
334. Liam Kerney (Men 30-34) 1:38:21.5
335. Bryce Danek (Team Diabetes/Team Diabetes, Men 20-29) 1:38:59.0
336. Clive Russell (Men 45-49) 1:39:30.1
337. Robert Backiel (Men 45-49) 1:39:37.3
338. John Wong (Team Whistler, Men 45-49) 1:39:40.0
339. Adrian Mccardle (Cupcakes/Cupcakes, Men 35-39) 1:40:05.7
340. Brian Tomicki (Men 40-44) 1:40:11.4
341. Paul Lilley (North Shore Athletic, Men 40-44) 1:40:17.7
342. Chris Bovard (Men 35-39) 1:40:18.2
343. Ryan Chamberlain (Men 30-34) 1:40:18.7
344. Todd Isackson (Superior Glass, Men 40-44) 1:40:19.1
345. Calum Davidson (me, Men 30-34) 1:40:20.4
346. Frank Rocco (Superior Glas, Men 35-39) 1:40:37.2
347. Tim Williams (Team Diabetes, Men 50-54) 1:40:40.9
348. James Peacock (Men 30-34) 1:40:55.5
349. Paul Maki (Fanatyk Co Bike Shop, Men 35-39) 1:40:55.9
350. James Lambert (Men 45-49) 1:40:58.8
351. Brent Harley (Whistler Village Spo, Men 60-69) 1:41:17.5
352. Mark Breakspear (Obsession Bikes, Men 30-34) 1:41:27.7
353. Stephanie Wilkinson (Rundle Mtn Cycling, Women 35-39) 1:41:30.6
354. Richard Grimes (Men 30-34) 1:41:49.0
355. Amy Pryce Phillips (Women 30-34) 1:41:53.9
356. Darren Quist (Men 40-44) 1:41:54.5
357. Joseph Sarr (The Broken Spoke/The Broken Spoke, Men 20-29) 1:42:03.5
358. Daryl Janz (Men 45-49) 1:42:29.7
359. Richard Ducharme (Men 35-39) 1:42:35.7
360. Scott Everett (Men 35-39) 1:42:49.4
361. Andrew Laurie (SORCA, Men 35-39) 1:42:57.5
362. Kevin Small (Men 30-34) 1:43:45.1
363. Ken Bognar (Dary-Evans Racing, Men 40-44) 1:43:55.7
364. Glen Higgins (Men 40-44) 1:44:00.9
365. Eric Unrau (Men 45-49) 1:44:07.4
366. Adrian Armstrong (Men 35-39) 1:44:08.4
367. Dean Reorda (Men 45-49) 1:44:09.9
368. Kent Klassen (Life cycles, Men 45-49) 1:44:11.6
369. Ashley Stotts (Team Diabetes, Men 30-34) 1:44:14.7
370. Jake Stein (Team Crafty, Men 55-59) 1:44:30.8
371. Andrew Bythell (Men 35-39) 1:45:05.2
372. Hayden Drygas (Nesters Market, Men 20-29) 1:45:06.6
373. Fred Jorgensen (Obsession Bikes/None, Men 60-69) 1:45:14.1
374. Graham Aubuchon (Endless Biking, Men 40-44) 1:45:16.3
375. Scott Paxton Paxton (Men 50-54) 1:45:17.5
376. Brock Bradley Henson (Men 35-39) 1:45:18.8
377. Mark Bishop (Team Diabetes, Men 50-54) 1:45:21.5
378. Sandra Hardy (Women 30-34) 1:45:37.2
379. Roman Kralovic (Men 35-39) 1:45:42.6
380. Bruce Mcclements (Men 55-59) 1:45:51.1
381. Mike Garcia (Men 40-44) 1:45:52.5
382. Einar Halbig (Men 40-44) 1:46:16.5
383. Ferdinand Flores (Men 45-49) 1:46:26.3
384. Jeffrey Woodgate (C Slunts, Men 35-39) 1:46:33.2
385. Tobin Mccallum (Men 40-44) 1:46:38.1
386. Lindsay Schram (NS Ride, Men 45-49) 1:47:20.2
387. Adam Marcinkiewicz (Men 30-34) 1:47:38.2
388. Paul Demers (Men 50-54) 1:47:45.5
389. Marcus Blumensaat (Men 30-34) 1:48:16.4
390. Bobbi Handford (Different Bikes, Women 40-44) 1:48:21.2
391. Brad Martyn (Men 30-34) 1:48:25.9
392. Sarah Greenwood (Women 35-39) 1:48:26.4
393. Gary Lebsack (Men 35-39) 1:48:28.0
394. Iain Lowe (westcoastracing, Men 45-49) 1:48:33.6
395. Scott Gerecke (meatbags, Men 45-49) 1:49:32.7
396. Matthew Chamberlain (Men 35-39) 1:49:37.4
397. David Berkowitz (Men 45-49) 1:50:16.1
398. Peter Avis (arrowsmith, Men 60-69) 1:50:17.5
399. Peter Stocker (Bikesport, Men 45-49) 1:50:18.7
400. David Barba (Men 40-44) 1:50:19.8
401. Ryan Foster (Men 35-39) 1:50:26.1
402. Mike Nelson (Men 55-59) 1:50:31.9
403. Kathy Cormack (Women 40-44) 1:50:54.4
404. David Smith (WORCA, Men 50-54) 1:51:09.2
405. Paul Buck (Men 45-49) 1:51:11.6
406. Jeff Hildebrand (Men 40-44) 1:51:44.7
407. Greg Bergen (Men 45-49) 1:51:49.8
408. Devon Pinchak (Endless Biking, Men 45-49) 1:51:56.9
409. Scott Mactavish (C Slunts, Men 45-49) 1:51:58.5
410. Ryan Reed (Men 40-44) 1:52:00.9
411. Daniel Gumprich (Men 40-44) 1:52:23.6
412. Rj Caswell (Men 40-44) 1:52:30.3
413. Rob Harris (Men 40-44) 1:52:31.9
414. Matthew Stanigar (Team Cucina Fresca/Team Cucina Fresca, Men 40-44) 1:52:41.7
415. Sheldon Boreen (Daryl Evans, Men 45-49) 1:52:43.7
416. Kris Doering (Offroad Syndicate, Men 30-34) 1:52:50.1
417. Graham Turner (Men 50-54) 1:53:04.5
418. Ryan Wilkinson (Rundle Mtn Cycling, Men 35-39) 1:53:15.9
419. Dan Vandokkumburg (FVMBA, Men 35-39) 1:54:14.2
420. Mike Burns (Men 50-54) 1:54:21.7
421. Cameron Dare (Men 14-19) 1:54:28.0
422. Griffin Dare (Men 14-19) 1:54:28.4
423. Lee Hallett (Men 45-49) 1:54:31.1
424. Jeff Smyth (Men 45-49) 1:54:48.0
425. Linda Dufour (Women 45-49) 1:54:55.0
426. Jason Lavigne (Terrascape Racing, Men 40-44) 1:55:14.6
427. Bob Watt (Men 50-54) 1:55:45.1
428. Sue Dare (Women 50-54) 1:56:10.7
429. Jason Poitras (Kelowna Cycle, Men 40-44) 1:56:12.6
430. Jadine Riley (Women 35-39) 1:56:13.6
431. Crystal Lambert (Muddbunnies Riding I, Women 30-34) 1:56:15.7
432. Lance Carroll (Men 30-34) 1:56:16.1
433. James Milne (Men 30-34) 1:56:17.2
434. Wylie Rogers (Men 40-44) 1:56:17.9
435. David Magnusson (Men 45-49) 1:56:21.6
436. Shaun Carpenter (Men 35-39) 1:56:27.6
437. Colin Curtis (Men 20-29) 1:56:32.5
438. Greg Jessome (Men 35-39) 1:56:44.3
439. Sheldon Thistle (Men 35-39) 1:56:44.7
440. Don Dupuis (Men 45-49) 1:57:34.2
441. Michelle Lachmann (Muddbunnies/Muddbunnies, Women 40-44) 1:57:39.1
442. Kevin Woods (North Shore Athletic/North Shore Athle, Men 55-59) 1:57:40.4
443. Steven Uruski (Steven Uruski Yard M, Men 40-44) 1:58:15.5
444. David Farrow (Team Diabetes/Team Diabetes, Men 50-54) 1:58:20.0
445. Glenn Eleiter (L'Hermitage Hotel, Men 45-49) 1:58:22.8
446. Rick Hart (Men 40-44) 1:58:24.3
447. Claudio Pellichero (Men 50-54) 1:58:25.6
448. Dylan Bourgaize (Men 35-39) 1:58:40.6
449. Devin Brown (Men 35-39) 1:58:42.7
450. Amelia Ufford (Women 30-34) 1:58:52.0
451. John Thompson (Men 35-39) 1:58:59.6
452. John Neufeld (Men 45-49) 1:59:19.7
453. Wayne Leslie (Evolve, Men 50-54) 1:59:23.2
454. Jan Kirsebom (Men 45-49) 1:59:46.0
455. Stephen Mason (Men 35-39) 1:59:49.1
456. Bill Caswell (Men 45-49) 2:00:50.9
457. Fred Hahn (Men 50-54) 2:00:51.7
458. Daniel Nagase (Men 35-39) 2:00:56.3
459. Joel Liefke (Team Diabetes/Bikeman.com, Men 40-44) 2:01:14.1
460. Richard Link (Men 45-49) 2:01:24.3
461. Neil Chrystal (Men 45-49) 2:01:25.3
462. Patrick Rife (Men 45-49) 2:01:29.3
463. John Ballantyne (Men 45-49) 2:01:31.4
464. Marc Simpson (Men 40-44) 2:01:36.0
465. Daniel Mackellar (Men 20-29) 2:02:09.2
466. Ray Brown (Men 40-44) 2:02:15.2
467. Mark Goodgrove (Cardinal Concrete/Sorca, Men 45-49) 2:02:56.9
468. Robert Klein (velocity Cycles, Men 35-39) 2:03:56.3
469. James Devries (Men 45-49) 2:04:29.6
470. Gary Forster (Men 50-54) 2:04:55.1
471. Shawn Cote (Men 40-44) 2:04:56.7
472. Eric Angus (Men 45-49) 2:05:02.6
473. Robert Komzak (Men 40-44) 2:05:10.8
474. Loren Parfitt (SORCA, Men 30-34) 2:05:47.0
475. Liam Mccready (Sunwolf, Men 35-39) 2:06:47.1
476. Sue Rodger (Women 35-39) 2:06:51.3
477. David Kerr (Men 35-39) 2:06:52.8
478. John Dearie (Men 45-49) 2:07:16.3
479. Ben Rancourt (Team Diabetes/Team Diabetes, Men 40-44) 2:07:17.2
480. Dan Kennedy (Team Diabetes/Team Diabetes, Men 45-49) 2:07:18.4
481. Kathleen Negraeff (Women 45-49) 2:08:03.1
482. Oliver Flaser (Men 40-44) 2:08:10.4
483. Zamon Kingi (TEAM T&T, Men 40-44) 2:08:15.6
484. John R. Stuart Mcmurchy (Men 40-44) 2:08:16.8
485. Gary Gale (Men 50-54) 2:08:17.9
486. Mike Rogerson (Men 50-54) 2:08:21.7
487. Kevin Penstock (Men 45-49) 2:08:42.9
488. Noel Richardson (Men 50-54) 2:09:07.6
489. Patrick Stafford-Smith (Men 45-49) 2:09:12.6
490. Darren Durupt (Men 40-44) 2:09:21.3
491. Josh Greenberg (Men 35-39) 2:09:38.7
492. Aaron Davis (Men 40-44) 2:09:39.1
493. Lance Eymundson (Men 40-44) 2:09:52.5
494. Emlyn Bolton (Men 30-34) 2:10:12.8
495. Hans Edstrand (Men 35-39) 2:10:15.6
496. Rex Thompson (Team Diabetes, Men 50-54) 2:10:20.9
497. Mike Meloche (Tantalus Bike Shop/Tantalus Bike Shop, Men 35-39) 2:10:39.1
498. Eric Stromerson (Men 45-49) 2:10:40.0
499. Nick Varey (Men 35-39) 2:11:13.9
500. Adam Brownfield (Men 30-34) 2:11:45.5
501. Peter Lee (Team Diabetes, Men 40-44) 2:11:49.3
502. Deanne Katnick (Terrascape Racing, Women 35-39) 2:11:53.9
503. Robin Wolfe (Women 40-44) 2:11:54.3
504. Christopher Heald (Team Spamalot, Men 40-44) 2:12:16.5
505. Glenn Ayrton (Men 45-49) 2:12:41.5
506. Eric Lam (Men 40-44) 2:12:56.4
507. Sara Shinkaruk (Women 30-34) 2:13:09.1
508. David Lee (Pork Bros., Men 35-39) 2:13:25.7
509. Norm Hooper (Men 40-44) 2:13:30.6
510. Evan Power (SORCA, Men 20-29) 2:13:55.5
511. Rick Eastman (Men 45-49) 2:14:23.9
512. Heather Adamson (SORCA, Women 45-49) 2:14:47.3
513. Barb Cooke (Ray the Rocker, Women 45-49) 2:15:22.1
514. Hannah Garcia (Women 35-39) 2:15:33.5
515. Jonathan Aitken (Wedgewood, Men 40-44) 2:15:49.5
516. Brian Jones (Men 50-54) 2:15:52.8
517. Will Steele (Men 45-49) 2:15:54.8
518. Ron Goldstone (Men 45-49) 2:16:04.4
519. Jeff Popham (Men 45-49) 2:16:22.9
520. Neil Metcalf (Men 60-69) 2:17:10.0
521. Geoff Huenemann (Men 45-49) 2:17:11.8
522. David Tims (Men 50-54) 2:17:45.8
523. Tom Thornton (Men 30-34) 2:17:57.5
524. Shawn Reis (Men 40-44) 2:18:03.6
525. Jade Carter (Team Diabetes/Team Diabetes, Men 35-39) 2:18:52.0
526. Colin Maynard (Men 35-39) 2:19:10.4
527. Patrick Reid (Men 40-44) 2:19:16.5
528. Russell Blow (SORCA, Men 55-59) 2:19:36.4
529. Gina Estep (Women 35-39) 2:19:58.0
530. Gary Baker (Brooks Ryders/Team Whistler, Men 70+) 2:20:02.6
531. Andrew Langridge (Tantalus Bike Shop, Men 20-29) 2:20:37.6
532. Tyler Chrystal (Men 14-19) 2:20:53.1
533. Andrew Port (Men 40-44) 2:21:03.4
534. John Delosada (Men 50-54) 2:21:13.2
535. Matthew Lynn (Men 40-44) 2:21:18.6
536. David Rushbrook (WORCA, Men 50-54) 2:21:29.3
537. Fernando Torres (Men 45-49) 2:21:31.6
538. William Liebenberg (Trish!, Men 55-59) 2:21:52.9
539. Brian Heslop (Challenge by Choice/The bone yard, Men 35-39) 2:22:09.4
540. Kate Inman (Women 45-49) 2:22:10.3
541. Jocelyn Ramsden (Steed Cycles, Women 14-19) 2:22:11.0
542. Andy George (Men 50-54) 2:22:26.3
543. Colin Thom (Men 50-54) 2:22:29.2
544. Judy Villeneuve (nanaimo mtn bike clu, Women 50-54) 2:22:41.6
545. Pete Sexton (Broken Spoke Racing/Broken Spoke Racin, Men 30-34) 2:23:06.0
546. Lawrence Barron (Men 35-39) 2:24:16.5
547. Thomas Vlcek (Men 40-44) 2:24:26.9
548. Jeremy Black (Men 45-49) 2:24:27.4
549. Tom Honey (Men 50-54) 2:24:30.0
550. Alfredo Costales (Men 45-49) 2:24:30.6
551. Kevin Shoemaker (Men 45-49) 2:24:31.9
552. Michael Noseworthy (Men 35-39) 2:24:41.4
553. Hugh Hover (Men 50-54) 2:24:50.3
554. Eric Lemire (Men 40-44) 2:24:51.0
555. Suze Cumming (Team Diabetes, Women 45-49) 2:24:56.2
556. Chet Manning (Rocky Cycle/Daryl Evans Racing, Men 60-69) 2:25:06.9
557. Robin Sydneysmith (Men 50-54) 2:25:10.2
558. Chris Kaipio (Men 35-39) 2:25:20.6
559. Rick Bombardier (Men 50-54) 2:26:13.6
560. Malcolm Deasley (Men 50-54) 2:26:47.4
561. Grace Macleod (Women 35-39) 2:27:49.0
562. Darcy Perrault (Camp Summit, Men 40-44) 2:27:57.2
563. Doug Carroll (Men 50-54) 2:28:06.2
564. Chris Wells (Men 20-29) 2:28:12.9
565. Kevin Macer (Cupcakes/Cupcakes, Men 35-39) 2:28:17.0
566. Marlon Tang (Team Spamalot, Men 30-34) 2:28:17.6
567. Keith Mollet (EMM, Men 45-49) 2:28:51.2
568. Yan Paquin (Phat batards, Men 30-34) 2:28:58.2
569. Richard Cudmore (Men 60-69) 2:29:01.5
570. Jon Phillips (Men 35-39) 2:29:12.0
571. Rob Jubenvill (Men 40-44) 2:29:18.6
572. Lisa Duncan (Wedgewood, Women 40-44) 2:29:59.6
573. Max Saenger (Club Karen/Club Karen, Men 45-49) 2:30:07.6
574. Glenn James (Men 45-49) 2:30:20.1
575. Allison Bourne (Women 35-39) 2:30:36.9
576. Rebecca Ferri (BodyStorm/BodyStorm, Women 30-34) 2:31:03.4
577. Vicki Stronge (NS Ride, Women 35-39) 2:31:05.7
578. Alistair Maccallum (Men 40-44) 2:31:32.2
579. Adam Hayes (Men 40-44) 2:31:36.8
580. Alan Chitty (Men 45-49) 2:32:19.1
581. Rod Jenkins (Men 55-59) 2:32:31.0
582. Jeff Cooke (Steve the Chinchilla, Men 45-49) 2:33:01.7
583. James Mcgregor (Men 40-44) 2:33:02.4
584. Lennard Pretorius (Men 30-34) 2:33:25.0
585. Ryan Bell (Phat Basturds, Men 30-34) 2:33:31.4
586. James Frail (Men 45-49) 2:34:10.3
587. John Blok (WORCA, Men 55-59) 2:34:15.1
588. Clarke Mallory (Men 45-49) 2:35:15.2
589. Gavin Chrystal (Men 14-19) 2:35:22.2
590. Karine Duguay (Women 30-34) 2:35:57.3
591. Susan Chapelle (Women 40-44) 2:36:44.1
592. Karin Grubb (Women 30-34) 2:36:45.3
593. David Gregr (Men 45-49) 2:36:46.2
594. Alan Young (Pedal Magazine/Local Ride Racing, Men 40-44) 2:36:52.0
595. Bal Risma (Men 35-39) 2:37:03.7
596. Sophie Brochu (Women 30-34) 2:37:09.3
597. Stephanie Askwith (Women 20-29) 2:37:47.8
598. Jordi Cook (Men 35-39) 2:38:25.6
599. Lance Mitamura (Men 50-54) 2:38:37.9
600. Chris Bottrill (Men 50-54) 2:39:21.3
601. Jon Popham (Men 40-44) 2:39:21.9
602. Chris Sacre (Men 45-49) 2:39:22.2
603. Scott Napier (Men 35-39) 2:39:22.6
604. Heather Evans (Women 40-44) 2:39:53.8
605. Scott Bennett (Men 40-44) 2:39:55.0
606. Christina Briante (Women 30-34) 2:40:01.8
607. John Stivanakis (Men 45-49) 2:40:21.4
608. Donald Macgregor (Men 60-69) 2:40:24.0
609. David Canning (Men 55-59) 2:40:44.0
610. Cheryl Smyth (Women 40-44) 2:41:15.5
611. Greg Venables (Men 45-49) 2:41:27.0
612. John Ballantyne (Men 50-54) 2:41:40.9
613. Lancelot Rudelsheim (Men 50-54) 2:41:54.3
614. Christine Little (Women 40-44) 2:42:20.3
615. Peter Epp (Men 50-54) 2:42:43.0
616. Sean Lyell (Men 45-49) 2:42:46.7
617. Ian Prince (Men 40-44) 2:42:59.5
618. Warren Bruce (Men 55-59) 2:43:23.8
619. Rodney Shigeoka (Men 55-59) 2:45:02.1
620. Bill Sinclair (Men 60-69) 2:45:06.5
621. Darrin Andrews (Men 45-49) 2:45:16.3
622. Steven Billy (Men 35-39) 2:45:28.9
623. Dan Curtis (Oak Bay Bikes, Men 30-34) 2:45:38.8
624. Damien Kelly (Men 35-39) 2:45:45.7
625. Keith Kennedy (Men 55-59) 2:46:05.7
626. Ray Rink (Men 45-49) 2:46:21.2
627. Jannie Grobler (Men 60-69) 2:46:24.4
628. David Newcombe (Men 40-44) 2:47:15.0
629. Michael Hallett (Men 40-44) 2:47:16.3
630. Dwight Jefferson (Men 50-54) 2:48:17.5
631. Alex Frastacy (Cupcakes/Cupcakes, Women 20-29) 2:48:24.0
632. Sasha Walshe (NS Ride, Women 40-44) 2:48:53.4
633. Chris Stroud (Tai Ken and Lica/Married with Kids, Men 40-44) 2:49:00.8
634. Travis Peterson (velocity Cycles, Men 35-39) 2:49:48.8
635. Michael Solnes (Men 50-54) 2:49:49.0
636. Stephen Thompson (Men 40-44) 2:49:52.8
637. Billy Wavell (Men 30-34) 2:50:06.5
638. Jeff Jackson (Team Diabetes/SORCA, Men 55-59) 2:50:54.2
639. Paul Hudson (Men 40-44) 2:51:00.8
640. Conor Walshe (Endless Biking, Men 30-34) 2:51:02.2
641. Glynnis Webster (Women 40-44) 2:51:04.1
642. Ken Stobbart (Men 50-54) 2:51:20.9
643. Wade Tokarek (Men 35-39) 2:51:39.7
644. Sean Daly (Men 35-39) 2:51:40.2
645. Jens Ourom (Men 20-29) 2:51:56.6
646. Todd Monge (Men 40-44) 2:52:18.1
647. Shane Thurston (Men 35-39) 2:53:07.1
648. Kimberley Hart (Women 40-44) 2:53:21.1
649. Paul Smit (WORCA, Men 55-59) 2:54:11.2
650. Leigh Bartlett (Men 35-39) 2:54:13.2
651. David Worling (Men 45-49) 2:55:44.3
652. Alison Jones (Dead Goats, Women 50-54) 2:56:32.8
653. David Crouch (Men 45-49) 2:56:33.2
654. Phil Sinnott (Men 35-39) 2:56:34.7
655. Daniel Fritz (Dizzy Cycles, Men 20-29) 2:56:51.2
656. Douglas Manness (Men 40-44) 2:57:17.7
657. John Taylor (Team Diabetes, Men 45-49) 2:57:18.7
658. Roderick Castellanos (Men 40-44) 2:57:49.8
659. Keiko Yamanaka (NSRIDE, Women 40-44) 2:57:54.4
660. Tom Taylor (Men 45-49) 2:58:28.5
661. John Edmonds (Men 45-49) 2:58:30.5
662. Shauna Torres (Women 40-44) 3:01:40.3
663. Roger Aballini (meeh racing, Men 40-44) 3:01:41.2
664. Eric Anderson (meeh racing, Men 40-44) 3:01:50.3
665. Jonathan Clarke (Men 35-39) 3:01:51.8
666. Sandra Gerrard (Dirty Girlz Victoria, Women 35-39) 3:02:03.3
667. Donald Koslowsky (Men 45-49) 3:02:39.1
668. Cory Ratke (Team Diabetes, Men 45-49) 3:02:54.7
669. Mike Hawes (Team Whistler, Men 60-69) 3:03:15.3
670. Jonathon Jafari (NSRIDE, Men 40-44) 3:03:30.3
671. Erik Calvert (Men 35-39) 3:03:32.6
672. Ken Dang (Men 50-54) 3:03:39.4
673. Christopher Lay (Men 20-29) 3:03:59.8
674. Bart Bender (Men 45-49) 3:04:20.0
675. Stephen Haras (Men 40-44) 3:05:16.3
676. Tyler Pasquill (Men 30-34) 3:05:17.1
677. Geoff Coe (Men 40-44) 3:06:32.6
678. Bruce Urner (Men 45-49) 3:06:33.2
679. Dave Baspaly (Men 40-44) 3:06:52.5
680. Guillaume St-Louis (Men 30-34) 3:07:02.6
681. Tim Sittler (Men 45-49) 3:07:15.8
682. Riley Richardson (Men 14-19) 3:08:18.3
683. Brent Johnson (Men 35-39) 3:09:07.9
684. Lorne Kraft (Team Diabetes, Men 35-39) 3:09:14.2
685. Richard Dustan (Team Diabetes/gypsey wagon racing, Men 55-59) 3:09:15.4
686. Gabriel Queimano (Men 40-44) 3:10:11.0
687. Heather Schram (NS Ride, Women 40-44) 3:10:12.2
688. Mark Sutherland (Living Edge Design, Men 35-39) 3:10:13.5
689. Dixie Nicks (Women 20-29) 3:10:24.5
690. Craig Murphy (Men 40-44) 3:11:28.6
691. Patrick Wright (Men 40-44) 3:11:29.7
692. Janie Venis (Women 45-49) 3:12:11.8
693. Daniel Merenyi (Men 14-19) 3:12:58.0
694. Lisa Welbourn (North Shore Ride, Women 40-44) 3:13:25.9
695. Raineil Coldoviz (Pedal Magazine, Men 40-44) 3:14:07.3
696. Sabrina Macleod (Women 35-39) 3:14:23.6
697. Steven Fofonoff (Men 35-39) 3:14:29.0
698. Mike Ermak (EMBA, Men 40-44) 3:14:33.4
699. Dennis Ranada (Mildred Kevin and K, Men 35-39) 3:14:58.9
700. Charlie Sushams (Men 14-19) 3:15:32.6
701. Nathan Hendricks (Men 14-19) 3:15:32.9
702. Colleen Wtorek (Women 35-39) 3:16:25.1
703. Geoffrey Dyer (Men 50-54) 3:16:25.8
704. Maiken Hansen (Endless Biking, Women 30-34) 3:17:23.1
705. Grace Blok (Women 55-59) 3:17:24.6
706. Angela Ozero (Women 30-34) 3:18:06.8
707. Peter Roker (Admaki, Men 40-44) 3:18:14.2
708. Mark Kamachi (AdMaki/Potlickers, Men 50-54) 3:18:14.5
709. Derek Rougeau (Men 30-34) 3:18:49.3
710. Maurice Rougeau (Men 60-69) 3:18:52.2
711. Nichole Murray (Women 40-44) 3:19:24.8
712. Sally Enns (Women 14-19) 3:19:25.3
713. Jeffrey Pomerantz (Men 60-69) 3:19:28.1
714. Mark Russell (Mistress Katarina, Men 45-49) 3:19:38.6
715. David Hendricks (Men 45-49) 3:20:24.9
716. Andrew Farmer (Men 45-49) 3:21:44.7
717. Nathan Illerbrun (Myself/SORCA, Men 30-34) 3:22:23.8
718. Anthony King (TrainingFx/West Coast Racing, Men 40-44) 3:22:32.9
719. Stewart Dumont (Men 40-44) 3:23:34.8
720. James Breuer (Men 40-44) 3:23:37.2
721. Susan Weston (Local Ride/Local Ride, Women 50-54) 3:23:58.1
722. Graham Mccargar (Men 30-34) 3:24:39.7
723. Alex Adams (Men 40-44) 3:25:07.9
724. Charlie Herron (Men 50-54) 3:25:18.2
725. John Sushams (Men 50-54) 3:26:07.6
726. Ralf Strub (Men 45-49) 3:26:57.4
727. Victor Arding (Men 50-54) 3:27:54.4
728. Cliff Tomilin (Men 45-49) 3:29:11.2
729. Lindsie Nicholson (Women 50-54) 3:29:14.6
730. David Hansen (Men 35-39) 3:29:37.5
731. Steve Kuchka (Men 35-39) 3:30:37.0
732. Darren Gilbert (Men 35-39) 3:30:57.2
733. Robert Mrnka (Team Diabetes, Men 45-49) 3:30:59.3
734. Peter Zarkadas (Men 40-44) 3:31:40.6
735. Peter Poburan (Men 45-49) 3:33:29.2
736. Rebecca Aldous (Squamish Chief, Women 30-34) 3:34:59.1
737. Rosemary Gin (Women 50-54) 3:34:59.7
738. Michael Hilverink (Men 35-39) 3:36:04.8
739. Scott Kerry (Men 35-39) 3:39:25.5
740. Roland Thoms (Men 40-44) 3:40:09.1
741. Scott Neaves (Men 40-44) 3:40:09.4
742. Shawn Wentworth (Men 40-44) 3:40:09.6
743. Peter Zubick (Men 50-54) 3:41:17.2
744. Suzanne Jolly (Women 30-34) 3:43:29.0
745. Kyle Jeans (Men 35-39) 3:45:42.8
746. Annerieke Van Hoek (Challenge by Choice, Women 35-39) 3:46:14.0
747. Omar Ahmad (Men 35-39) 3:48:57.4
748. Brent Hehn (Men 45-49) 3:48:57.7
749. Melaine Barnabe (Aloe Massge Therapy, Women 35-39) 3:49:38.9
750. Kevin Neufeld (WestCoast Racing, Men 40-44) 3:49:39.5
751. Andrea Townson (Different Bikes, Women 40-44) 3:51:02.8
752. Ryan Tuira (Men 30-34) 3:52:26.9
753. Ryan Bruins (Men 30-34) 3:53:28.8
754. Tom Merenyi (Men 50-54) 3:54:04.5
755. Oliver Jarrett (Men 14-19) 3:59:32.3
756. Emma Jarrett (Women 40-44) 3:59:32.9
DNF Felix Burke (WORCA, Men 14-19)
DNF Micheal Kilby (Team Squamish, Men 14-19)
DNF Mo Lawrence (Men 14-19)
DNF Sam Bowerman (Team Squamish, Men 14-19)
DNF Jake Townsend (Men 14-19)
DNF Richard Dyer (Men 20-29)
DNF Michael Hayward (Shaw Cable, Men 20-29)
DNF Adam Ward (Men 20-29)
DNF Brad Wilson (Bodystorm Fitness, Men 20-29)
DNF Brian Gunn (Daryl-Evans Racing, Men 30-34)
DNF Derek Kyle (Elaho Medical Clinic, Men 30-34)
DNF Vincent Laarveld (Phat Basturds Racing, Men 30-34)
DNF Christopher Lane (Men 30-34)
DNF Shaun Leahy (Men 30-34)
DNF Mike Levy (Men 30-34)
DNF Lee Zavarise (Men 30-34)
DNF Lloyd Adams (Men 35-39)
DNF Sean Anastasiadis (Men 35-39)
DNF Ward Bertram (Men 35-39)
DNF Jeff Burton (Men 35-39)
DNF Martin Caron (neat and cool const, Men 35-39)
DNF Gregg Elias (Team Coastal/Team Coastal, Men 35-39)
DNF Scott Graham (Men 35-39)
DNF Darin Joseph (Men 35-39)
DNF Scott Kratzmann (Men 35-39)
DNF Simon Kubacki (Men 35-39)
DNF Joseph Lao (Seton Family of Hosp/Seton Brain and S, Men 35-39)
DNF Shawn Larson (BikeSport Racing/Market Street Cyclin, Men 35-39)
DNF Adrian Lasalle-Lowe (Men 35-39)
DNF Darcy Lawley (Men 35-39)
DNF Sam Lupton (Men 35-39)
DNF Eric Malboeuf (Chainline Cycle, Men 35-39)
DNF Mac Mcdell (Wedgewood, Men 35-39)
DNF Daniel Owen (Men 35-39)
DNF Ajay Panesar (TVS, Men 35-39)
DNF Michael Sham (Men 35-39)
DNF Rory Strickland (Men 35-39)
DNF Keith Wilson (Men 35-39)
DNF Scott Brammer (Men 40-44)
DNF Roger Burton (Sports Medicine Clin/Blue Rooster, Men 40-44)
DNF Shayne Burwell (Men 40-44)
DNF James Cranston (Men 40-44)
DNF Sean Cruickshank (Pro City, Men 40-44)
DNF Stephen Cunliffe (Men 40-44)
DNF Brian Goldstone (Men 40-44)
DNF Jaime Grant (Men 40-44)
DNF Andrew Hoffman (Men 40-44)
DNF Brad Issel (Daryl Evans/Daryl Evans, Men 40-44)
DNF Erin Keam (Beautiful Wifey, Men 40-44)
DNF David Krasny (WORCA, Men 40-44)
DNF Chris Lacoste (Men 40-44)
DNF Alfredo Lopez Bago (Men 40-44)
DNF Stefan Muller (West Coast Racing, Men 40-44)
DNF Steven Pulman (Men 40-44)
DNF David Safarik (SORCA, Men 40-44)
DNF Evan Stewart (Men 40-44)
DNF Daryl Wood (Back in Action Physi, Men 40-44)
DNF Mike Brown (recycled cycles, Men 45-49)
DNF Gary Bryant (Men 45-49)
DNF Edmund Burke (WORCA, Men 45-49)
DNF Jeff Burton (Men 45-49)
DNF Dan Ellis (Tantalus Bike Shop, Men 45-49)
DNF Doug Engstrom (SORCA, Men 45-49)
DNF Andrew Howes (Men 45-49)
DNF Peter Kentel (Men 45-49)
DNF Lawrence Klein (SORCA, Men 45-49)
DNF David Kvick (Rocky Mountian Bicyc, Men 45-49)
DNF Gavin Larkin (Men 45-49)
DNF John Legg (Men 45-49)
DNF Alan Macconnachie (Men 45-49)
DNF Neil Plumb (Men 45-49)
DNF Alan Richer (Men 45-49)
DNF Gerald Sawatsky (Men 45-49)
DNF Dave Stevenson (Team Diabetes, Men 45-49)
DNF Peter Weiland (RockyMountainCycleTo, Men 45-49)
DNF Brian Aikens (Men 50-54)
DNF Michael Bobick (Men 50-54)
DNF Greg Davey (Men 50-54)
DNF Jamie Emery (Pro City, Men 50-54)
DNF Rick Lee (Men 50-54)
DNF Troy Lynn (My Wonderful Wife/Corsa Cycles, Men 50-54)
DNF Robbie Metza (WORCA, Men 50-54)
DNF Kevin Salter (Men 50-54)
DNF Craig Still (Rocky Cycle/Daryl Evans Racing, Men 50-54)
DNF Guy Thomas (Men 50-54)
DNF Kerry White (Team Coastal/Team Coastal, Men 50-54)
DNF Guy Drouin (Men 55-59)
DNF Robert Guthrie (Men 55-59)
DNF Brad Walkey (Men 55-59)
DNF Roy Kregosky (AMBC, Men 60-69)
DNF Brian Pollock (Men 60-69)
DNF John Ritchie (Alex Susan Alison Ha/Squamish Titans, Men 60-69)
DNF David Thornhill (Men 60-69)
DNF Libor Zabilka (Men 60-69)
DNF Geoffrey Homer (Oak Bay Bikes, Men Pro-elite)
DNF Michael Jordan (Men Pro-elite)
DNF Tim Sherstobitoff (Men Pro-elite)
DNF Colin Kerr (Rocky Mountian Factory Team, Men Pro-elite)
DNF Keith Stark (Rocky Mountain Bikes, Men Pro-elite)
DNF Robyn Luscombe (Women 20-29)
DNF Marsa Daniel (Women 30-34)
DNF Amanda Jessup (Women 30-34)
DNF Megan Kobitzsch (Women 30-34)
DNF Anne-Marie Lefrancois (Trek Red Truck, Women 35-39)
DNF Cinamon Bryant (B team, Women 40-44)
DNF Coralynn Gehl (Women 40-44)
DNF Jackie Jennens (Women 40-44)
DNF Pam Kozdrowski (Women 40-44)
DNF Mandy Scorrar (Women 40-44)
DNF Lee-Ann Lyon (Women 45-49)
DNF Karen Saenger (Max/Club Karen, Women 45-49)
DNF Kathy Tulloch (Women 45-49)
DNF Laurie196 Kalf (Muddbunnies, Women 50-54)
DNF Cheryl Morningstar (WORCA, Women 50-54)
DNF Bridget Nowakowski (Women 55-59)
DNF Elizabeth Stevenson (Women 55-59)
DNF Melanie Mcquaid (Trek/Avia/Shimano, Women Pro-elite)