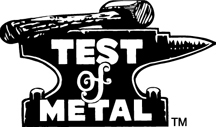 November 13, 2013 (Squamish, BC) – Mountain bikers will have the opportunity to race Squamish's venerable Test of Metal races showcasing the area's diverse trails by registering for the 4-Pack.
Purchasing the 4-Pack, starting on November 15, for all four of the Test of Metal group of races will put racers on the start list for the prestigious main event, along with the three stellar races of the Orecrusher, the Gearjammer and the Just Another Bike Race (JABR).
The 4-Pack, at a price of $215 (plus GST), is a 20% discount from the regular price of the four races if entries were purchased individually.
The 4-Pack, introduced last year, has been very well received, said Test of Metal race director Cliff Miller. "Between the four races, you get to experience the best of all of Squamish's incredible cross-country singletrack, and be part of these great events with this amazing deal," Miller said.
New for the 2014 season, the The Test of Metal group of races will be using Webscorer to provide race registration services. You can still access registration pages from the web site or here.
Those who have done any of the Test of Metal group of races will find the Webscorer system a bit different from the previous registration system. If you want to get a feel for the new registration system you can try it out (no cost) using the demonstration race registration here.
To register for individual events, racers will not be able to open and fill in the registration form until registration opens for that race. For those who are puchasing the 4-Pack, the registration process will involve registering for each of the races in the package, although most of the information entered for the first race will be pre-filled for the second and subsequent races.
People can still register for themselves and a few friends at the same time, but it will take longer than in the previous system, so that should be kept in mind when registering for the Test of Metal.
As in the past, those who have a free entry to one of the races should contact the race registrar signup@testofmetal.com before registering.
Webscorer offers racers the option of creating a racer profile (at no cost, see under Profiles on their menu bar). In the future, when registering for a race, the system can use the racer's profile to pre-fill part of the registration form.
The Test of Metal group of races 2014 season starts with the Orecrusher presented by Republic Bicycles on May 10, followed by the flagship Test of Metal presented by Nesters Market Squamish on June 14, the Gearjammer presented by GSKERR Ltd. Chartered Accountants on July 19, and concludes with the Just Another Bike Race presented by Pearson Financial Services Ltd. on August 16.
Results for the 2013 races can be found here.