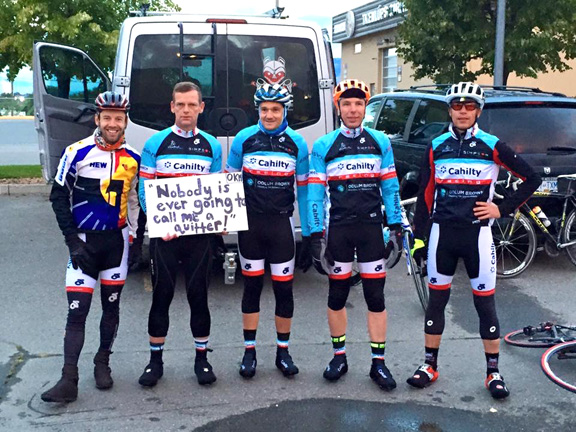 August 04, 2016 (Kamloops, BC) – I'm sure as a Canadian you have heard of Terry Fox. 2016 is the 36th anniversary of his amazing "Marathon of Hope". He defiantly left quite a legacy behind. The Terry Fox foundation still continues to raise funds & awareness of the fight against cancer. Terry's younger brother Daryl, the Senior Advisor and Board member of the Terry Fox Research Institute & member of the Terry Fox Foundation, happens to be an exceptional athlete as well. He took to road cycling a few years ago when his knees started to show signs of were from running. He has since fallen in love with the sport and gets out to ride every chance he gets.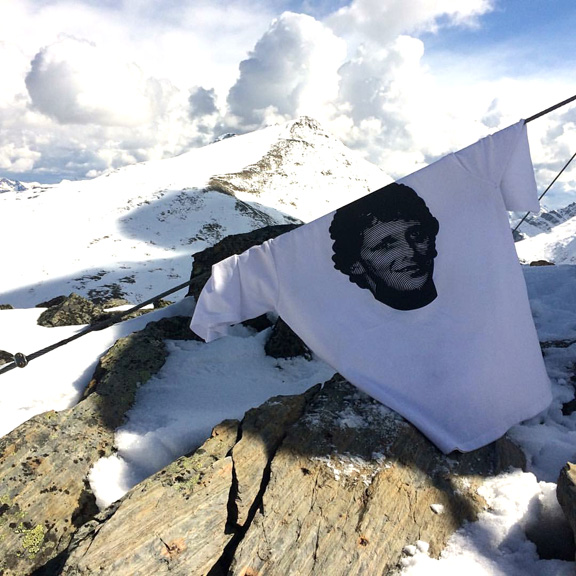 Last year he decided to celebrate the 35th anniversary by doing a single day 350km ride from Kamloops BC, to Terry Fox Mountain in Valemount BC. The whole thing was a little bit spur of the moment, but he was able to get myself and four other riders to join him on this endeavor. It was an amazing ride! I think 180km was the longest I had ridden before this day. I wanted to stop many times, but kept reminding myself of what it must have been like for Terry Fox to run up to 48km/30 miles on one leg. Along the way we stopped briefly every 35k to refuel and remember Terry Fox's words.
Here's what Daryl had to say about last year's Terry Fox 360 event…
"Last year, rather spontaneously, six of us decided to ride 350km from Kamloops to Mt Terry Fox in Valemount to commemorate the 35th anniversary of the Marathon of Hope. Needless to say it was not easy but it pales in comparison to running close to 26 miles every day for 143 days on an artificial walking leg modified crudely for running. We stopped every 35km to reflect and take a pic with a "Terry" quote. I consider the ride a Terry Fox highlight and I have been fortunate to experience many over the last three decades.
"Because we are dated and have forgotten much of the pain we experienced last year we are planning Terry Fox 360 (Friday, September 2nd) and extending the invitation to others. You will find below a link to the Terry Fox 360 page with further ride details and how to register. In keeping with Terry's values and vision of appreciating every dollar raised there is no entry fee though we are hoping participants will reach out to family, friends and co workers to collect online donations. If you know of someone who might be interested please share. Merci."
Last year's ride on Strava here.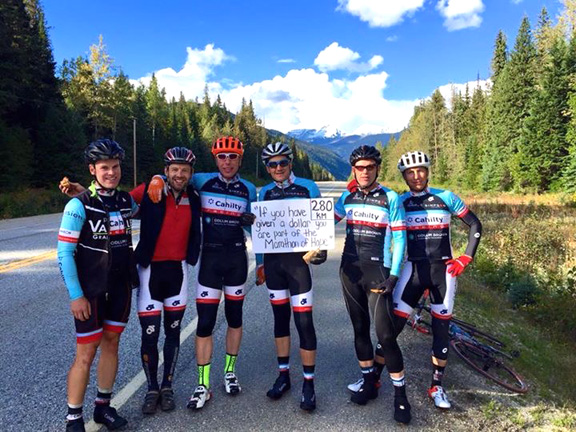 This year we are planning on celebrating the 36th anniversary with a 360km ride from Sun Peaks resort to Terry Fox mountain on September the 2nd (a large group will then climb Terry Fox Mountain on September 4th). We are hoping to have between 30 and 60 riders out for this year's event. We've gone ahead and arranged for the necessary permits, feed, transport, and accommodations.
Riders can sign-up here.
Oh yeah, for the keeners there is also the option to hike Mount Terry Fox on Sunday, September 4th here.
I'm sure it will be another special day for us all and would love to share it with cyclist throughout Canada. We hope that this event can continue to grow & perhaps take-off in other provinces.