May 30, 2013 (Brescia, Italy) – Here's a recap of  the 2013 Giro d'Italia's final stage in Brescia as the trio of Ted's Giro d'Italia Challenge checked out the Stage 21 race action and the surrounding celebrations, and spotted a celebrity! The city went all-out with the pink decor, including trash bins that matched the maglia rosa! Plus, check out videos of some Brescia street musicians and the arrival of the peloton.
It was a great sunny day here and we enjoyed a ride out to Lago di Garda and a visit to the museum. The race hit the streets of Brescia at about 3:45pm on Sunday, May 26, but the seven laps around town seemed to go by too quickly for us.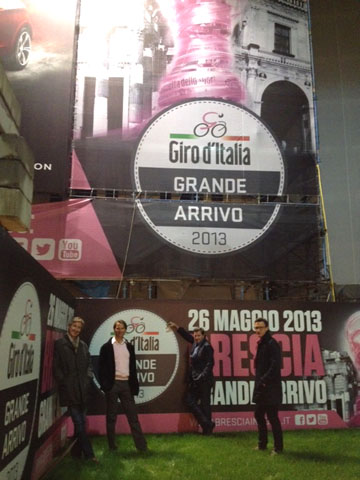 We settled into a nearby piazza and watched the big screen until the race itself came around. The crowd was huge, the noise level was off the charts and Nibali brought home the maglia rosa.
The Italians all seemed to be pulling for Cavendish as he managed the final stage win and the points necessary to regain the points jersey.
Then Tim yelled out, " Hey look, Francesco Moser !".. None of us would have known it was him, but I was the fastest to get to him for a photo.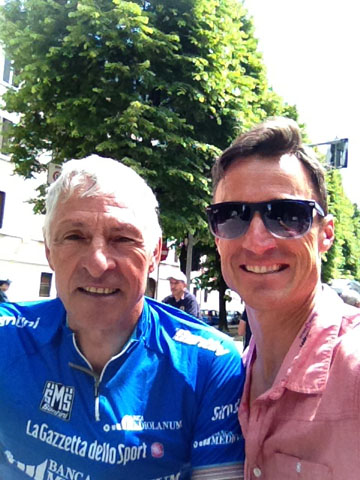 We hooked up with Steve Bauer and his team and caught up on some stories of Ted's ups and downs over the three weeks. All in all it was an incredible journey that really showed the incredible focus, drive and composure that Ted is able to summon to complete what to many would be unthinkable.
Ted is already talking about the Vuelta for next year and from the look in eye, I wouldn't doubt him for a second!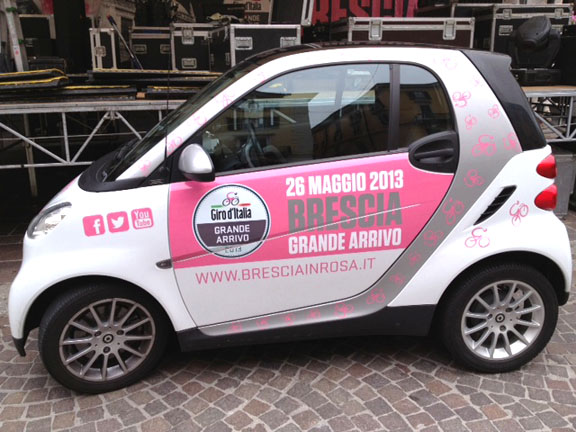 Ted's Giro d'Italia Challenge features London, Ontario's Velikonja, a First Vice President at CIBC Wood Gundy, who is continuing his goal to ride all of the Grand Tours.
Velikonja has already completed the Tour de France and is now back on track to tackle the Giro with his two domestiques Pedal's Tim Lefebvre and Christopher Balogh.