April 01, 2015 – Niagara's top competitive cycling team is returning for its 5th season in 2015 and proud to be supporting two local charities for a second year. Team905 Cycling p/b Steelmark Business Services, which competes in road, mountain bike and cyclocross races throughout the year in Ontario and Western New York, is continuing to support the Niagara chapter of Cystic Fibrosis Canada, as well as Autism Niagara.
"As a local sports organization we want to be very active in the community," said Team905 director Jamie Schuman. "We feel that giving back to the community is vital to the success of our team and the partners that support us."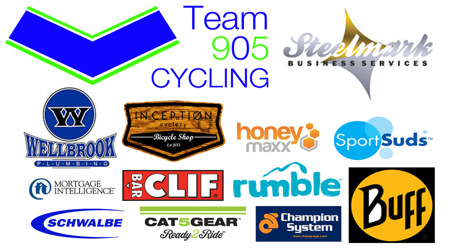 The entire Team905 Cycling team would like to thank the 2015 partners, Platinum and title partner Steelmark Business Services, Gold partner Wellbrook Plumbing, Silver partner Mortgage Intelligence-Niagara, and supporting partners Inception Cyclery, HoneyMaxx, Rumble, Champion Systems, Buff Canada, Sport Suds, Clif Bar, Cat5Gear, and Schwalbe Tires.
Racing for Team905 p/b Steelmark Business Services in 2015 is Dr. Stephen Cheung, Josh Sekel, Tim McClure, Nathan Chown, Dan Dakin, Isaac Goertz, Steve deBoer, and Jamie Schuman.
For more information, contact Jamie Schuman at team905cycling@gmail.com.