June 08, 2012 (Lugano, SUI) – Team SpiderTech powered by C10 is set and ready for its biggest challenge since its inception, five years ago: racing the Tour de Suisse, a prominent race on the UCI World Tour in Europe.
With the start of the race set for tomorrow, Saturday, in Lugano, the team will become Canada's first ever professional cycling team to start at UCI World Tour race in Europe, a landmark event in Canadian sports history.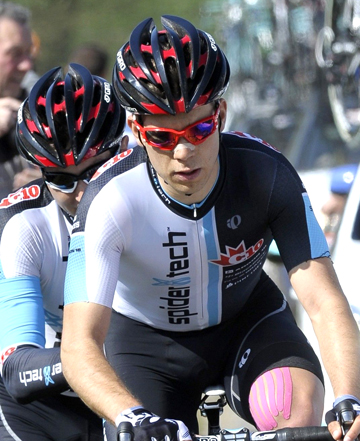 "All of us at Team SpiderTech powered by C10 could not be happier to be here in Lugano and ready to start the Tour de Suisse, the fourth biggest race in the world," said Steve Bauer, co-owner and directeur sportif for Team SpiderTech.
"It's a testament to the outstanding work from everyone involved in Team SpiderTech, as well as the dedication and commitment of SpiderTech inc, our main sponsor. The experience gained will be valuable in the teams evolution to partake in cycling's toughest stage races."
SpiderTech is a non-medicated special cotton tape that you stick on your body where it hurts. It helps prevent and heal injuries for long rides, and accelerates the recovery process after physical exercise. SpiderTech has been supporting the team since its inception, five years ago.
Will Routley will have the honour to be the first rider out of the gate in tomorrow's opening stage, to break the ice and start the Tour de Suisse.
The 2012 Tour de Suisse, its 76thedition, is a nine-day race that will take the 160-rider peloton in every corner of the European country, racing 1400 kilometres. The race starts tomorrow with a 7.3 kilometre prologue, and will end on Sunday June 17 in Sorenberg.
Including Team SpiderTech, 20 of the best professional cycling teams in the world, such as top3-ranked Team Katusha, Liquigas-Cannondale and Team Sky ProCycling, will bring the sports biggest stars on the start line.
Team SpiderTech brought some of its top riders to the event, including sprinters Guillaume Boivin and Ryan Anderson, climbers Lucas Euser, David Boily and Raymond Kuenzli, as well as all-arounders Brian Bach Vandbord and Caleb Fairly.
Team SpiderTech p/b C10 Riders at 2012 Tour of Suisse
– KUENZLI, Raymond (SUI)
– ANDERSON, Ryan (CAN)
– BOILY, David (CAN)
– BOIVIN, Guillaume (CAN)
– EUSER, Lucas (USA)
– FAIRLY, Caleb (USA)
– ROUTLEY, William (CAN)
– VANDBORG BACH, Brian (DEN)
RACE PROFILE
Event: 2012 Tour de Suisse (SUI)
Class: UCI WT (World Tour)
Type: Nine-day stage race
Website:
Start list:
STAGES
– Stage 1: Lugano – Lugano (Prologue – 7.3km)
– Stage 2: Verbania – Verbier (218km)
– Stage 3: Martigny – Aarberg (195km)
– Stage 4: Aarberg – Trimbach/Olten (189km)
– Stage 5: Olten/Trimbach – Gansingen (193km)
– Stage 6: Wittnau – Bischofszell TG (195km)
– Stage 7: Gossau ZH – Gossau ZH (Individual Time-Trial – 34km)
– Stage 8: Bischofszell TG – Arosa (198km)
– Stage 9: Näfels-Lintharena – Sörenberg (216km)