March 19, 2015 – Although Premier Sports Group will always have a huge focus on the UCI America's Tour, the sport of cycling is showing huge growth in both Asia and Oceania and this presents great opportunities not only for Team SmartStop but also for Premier Sports Groups UCI women's team, BMW p/b Happy Tooth.
Premier Sports Group is sending Team SmartStop to race in Asia for the first time, with five riders set to compete in the UCI 2.1 Tour de Taiwan from March 22-26.
Canadian Zach Bell, who competed in the five-day stage race in 2013, will captain the team at the UCI Asia Tour race which will take the riders through from north to south along the west coast of Taiwan through some of it's best tourist spots covering a distance of around 650km.
With several industry partners based out of Asia, Premier Sports Groups Owner James Bennett believes this is a step forward for the team and a chance to showcase the team and it's sponsors, furthering it's international reach.
"Premier Sports Group has several industry partners with Asian roots and we wanted to show them that we can compete on multiple continents, as well as giving our athletes other experiences with increased competition," said Bennett.
Sporting Director Michael Creed has selected a team who are ready to take on other Pro-Continental and Continental teams in what is set to be another race suited to the strengths of Team SmartStop.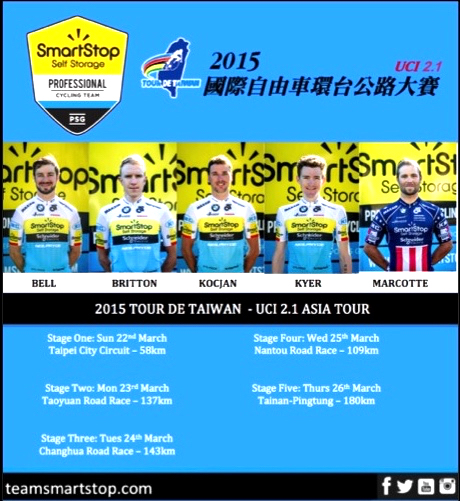 Creed said: "We are going for stage wins and hopefully a sniff at the General Classification. Five-man rosters will make the race exciting, but hopefully exciting in a way that is advantageous for us."
The Tour de Taiwan will consist of a field of 23 teams made up of five riders from teams including Drapac Professional Cycling, Team Novo Nordisk and various Asian national teams. The 2014 Tour de Taiwan was won by Remy Di Gregorio of Team La Pomme Marseille.
UCI 2.1 Tour de Taiwan Roster
Zach Bell
Rob Britton
Jure Kocjan
Julian Kyer
Eric Marcotte
Bennett said: "We see Asia and Oceania as a natural gateway to the team as we build out our platform for racing for seasons to come for both the men and women."
General Manager Omer Kem reiterated Bennett stating: "We are extremely excited about Premier Sports Groups first foray into Asia. It represents a new and exciting market place especially for our cycling industry partners. We are continually looking for new opportunities to grow business and consumer engagement for our partners and the Tour of Taiwan is representative of that."
Coinciding with the Tour de Taiwan is the Taipei Bike Show, which Kem will be attending as the representative for Premier Sports Group. Bennett said: "The Taipei bike show is where we can talk to existing and potential future partners AND, if we get some good results, we will have just a little more to talk about as we shape the future partners of the team and target markets that are important to our sponsors. We are sending our general manager over there with several meetings scheduled to cultivate these relationships."
Growing relationships is a key part of a successful business model for Premier Sports Group and this is a great opportunity for Kem, to ensure the continued growth of those partnerships, Kem said: "The Taipei Bike Show is an enormous opportunity for the management of Premier Sports Group. We are committed to growing our relationships with our partners based in Asia and nothing says that more than a trip to Taipei."